At first glance, mountaineering sunglasses look rather vintage compared to their more modern compatriots, in both style and performance. And you may wonder if there's a reason behind the peculiar silhouette and if it's much more than just an aesthetic choice.
In an attempt to get a better handle on questions like these, we took a dive into the world of glacier and mountaineering sunglasses. We looked at the history of these sunglasses and the science behind them, and even pulled together a quick roundup of what we think are some of the best mountaineering and glacier sunglasses out there today.
Best Mountaineering Sunglasses Breakdown
Best Overall

Julbo Explorer 2.0

Best Budget Pick

Sunski Treeline Polarized Sunglasses

Best Vintage-Looking

VALLON Heron Mountain

Most Accessible

Smith Embark ChromaPop Polarized Sunglasses

Best for Ice Climbing

Oakley Clilfden

Most Stylish

Vuarnet Ice Round
What Are Mountaineering Sunglasses?
Made in order to protect your eyes in icy and/or windy conditions when treking in mountains or glacial areas, mountaineering glasses or glacier glasses have certain extra features than your standard shades. For one, they'll have side shields and sometimes temple shields which serve several purposes, such as blocking winds and snow from getting in your eyes and also adding extra protection from the sun outside of what the lenses are already covering.
As for the lenses, they're darker and permit less sunlight in order to prevent snow blindness, which is a result of the refraction of light through ice and snow (which actually makes the rays even stronger). More on the categories of lenses down below.
The History of Mountaineering Sunglasses
When we talk about the history of mountaineering sunglasses, we're talking at least in part about the history of the sport of mountaineering itself. As soon as madmen started climbing mountains, they began to encounter the blinding light of the upper atmosphere and the brutal reflections that bounce back off of snow and glaciers.
According to what a couple of the oldest companies claim, some of the first pairs of sunglasses made for the mountains were built in the late 1880s. Roughly 30 years after the beginning of mountaineering as a sport, as defined by Doug K. Scott in his book Big Wall Climbing. Some of the first sunglasses were made by Frenchman Jules Baud, the founder of Julbo, in 1888. They were made at the request of crystal miners looking for eye protection for their treks through the Chamonix mountains. Not long after, Cébé was founded with a similar mission – providing high-altitude adventurers with sun protection.
It wasn't until the 1950s, however, that Julbo released their iconic Vermonter shades. Now, of course, most contemporary glacier glasses look much different from these original models. With the advent of more flexible materials and plastics, glacier glasses increasingly adopted a wraparound style instead of the leather eyecup look. The kind of eye-cup sunglasses is a throwback to a period when outdoor wear was decidedly less technical – an understandable era to try and revive given that so often technical ability compromises style. Eye-cup mountaineering sunglasses look like something you'd be willing to wear either on the side of a mountain or out in the city. Although, that may not be the best way to use them.
The Science of Eye Protection
Glacier glasses are much more than just an attractive (albeit odd) style. Every part about them is built for protecting climbers and mountaineers from the unique challenges of our Earth's highest altitudes.
Not only are athletes dealing with thinner air while up high on mountains, but they have less atmosphere between them and the sun. That means that ultraviolet rays have a shorter distance to travel and less air through which to be filtered before they reach the eyes of some adventurer high up on a mountaintop. In the same way that folks are likely to get sunburned faster and easier when up on a mountain during a ski trip, these athletes are more likely to get lifelong eye damage if they don't find good protection.
As if that wasn't enough to contend with already, much, if not all, of that light is easily reflected off of the snow and ice. This makes it all the more difficult for mountaineers to find refuge from damaging rays.
As a result, most lenses on glacier glasses are rated at either a category 3 or category 4 according to European standards (the same folks that put the little 'CE' on all of your sunglasses). Category 3 lenses let through between 8% and 18% of sunlight (compared to the 18-43% of most shades) while Category 4 lenses let through between only 3% and 8% of sunlight. These strong lenses paired with the surrounding eye-cups or with the more modern wrap-around design make these the ideal tool for protecting your eyes on the mountaintop. So while these shades may look really cool – wearing them while doing much of anything other than working through incredibly bright terrain isn't recommended.
What to Look For
Coverage: Since the main point of mountaineering sunglasses is providing extra protection for your eyes, they will always come with side shields — usually removable — and sometimes a bridge shield for extra light blockage at the temple.
Visible Light Transmission: As stated above, you'll need either category 3 or 4 lenses for mountaineering, with the former preferred for cloudier days and the latter for sunny days.
Polarization: Although it may help with color contrast when viewing your surroundings, polarized lenses aren't crucial for mountaineering — although they won't do you any harm.
Lens Resilience: You're bound to face a lot on your adventures, so make sure your lenses are up for the task as well. Look for lenses that, aside from being polarized, are also scratch-resistant, smudge-proof, and anti-fog, just so your vision doesn't get obstructed when you need to rely on it most.
Frame Material: When enduring difficult climbs and mountaintop trails, the last thing you'll want is extra weight. However, you don't want to sacrifice durability in the process. This is why frame material is an important puzzle for brands to figure out. We realize that many wearers simply like the look of mountaineering glasses, so this won't matter as much. However, if you're truly going to take these to the ends of the Earth, then look for glasses with high-tensile plastic composites.
Julbo Explorer 2.0
Pros
Fastest-changing photochromatic lenses you'll find
Lenses are insanely durable
Easy attachment/removal of side shields
Very comfortable
Helmet-compatible
Best Overall: From one of the pioneers of the style, Julbo's Explorer 2.0 is simply one of the best outdoor sunglasses you can buy, period. Offered with a lifetime warranty, the brand's flagship model comes with its ZEBRA Lenses, which are the fastest-changing photochromatic lenses you can currently find and utilize the same material used in helicopter windshields. It's called NXT and it's completely shatterproof, while also offering 100% UV protection across the whole spectrum. Not to mention, the removable side shields come on and off easier than any other while also remaining sturdy and comfortable while they're attached.
Frame Material: Bio-sourced Rislan
Polarized?: Yes
Sunski Treeline Polarized Sunglasses
Pros
Super lightweight
Side shields are magnetic for attaching to certain surfaces
Category 3 lenses
Fits wider faces well
Cons
Side shields could be wider
Best Budget Pick: Let's be honest, good sunglasses (and even some bad ones) can cost you quite a bit of money. Yet there are brands like Sunski that offer exceptional models without as much of the upcharge. Weighing less than 1oz, the brand's Treeline Polarized Sunglasses come with category 3 lenses and a flexible, durable frame made from recycled polycarbonate plastic and removable magnetic side shields. Also quite accessible for those who don't want the "hard-core" look of mountaineering shades, the Treeline are designed in California and come with the brand's "Forever Warranty." And in case you don't believe us, these sunglasses have also won a coveted Red Dot Design Award.
Frame Material: Recycled polycarbonate plastic
Polarized?: Yes
VALLON Heron Mountain
Pros
Good price
Leather shields are classy
Category 3 lenses
Shatterproof lenses
Cons
You can't remove side shields
Best Vintage-Looking: If you're not planning on going near icy glaciers on your trek, you could realistically don something like these Heron Mountain shades from VALLON. As opposed to its Heron Glacier, which sports category 4 lenses, this version has category 3 shatterproof lenses, which gives you better visibility and clarity while also offering supreme eye protection. Designed to harken back to classic alpine silhouettes, the leather side shields and removable temple guard may look more steampunk than they do mountain-ready, but trust us that these will serve you perfectly well in the backcountry, especially with its lightweight frames and adjustable stems that can curl around your ears.
Frame Material: TR90 polyamide
Polarized?: No
Smith Embark ChromaPop Polarized Sunglasses
Pros
Really versatile wearability
Hinges won't open or close when you don't want them to
ChromaPop lenses are some of the best for color
Most Accessible: Not everyone who needs mountaineering sunglasses wants to wear them post-adventure. At first glance, Smith's Embark Sunglasses don't look like they'd be any different than your standard sports shades. However, upon further inspection, you'll notice it's more than capable. The removable side shields allow you to wear these elsewhere, but provide optimal coverage on the trail. Designed by alpine enthusiasts, the glasses also feature anti-fog and smudge-free coatings, while the AutoLock hinges won't open or close on you accidentally. So your peepers can stay protected without marring the beauty of nature, the ChromaPop lenses are intended to maximize contrast and color.
Frame Material: Bio-based material
Polarized?: Yes
Oakley Clilfden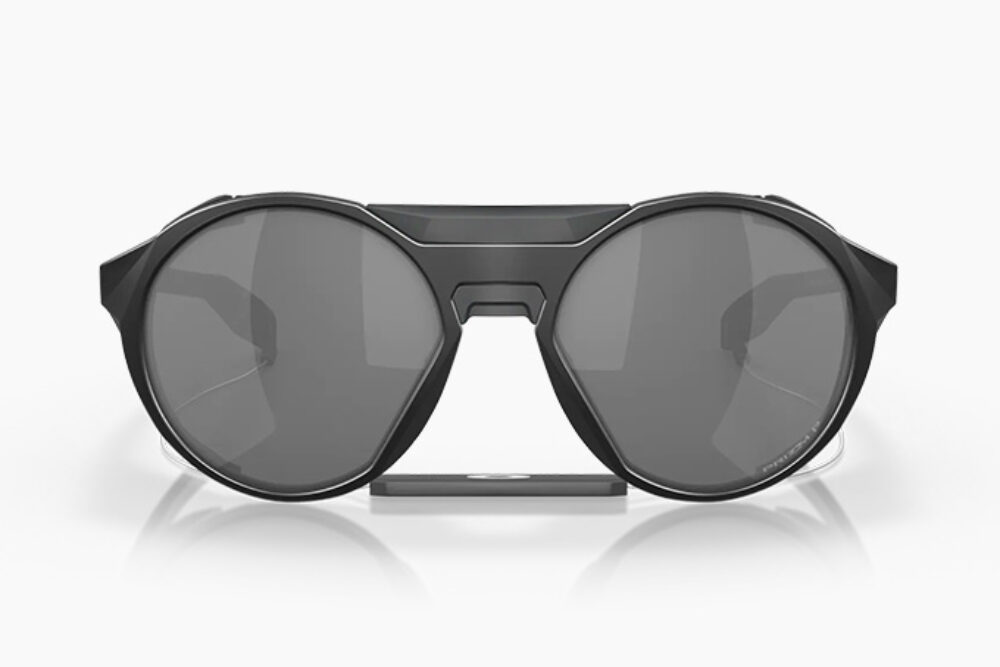 Pros
Customizable lenses
Integrated leash made of woven steel
Won't slip
Arguably the most effective side and bridge shields
Cons
Could be less expensive
You can't adjust the shields a whole lot (although they work great as-is)
Best for Ice Climbing: Don't let the mainstream name fool you, Oakley's Clifdens are the real deal. Helmet-compatible, customizable, and super comfortable for all-day wear, these sunglasses feature some of the best frames around, equipped with a built-in woven steel leash so they won't fall off. Likewise, to best suit your needs, you can get them with either category 3 or category 4 lenses, which are exhaustively tested against extreme conditions to ensure their impact resistance and offered with Oakley's Prizm tech. The brand's famous Unobtanium nose pads are here as well for anti-slippage, but the proprietary material is also used for the removable side shields and bridge blocker.
Frame Material: Plastic
Polarized?: Yes
Vuarnet Ice Round
Pros
Available in several attractive colorways
Scratch-resistant lenses
Nylon frames are lightweight and durable
Polarized and non-polarized options
Cons
Expensive
Doesn't specify which category lenses they use
Most Stylish: Although Vuarnet has been known to purvey several reputable mountaineering sunglasses throughout its 60-plus-year history, the Ice Round is undoubtedly its most stylish, albeit less technical than the likes of the Glacier models which inspired it. However, you can definitely still opt for these amidst glacial environments — but not everyone would want to trek in harsh conditions with shades that cost them nearly four bills. Perhaps a little form before function, the French brand's Ice Round is still great for the snowy and icy milieus thanks to its removable side shields and nose piece, scratch-resistant mineral glass lenses for superb clarity, and lightweight, durable performance nylon frames.
Frame Material: Performance nylon
Polarized?: Some models
The Best Hiking Sunglasses
If mountaineering shades are too much for your outdoor needs, check out our guide to the best hiking sunglasses you can buy.