In theory, technical fashion is a very simple concept. What sounds better than crafting versatile garments from nothing short of the best materials imaginable? This notion has been tackled by many, which is why technical jackets have been crafted by the likes of countless high-end brands, like Tom Ford, Givenchy, and Dolce & Gabanna, leading many to believe that this branch of style is just now coming into vogue. The thing is, though, techwear has been around for a while, and the brands who've perfected the form aren't just riding some trend. There are a handful of designers who've garnered a granted reception for the mark they've left on this particular field, while some others have gone a tad bit overlooked. In the meantime, there is an onslaught of hungry newcomers looking to make just as big a name for themselves in the space, which is why we deemed it necessary to create a comprehensive guide to the best techwear brands out there right now.
The Best Techwear Brands
The North Face Black Series
What makes a techwear brand?
While big brands like Stone Island and Arc'teryx have ultimately grown to stand head and shoulders above the rest of the competition from a name-recognition standpoint, a number of others have dedicated themselves to the craft of creating optimized attire for any environment. The majority of these brands' mission statements often hinge on the idea of crafting innovative pieces composed of optimal materials, and many of these labels manage to pull it off with rightfully meticulous craftsmanship.
What exactly is techwear?
As you may have already put together, techwear is the slang for "technical wear," and it consists of (usually) outdoor-friendly gear that's been designed for technical or specified use. Although techwear was originally designed for outdoor adventures, the aesthetics have caught the eyes of trendsetters, and the style is now just as much (if not more) about fashion as it is about adventure.
The history of techwear
It's hard to trace the beginnings of outdoor gear/techwear as we know it to a specific date, but we can safely trace the designs back to mountaineering gear. It's durable, technical, and has offered up many unique styles and silhouettes over the history of the sport. These puffy jackets and rugged accessories made their way through the outdoor craze in the States during the mid to late 20th century, and the remnants of this scene have inspired the futuristic techwear we know today. Apparel from big names like Arc'Teryx and The North Face was being coopted by the fashion conscious in the aughts and 2010s, and the perfect storm of trendsetters/trends, online enthusiasts, and boutique brands (especially the Japanese brands) launched techwear into the stratosphere. While the term encompasses many things, techwear is always functional, stylish, and at least a little futuristic.
why is it so popular right now?
Thanks to the Y2K revival we find ourselves in, and techwear's already high profile, the style has moved from online forums to center stage. Big brands have taken notice of this, and have launched sub-labels to capitalize on techwear's hype (like Arc'Teryx with System_A). The style is also the breeding ground for many boundary-pushing designs, whether they be minimal statements or maximalist pieces, brands that are bringing fashion to the future are active in the space.
techwear vs. gorp-core
Many fashion purists on the internet like to split hairs over the minor differences between these two (some say gorp is more outdoor-facing while techwear is about pushing design forward). At the end of the day, these terms are more about the conversation than differentiating between two distinct styles (but that could change in the future).
0608wear
Why they made the cut
Hailing from South Kora, 0608WEAR makes minimalist technical gear that often uses tactical textiles
This South Korean brand personifies the sheer ethos of "lowkey." Be that as it may, little branding and even lesser hype provide a whole lot of appeal. An onslaught of 0608WEAR's garments makes use of MOLLE webbing, a tactical textile that makes room for convenient compartments for all of your gear. Luckily, those looking to get in on this design-centric attire don't have to worry about overspending on insulated jackets and waterproof pants, seeing as another great attribute that 0608WEAR has to offer is its premier gear doesn't come equipped with an exorbitant price tag.
Year Founded: Not listed
Location: South Korea
Founder: Minjae Choi
A-COLD-WALL*
Why they made the cut
Started by Samual Ross, a Virgil Abloh protégé, this brand crafts technical streetwear inspired by youth culture
As one of the countless footprints left by the late Virgil Abloh, A-COLD-WALL* came to fruition by way of one of the revered designer's proteges, Samuel Ross. The brand garners its inspiration from youth culture and a contemporary design language built to function among all societies. As a former member of DONDA, Kanye West's company aimed toward creative content, Ross brought that same minimalist approach to a chic catalog of technical outerwear that could easily be pinned as streetwear, but it's not all that simple. On top of that, if Kanye's stamp of approval isn't enough of a co-sign for you, ACW has collaborated with the likes of Nike, Dr. Martens, and even Beats by Dre.
Year Founded: 2015
Location: London
Founder: Samuel Ross
ACRONYM
Why they made the cut
ACRONYM is known for innovating and crafting future-forward garments with minimal and functional designs
ACRONYM is not an entry-level name by any means, albeit it finds itself near the top of this list (blame the alphabet). The Munich-bred brand was founded back in 1994 and has remained a prominent name in the design world ever since — and when we say design, we mean the sector in its entirety, not just fashion. The pair of designers at the brand's helm — Michaela Sachenbacher and Errolson Hugh — have even managed to garner themselves a spot in TIME magazine for designing Burton's state-of-the-art Analog MD Clone Jacket, whose interior composition came equipped with a Sony mini-disc player and digital music player. At the end of the day, ACRONYM is all about the highest levels of innovation and absolutely no less, so its inclusion comes as no surprise.
Year Founded: 1994
Location: Munich, DE
Founder: Errolson Hugh
ARC'TERYX
Why they made the cut
This legendary outdoor gear brand was among the first in the techwear scene, and continues to release quality apparel under the main label and streetwear-friendly System_A sub label
Few brands manage to pull off form and function in as fluid a fashion as Arc'Teryx, a company initially founded by a couple of Canadian climbers. Its catalog can be seen on everyone from social media influencers to hardcore outdoorsmen, so it serves as one of the more ubiquitous names on this list. The label's coveted GORE-TEX-clad pieces have grown to serve as its respective flagship garments, making use of immaculate waterproof technology while maintaining a fashion-forward appeal. Seeing as the Archaeopteryx logo spans far and wide, there is no choice but to keep this revered name in mind.
Year Founded: 1989
Location: Vancouver, BC
Founders: Dave Lane and Jeremy Guard
C.P. COMPANY
Why they made the cut
C.P. Company is regarded as "the original Italian sportswear brand" and have over five decades of experience
For fashion fanatics familiar with Massimo Osti, this should come as no surprise. C.P. Company was the Italian garment engineer's initial brainchild, spawning in 1971, eleven years before Osti ultimately created an even more renowned brand: Stone Island. There are few names to trust in this distinct field of garments more than those from the late designer. While it's up for relative debate, C.P. touts itself as "the original Italian sportswear brand," and it's difficult to argue with that, seeing as though it's been around for over five decades without many genuine predecessors. Pioneering aside, its name is held in high regard as a result of its well-crafted tactile outerwear, few of which are more nameworthy than the Goggle Jacket.
Year Founded: 1971
Location: Italy
Founder: Massimo Osti
DESCENTE ALLTERRAIN
Why they made the cut
This is a sub label of the legendary Japanese brand Descente, which got its start with high-quality skiing equipment, and now make contemporary gear with classic craftsmanship
Descente's wide array of Alps-appropriate attire has been in play dating back to 1935. While its enviously warm clothing is worth discussing in its own right, the Japanese brand's ALLTERRAIN sector provides a much more tailored approach to modern technical gear and is far more wearable when you don't find yourself out on the slopes. Descente ALLTERRAIN doesn't keep a surfeit of factors in mind, as it is not a brand that hinges on the likes of age-specific trends or particular junctures in time, but merely a group of contemporary thinkers looking to deliver nothing short of "timeless craftsmanship," which has consistently proved to be an epochal formula.
Year Founded: 1935
Location: Osaka, JP
Founder: Takeo Ishimoto
ISAORA
Why they made the cut
Isaora makes minimalist urban technical gear that's inspired by the city and nature, with close attention to materials and craftsmanship
Isaora is urban performance epitomized, and it's easy to understand what's necessary for that department when based in a metropolitan jungle like the heart of New York. While it was merely founded in 2008, the humble brand has fused top-tier textiles with a sleek design built for the big city. Garnering a plethora of inspiration from the allure of nature and unpredictability of adventure, Isaora has been delivering a top-notch blend of form and function since its conception, and we expect nothing short of that in the years moving forward.
Year Founded: 2008
Location: New York City, NY
Founders: Ricky Hendry and Mark Daniels
HERNO LAMINAR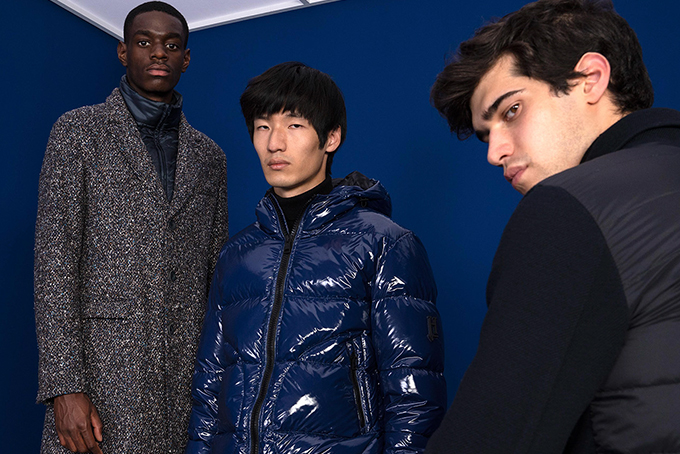 Why they made the cut
This Italian luxury brand has humble beginnings, starting off the back of a raincoat, and becoming one of the most renowned high-end outerwear labels
When seeking elemental protection, it's simple to trust a name whose mission statement garners inspiration from the water itself. Herno Laminar is one of the many high-end brands with a humbling origin story. It all started in 1948 with an immaculately-crafted raincoat and has ultimately become one of the leading names in sportswear, not to mention the most fashionable, depending on whom you ask. Regardless, the brand has excelled at crafting luxurious outerwear for nearly 70 years. From sleek, weatherized GORE-TEX coats to gorgeous, water-repellent, down-filled cashmere blazers, Herno's outerwear has something for everyone, let alone every occasion.
Year Founded: 1948
Location: Italy
Founders: Giuseppe Marenzi and Alessandra Diana
NIKE ACG
Why they made the cut
Although Nike's sportswear is legendary in its own right, they were also ahead of the game with the outdoor-leaning ACG in 1988, which was recently relaunched in 2014
There is very little that Nike tends to do wrong, and the same applies to its All Conditions Gear line, too. If there's anyone we look to for premier performance wear, it's impossible to overlook the Nike legends, no matter what sport you find yourself partaking in. The brand's ACG subbrand began as a product series in its Hiking brand, the latter of which was introduced back in the early eighties. In the years that followed, Nike's catalog of trail-ready footwear took on a life of its own, and it had no choice but to branch out even further. Aimed toward more extreme activities, like rock climbing and mountain biking, ACG boasts an eclectic lineup of durable sneakers and cozy parkas that make immaculate use of Nike's constantly cutting-edge materials and technologies.
Year Founded: 1988
Location: Beaverton, OR
Founder: Phil Knight and Bill Bowerman
OUTLIER
Why they made the cut
New York City-bred label Outlier is the go-to label for urbanites in need of athletic and casual gear, made with lightweight materials and technical fabrics
Although many of these brands hail from overseas, OUTLIER is one of the few that also claims terrain in the states — in New York City, no less. The brand's founders, Abe Burmeister, and Tyler Clemens, kicked things off back in 2008. Clemens had a bevy of experience in custom tailoring, while Burmeister's background in graphic design assisted in putting the brand's aesthetically in-tune website together. In the years that followed, OUTLIER has become one of the top-tier names in trustworthy workout clothes and versatile urban casual wear that are composed of ideal, lightweight materials like merino wool, as well as a number of proprietary technical fabrics that the brand really loves nerding out over. Whether you're a gym-goer or a subway commuter, OUTLIER has something in store for anyone.
Year Founded: 2008
Location: New York City, NY
Founders: Abe Burmeister and Tyler Clemens
RIOT DIVISION
Why they made the cut
Riot Division is a gear label based out of Kyiv, and was the first to introduce techwear to Ukraine. The designer, Moroz, is part of every step in the process, and values accessibility.
Riot Division's standard for sheer coolness is set pretty high, and that's put on full display by way of its voguish lookbooks. The brand's awareness of what it takes to combat frigid climates is a result of its founding in the capital of Ukraine, as it is the country's initial brand that crafted technical gear, and its founders haven't looked back since. Based on "curiosity, adaptation, modularity, transformation ability, and high technological quality," Riot Division's values are seamlessly exuded through its near-ceaseless portfolio, which features tactical-inspired overshirts and metalized nylon running pants. Above all else, the brand prides itself on its accessibility.
Year Founded: 2010
Location: Kyiv, UA
Founder: Oleh Moroz
STONE ISLAND SHADOW PROJECT
Why they made the cut
This label is the work of former ACRONYM design members and creates refined and innovative performance gear that's never afraid to be experimental
Shadow Project came to shape back in 2008, serving as a brainchild of Stone Island CEO Carlo Rivetti and the aforementioned design team behind ACRONYM. Taking all that information into account, it's safe to assume that Stone Island's subbrand can do virtually no wrong, and there's truly no argument against that. Upon conceptualizing Shadow Project, Rivetti and the ACRONYM duo vowed for this branch to aim for innovation and experimentation, with the former claiming it to be "our Formula 1." The trio of designers has since come together to deliver refined pieces crafted from premier performance fabrics and a sense of couture-esque boldness.
Year Founded: 2008
Location: Italy
Founder: Carlo Rivetti
THE NORTH FACE BLACK SERIES
Why they made the cut
Another legendary outdoor brand, The North Face's Black Series is a collection of sleek and futuristic gear with the same trusted durability
Surely, if you're taking time to read this, you're beyond familiar with The North Face and might be on the prowl for a different name in top-notch outerwear. Well, the heritage brand doesn't fall far from the technical tree, and it tailored an entire branch of clothing geared toward optimizing pieces for any environment, whether it's the great outdoors or the heart of the city. The Black Series took shape in 2020 and is composed of a collection of technologically ideal elements that have come to form via sleek, forward-thinking designs. Although it appears to be the newest name on this guide, Black Series garments are highly coveted and increasingly rare, so make sure to keep an eye out if you're looking to snag a new coat.
Year Founded: 2020
Location: Denver, CO
Founder: Douglas Tompkins and Susie Tompkins Buell
VEILANCE
Why they made the cut
This is Arc'Teryx's sub label, and they've been on the cutting edge since 2009, with minimalist apparel that uses advanced technology and performance fabrics
While you may not catch it at first glance, Veilance shares a lot in common with the previous two brands. Barring the fact that each one excels in its field, the Canadian outfitter is a subbrand itself, serving as a feather in Arc'Teryx's corporate wing. Veilance's minimalist approach toward weatherized performance is the core of its mission statement, and the brand has managed to do so with an unsaturated sense of innovation every step of the way. Its catalog boasts everything from nylon coats geared toward tackling tepid forecasts to heavy-duty jackets that utilize GORE C-KNIT technology courtesy of the waterproof wizards over at GORE-TEX. Although all of the brands listed here are worth your time, Veilance is one that consistently manages to set itself apart due to its unabiding meticulous approach.
Year Founded: 2009
Location: Vancouver, BC
Founder: Dave Lane and Jeremy Guard
WHITE MOUNTAINEERING
Why they made the cut
Blending streetwear and outdoor gear, White Mountaineering is a Japanese brand that values fashion while also creating unique blends of performance materials
White Mountaineering is another name that falls somewhere along the streetwear spectrum, but the Japanese brand's beyond-sufficient usage of premier materials paves the way for far more than that. Since hitting the scene back in 2006, founder Yosuke Aizawa has made his admiration for fashion-forwardness extremely prevalent, consistently fusing technical textiles like Polartec fleece and GORE-TEX membranes with a staunch sense of style. White Mountaineering has collaborated with the likes of UNIQLO, Danner, and even Disney, all the while managing to deliver their trademark quality and utility on each one.
Year Founded: 2006
Location: Tokyo, JP
Founder: Yosuke Aizawa
The Best Technical Jackets For Urban Dwellers
Now that you're familiar with some of our favorite brands in the technical space, it's time to dive into some of the best technical jackets on the market.