One of the biggest reasons why people evade the gym each day is the time and effort it takes them to change into their workout clothes. As simple and mundane as that may sound, a quick alteration in their daily dress code might actually yield a lifestyle change as well. While there might not be any official study conducted on whether or not wearing athleisure shorts increases gym-going, we're willing to bet that it does indeed make a big difference. To help you through this modern-day evolution of our style habits, we've compiled a guide to the best athleisure shorts for total versatility in your day-to-day wardrobe.
The Best Athleisure Shorts
Best Starter Shorts

Outdoor Voices Sunday 7" Short

Best Comfy Shorts

Mack Weldon Ace Sweatshort

Best Workout Shorts

Olivers Apparel All Over Shorts

Best Unlined Shorts

Vuori Kore Unlined Short

Best Quick-Drying Shorts

Buck Mason Trail Roam Short

Best Versatile Shorts

lululemon Bowline Short

Best Relaxed-Fit Shorts

Public Rec All Day Every Day Short

Best Premium Shorts

Taylor Stitch The Après Short
what is athleisure?
Over the past decade or so, athleisure has been on the up and up, perpetuated even more so by the global pandemic that forced people to reconsider all the time and money they've spent on casual attire to get them through their everyday. Athleisure gear combines functionality, style, and durability, with designs meant to provide comfort/movement during physical activity and a stylish look for everyday wear. And after wearing out your favorite pair of pajama pants in just three months' time, you may have realized that it may be time to invest in some high-quality athleisure that you can wear around the house, out running errands, to the gym, and then even to bed if you want, and having them work perfectly in each situation.
What to look for
Material: Materials that are moisture-wicking and breathable (like polyester and nylon) will help keep you cool and dry during workouts, and comfortable when just hanging out.
Versatility: While most athleisure shorts are hybrids that can accompany you to the gym and your days off, some may lean more towards the athletic or the leisure. Shorter shorts with moisture-wicking properties and synthetic materials are usually best for workouts, and longer cotton shorts can be more comfortable when relaxing.
Fit: Athleisure shorts come in a variety of fits, including slim, regular, and relaxed. The fit you go for should give you enough room to move without being too tight or baggy.
Inseam: Shorter inseams are usually better for high-intensity workouts (and more stylish at the moment), while longer ones are more comfortable for casual wear.
Moisture-Wicking: If you plan on using these shorts for workouts, moisture-wicking properties are essential for keeping sweat at bay, and making your workouts more comfortable.
Odor-Resistance: Some athleisure shorts come with odor-resistant treatments to keep them smelling fresh (or at least not dirty). For working out, odor resistance can be a nice feature, but it's not quite as necessary as moisture-wicking.
Outdoor Voices Sunday 7" Short
Pros
Three pockets
Four-way stretch
Moisture-wicking compression fabric
Best Starter Shorts: Be it gym shorts or everyday comfy shorts, Outdoor Voices' Sunday 7" Short is comfortable, durable, and stylish. Made from a heathered material comprised of 86% polyester and 14% spandex, this go-to pair looks like something you'd wear to play basketball but has the utility you need for running your daily errands. It utilizes the brand's Textured Compression technology, which provides a sculpted fit, four-way stretch, and sweat-wicking. Unlike most gym shorts, these come with three pockets, including one on the back.
Material: 86% polyester,14% spandex
Fit: Relaxed
Inseam: 7″
Mack Weldon Ace Sweatshort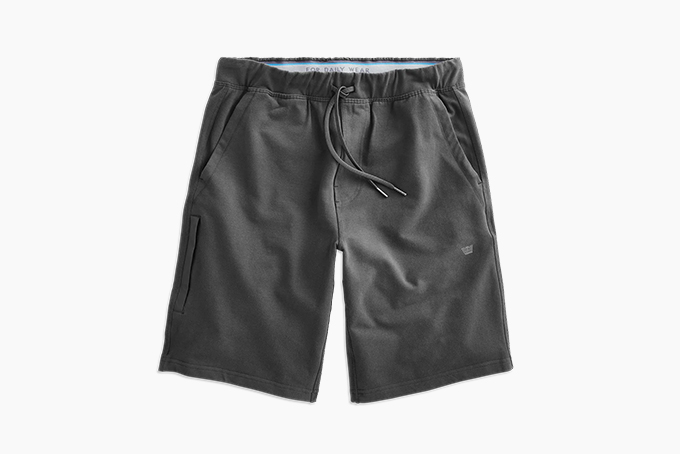 Pros
Zipped thigh and back pockets
Super soft
Deep side pockets
Best Comfy Shorts: Mack Weldon is known for taking classic, yet basic, styles and giving them the modern treatment with updated materials and technology. Here, the New York-based brand parlays the success and popularity of its famed sweatshirts into sweatshorts. The Ace Sweatshort sports an ultra-soft French terry fabric and the fit of sweatpants (minus the bottom half), which are already great options for everyday versatility. However, as athletic-minded shorts, you'll find you have a freer range of motion, and you won't be sweating quite as much. They're also given extra deep pockets for security and a drawstring in front for extra comfort and support.
Material: 95% cotton, 5% stretch
Fit: Tailored
Inseam: 9.5″
Olivers Apparel All Over Shorts
Pros
Water-repellent and moisture-wicking
Soft and lightweight
Great for rainy climates
Best Workout Shorts: For Olivers Apparel, style is just as important as functionality. But why not have both? The All Over Short is perfect whether you're cycling or working from home. As a bonus, if you're meeting someone for a lunch date, they'll never guess you're wearing gym shorts. The 5.5" inseam and versatile color options ensure that these are fashion-forward, while the water-wicking fabric made from 88% nylon and 12% spandex gives you protection whether you're jogging in the rain or just working up a massive sweat at the gym.
Material: 88% nylon and 12% spandex
Fit: Elastic waistband with drawcord
Inseam: 5.5″
Vuori Kore Unlined Short
Pros
Made partly with recycled materials
Soft and stretchy
Solid gym shorts
Cons
Drawstring can be a little short on larger sizes
Best Unlined Shorts: Each item sold by Vuori oozes the ethos of California culture. The Golden State native has always tapped into the coastal lifestyle to become an athleisure staple over the past decade. Its Kore Unlined Short is a take on its flagship Kore but without the built-in liner. Available in an array of colorways for any outfit or occasion, these shorts should be your go-to for running, lifting, cycling, and everything in between — including grabbing groceries and binge-watching some shows. The sustainable polyester blend includes 48% recycled material for a more conscientious choice.
Material: 48% recycled polyester, 42% polyester, 10% elastane
Fit: Relaxed
Inseam: 7.5″
Buck Mason Trail Roam Short
Pros
Inspired by 1960s Marine Corps shorts
Four-way stretch
Water-repellent DWR finish
Similar to Patagonia's Baggies
Best Quick-Drying Shorts: Buck Mason wasn't always known for its athleisure, but the Los Angeles-based favorite has recently extended its oeuvre of rugged style staples to include the hiking-ready Trail collection. Under the Trail umbrella is the Roam series of nylon shorts and cotton pants. This Roam Short is made with a pre-washed 3.75oz suede nylon fabric blend that's insanely durable, with four-way stretch and a water-repellant finish for anything you need to get done, from hiking to bike riding to getting in some reps. With Buck Mason's outdoors expertise, these athletic shorts don't look too sporty for those who want to blend in during other activities.
Material: 85% nylon, 15% spandex
Fit: Classic
Inseam: 5.5″
Lululemon Bowline Short
Pros
Water-repellent
Internal drawcord
Zipped back pocket
Four-way stretch and abrasion-resistant
Best Versatile Shorts: Are there any brands that define the word "athleisure" better than lululemon? From the company's humble roots in Canada to becoming nearly synonymous with the style it helped pioneer, lululemon has built up a variety of options that could go on this list. However, its Bowline 5" Short deserves the spot for its versatility and fashionability, as well as its utility. Made with a ripstop fabric blend of 85% nylon and 15% elastane, these shorts give you an unbelievable stretch, and the shorter length provides the breathability you need to last you all day long.
Material: 85% nylon, 5% elastane
Fit: Classic
Inseams: 5″, 8″
Public Rec All Day Every Day Short
Pros
Roomy fit and feel
Durable yet soft
Internal drawstring
Cons
More for relaxing than working out
Best Relaxed-Fit Shorts: As a brand, Public Rec may have the most diversity in its offerings. Hitting the nail on the head with its stylish dress shirts and running gear, the company also manages to score big with its athleisure as well. The All Day Every Day Short is a shorter version of its flagship pants, going so far as to include a fake fly on the front to fool others into thinking you're less comfortable than you actually are. The rest of the pants play along as well, with an internal drawstring and a streamlined, tapered silhouette. Both front pockets are zippered for added security, and the nylon fabric is soft and ultra-comfortable inside and out.
Material: 88% nylon, 12% spandex
Fit: Relaxed
Inseam: 8 1/4″ – 10″
Taylor Stitch The Après Short
Pros
Antique brass metal hardware
Dark horn buttons
Washed for extra softness
Best Premium Shorts: The experts over at Taylor Stitch have been perfecting comfortable everyday apparel with matching style since starting in 2009. So it makes perfect sense that they make one of the best pairs of soft and breathable shorts you can get right now. These shorts are made with 8.5 oz of 100% organic cotton in a waffle weave, and washed to be super soft right out of the box. It features an elastic waist with a drawcord, antique brass metal tips, and it's finished with dark horn buttons.
Material: 8.5oz 100% organic cotton
Fit: Elastic waist with drawcord
Inseam: 6″
The Best Hoodies For Men
While athleisure shorts offer true versatility, it's hard to think of a better pairing than a good pullover. We've got you covered with our guide to the best men's hoodies to nail comfort in style.