Once used exclusively by the military and government aerospace agencies, titanium used to be quite mythic. It was rare, expensive, and extremely hard to come by in the civilian sector. However, over the years it has become much more widely available and utilized widely in a number of industries to craft all sorts of things from automotive parts down to pocketable everyday carry gear.
Of course, it's still rarer and more expensive than many other materials — even other metals like stainless steel. Still, the benefits (for many) far outweigh the drawbacks of cost and rarity. Titanium isn't just a cool buzzword — it promises lighter weight and strength that's up to 10 times greater than that of stainless steel. It's also highly corrosion-resistant and can be anodized in just about any colorway you desire. And that makes it pretty special in the world of EDC. It's with that in mind that we put together the following list of the 20 best titanium everyday carry essentials you can presently purchase.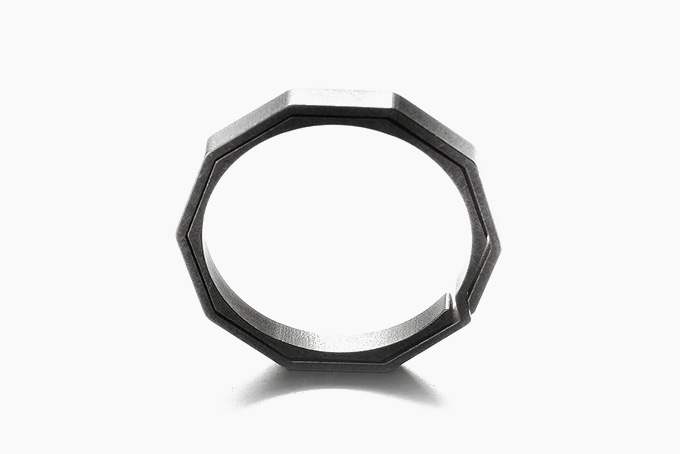 Handgrey Knox Titanium Keyring
For something so ubiquitous, it's strange that more people haven't tried to improve upon the admittedly clunky design of most keyrings. Thankfully, more people don't have to because Handgrey's Knox you see here is damn near perfect with its titanium construction, pain-free split-ring design (much easier to get your keys on and off without a fuss), angular exterior, and ultralight weight.
TEC Accessories Python-QR Titanium Quick-Release
If you've got a collection of keychain accessories that would be easier to use if they weren't attached to the rest of your keys, then the TEC Accessories Python-QR quick-release keychain is perfect for you. It's made in the USA from ultra-tough, ultralight titanium and boasts no unnecessary moving parts — yet it's still super easy to use and it's remarkably secure (meaning it won't detach by accident). As far as quick-release keychains are concerned, this one is tough to beat — especially at this price.
Keysmart Titanium Key Organizer
Keysmart's designs are already pretty impressive and have made keeping your keys organized and jingle-free a snap. However, even their original near-perfect design could be improved upon, which they illustrated by doing it in titanium. Now, this exceptional piece of EDC gear is lighter, stronger, and still just as capable as before — with room enough for up to eight keys. It doesn't hurt, either, that it was made in the USA.
Quiet Carry Bandit Titanium Keychain Knife
Carrying a full-size folding knife isn't always reasonable or even possible, especially for those looking to minimize their everyday carry. But you can still get the cutting power and most of the features of a full-size blade in a tinier package with Quiet Carry's Bandit titanium keychain knife. Measuring up at just 3″ in total and 1.8″ when closed, this EDC knife boasts an AUS-8 steel blade, titanium handle, sturdy back lock, and a handy keyring hole.
TEC Accessories Ti-Pry Titanium Pry Bar
As far as EDC is concerned, think of a pry bar like a skeleton key. It can open paint cans, pry open pesky panels, remove nails, and more. And this one from TEC Accessories is built from ultralight, super-sturdy titanium. Furthermore, it's more than just a pry bar; it also has a built-in tungsten carbide glass-breaker tip, comes with a pocket clip for easier carry, and it was made in the USA.
Scout Leather Co. Scout Hook Keychain Bottle Opener
Picking up hybridized pieces of gear is one way to help maximize the usefulness of your everyday carry while keeping the overall burden to a minimum. And that's one of the things we love about the Scout Leather Co. Scout Hook. Not only can this help keep your keys conveniently at the top of your pocket (rather than in a jingly lump at the bottom), but it also works as a bottle opener — lending credence to its overall value. Furthermore, the titanium construction ensures that it's super-lightweight and damn near indestructible.
Vargo Titanium Funnel Flask
While you probably wouldn't want to carry one around every single day, a flask is definitely something that should be in every man's arsenal for those times when they're appropriate — like weddings, parties, camping trips, etc. However, most flasks aren't exactly friendly to on-the-go fill-ups. This titanium one from Vargo, however, comes with all the hallmarks of a great vessel — a leak-proof screw-top, 8oz capacity, and near-indestructible food-safe titanium construction — but it also has a handy integrated silicon funnel to ensure you don't spill a drop of your favorite spirit when you're filling up.
The James Brand Mehlville Titanium Carabiner
A handy and handsome alternative to a traditional keychain that keeps your keys and keychain accessories secure and easily-accessible, The James Brand's Mehlville Carabiner is available now in full titanium — making it lighter and tougher than ever before. It still boasts all its other spectacular traits, as well — like a spring-loaded gate, key-capturing dual-compartment design, and integrated bottle opener.
Tactile Turn Standard Side Click Pen
No matter how digital the world becomes, a pen will always be a useful tool to those who truly understand its value. That's made all the better when your EDC writing utensil of choice is the Tactile Turn Standard Side Click Pen, which is built from titanium here in the USA, compatible with Pilot G2 refill cartridges, and protected by a lifetime warranty. If you're a believer that the pen is mightier than the sword, this one might be a must-have.
The Ridge Titanium Wallet + Cash Strap
To revolutionize a classic, traditional, ubiquitous piece of everyday carry gear is a pretty tremendous feat. However, that's just what The Ridge has done with their exceptionally-slim series of minimalist front-pocket wallets. And while they're available in a number of materials and colorways, one of our favorites is this magnificent Burnt Titanium version — which still holds up to 12 cards, offers RFID-blocking tech, and has an attached cash strap.
Big Idea Design Bit Bar Titanium EDC Screwdriver
For the most part, screwdriver sets aren't exactly carry-friendly — which is a shame because drivers are so useful for so many DIY fixes in the home, on the road, and elsewhere. Thankfully, the geniuses at Big Idea Design saw the potential and imbued it into their Bit Bar Titanium EDC Screwdriver. This clever kit is pocketable, comes with onboard storage for its eight included hex driver bits, is fully TSA-compliant, and is tough as nails.
Vargo Titanium Para-Bottle
Water is a necessity of life. Go even a few minutes without any in the right conditions and you could perish. As such, keeping a water bottle with you at all times and on all occasions is a pretty good idea. And if you want a go-anywhere one that's basically indestructible, the folks at Vargo have you covered with their Titanium Para-Bottle. Along with its ultra-tough exterior and easy-grip geometric cap, it also boasts a bit of emergency-ready paracord that can be repurposed for survival purposes given the right circumstances.
Leatherman Charge+ Titanium Multi-Tool
One of the best multi-tools that Leatherman has ever made, the Charge+ features a whopping 19 built-in tools that cover just about any DIY fixes you could possibly make — including additions like pliers, a knife blade, saw, wire cutters, a bit driver, and so much more. This special-edition version also happens to come with a titanium handle for a bit more desirability and durability. Not to mention, as is the case with all Leatherman tools, it comes with an included 25-year guarantee.
Rexford RUT V4 Titanium Utility Tool
A box cutter can be an exceptionally useful tool to add to your everyday carry loadout. However, most of them are somewhat cumbersome and don't offer much in the way of versatility. This one, made by master knife designer Todd Rexford, doesn't have any of those issues. It's small enough to stash in even the most crowded of pockets, but it boasts a remarkably tough titanium construction, multi-functional built-in tools (like a pry bar and bottle opener), and it is made in the USA.
Dango T02 Titanium Tactical Wallet
Most people probably don't need a wallet that could survive the apocalypse, but that doesn't mean we don't want one. Thankfully, the folks at Dango have us covered with their T02 Titanium Tactical Wallet. This cash and card carrier is made in the USA from titanium and leather, has mil-spec hardware, comes with a silicone cash strap, can hold up to 16 cards, boasts RFID-blocking technology, and has a removable steel one-piece multi-tool — making this less a wallet and more a do-everything EDC masterpiece.
The James Brand Duval Knife
One of the most essential pieces of everyday carry gear, folding knives are available in thousands of different styles in hundreds of different materials from dozens of different brands. Still, some stand out quite a bit from the pack — like The James Brand's titanium and Damascus steel Duval you see here. Those premium materials and its timeless silhouette also come with a bit of modernity in the form of a cleverly-hidden sub-frame lock (for more security in use) and a buttery-smooth ceramic ball-bearing pivot. This is the kind of knife you'll want to hand down to your children.
Ray-Ban Titanium Aviator Sunglasses
Few sunglasses are as iconic as Ray-Ban's Aviators. They're so widely loved and embedded into popular culture, in fact, that there are literally thousands of imitation knock-offs available on the market. Still, nothing beats the original — that is, unless the brand themselves were to make those classic sunglasses out of titanium. And, wouldn't you know, that's exactly what Ray-Ban has done.
Muyshondt Flieger Titanium Flashlight
Nobody makes flashlights quite like Muyshondt. And yes, you will pay a premium for their superb mix of gorgeous styling and remarkable performance. But you'll also never want to use another flashlight again in your life. In fact, just carry around the brand's aerospace-inspired 720-lumen Flieger flashlight and you can see for yourself. This isn't just another LED lamp — it's a victory torch that will burn for a lifetime or more.
Apple Watch Series 6 Titanium
With every edition, the tech inside of Apple's Watch gets better and better. However (and for the most part), the exterior has remained largely unchanged, at least as far as materials are concerned. Series 6 broke that trend by coming in an optional titanium case. It's a bit of a price hike, but it's ultra-tough, brag-worthy, and still comes with all of the exceptional onboard tech — from top-tier fitness tracking to hundreds of available apps and everything in-between.
Omega Seamaster Planet Ocean Watch
If traditional horology is of greater interest to you than the latest in smart tech, you may want to opt-out of picking up a smartwatch and instead choose something like Omega's Seamaster Planet Ocean Watch to wrap around your wrist. One of the brand's most iconic models, this one boasts a titanium case and a matching link band, an automatic movement, a rotating dive timer bezel, and a water-resistance rating that makes it good for dives as deep as 500m.
The 10 Best Titanium EDC Knives
One of the most important and common types of EDC gear, a cutting tool is — at least in our minds — a necessity for any loadout. If you're drawn to the above guide and you want a blade to go with your all-Ti kit, you'll find what you're looking for on our list of the best titanium EDC knives.