Ten bucks doesn't go very far these days, but with a little work and some smart shopping, you can easily find plenty of quality gear for your everyday carry kit that slides in under a sawbuck. We cut through the pounds of cheap products put out by disreputable companies looking to prey on your ignorance and found items that will give you years of daily use without breaking down or giving up the ghost. From knives to flashlights to a workman's money clip, each of our choices is low in price, but high in quality and value.
We wouldn't allow you to take our word for it. We found EDC items that many people had abused for ages with great success. They are all backed by quality brands who use decent materials, so even though you're spending the bare minimum, you're still going to be proud of the pieces in your pocket. For about a hundred bones, you can, and should, own everything on our list of the 15 EDC essentials under $10. Each one is field-tested for long-term reliability and backed by untold successes.
Zebra F-701
Though it's a clicker pen, you never have to worry about the Zebra breaking down, even if it's been sitting in your pocket while you did 8 seconds on a frothing bull. Steel tough exterior with knurling on the end for a better grip, it's still inexpensive enough that losing it is no sweat. They also make a damn fine pencil if that is more to your liking.
Wallet Ninja
Flat and fantastic, you get hex bolts, a bottle opener, screwdriver heads, a ruler, a prybar, and plenty of other little gizmos that make the Wallet Ninja an ideal everyday companion. It should take up permanent residence in your wallet or slide forever into your money clip.
Field Notes
When you're jotting down important information, you need quality paper that can hold ink even under dire conditions, stand up to constant abuse, and give you the kind of layout you need, be it dotted, lined, plain, or graph paper. Loads of options at a low cost is the Field Notes promise.
Gerber Shard
Inch for inch and ounce for ounce, there's no simpler, more affordable, and more complete keychain tool than the Shard. Backed up by the Gerber name, it can dig, pry, scor, twist, and strip, yet takes up minimal space in your pocket or hung 'round your neck for making quick work of life's little hangups.
Gerber Paraframe Mini Knife
The Paraframe Mini combines a high carbon steel blade coupled with a stainless steel bikini handle that keeps the weight low while still giving you a solid grip. With its tight pocket clip for deep pocket carry, this is a great go-to knife that's easy on the ol' bank account.
Nite Ize Inova Microlight
By using a recessed bulb, the Inova Microlight prevents breaking, scratching, and the daily damage that comes from riding in your pocket day after day. Whenever you need it, the cobalt blue light will be ready to deploy and will likely outlive you.
United Cutlery Black Legion Finger Kubaton
It's a weapon disguised as a bottle opener for easier carry on planes and faster access when you're under attack. If you need a knuckle duster but your brass "paperweight" with the finger holes isn't handy, this will pack a lot of punch in your swing.
Streamlight Nano Light
Utilizing a parabolic tip, this will both throw light further than your average low-cost keychain light and last longer by keeping the 5mm, 10 lumen bulb well out of harm's way. Anodized aluminum helps keep the whole shebang intact and the attached clip makes it detachable when you need to go rogue.
FreeKey System
A new twist on the old ring style keychain, the FreeKey system allows you to more simply add or subtract keys from your rig and helps keep them better organized for less hunting to get into your home or car. Get one or chain a bunch together if you're constantly swapping out keys from day to day.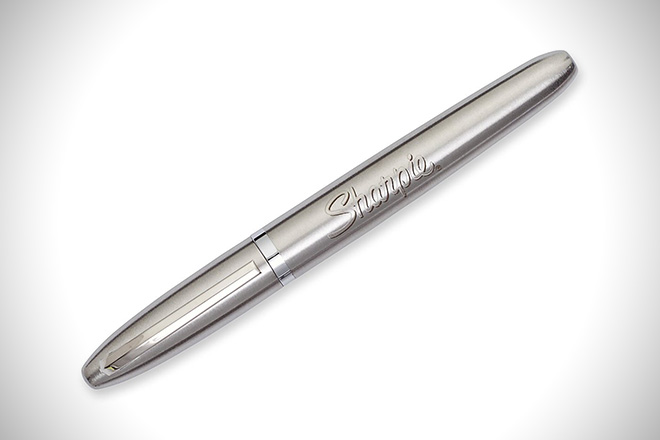 Sharpie Stainless Steel Permanent Marker
Whether you're signing pictures for your adoring fans or just marking on boxes from day to day, having a permanent marker that can stand up to the abuse of a life well-lived is worth the cost. When it runs dry, just replace the ink cartridges and move on down the road.
Nite Ize Sidelock Steel S-Biner
The S-Biner can operate as a keyring or just dangle off your rucksack for whatever you need to clip to it. Plastic sliders with independent locks keep it closed and secure to deter thieves and helps keep your gear from dropping when you bump up against something or someone.
Alaska Bear Cash Money Clip
Forget about toting around a bulky wallet overflowing with receipts and Chinese fortunes. Get yourself an Alaska Bear clip to hold all your scratch for when you're ready to make it rain. A classy yet slender look reduces space consumption while showing off just enough bling when you whip it out to amaze the natives.
The Friendly Swede Paracord Survival Bracelet
Approximately ten feet of heavy-duty, hard-core paracord compacted to fit on your wrist, it's hard to believe that this managed to slide in under ten bucks. Backed by a lifetime warranty and held together with a tough-as-hell D-clip, this will handle all your binding and rescue needs with ease.
Anker Astro Mini
Fully 3350mAh, this is the lipstick backup battery you should always have on hand. It will recharge your iPhone, GoPro, standard smartphone, and even give you enough power to keep some tablets up and running. Quick 3-4 hour charging time makes it easy to keep this literally in your back pocket for those rolling blackouts.
Nite Ize DoohicKey Multi-Tool
Part keychain, part multi-tool, part bottle opener, part wrench, you're going to be surprised at how often you find yourself reaching for the DoohicKey once you've put it in your EDC kit. The smooth body trumps most pocket tools by allowing it to ride safely and comfortably in your pocket without ripping your clothes or jabbing your legs.