One of the best things you can bring with you on any trip – short or long, big or small – is some cool refreshing beer. While it's not by any stretch a necessity, it undeniably a great way to take a moment to wind down and appreciate your surroundings in good company. If you are going to go on an adventure with some bottle of beer – rather than, say, a growler – you're going to need to remember to bring with you one very important thing: a bottle opener.
Or you could do yourself a favor and keep one on your keychain at all times. If you get the right one, it'll be small enough that it won't be a bother and then, when you need it most, you'll always have a way to open those beers. If that sounds like a pretty killer prospect, then you'll probably want to check out the following collection. After all, these are the best keychain bottle openers that money can buy.
The Best Keychain Bottle Openers
Best Carabiner

Nite Ize Ahhh…

Best Value Pick

Gerber Shard

Best Outdoor/Camping Pick

Kershaw PT-1

Best USA-Made Pick

scene3designs Recycled Skateboard Mini Bottle Opener

Best Classic Pick

Victorinox Waiter Swiss Army Knife

Best Titanium Pick

Handgrey Bauhaus M0.25

Best Undercover Pick

Everyman Porter Key Multi-Tool 2.0

Best Multi-Tool

Griffin GPT Mini Titanium

Best Overall Pick

The James Brand The Halifax
Cold One-Crackers
The Most Important Areas To Consider When Buying An EDC Keychain Bottle Opener
Keychain bottle openers for everyday carry admittedly aren't all that complex, with every one of these items being designed to provide an easy and convenient means of cracking open a cold one no matter where you might find yourself. Above and beyond this one primary function, EDC keychain bottle openers can actually vary quite a bit in a variety of ways. So, with this in mind, we've broken down the most crucial areas to consider when buying one.
Materials: The materials used to craft a keychain bottle opener will play an enormous role in its overall quality and durability. Because of the simple and minimalistic nature of this segment, many of these items are machined from solid blocks of alloy, though there are also plastic models, as well as multi-construction keychain bottle openers that are composed of several materials. Stainless steel is by far the most common construction seen in this space, though titanium, brass, and aluminum are also commonplace. Some models are also produced in multiple construction options.
Size & Weight: Despite the fact that each and every one of these products is designed to hang on a keychain, they can still vary pretty significantly in terms of size and weight, from models weighing only a fraction of an ounce up to keychain bottle openers tipping the scales at closer to a quarter pound.
Style: Keychain bottle openers for everyday carry are produced in a wide array of different aesthetic flavors, making it well worth your while to review a decent number of the available options on the market as there will almost certainly be a particular style that resonate with your personal taste. What's more, quite a few of these models are offered in multiple color options, allowing for an even higher degree of personalization.
Additional Tools & Functions: Though its ability to open a bottle is the main element that draws most EDC enthusiasts to these keychains, there's no shortage of EDC keychain bottle openers that come loaded with additional tools and functions that bolster utility — and bolster the item's conduciveness to everyday carry duties. These supplementary tools and functions often include bit drivers, mini pry bars, hex wrenches, and even small blades.
The Best Keychain Bottle Openers
Nite Ize Ahhh…
Pros
Based on best-selling carabiner
Super affordable
Weighs only 1.16oz
Offered in black or bare steel finishes
Cons
Weak carabiner gate is prone to bending
Best Carabiner: With a simple yet effective design, affordable price, and solid stainless steel construction, the Nite Ize S-Biner has long been an immensely popular EDC carabiner. In a bit to afford the "everyday carry-biner" with just a bit more utility, the company has bestowed this best-selling product with a pair of frame-integrated nibs that allow the top and bottom ends of the item to function as a bottle opener — all while still being able to carry your keys and keychains. Measuring 3.18" x 1.76" x .28" and tipping the scales at only 1.16 oz, the Nite Ize Ahhh… is offered in black or bare steel finishes.
Material: Stainless Steel
Length: 3.18"
Gerber Shard
Pros
Stainless steel body fortified in rugged titanium nitride coating
Features 7 tools & functions
Backed by the Gerber Guarantee
Is fully-TSA-compliant
Cons
Super tiny size massively limits leverage & grip
Best Value Pick: With the huge benefit of being TSA-compliant, the Gerber Shard is built from stainless steel and coated with titanium nitride for added corrosion resistance. And although it certainly measures up as a killer bottle opener, it also has a few other hidden capabilities. In fact, it works as a screwdriver, pry bar, and wire stripper. And if you want to attach it to a hiking pack with paracord, the keychain hole is large enough for it.
Material: Ti-Coated Stainless Steel
Length: 2.75″
Kershaw PT-1
Pros
Has integrated pry bar & bit driver
Equipped w/ Kershaw's GFN K-Texture grip
Weighs less than 1oz
Extremely durable
Cons
Lacks functionality of Kershaw's PT-2
Best Outdoor/Camping Pick: First released in 2017, the Kershaw PT-1 is a tiny keychain tool that features several integrated functions in its tiny 2.75" footprint. Short for the "Pry Tool-1," the PT-1 is made from 3Cr13 steel with a matte, bead-blasted finish, before being fitted with a glass-filled nylon handle scale with Kershaw's proprietary K-Texture grip. Weighing in at under an ounce, this Kershaw item also packs a built-in slotted bit driver tip, a mini pry bar, a lanyard hole, and of course, the amenity that earns it a spot on this list; a bottle opener.
Material: 2.75"
Length: 3Cr13 Stainless Steel
scene3designs Recycled Skateboard Mini Bottle Opener
Pros
Made in Virginia from upcycled skate decks
Each unit is sanded & finished entirely by hand
Unique, no two units are exactly the same
Has protective clear coat
Cons
Fit & finish can vary from product to product
Best USA-Made Pick: If this keychain tool looks a little bit odd to you, that's probably because the folks at scene3designs had to be a little bit creative with their starting materials. As you might guess from its name, this bottle opener is actually made from recycled skateboard wood by hand here in the United States. And if you're wondering what the big hole in the middle is for, it's a clever finger slot so you can get the leverage you need to crack open your favorite beer.
Material: Recycled Skateboards (Layered Wood)
Length: 2.0"
Victorinox Waiter Swiss Army Knife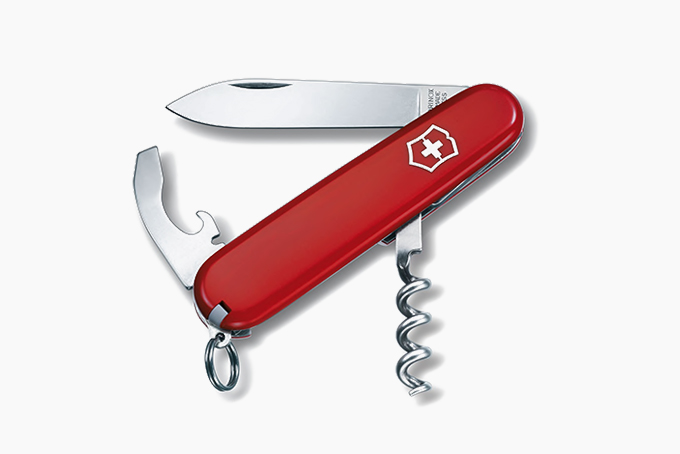 Pros
Made in Switzerland
Classically-styled SAK w/ 9 tools & functions
Weighs only 1.2oz
Can be upgraded w/ aftermarket handle scales
Cons
Very large for keychain use
Best Classic Pick: At 3.30" in length, the Victorinox Waiter is a medium-sized Swiss Army knife that packs a set of tools and functions primarily aimed at bar-tenders and — as its name suggests — wait staff. Amenities on this model include a large non-locking blade, a corkscrew, a bottle opener, a 5mm screwdriver, a wire stripper, and the classic SAK keyring, toothpick, and tweezers. Weighing only 1.2oz, this Swiss-made nine-tool item can also have its Cellidor handles swapped out and upgraded using aftermarket scales.
Material: ABS, Cellidor, & Stainless Steel
Length: 3.30"
Handgrey Bauhaus M0.25
Pros
Features minimalist, Bauhaus-inspired design
Crafted from Grade 5 titanium
Stonewashed finish does fantastic job of hiding scratches
Also offered w/ hand-brushed finish
Pairs wonderfully with Handgray's Bauhaus Series carabiners
Cons
Shape of bottle opener easily catches & snags on clothing & other items in pocket
Best Titanium Pick: From Handgrey's Bauhaus line – a series of industrial styled everyday carry tools which meld both form and function – this is one of the smallest keychain bottle openers we've ever seen. But don't let its stature fool you; it's incredibly effective and tough. That's because it's crafted from grade 5 squared titanium. And, just for reference, it's only about the length of half a normal sized key. If you want a bottle opener keychain but you are limited on space, this is definitely the one for you.
Material: Titanium
Length: 1.35"
Everyman Porter Key Multi-Tool 2.0
Pros
Discreet, minimalist design
Features dual-layer bottle opener
Neatly blends in with rest of keys on ring
Is TSA-compliant
Cons
Doesn't include 1st-gen model's blade
Best Undercover Pick: The Everyman Porter Key Multi-Tool 2.0 is a second-generation keychain bottle opener that's been designed to discreetly blend in with the rest of the keys on your ring. Tipping the scales at just 1oz, the Porter Key Multi-Tool 2.0 features a dual-layer bottle opener design, a groove-grip edge pull, and a reinforced keyring. Spanning 2.5" — almost exactly the length of a standard house key — the 2nd-gen Porter Key is constructed from 0.10" thick 3CR13 stainless steel that's been rated at 52 to 55 HRC (for hardness) on the Rockwell scale.
Material: Stainless Steel or Brass
Length: 2.50"
Griffin GPT Mini Titanium
Pros
Machined from solid titanium
Crams enormous amount of utility into tiny package
Has 10 integrated tools & functions
Best Multi-Tool: Despite measuring just 2.0" x 0.6" x 0.2", the Griffin GPT Mini — or "Griffin Pocket Tool Mini" — is manages to cram a wealth of features and functionality into an incredibly compact yet practical package. Machined from a choice of either brass, copper, stainless steel, or top-shelf titanium, the GPT Mini boasts a frame with a plethora of integrated tools such as a bottle opener, a flathead driver, a scoring tool, a pry bar, a 1/4" bit driver and wrench, 5/16" and 11/32 hex wrenches. Tipping the scales at under 0.3oz, the titanium version of the GPT Mini is rounded out with an integrated pocket clip and keyring hole.
Material: Titanium (or Brass, Copper, or Stainless Steel)
Length: 2.0"
The James Brand The Halifax
Pros
Sleek minimalist EDC item offering ample utility
Crafted from 1/" thick titanium w/ Cerakote finish
Also has integrated pry bar & bit driver
Bottle opener made form 416 stainless steel
Cons
Tiny size limits pry bar's leverage
Best Overall Pick: In the Portland EDC purveyor's typical fashion, The James Brand Halifax is a well-crafted item that perfectly merges form with function with its sleek, minimalist yet utilitarian design. Equipped with a regular and Phillips-style bit driver, a 416 stainless steel bottle opener, and a mini pry tool, The Halifax is precision machined from a 1/8" block of titanium before this already hardwearibg construction is further fortified via a Cerakote finish.
Material: Titanium
Length: 2.875″
The Best Self-Defense Keychains for Everyday Carry
Want to check out some other EDC-focused keychains with a very different purpose? Then be sure to head over to our guide to the best self-defense keychains for everyday carry for a curated selection of Kubatons, mace, self-defense keys, and knucks.