Though the two undeniably serve very different purposes, cars and watches have an inextricable connection that dates back to the dawn of the automobile. Not only are these items both steeped in tradition, but they also employ a great deal of complex engineering and an intricate use of mechanics, while also needing to merge form and function. What's more, for most of motorsport history, watches have been used for timekeeping — establishing an even more concrete link between the two. And it's for these reasons that so many car enthusiasts also possess a vast appreciation for fine timepieces. This has ultimately lead to a wide range of watches designed for and aimed at auto enthusiasts and gearheads — the finest of which we'll be counting down today in this guide to the best watches for car enthusiasts.
Gearhead Horology 101
The Main Factors To Consider When Buying A Motorsport-Themed Timepiece
Though there are dozens of elements one can take into account when buying an auto-themed watch, five factors undoubtedly stand above the rest. Below, we'll briefly touch on the five main areas that should be considered when buying an auto enthusiast timepiece.
Case: Not unlike the frame that are car is built around, a watch's case serves as the backbone and chassis for the rest of the timepiece. Cases obviously come in a wide variety of shapes, styles, and constructions, though materials utilized in motorsport — such as carbon fiber or titanium — are often some of the most common. 
Movement: Practically any auto enthusiast can tell you that what's under the hood of a car really matters, and this belief is no less true with motorsport-themed watches and the movements that they contain. While often of the mechanical variety, a myriad of different type of horological movements can be found in driver-focused watches. 
Dial: Another way some watchmakers establish an even greater connection between timepieces and watches is through the use of dials that are modeled after automotive instrumentation and gauges. This aesthetic is fairly common in this space, as are chronograph watch dials that feature sub-dials and tachymeters — scales used for measuring speed over distance. 
Band: A watch's bracelet or band plays an enormous role in its overall appearance, and with so many of these watches aiming for a motorsport-inspired appearance, quite a few models boast bands with visual nods to classic car interiors. Like a tire, a watch's band can also be swapped out at will, allowing its wearer to dress it up or down depending on the occasion. 
Motorsport Connection: While timekeeping is seldom done with a watch these days, there are still dozens of timepieces that possess tangible ties to race teams, specific automakers, iconic race events, or legendary race liveries. And though this factor doesn't really change a watch per say, it does give it a more concrete connection to the world of motorsport.
YEMA Rallygraf
The YEMA Rallygraf is an attractive yet affordable motorsport-themed watch that punches well above its weight — and MSRP. The Rallygraf is a modern-day reissue of the brand's 'original 70s-era racing chronograph — the very watch famously worn by Mario Andretti when the race legend piloted his 700-hp Brawner Hawk MK III race car to victory at the 1969 Indy 500. Constructed around a 39mm 316L stainless steel case with a black tachymeter bezel and a knurled crown with double seal "O" ring seals, the Rallygraf features a Seiko VK64 meca-quartz movement, a steel mesh band, and a uniquely-designed dial with mirrored trapezoid-shaped sub-dials underneath a double-domed mineral crystal.
Case Size: 39mm
Case Material: 316L Stainless Steel
Movement: Mechanical-Quartz Hybrid
Straton Speciale
Decked out in classic Gulf livery colors — though also available in a variety of other colorways — the Straton Speciale is a vintage-inspired timepiece produced by a Zurich-based microbrand that exclusively trades in automotive and motorsport-inspired watches. Water-resistant down to 100 meters, the Speciale is offered with either a Seiko VK67 meca-quartz movement or a Swiss Made Valjoux ETA7750 automatic unit — both of which come housed in a DLC-treated 316L stainless steel case (though the automatic version is slightly thicker at 15.9mm versus the meca-quartz's 13mm. The 42mm case comes equipped with a retro-style perforated leather strap. This Swiss-made chronograph also features SuperLuminova-coated markers and hour and minute hands.
Case Size: 42mm
Case Material: DLC-Treated 316L Stainless Steel
Movement: Automatic (or Quartz)
Autodromo Group B
The Autodromo Group B is a neo-retro watch that pays homage to what many enthusiasts consider to be the golden era of motorsport, the infamous Group B years. More specifically, the watch's dial is based on the tachometer found in Lancia's iconic 037 rally car. Water-resistant to 50 meters, the watch boasts a 39mm titanium and stainless steel bimetallic two-piece case construction housing a Miyota 9015 automatic 24 jewel hacking mechanical movement. Sold in a handmade aluminum collector's box, the Group B also comes paired with a resizeable integrated stainless steel bracelet.
Case Size: 39mm
Case Material: Titanium & Stainless Steel
Movement: Mechanical
REC Watches P51 Eleanor
Based in Copenhagen, REC is a unique watch brand that produces timepieces with handcrafted dials reclaimed from iconic cars. And the Danish brand's P51 Eleanor model is no different, with its dial having been up-cycled from the trunk lid of the famous Eleanor '68 Mustang Fastback featured in Gone in 60 Seconds before being covered in a clear lacquer to preserve the metal's original patina. Kept ticking via a 26-jewel Caliber 9130 Miyota self-winding, mechanical movement, the rest of the watch's design draws inspiration from the wheels, racing stripes, instrumentation, and chrome elements found on the iconic movie car. Making this watch all the more special is the fact that it's limited to only 498 units worldwide.
Case Size: 44mm
Case Material: PVD & Gunmetal-Coated 316L Stainless Steel
Movement: Mechanical
Tissot Heritage 1973
Constructed around an oval-shaped 316L stainless steel case modeled after one of Tissot's chronographs from 1973, the aptly-named Heritage 1973 is a Swiss-made chronograph with an unmistakable motorsport influence. At the heart of the Tissot Heritage 1973 is a Swiss VALJOUX A05.H31 automatic movement with 27 jewels and a 60-hour power reserve. Outfitted with a tachymeter-equipped panda dial, the watch also comes paired with a perforated embossed cow leather strap that's inspired by the steering wheels of vintage race cars.
Case Size: 43mm
Case Material: 316L Stainless Steel
Movement: Automatic
Reservoir KANISTER
Reservoir makes some of the coolest and most genuine motorsport-themed watches — an area massively helped along by the use of the brand's jumping hour movement and unique dial layout. The company employs a window at 6 o'clock that display the hour and a minute hand that circles the dial from 1 to 60 (starting at 8 o'clock and going to 4 o'clock) before returning to 1 (at 8 o'clock) — not unlike how a tachometer looks when banging through the gears. This particular watch — the Reservoir KANISTER — sees the base of its dial modeled directly after the RPM counter used in the legendary Porsche 356 Speedster.
Case Size: 41.5mm
Case Material: Titanium
Movement: Jumping Hour Mechanical
Tudor Heritage Chrono
Backed by a five-year warranty, the Tudor Heritage Chrono is a modern recreation of the Swiss brand's legendary "Monte Carlo" watch. Waterproof to 150 meters, the Heritage Chrono is crafted around a polished and satin-finished 42mm stainless steel case that features a blue-anodized aluminum bidirectional rotating bezel. Inside the case lies a Calibre T401 self-winding mechanical movement that offers a 42-hour power reserve and an additional mechanism for chronograph function. A steel bracelet and a knurled crown complemented via knurled chorno pusher bases complete the package.
Case Size: 42mm
Case Material: Stainless Steel
Movement: Mechanical
Breitling Top Time Classic Cars Capsule
Breitling's Top Time is an authentic-looking vintage-inspired chronograph that exists across a wide number of references — all of which are born out of limited-edition collaborations. Regardless of the variant, the Top Time sports a 42mm stainless steel case encompassing a Breitling Caliber 25 self-winding mechanical movement. Breitling's Top Time Classic Cars Capsule also includes additional models like the Ford Mustang variant and the Chevrolet Corvette version — though the brand also produces motorcycle-themed models including a collaboration with Triumph and another with world-renowned lifestyle brand and custom moto shop Deus Ex Machina.
Case Size: 42mm
Case Material: Stainless Steel
Movement: Mechanical
Chopard Mille Miglia Classic Chronograph
In 1988 Chopard signed on as a main sponsor of the Mille Miglia —a 1,000-mile open-road endurance race starting in Brescia, Italy before traveling to Rome and back. Alongside sponsoring and serving as the official timekeeper for the vintage motorsport event, the Swiss outfit also produces special edition chronographs to commemorate the Mille Miglia. Powered by a self-winding mechanical chronograph movement, this version of the Chopard Mille Miglia Classic Chronograph boasts a 42mm stainless steel case that draws visual inspiration from the elegant lines and antique instrumentation used in classic cars. The watch's rubber strap is also based directly on the tire tread patterns of Dunlop's 1960s-era rubber.
Case Size: 42mm
Case Material: Stainless Steel
Movement: Automatic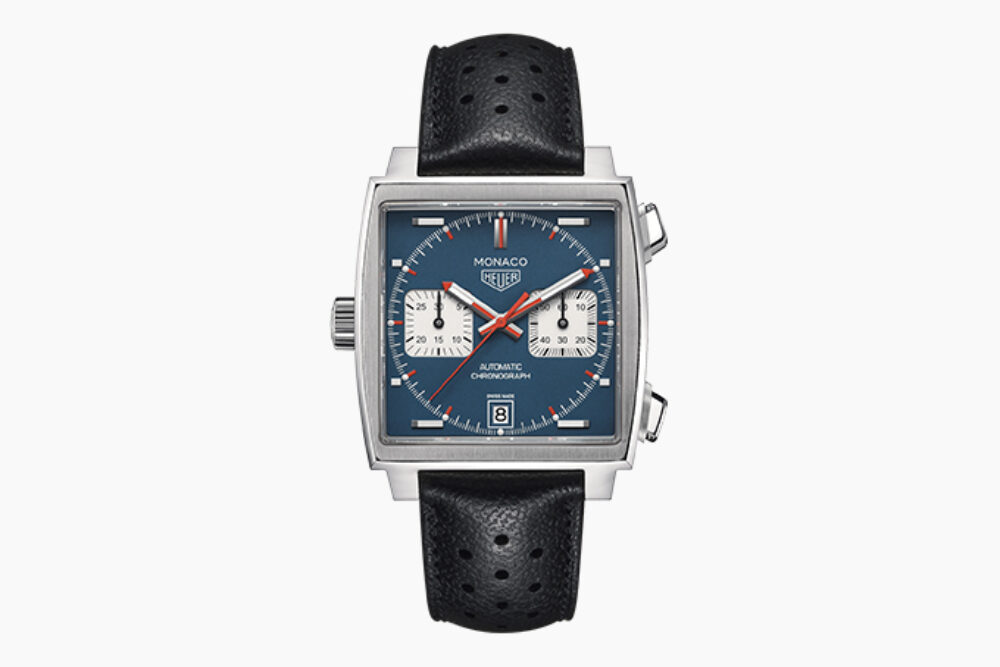 TAG Heuer Monaco Cal. 11
The original square-cased chronograph famously worn by Steve McQueen in the 1971 film Le Mans, the TAG Heuer Monaco is an incredibly iconic motorsport-themed timepiece — as well as the world's first square and waterproof chrono. And despite more than half a century having passed since adorning the King of Cool's wrist, the Monaco remains a horological icon. Outfitted with a crown on its left opposite a pair of chrono pushers, the watch's 39mm case features a stainless steel construction and houses a Swiss-made Calibre 11 automatic movement.
Case Size: 39mm
Case Material: Stainless Steel
Movement: Automatic
Bremont WR-22
Born out of a collaboration between the Bremont Watch Company and the Williams Racing Formula 1 team — the former of which serves as the official timing partner of the latter — the WR-22 (or WIlliams Racing 2022) is a high-end racing chronograph that's completely designed and crafted in the UK — including a Calibre 13 ¼''' BE-53AE Chronometer-rated automatic movement. Cloaked in William's signature oxford blue, electric blue, and white livery colors, the WR-22 boasts a 43mm stainless steel case with a trip-tick construction, along with a bi-directional tachymetric ceramic bezel and a custom, Williams-logoed tungsten rotor inspired by the British race team's F1 wheel designs. Offered with either an Alcantara strap or stainless steel bracelet, each unit is also sold with an included wheel nut sourced from a historic Williams Racing car. 
Case Size: 43mm
Case Material: PVD-Treated Stainless Steel
Movement: Automatic
Omega Speedmaster Racing
Though originally designed for use on the race track, the Omega Speedmaster would become the first-ever watch to be worn on the moon in 1969 — and has since gone on to be worn on the wrists of astronauts on lunar missions more than any other timepiece on (or outside of) earth. This modern version of the watch — the Omega Speedmaster Racing — pays tribute to the timepiece's racing heritage with a checkered flag-inspired dial encompassed by a black ceramic bezel. Inside the case is a Calibre Omega 9900 self-winding chronograph movement with column wheel and Co-Axial escapement, as well as a 60-hour power reserve and a Rhodium-plated finish with Geneva waves in arabesque.
Case Size: 44.25mm
Case Material: Stainless Steel
Movement: Automatic
Porsche Design Chronograph 1
First introduced in 1972, the Porsche Design Chronograph 1 remains a horological icon — that's only grown better with time. This modern-day version of the Chrono 1 sports a fully blacked-out colorway, a 40.8mm titanium case fortified via a black titanium carbide coating, and a matching black titanium bracelet with a titanium clasp. Keeping the chronograph ticking is a COSC-certified, 25-jewel Porsche Design caliber WERK 01.140 movement with a 48-hour power reserve, 28,800 BPH, and the design house's signature rotor design — albeit in black chrome plating.
Case Size: 40.8mm
Case Material: Black Titanium Carbide-Coated Titanium
Movement: Automatic
Rolex Cosmograph Daytona
First brought to market in 1963, the Rolex Cosmograph Daytona is almost certainly the most iconic chronograph ever produced. This version of the world-famous Swiss-made chronograph features an Oystersteel case mated to a matching Oystersteel bracelet. The latest iteration of this timepiece doesn't look at all dated, however, boasts a slew of nods to the original 1960s-era model including its black bezel and molded tachymetric scale. Keeping the watch ticking is a Calibre 4130 self-winding mechanical chronograph movement that features a Parachrom hairspring that bolsters shock resistance and protection against temperature variations. Alongside being a simply stunning timepiece, the Rolex Cosmograph Daytona also makes for a fantastic investment.
Case Size: 40mm
Case Material: Oyster Steel
Movement: Mechanical
Girard-Perregaux Laureato Absolute Chronograph Aston Martin F1 Edition
The Girard-Perregaux Laureato Absolute Chronograph Aston Martin F1 Edition doesn't just pay homage to Formula 1 race cars, it's actually crafted from materials sourced from previously-campaigned F1 racers from the 2021 season. This includes titanium powder and carbon fiber which are tined and combined in a resin to create an ultra-rugged yet lightweight (44mm) case. Inside the titanium and forged carbon case is a Calibre GP03300-1058 self-winding automatic chronograph movement. This watch is also limited to only 306 units worldwide – a nod to the total distance Aston Martin drivers Lance Stroll and Sebastian Vettel covered at last summer's British Grand Prix.
Case Size: 44mm
Case Material: Titanium Powder & Carbon Fiber
Movement: Automatic
Singer Reimagined Track1
While Singer is best known as one of, if not the world's single most elite Porsche tuner, the California company also produces equally stunning watches like the Singer Reimagined Track1. An incredible piece of engineering, the watch is crafted around a 43mm Grade 5 titanium case that's been paired with a textile band with DLC-coated titanium rivets and a titanium folding buckle. Water-resistant down to 100 meters, the Reimagined Track1 also boasts an in-house-designed 477-component, 67-jewel Caliber Singer Reimagined 6361 automatic mechanical movement with a 55-hour power reserve.
Case Size:43mm
Case Material: Titanium
Movement: Mechanical
Jacob & Co. Bugatti Chiron Toubillon
With Bugatti's hypercars featuring some of the world's most powerful and elaborate engines, it's frankly unsurprising that the has opted to employ an equally complex movement for its official watch collaboration with Jacob & Co. in the form of a skeletonized Tourbillion with a (faux) W16 engine with moving pistons and a spinning set of turbochargers. Born out of a year of meticulous research and R&D, the watch sports a case with lines that are inspired by those of the Chiron hypercar.
Case Size: 44mm
Case Material: Black DLC-Treated Titanium
Movement: Tourbillon
Richard Mille RM UP-01 Ferrari
Upon its debut in July of 2022, the Richard Mille RM UP-01 Ferrari set the record for the world's thinnest mechanical watch at just 1.75mm thick — a record that (as of the time of writing) still stands. Despite the incredibly thin case — which is made from 90% Grade 5 titanium, 6% aluminum, and 4% vanadium — the RM UP-01 is incredibly resistant to shocks and can even withstand accelerations upwards of 5,000 Gs. This is at least partially owed to the case's monoblock construction, along with the brilliant engineering of the watch's Calibre RMUP-01 mechanical movement. While it might not be the most traditional-looking timepiece, the RM UP-01 features mechanics and engineering that are beyond worthy of sporting the Prancing Horse logo.
Case Size: 51mm
Case Material: Titanium
Movement: Mechanical
The 20 Best True Driver's Cars
Interested in checking out a list of cars built for die-hard enthusiasts? Then be sure to cruise over to our guide to the best true driver's cars for a handpicked list of the purest performance-focused cars on the road.