Each model year, auto manufacturers update their existing lineups, killing off older offerings and introducing novel models. And while thousands of cars have been unveiled over the course of automotive history, only a select few have managed to stand the test of time and remain in continuous production since their respective debuts more than half a century ago, such as the Chevrolet Corvette, the Toyota LandCruiser, the Ford F-Series, and the Mercedes-Benz SL.
The vast majority of automotive offerings, however, don't share this fate, and see the plug pulled on their production after only a few years — often due to increasingly stringent safety and/or emissions standards, emerging trends, and a host of other important factors. Despite their relatively short-lived existence, there is a short list of noteworthy cars no longer in production that we believe were not only given the axe prematurely but would also be met with an incredibly warm reception from today's automotive community should they be given the green light to reenter production. So, with this in mind, we're counting down our picks for the top discontinued cars that need to make a comeback.
Qualities For Continuation
What Factors Make A Discontinued Car A Future Classic?
While their appearance and performance can vary wildly, bonafide classic cars typically possess a variety of common traits that are shared between these rolling icons. Below, we'll briefly be touching on some of the more crucial characteristics that make a discontinued model ideal to reenter production — albeit in a modern form.
Aesthetic Design: An important part of what distinguishes a great many iconic cars from the more run-of-the-mill models that they share the roads with is their appearance. Whether it's due to an automotive design being particularly aerodynamic, aggressive, or purely idiosyncratic, the bodywork and overall aesthetics of a vehicle play a pivotal role in making it a classic.
Performance & Value: From time to time, the automotive world is treated to a new watershed model that raises the bar in terms of performance, whether that be through unparalleled specs or performance capabilities that make a tire-shredding driving experience attainable on an "everyman" income. This "bang-for-your-buck" factor alone has been responsible for earning some models' cult vehicle status.
History: There are some classic cars that are so universally lauded and historically significant that they continue having a profound influence on automotive designs of today — even half a century after their debut. This includes Dodge's wildly-popular Challenger and Charger models, as well as Ford's beloved Mustang, which has now gone on to inspire the Michigan manufacturer's electric crossover Mach-E range, as well as the modernized version of the muscle car.
Ideal Timing: Be it art, music, or automobiles, there are plenty of stellar products and offerings that have been ahead of their time, widely unappreciated upon their release, only to gain a robust following years later — often due to new trends and crazes such as the current influx in popularity in the off-road and hot hatch segments, just to name a few. And, considering the timing of a release can ultimately make or break its success, this is another extremely important factor that can make a discontinued car rife for reentry into production.
Alfa Romeo 1750 GTV
Penned by legendary coachbuilder Carrozzeria Touring Superleggera — which was responsible for designing the Aston Martin DB4, the Lancia Flaminia GT, the Lamborghini 400 GT, and a slew of other iconic cars — the Alfa Romeo 1750 GTV (or "GT Veloce") was a tremendously popular sports car, born out of an evolution of the famed Italian marque's Giulia Sprint GT Veloce. In addition to being heavily restyled, the 1750 GTV also exhibited markedly better handling and performance than its predecessor — an area that only improved with the later iterations of the GTV. As we've seen with a handful of restomods, this possesses everything needed to yield a fantastic modern-retro today.
Introduced: 1967
Discontinued: 1972
Horsepower: 122
BMW 2000 Tii Touring
BMW's 2002 was a groundbreaking automobile, offering solid performance and reliability in an affordable and practical package. And though the German marque did recently release the four-door 128ti, it failed to satiate our desire to see a modern revival of a two-door hot hatch based on the touring-spec '02. With its distinctive grille arrangement, angular rear end, and circular taillights (pre- 1974), the 2000Tii would make for a stellar contemporary hot hatch.
Introduced: 1971
Discontinued: 1974
Horsepower: 130
Chevy El Camino
Introduced in 1959 and produced until 1960, before being revived in '64, the El Camino is equal parts iconic and unique, with the so-called "coupe utility vehicle" combining a station wagon platform with a pickup-style cargo bed. Despite Chevy pulling the plug on the El Camino's production towards the tail end of the 1980s, the model's recent resurgence in popularity makes it a prime candidate for reentry today — an area further by the ongoing influx of interest in neo-retro muscle cars.
Introduced: 1959
Discontinued: 1987
Horsepower: 140 – 315
Honda CRX
Though many cars are able to achieve hair-raising speeds and exhilarating performance through large powertrains, Honda opted to unlock these traits by adding untold amounts of lightness to a sub-compact platform to deliver the CRX. With today's engine configurations being more potent than ever before and more readily available access to lightweight materials like carbon fiber, the CRX would almost certainly make for a fantastic, even lighter, and peppier modern-day K-tail.
Introduced: 1983
Discontinued: 1991
Horsepower: 106 – 160
Honda S2000
Released in 1999 to commemorate the Japanese brand's 50th anniversary, the S2000 — or "Spoon" as it is often referred to as — was essentially a (then) contemporary interpretation of one of Honda's classic roadsters. Like its predecessors (such as the S600), the S2000's name is owed to its approximately 2L (2,000cc) F20C engine. As a result, Honda could, in theory, bestow a new updated version of the Spoon with the turbocharged and intercooled inline-four currently found in the Civic Type R, without having to alter the monicker.
Introduced: 1999
Discontinued: 2009
Horsepower: 237
International Harvester Scout
Over the last decade, there's been a massive resurgence in popularity for classic trucks, and on top of a booming industry customizing and resto-modding vintage 4x4s, there's also been a very clear and growing demand for modern-day versions of these go-anywhere models — as thoroughly evidenced by the immense success of Ford's new Bronco lineup. For these reasons, a contemporary take on an International Harvester Scout would almost certainly sell like hotcakes.
Introduced: 1961
Discontinued: 1980
Horsepower: 93 – 195
Isuzu Amigo
With models such as the Suzuki Jimny experiencing beyond satisfactory sales numbers, it's hard to believe that a revival of the equally compact, characterful, and off-road-capable Isuzu Amigo wouldn't experience similar success. Alongside its off-road prowess, this lifestyle vehicle could very easily be outfitted with a modular rear-end that would also jive particularly well with the wants and needs of modern buyers — another area wonderfully demonstrated by the new Bronco range.
Introduced: 1989
Discontinued: 2004
Horsepower: 96 – 205
Lancia Delta
As much as we would thoroughly enjoy seeing the Stratos or 037 revived as a modern supercar, Lancia's Delta model would almost certainly be the most logical choice for a contemporary recreation. Even upon its introduction to the market in 1979, the Delta already featured a myriad of design elements that are still immensely popular today such as its boxy rear end, ultra-wide stance, and flared fenders. In the same vein as Ford's RS-spec Fiesta, the new Delta would likely have to be incredibly performance-focused, deriving many of its components and engineering from rally competition.
Introduced: 1979
Discontinued: 1999
Horsepower: 63- 212
Lamborghini Miura
There's been an enormous resurgence in popularity surrounding a host of iconic vintage supercars, though at the top of that list is the Marcello Gandini-designed Lamborghini Miura. So, while it would mean venturing into novel territory for the exotic marque, there's a very high likelihood that the motoring public would respond extremely well to a revived version of the famed V-12 supercar, whether it be a retro-inspired offering or a more contemporary vision of the Miura.
Introduced: 1966
Discontinued: 1973
Horsepower: 345 – 418
Lotus Esprit
Famously featured in the 1977 Bond movie The Spy Who Loved Me, the Lotus Esprit is another hugely influential supercar that boasts a distinctive wedge-shaped design. Successor to the Lotus Europa, the Esprit was an incredibly cutting-edge machine when it debuted in '76, though its "folded paper" design has admittedly grown pretty long in the tooth over the subsequent 45 years. However, with the Esprit name still holding a considerable amount of weight, a modern-day recreation of the British-built coupe would almost certainly resonate with a great many collectors and automotive enthusiasts.
Introduced: 1976
Discontinued: 2004
Horsepower: 140 – 302
Mitsubishi 3000 GT
The late '80s and early '90s were a time of rapid mechanical and technological development, and one particularly noteworthy model to be born out of this era was the 3000GT. Loosely based on a 1989 concept car from Mitsubishi's "Highly Sophisticated-transport Research" (or "HSR") program, the 3000GT introduced a number of novel features to the automotive world such as active aerodynamic components and four-wheel steering. Because it was so thoroughly cutting-edge, the 3000GT would lend itself incredibly well to a modern-day remake.
Introduced: 1990
Discontinued: 2000
Horsepower: 161 – 320
Mitsubishu Lancer Evo
The Mitsubishi Lancer Evolution represents a unique kind of high-performance offering, borrowing much of its development and a great many of its components from its manufacturer's factory race program. Focused largely on speed and cornering, the Lancer Evo was largely devoid of creature comforts, and instead sported a spartan interior equipped with race seats and an immensely analog control setup. These factors made it a true, bonafide driver's car — a breed that's growing rarer and rarer each year. So, while it's unlikely, this is another model that we would love to see brought back to life as a new model year machine.
Introduced: 1992
Discontinued: 2016
Horsepower: 244 – 303
Nissan 240SX
Insanely popular in tuning circles and for drift car builds, Nissan's mighty 240SX is one of the most legendary JDM cars of all time, maintaining an impressive following despite being out of production for more than two decades. The tuning and drift communities' continued interest in the 240SX has been so significant that used market models have seen steadily rising prices over the last few years. And with this level of popularity among today's drivers, it's hard to imagine a world in which a 2023 Nissan 240SX wouldn't be an enormous success for the company.
Introduced: 1989
Discontinued: 1999
Horsepower: 140 -155
Plymouth Barracuda
Despite a global pandemic ravaging much of the world's economy last year, the Ford Mustang and Dodge Charger, and Challenger all experienced remarkable sales numbers (of 61,090, 77,425, and 52,955, respectively) — pointing to the undeniable fact that the modern retro muscle car segment currently stands as one of the best-selling and most popular. With this in mind, it isn't difficult to see how the Plymouth Barracuda — which is unequivocally one of the most iconic muscle cars of all time — would likely sell like gangbusters, especially which a modern HEMI under the hood.
Introduced: 1964
Discontinued: 1974
Horsepower: 100 – 425
Pontiac Firebird Trans Am
While we do recognize that neither Burt Reynolds nor Smokey and the Bandit possess the mainstream popularity that they once did, the Pontiac Firebird Trans Am's association with the two allows it to retain a special cult status. So, while it probably wouldn't see sales numbers similar to that of the new Charger, rising prices of Firebird Trans Am specimens at high-end auctions would suggest there is indeed a market should Pontiac bring back this 1970s ride. We do realize that Pontiac permanently shuttered its door more than a decade ago, though General Motors could always revive this model's name and visual theme under a different badge that it owns.
Introduced: 1969
Discontinued: 2002
Horsepower: 165 – 335
Toyota MR2
The Toyota MR2 is another tremendously unique little runner that manages to deliver exhilarating performance thanks to a small but potent engine powering an ultra-lightweight design with a sub-2,200lb curb weight. With the automotive sector benefitting from almost a decade and a half of advancements in chassis, suspension, and engine development since the plug was pulled on the MR2, Toyota could now undoubtedly deliver an even more capable version of the peppy and nimble two-door. Quite a few modern concept artists have even produced renders of a contemporary MR2, and the majority of them look pretty fantastic.
Introduced: 1984
Discontinued: 2007
Horsepower: 138 – 145
Triumph TR6
Triumph hasn't produced cars since the mid-1980s, though in theory, the Hinckley firm has everything it needs to jump back into the auto game. The motorcycle marque wouldn't even have to produce a new powertrain, as the behemoth 2.5L inline-three found in the brand's Rocket III model is no doubt big and powerful enough to power a small call — such as a modern-day TR6. One factor that's probably worth noting is that the rights to the Triumph marque are currently owned by BMW, though the Bavarian brand has done nothing with it since acquiring the asset from the Rover Group in 1994.
Introduced: 1968
Discontinued: 1976
Horsepower: 104 – 150
Volvo P1800
Even a full six decades after its debut, there really isn't anything else on the road that looks quite like the Volvo P1800. However, while the P18's aesthetics still hold up remarkably well today, the same can't be said for its safety and emissions standards, performance, fuel economy, or reliability. As such, a contemporary version of this car would in theory offer the best of both worlds, with a charming vintage-inspired appearance that was backed by modern mechanics and technology.
Introduced: 1961
Discontinued: 1973
Horsepower: 100 – 130
VW Golf Country
The Volkswagen Golf Country was sadly ahead of its time, and after less than two years in production was killed off. This early crossover model resembled a build one might see at SEMA, with a plethora of off-road upgrades including a skid plate, bull bars, auxiliary lighting, a roof rack, a lift kit, and off-road wheels and tires — all of which were factory installed on a widely peppy and characterful car. Despite everything it had going for it, the Golf Country didn't last long, though, based on how popular the off-roading segment has become, there's almost no chance that a modernized version of this model, built around the latest Golf R, wouldn't absolutely fly off the shelf.
Introduced: 1990
Discontinued: 1991
Horsepower: 98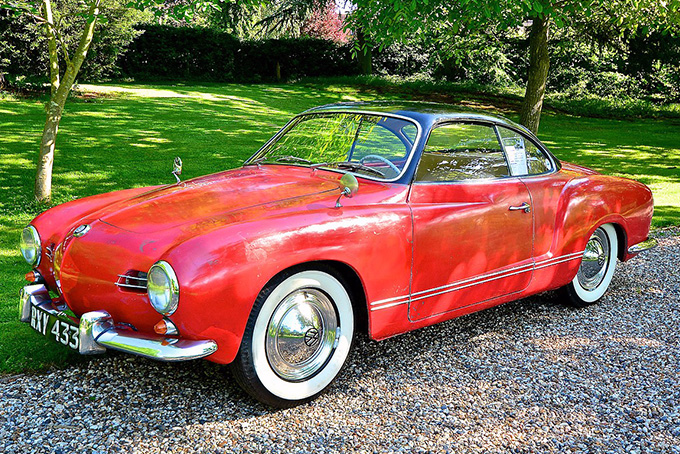 VW Karmann Ghia
If the absolutely stunning Porsche 356 was able to eventually evolve into today's sleek and aggressive 911 GT3, you can probably begin to visualize what a contemporary interpretation of a Karmann Ghia might look like. With its soft edges and distinctive bulbous headlight and hood design, it would be particularly easy to deliver a modern-day machine that was still readily identifiable as being a Karmann Ghia. Based on the diminutive size of this model, it also wouldn't be all that difficult to produce a fully electric version of this vehicle.
Introduced: 1955
Discontinued: 1974
Horsepower: 30 – 65
The 15 Best Continuation Cars You Can Buy
Want to check out some classic rides that have already been green-lit back into production? Then be sure to cruise on over to our guide to the best continuation cars you can buy for more than a dozen revived takes on automotive icons.