As anyone who has ever walked into a sporting goods or outdoor gear store can tell you, buying adventure-ready equipment can be a very expensive proposition. And, with constant improvements to technology and new developments, it doesn't look like that's going to change anytime soon. There is, however, a remarkably simple way to get your hands on some top-notch gear without ever having to pay full price for it.
No, we don't mean waiting all year for a Black Friday sale and we certainly don't approve of five-finger discounts or the black market. What we're talking about is buying used gear. From boots, jackets, camping tents, and more — buying used is a superb way to equip yourself without breaking the bank. Most of the time, however, you still have to go to a store or swap meet to find that sort of gear — or at least you used to. Now, there are some excellent online shops and forums that will allow you to find gently used gear of all sorts to be shipped straight to your home. And we've rounded up eight of the best for your purchasing pleasure.
Why Buy Used?
A Value Proposition
Especially with an ever-changing market, you might be wondering why you would ever want to purchase used gear when you can buy it brand new. And, while the argument for buying new can be summed up fairly simply — nobody has ever worn these boots but me — there are actually a few compelling arguments for the former option.
First of all, new gear can be very expensive — especially in the case of things like technical jackets, large camping tents, and even hiking boots. Purchasing used gives you the opportunity to get some of the best gear out there for a fraction of the retail price. Often times, you can find the stuff in like-new condition while paying up to 50% less than what you might brand new from a big box retailer.
Secondly, buying used is better for the environment. Say what you will about people who harp on environmental issues, but the fact remains: if you want to enjoy the great outdoors, you have a responsibility to keep them clean and healthy. Buying new gear might mean that you're the only user, but the cost can be a substantial negative environmental impact in the form of extra pollutants and more garbage (that is, if nobody ends up buying and using the used gear). Dealing with gently-used gear is a minor inconvenience (at worst) with a major potential positive impact.
Finally — and this goes along with the first argument about cost-effectiveness — buying used gear will give you the opportunity to try things you might not normally be able to. Simply by virtue of it being more affordable, used gear is significantly more accessible to folks who otherwise might not be able to get their hands on it. Want to try rock climbing? The entry cost can be cut significantly by buying used. Even if you eventually buy new, used gear is a great way to try something new without a huge investment.
Gear Trade
If you're looking for one of the broadest selections of used outdoor gear for sale, go no further than Gear Trade. Even just a glance at their categories — everything from hiking and camping gear to fitness apparel and water-sports equipment — illustrates the breadth of their slate of offerings. They even sell gear for skateboarding. With prices sometimes set at over 80% off and the wide variety they have available, it's hard not to put Gear Trade toward the top of your list when searching for your next piece of used gear.
MEC Gear Swap
You might notice that many of the sites on our list act kind of like a middleman between customers. MEC, however, operates slightly differently. Rather than taking in used gear and selling it themselves back to people, they instead operate more like an online swap meet or forum where people can post the things they want to unload with a direct route between seller and buyer. Of course, that model does come with a bit of risk, as scammers are always willing to take advantage of it, but MEC is keen on keeping that kind of behavior out of their space and will offer support to anyone making a claim against fraud of any kind. Still, this particular shop does necessitate a bit extra caution, though the reward is worth the risk, in our opinion.
The North Face Renewed
It was an understandably big announcement when The North Face unveiled their online used gear program, Renewed. However, it seems like some of the hype died out and we are not entirely sure why. Truly, the fact that the brand takes in and resells gently used gear is a pretty big deal. But it's even more impressive than that because they inspect and make necessary repairs to each and every piece —  be it a winter coat or a just some basics — that passes through their hands to make sure everything is in working order before being resold to the general public. Granted, the variety is limited to the offerings of The North Face, but it's still an incredibly productive and beneficial program to anyone who realizes the value of the brand's products.
Outdoors Geek
Just take a look at Outdoors Geek's landing page and you can see they offer a wide array of gently-used outdoor gear. But they also offer a service that's unheard of elsewhere. You see, not only can you purchase (and sell) used gear through their service, but you can actually rent it beforehand to see if you like it. If you do, you just complete the purchase and the item is yours. If not, simply return it. Truly, this is an astonishingly user-friendly experience and should rank squarely near the top for anyone looking to buy some used outdoor gear. It is worth noting, however, that the brand currently does not resell apparel, though they do offer all sorts of other gear — even snowshoes — so keep that in mind before you go hunting.
REI Co-Op Used Gear
REI has been one of the top names in outdoor gear for quite a long time, which is one of the big reasons we were so excited to hear they were adding a used gear segment to their online store. You see, having solidified themselves amongst the best brands in the industry, they're a trustworthy source for all types of gear — lending plenty of credence to their used shop. And that's only further backed up by the fact that they take in-house photography of all their used offerings. Not only is REI's shop an excellent place to find solid gently-used secondhand gear, but it's easy to navigate and, frankly, a pleasure to look at.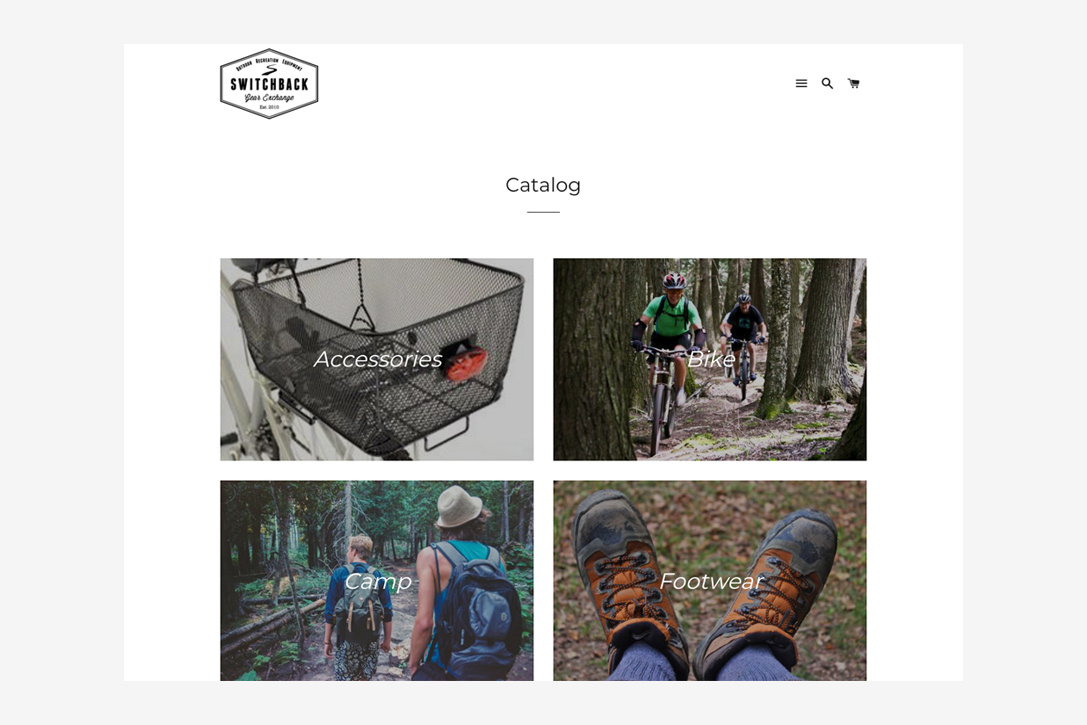 Switchback Gear Exchange
While they specialize in cycling gear and stuff for urban commuters, the Switchback Gear Exchange actually offers a wide variety of used gear across a number of different categories — including hiking, camping, apparel, and more. They're also very forthcoming about their offerings, have a great community surrounding them (just check out their blog), and an impressively deep catalog. Their one drawback: not every offering on their site has photos — so you may have to make a good faith purchase. Luckily, if you get something that doesn't meet your standards, their friendly staff should take care of you.
Amazon
We find that people often forget that Amazon offers a second-hand service. Granted, it's often a shot in the dark, as you have to know what you're looking for and then thumb through sometimes thousands of results to see if its available used, but the option is still there. Especially if you already have a Prime membership, Amazon is a great place to get your hands on some used gear from any category, as it is easy, extremely accessible, and a reliable brand that offers exceedingly user-friendly support. The next time you're in the market for a solid pair of trail running shoes, check Amazon and you might find it at a fraction of the retail cost.
Craigslist
While we wouldn't call Craigslist an online store, per se, it's still one of the best ways to find all measure of gear without having to go store-to-store to find it. It's also an excellent resource for finding used gear, so long as you don't mind traveling in person to go check it out, pay for it, and pick it up. The convenience of having things shipped directly to your home isn't there, but that's balanced out by the opportunity to barter for lower prices and its near-immediate gratification. It's not our first stop, usually, but there's no denying the potential value in using Craigslist to get your hands on used outdoor gear.
25 Best Outdoor Stores In America
Some folks prefer to buy their gear in person, new or used. If you fall into that category, then you'll certainly want to check out our list of the 25 best outdoor stores in America.