With roughly 71% of the Earth's surface covered in water and 40% of the Earth's living population within 62 miles of an ocean, encountering water at some point during our adventures is practically a given. And that increases exponentially when you take into account the possibility of rain and/or snow. As such, it's a pretty good idea to stock up on gear that can survive exposure to water.
Of course, if you're an ocean-going explorer or you live in a place that suffers frequent spells of inclement weather, you might want to invest in stuff that's entirely waterproof — like dry bags. For reference, dry bags are carriers that can survive being completely submerged underwater without their contents getting even remotely damp. And while there are plenty of backpacks, duffels, and more that can stave off a bit of moisture, there is a much more select, elite few that can truly weather a complete dunk. We've rounded up 18 of the best of all types on the following list of the best dry bags.
Osprey UltraLight Dry Sack
Perfect for quick jaunts to the beach and/or watering hole of your choice, Osprey's quick-and-easy Ultralight Dry Sack can keep up to 20L of gear bone-dry — even after a dunk underwater. It'll say secure with a handy roll-top closure, dries quickly courtesy of its puncture-resistant siliconized nylon exterior, and can pack down for easy storage when not in use.
Capacity: 20L
Material: Siliconized 40D Ripstop Nylon
Style: Tote
Nite Ize RunOff Waterproof Pocket
If you've only got a couple of pieces of EDC gear that you want to keep dry during your aquatic expeditions, then you might be interested in the Nite Ize RunOff Waterproof Pocket. About the same size, shape, and format as a pencil pouch, this little pocket has a sturdy waterproof zipper, dual attachment points, and a handy viewing window so you can make sure everything inside is still in order.
Capacity: ~1L
Material: Thermoplastic Polyurethane
Style: Pouch
Ortlieb Dry-Bag PS 490
Ortlieb actually offers a wide variety of dry and water-resistant bags of multiple formats. But it's hard to beat the versatile options in their Dry-Bag PS 490 collection. These simple roll-top tote grab bags range from as little as 13L to as big as 109L. But they're all completely waterproof when properly sealed, have a handy carry handle, and are very easy to clean between uses.
Capacity: 13-109L
Material: "Robust Coated Fabric"
Style: Tote
Matador Droplet XL Dry Bag
If you're interested in a quick-and-easy dry bag solution, but you're limited on space, you can't go wrong with Matador's Droplet XL. This simple tote expands to hold up to 20L worth of gear, has a completely waterproof exterior with a Hypalon roll-top closure, and packs down into its own palm-sized storage container — complete with its own carabiner for simple, modular attachment.
Capacity: 20L
Material: Siliconized 15D Ripstop Nylon
Style: Tote
Sea to Summit Lightweight Dry Sack
If picking a dry bag size is troublesome for you because you're not sure how much gear you're going to take on any given adventure, Sea to Summit's three-pack of Lightweight Dry Sacks might be the perfect answer for you. This trio of bags, which range in capacity from 1-4 liters, is completely waterproof when properly closed and offers up a bit more versatility than most other single-bag options on this list.
Capacity: 1-4L
Material: PU-Coated 70D Nylon
Style: Tote
OR Airpurge Dry Compression Sack
Like all the other bags on our list, Outdoor Research's 20L Airpurge Dry Compression Sack boasts a completely airtight construction. This one, however, differs from the rest of the tote-style bags in one major way: it has its own compression straps to ensure that, even when loaded, it will take up as little room as possible and won't allow everything inside to jangle around willy-nilly. If you're concerned with your belongings being jarred in transport, this might be the dry bag for you.
Capacity: 20L
Material: TPU-Laminated 70D Nylon
Style: Tote
Volcom Mod Tech Keep Dry Backpack
It shouldn't come as a surprise to see Volcom, a long-time surf brand, make our list with their Mod Tech Keep Dry backpack. Nor should it be a shocker to see that this is the first fully-featured backpack-style bag on our list — complete with welded seams, a roll-top main compartment, and 25L of internal space. It's fairly basic and minimalist in its design, but that's actually a part of its appeal. Plus, pair that with its capabilities and it's easy to see why this pack is such a superb value.
Capacity: 25L
Material: 100% Polyester
Style: Backpack
DEW Avo Backpack
There are actually a huge number of well-designed commuter-friendly bags that boast a measure of water-resistance in their construction. However, there are a woeful few that can claim the ability to survive an actual dunk underwater. The DEW Avo is one such bag. On top of its waterproofing, it also boasts an 18L interior, compression straps, ergonomic straps and back support, a water bottle pocket, and so much more.
Capacity: 18L
Material: Double-Sided TPU-Coated 600D Polyester
Style: Backpack
Helixot XO 6.2 Backpack
If you want something that's absolutely no-holds-barred waterproof, then the Helixot XO 6.2 might just be the bag for you. It's not incredibly spacious, boasting a capacity of just 6L, but it is completely and totally airtight. In fact, it's even built from nautical waterproof fabrics and has a screw-top closure, rather than zippers, to ensure not a single solitary droplet of water gets inside. And that's more than enough to earn it a spot here.
Capacity: 6L
Material: PES HT_1100Dtex PVC Nautical Fabric
Style: Backpack
Sea To Summit Hydraulic Dry Pack
If you were to take Sea to Summit's smaller dry bags, enlarge them, make their fabric even more robust, and add on comfortable backpack-style straps, you'd start to get an idea of what their Hydraulic Dry Pack is like. Designed to be tough enough to survive, say, a trip down some of the most unforgiving river rapids, you can trust this robust bag to keep your gear dry on any adventure. And it helps that it comes in sizes ranging from 35 to 120 liters.
Capacity: 35-120L
Material: TPU-Laminated 600D Heavy-Duty Fabric
Style: Backpack
Filson Dry Backpack
Seeing as how Filson got their start building gear for prospectors headed for the Alaskan Yukon, it's only fitting that they'd be responsible for building one of the best modern dry backpacks. Aptly named, the Filson Dry Backpack has an impressive 28L capacity, an ultra-tough abrasion-resistant and waterproof PU-coated nylon exterior, and still boasts an EVA foam back pad for all-day comfort.
Capacity: 28L
Material: PU-Coated 840D Nylon
Style: Backpack
DEW Avail Backpack
If you like DEW's minimalist styling, but their Avo daypack is just a bit too small for you, you might be drawn to their larger Avail pack. Boasting many of the same features — like a roll-top closure, compression straps, welded seams, and more — this pack is more capacious, boasting a capacity of either 25L or 35L. It's also available in three stylish colorways, which is a nice added bonus.
Capacity: 25-35L
Material: Double-Sided TPU-Coated 600D Polyester
Style: Backpack
Filson Dry Duffel Pack
Filson's Dry Duffel Pack boasts all the same waterproofing and durability as their similarly straightforwardly-named Dry Backpack. Its chief differences, however, come in the form of its sizing and format. Whereas the backpack comes in only one size, the Dry Duffel Pack is available in both 54L and 70L sizes. This larger-format carry-all also comes with both briefcase- and shoulder-style carry handles. If you like Filson's offerings but capaciousness is on your list of important features, this is the bag for you.
Capacity: 54-70L
Material: PU-Coated 840D Nylon
Style: Duffel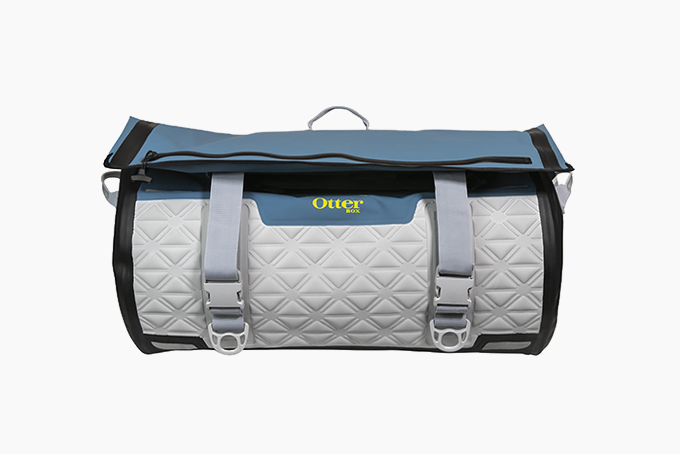 Otterbox Yampa Dry Duffel
Otterbox and YETI have been sparring with their offerings for some time now, so it came as no surprise when the former came out with their Yampa series of dry duffel bags to combat YETI's Panga. But, despite appearances, this one is different enough to stand on its own. Available in three sizes — 35, 70, and 105 liters — and a trio of colors, this offering actually has a bit more versatility in regards to selection. It can also transform from a duffel bag into a backpack on the fly. And it offers built-in padding to keep the gear inside a bit safer in transit.
Capacity: 35-105L
Material: TPU-Coated Nylon
Style: Duffel
SubTech Pro Drybag
Though the brand name isn't what we'd call household, SubTech's Pro Drybag is still amongst the best available. In fact, on top of its waterproof construction, it also boasts a 45L capacity, is available with an inflatable shockproof system, easily and quickly transforms from a duffel bag into a backpack, and it looks pretty great on top of it all. It perhaps doesn't seem groundbreaking when put up against the rest of this list, but it does everything very very well.
Capacity: 45L
Material: TPU-Coated 840D Nylon
Style: Duffel
YETI Panga Backpack
As previously noted, YETI — the brand responsible for making some of our favorite rugged adventure coolers — has their own lineup of dry bags. Unsurprisingly, they're absolutely stellar, including the Panga Backpack. This completely airtight bag is also insanely durable, thanks to its Thickskin shell and ultra-tough waterproof zipper. And while its spacious main compartment is excellent, it also features an internal mesh pocket for more organization, as well as external webbing for modular attachments.
Capacity: 28L
Material: TPU-Laminated High-Density Nylon
Style: Backpack
YETI Panga Duffel
Like Filson's dry bags, YETI's Panga lineup includes both a traditionally-styled backpack, as well as a similarly-featured duffel bag. In fact, the Panga Duffel was the first of the pair released. They're built virtually the same — including the same waterproof zipper and Thickskin exterior — but the duffel is more capacious, available in your choice of either 50, 75, or 100 liters. Furthermore, the duffel includes removable shoulder straps to make hauling it from A to B all the easier.
Capacity: 50-100L
Material: TPU-Laminated High-Density Nylon
Style: Duffel
Arc'teryx LEAF Drybag
For those unfamiliar, Arc'teryx's LEAF lineup of gear was actually made specifically with military operations in mind. And while their Drybag is definitely the most expensive pack on this list by quite a wide margin, it's also one of the best-designed and most useful. On top of its 25L capacity, it was also designed to house aftermarket modular pouches and it has an oral inflation valve that can turn the bag into a flotation device. And that's just a couple of the features that make this backpack so formidable.
Capacity: 25L
Material: URETEK 725D HT Cordura
Style: Backpack
What's The Difference: Waterproof vs. Water-Resistant
While it might not seem like it, there's an important distinction between things that are waterproof versus water-resistant. Lucky for you, we've outlined those differences in a handy and easy-to-read guide.