While some may label the idea of a smart home as a fever dream, it is now a reality thanks to a number of innovative brands around the world. While the mid-century concepts of uber-futuristic houses are not necessarily how things turned out — at least not yet, anyway — the innovative elements composing items on the market right now are not too far off. The 21st century has served as a major shift in a surfeit of fields, few of which have proven to be as prominent as the progression in technology. Whether you're looking to add a techy touch to your kitchen or bolster your bathroom with a booming speaker, there is no shortage of smart home devices you can pick up in efforts to modernize your humble home.
To put it plainly, you don't need to be George Jetson (or his boy Elroy) to make life around the house easier. Dozens of nameworthy tech manufacturers are doing their best to deliver the same experience — well, aside from the cartoon family's spaceship. Considering many of the options across social media advertisements and second-hand retailers come across as a tad bit gimmicky, we figured it's only right to narrow down the 20 best smart home devices to buy in 2022, all of which are guaranteed to simplify your daily routine with their connected features.
Ring Video Doorbell
Let's kick this list off with the most ubiquitous smart home device known to man. The doorbell heard 'round the world comes available in a handful of options, but its base wired choice still serves as an excellent choice as a result of its crystal-clear 1080p resolution video with two-way talk, as well as seamless Alexa connectivity. If you want to up the visual ante, however, you can upgrade to the Video Doorbell Pro 2 that's equipped with 1536p Head-to-Toe HD+ Video and 3D motion protection.
Apple HomePod mini
While you may be more accustomed to wielding Apple products in your pocket nowadays, the tech titan's HomePod mini serves as an incredible addition to any smart home. With seamless connectivity to Apple Music, users can take advantage of its powerful full-range driver and pair of passive radiators for the sake of punchy bass prowess and immaculate sound overall. Weighing in at less than a pound, the Siri-capable speaker is easy to transport from one room to another, bringing an additional Apple touch to practically any corner of the house.
Kohler Moxie Bluetooth Showerhead
Listening to music in the shower has never been made easier than with Kohler's innovative Moxie. The full-coverage showerhead may be single-function, but the fact that it boasts a built-in, IPX7-rated Harman Kardon speaker with Bluetooth connectivity makes up for it tenfold. Above all else, the magnetic speaker is removable for when you want to listen outside the shower or give it a charge, the latter of which may be rare considering its nine-hour battery.
Withings Body+ Smart Scale
This is a great choice for anyone looking to stick to their New Year's resolution — it's still the first quarter of the year, after all. Withings' intricate smart scale seamlessly syncs with your Apple Watch and cooperates with well over 100 apps, including FitBit, Google Fit, and Apple Health. For additional accuracy, it monitors your weight, body fat, water percentage, as well as muscle and bone mass. Lastly, you can set your personal nutrition goals to help you in tracking your daily calorie intake along the way.
Ember Smart Mug
Whether or not you're still working from home, morning coffee remains an essential part of the majority of people's wake-up routine. And unless you prefer it iced, keeping things hot is a necessity, which is why Ember's temperature-controlling mug is a great addition to your kitchen cupboard. Capable of keeping your tea or coffee warm for up to an hour and a half, the app-controlled mug remembers the last used temperature, ensuring a cup of Joe tailored to your liking.
Google Nest Thermostat
A thermostat is a quintessential element in any home, so it comes as no surprise that this is showing up here. Google's Energy Star-certified thermostat is guaranteed to save energy while keeping things comfortable throughout your house. Similar to the Ring Doorbell, there are a variety of choices to select here, considering there are also maxed-out versions of Nest. These options include the Learning Thermostat, which keeps your schedule in mind en route to programming itself, as well as the Thermostat E that boasts the same capabilities accentuated by a sleek, frosted finish.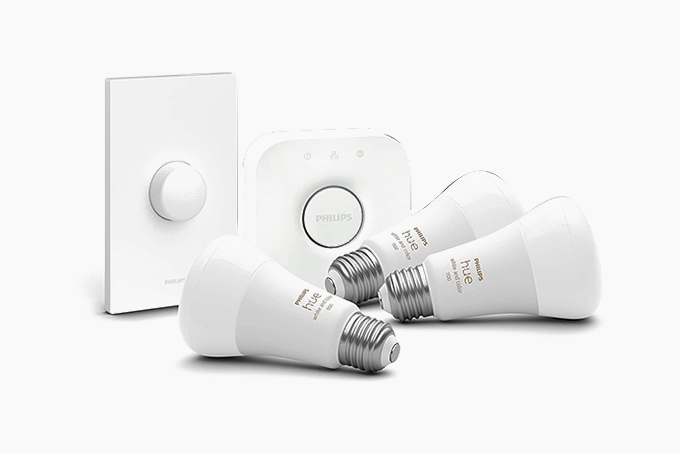 Philips Hue White and Color Ambiance Smart Bulbs
While 16 million different colors controlled in the palm of your hand may sound akin to playing god, you don't have to be Bruce Almighty to pull it off, thanks to Philips. The worldwide tech giant's White and Color Ambiance Smart Bulbs come to life when utilizing its Hue Hub, a smartphone app that also allows you to connect to your Alexa or Google Assistant for seamless voice activation. On top of that, you can even schedule your lighting scenarios to set a scene for whatever time of day you see fit.
Amazon Echo Show 15
Amazon's latest, large-scale Echo Show serves as much as a mini television as it does a wall-mounted tablet. Measuring at 15.6", the highly-capable smart display allows you to stream your favorite movies and shows from Hulu, Netflix, and, of course, Prime Video. Speaking of which, this wouldn't be an Amazon product if it didn't double as an Alexa device, allowing your whole household to use their voice to check out their daily notes and headlines — not to mention control many of the other devices in this guide.
August Smart Lock + Keypad
August's Smart Lock replaces your current deadbolt lock with a much more secure piece of tech. This unique device is operated through an app that easily allows you to unlock your door at the push of a button, practically guaranteeing that you can never get locked out of your house with a smartphone on hand. Additionally, you can even give friends and family their codes to utilize the keypad without having the same four digits swarming around. Lastly, it can be connected to any of your other smart devices, whether it's Amazon Alexa, Phillips Hue, or Google Assistant.
Revolution InstaGLO 2-Slice Smart Toaster
Breakfast truly is the most important meal of the day, and Revolution's smart kitchen appliance guarantees that you'll never have to worry about a piece of burnt toast ever again. The high-speed toaster is a premium piece of equipment that keeps your bread fluffy and crunchy as a result of retaining moisture. Thanks to its integrated touch screen, you can select a handful of options or keep an eye on just how much longer you have to wait.
Breville Smart Oven Air Fryer Pro
If you're looking to pick up a toaster that just so happens to offer twelve other functions, then look no further than Breville's Smart Oven Air Fryer Pro. Whether you're looking to air fry gameday wings, bake fresh cookies, dehydrate some fruit, or slow cook delicious short ribs, this robust piece is well equipped to take on all of your culinary wants and needs. Boasting 1,800 watts of power, the Smart Oven's insulated dual-wall door keeps all that heat trapped inside, ensuring it is an ideal choice for keeping things cool when you're cooking through the spring and summer.
Dyson Pure Hot + Cool Link HP02 Purifier Fan
Dyson is the most trustworthy manufacturer when it comes to high-performing fans, but its Link HP02 air purifier serves as so much more than that. The hybrid fan/heater boasts a 360-degree filtration system capable of removing over 99% of microscopic pollutants and allergens that may be swarming your home. Plus, thanks to its lack of blades, there are no safety concerns if you leave it on for too long or need to clear it of any dust. And while winter might be its way out the door, Dyson's high-end machine is strong enough to heat an entire room in case you're not the only person who needs to stay cozy.
Hauschen Home Spectro Smart Mirror
The beautiful Spectro mirror comes courtesy of the design-centric interior furnishers at Haushen Home and is operated by a quartet of touch buttons; however, it also offers seamless connectivity to Google Assistant and Amazon Alexa. Most impressively, it features a unique, built-in anti-fog function that will ensure getting out of a steamy shower won't result in the common dirty mirror. With well over 150,000 hours of lifetime, you won't have to worry about switching out these bulbs for quite a while.
GE Profile Opal 2.0 Nugget Ice Maker
Going to a restaurant that has "the good ice" has been deemed as a luxury by internet foodies, and this machine brings nugget ice's coveted crunch to the heart of your kitchen or home bar. GE Profile's sleek Opal 2.0 is capable of making up to a pound of ice hourly, with its first 16 ounces often coming to shape in a matter of 20 minutes. For added convenience, owners can connect the ice machine to their smartphone to schedule a batch of fresh ice whenever necessary. If your old-timey ice maker has been giving you trouble, then this is the perfect way to go.
iRobot Roomba j7+ Self-Emptying Vacuum
Everyone deserves to let a robot clean their house once in a while, and few manage to do so as well as a Roomba. iRobot touts the latest iteration of its smart vacuum as a "genius," which is appropriate considering the company's trademark Genius tech. With the capability of avoiding any home furnishings that stand in its way and scheduling multiple clean-up sessions throughout the day, the Roomba j7+ is the ideal pick-up if you're tired of your noisy old vacuum.
De'Longhi Dinamica Plus Automatic Espresso Machine
We already mentioned how essential a hot mug of morning coffee is, but the temperature doesn't mean very much if it's not an incredible brew. De'Longhi's sleek, automated machine is here to deliver that in a high-tech fashion thanks to its 3.5" full-touch display, which provides the intuitive and simple experience of making a handful of specialty recipes at the push of a button. As a result, it keeps track of your preferences, programming it to list your most frequently selected drinks. Some of these drinks include a latte, cappuccino, and, of course, espresso.
Samsung Smart BESPOKE Electric Range
Samsung offers the sleekest smart range around, but we aren't here simply to discuss cosmetics. Thanks to its mightily powerful array of cooking modes, it stands head and shoulders above its peers. The Smart BESPOKE Electric Range boasts a Smart Dial that adapts to your cooking methods en route to automatically selecting temperature, appropriate time windows, and a bevy of cooking options, highlighted by its powerful air fry mode. The smudge-resistant range also boasts Samsung's patented 3600 W Express Boil burner, allowing owners to go from boiling water to simmering stews in a matter of no time. Plus, did we mention that you can power all of these features through your smartphone?
Samsung Smart Top Load Super Speed Wash Washer/Dryer
In contrast to the joy of cooking, there are few things as burdensome as laundry day, which is why Samsung has got you covered in that regard, too. This well-designed washer and dryer set offers seamless smartphone connectivity, as well as Samsung's bacteria-reducing Steam Sanitize+ tech, which is beyond essential on account of the modern climate. Its powerful Super Speed Wash is capable of finishing up an 8-pound load of clothes in less than half an hour, and its built-in Active Water Jet still manages to do away with deep stains at the mere push of a button. Additionally, owners can schedule their cycle using Samsung's SmartThings app, similar to the smart range.
Tonal Smart Gym
There is no shortage of smart exercise equipment, but Tonal stands out as a uniquely premium offering in the space. It offers a variety of activities ranging from cardio and strength to yoga and mobility. On top of that, the sleek addition to any home grants gym rats the opportunity to personalize their workout regimen entirely. Accessories to enhance any of these workouts include a pair of smart handles and a smart bar, which are capable of turning weight on and off. Although these additional pieces come at an added price, they manage to give the authentic experience that you're aiming for with any smart gym.
LG French Door Smart Refrigerator
Although the fact that you can even connect your fridge to WiFi may be baffling, that's the world we're living in nowadays. Looking to make the most of these modern advancements, the South Korean gadgeteers over at LG manufacture an excellent appliance boasting a boatload of space. The smudge-resistant refrigerator's use of the brand's patented Slim SpacePlus Ice System provides additional food storage, as well as the option to add doors if necessary. On top of that, LG's Smart Cooling system tech is capable of keeping groceries fresh thanks to rapid, automated temperature adjustments. Lastly, the elephant in the room is its InstaView panel on the access door, allowing owners to catch a glimpse of what's going on in the fridge.
Honorable Mention
Kohler Veil Intelligent Toilet
This wall-hung toilet provides the optimized bathroom experience from every angle, serving as an incredibly sanitary piece of equipment, all the while saving a plethora of space thanks to its sleek composition. As far as the latter goes, though, its elongated, temperature-controlled bowl provides optimized comfort while its self-cleaning function, warm-air drying system, and automatic deodorization come together to make for a state-of-the-art piece of equipment that keeps hygiene in mind at all times. Lastly, it features an LED lighting system that doubles as a nightlight whenever you're looking to keep things dim. There are countless "smart" appliances, but only so many self-proclaim to be "intelligent."
The Best Gadgets for Men
In case you're not ready to fully futurize your living space, you can stick to the more traditional form of handheld electronics with our thorough guide to the 40 best gadgets on the market.