There's a lot of talk about how the internet is killing brick-and-mortar retail. That malls – both strip and shopping varieties – are having to shutter their doors because too many people are making purchases online. And while that might be true to an extent, we feel it's important to point out the obvious: not everything can or should be purchased online. Not so long as you want to be sure you're getting the right thing.
We are firm believers that, when it comes to outdoor gear, nothing will ever beat being able to walk into a shop and see it in person. And the reasons are numerous. For instance, if you're seeking out hiking boots, you'll want to get properly sized and try on said boots for a quick walk-about. Same goes for the purchase of things like bikes, snowboards, canoes & kayaks, etc. Plus, the insights a seasoned retailer could give you in person can be invaluable to your purchasing strategy. Sure, you can play a game of online guess-and-check, but we prefer getting it right the first time. As such, we've put together the following list of the 25 best outdoor stores in America. The next time you're trying to find the best gear for the job, maybe skip Google and head into one of these shops instead. They'll appreciate it and so will you.
Ace Mountain Hardware And Sports
Most people are familiar with Ace's hardware stores, as they are one of the few go-to chains when it comes to all things home repair. But, did you know that in Truckee, CA (and nearby Blairsden), there's an Ace shop that specializes not just in tools, but in all things outdoors? Well, there is. And this employee-owned shop has been up and running since 1977. And yes, while you can get everything you'd need for your next mountain outing there – be that jackets, snow shoes, and more – you can still count on this shop to supply plenty of your standard home improvement tools.
Location: Truckee & Blairsden, California
Specialty: Cold Weather Gear & Apparel, & Home Improvement
Noteworthy Features: Unique Offerings At Reasonable Prices, Knowledgable & Helpful Staff
Adventure 16 Outfitters
Southern California is a mecca for many outdoor activities – from the numerous hiking trails around the area, to a wealth of shoreline water sports, to mountains, to rivers & lakes, and more. So it shouldn't be a shock to anyone that this city is also home to one of the best outdoor gear shops in the entire nation. This shop, which was started by a group of local Explorer Scouts back in 1962, has been an industry leader nationwide – including by setting the standard with a lifetime guarantee on all their branded gear. Now, they have four shops across Southern California – though their best one, to be sure, is still their San Diego flagship location.
Location: San Diego (Flagship), Solana Beach, Los Angeles, & Tarzana; California
Specialty: Hiking, Climbing, Camping, & Apparel
Noteworthy Features: Lifetime Guarantee On All A16-Branded Products, In-Store Educational Clinics
Alpenglow Sports
In the heart of the Sierra Nevada Mountains sits Lake Tahoe – one of the most beautiful locales in all of California. On its coast, in Tahoe City, is where you will find a shop by the name of Alpenglow Sports. As you might expect from where it can be found, this shop specializes in all things mountains, with a selection of gear that ranges from hiking boots, to downhill skis, to mountaineering ice axes, and everything in-between. And, on top of their numerous offerings, this mountain hub also plays host to a number of events throughout the year, including their annual Mountain Festival, Winter Film Series, and even foot races in the warmer months of the year. If you're an outdoor enthusiast in the Tahoe area, do yourself a favor and stop by.
Location: Tahoe City, California
Specialty: Hiking, Climbing, Skiing, Snowboarding, & Apparel
Noteworthy Features: Winter Film Series, Afterglow Podcast, Annual Mountain Festival
Arcadian Shop
We posit that there isn't another outdoor store in the U.S. that can say they have a trailhead literally right outside their doors. The Arcadian Shop in Lenox, Massachusetts can, however. And that's reason enough to make this a worthwhile shop. But the fact that they also have a wide array of outdoor gear and apparel, as well as kayaks, paddleboards, bikes, and more for rent gives them an even bigger edge. But, the cherry on top of the cake would have to be that they also have an attached cafe – so you can grab a cup of coffee before hitting the trails or you can get yourself a snack on the way back out.
Location: Leonox, Massachusetts
Specialty: Outdoor Clothing & Equipment; Rental Bikes, Kayaks, Paddleboards, Etc.
Noteworthy Features: Trailhead Starting @ Store, Attached Cafe, On-Premise Events
Ascent Outdoors
This shop – found in the Pacific Northwest on the edge of the Salmon Bay in Seattle, Washington – offers something we do not see nearly enough of in the outdoor space: used gear. As owners of lightly worn items we'd like to unload and fans of picking up barely-touched gear at discounted rates, the fact that they have a whole section of store dedicated to the stuff is a major boon. But, don't worry, if you would rather get your hands on a winter coat that nobody has ever worn, they have that, too. You can also rent a shockingly wide array of gear, as well – from skis, to boots, to snowshoes, and they'll even let you rent a snow shovel. Plus, you can bring in your own skis or snowboard and have them tuned to perfection in-store.
Location: Seattle, Washington
Specialty: Hiking, Climbing, Running, Skiing, & Backpacking
Noteworthy Features: New & Used Gear For Sale, Ski & Snowboard Tuning, Rental Shop
Backwoods
When Backwoods first got their start back in 1973, they were headquartered out of Wichita, Kansas. And, for a time, things were pretty good for the brand. They saw expansion and became a widely recognized chain. Then, they took some big hits. Unfortunately, several stores were shuttered and they ended up moving their HQ to Austin, Texas – as the new location would draw more talent to their work pool. Since then, they appear to have gotten their feet back on the ground. They've even opened a new branch of their business in 2004: Backwoods Adventures – a guided travel company that takes people on expeditions the world-round. We're glad to see that things seem to be on the up-and-up for Backwoods, as they're an excellent outdoor retailer.
Location: Texas, Oklahoma, Nebraska
Specialty: Hiking, Climbing, Fishing, Paddling, & Hunting
Noteworthy Features: Chain Locations Around The Midwest, Backwoods Adventures Travel Company, Over 500 Hours Of Community Service Each Year
Bass Pro Shops Outdoor World
For some folks, Bass Pro Shops might seem like the root of all evil. It's a massive chain with the kind of draw and inventory that can be soul-crushing to small business owners that deal in the same product types. But, it's also made getting outdoor gear of all types easier for people who might not otherwise be able or willing to find it. Plus, if you've never been inside of one, every one of their stores is like Disneyland – except for people that like hunting, fishing, and boating. In fact, their flagship store in Springfield Missouri has 500,000 square feet of space that ranges from fish tanks, to water features, to a firing range, and more. And each one is different. For example, in Florida, there's a store that houses the sister ship to Ernest Hemingway's famous Pilar.
Location: Nationwide
Specialty: Hunting, Fishing, Boating, Etc.
Noteworthy Features: Theme Park-Like Superstores, Museums, Bait & Tackle Shops, Etc.
Feral Mountain Co.
Though they are a relatively new business, Feral Mountain Co. has already made some waves in the outdoor space. This is thanks in part to their wide variety of hiking and camping gear, but also because they partnered with National Geographic in the creation of their Adventure Planning Room. In said room, adventurers have access to the largest collection of Colorado trail maps in all of Denver. You can also purchase the maps, if you see fit to do so. There are some gear stores that are content with only being a retail space. Feral Mountain Co, by contrast, is less a store and more a stepping stone on the road to your next great adventure.
Location: Denver, Colorado
Specialty: Camping & Hiking
Noteworthy Features: Adventure Planning Room, National Geographic Partner, Rental Shop
The Fifth Season
Mt. Shasta, a volcano in the far north of California, is a legendary locale in the Cascades for outdoorsman of every type. So it makes sense that the surrounding land is also home to one of the best outdoor gear outfitters anywhere. The Fifth Season, which has been opened since 1977, is a superb one-stop-shop for all things skiing, climbing, and cycling. In fact, in the store they offer tuning services for skis, snowboards, bikes, and even offer boot-fitting services. And since they're independently owned and operated, they're staffed by locals that truly know what they're talking about. In fact, they decry the big-box stores for their soul-crushing ways and take it upon themselves to be better service people for it. We wish there were more places like this one.
Location: Mt. Shasta, California
Specialty: Climbing, Skiing, & Cycling
Noteworthy Features: In-Store Boot Fitting, Bike Repair, Ski & Snowboard Tuning, Rental Shop
The Hub & Pisgah Tavern
The outdoor community has, thankfully, embraced the craft beer boom wholeheartedly. Perhaps nowhere is that more true than at The Hub & Pisgah Tavern. Two parts gear outfitters and one part bar, this place offers the perfect balance of physical activity and leisure. It helps, too, that this compound of sorts can be found just at the border of Pisgah National Forest in North Carolina. In fact, it's basically the gateway for lots of folks. You see, you can come to The Hub, gear up with new stuff or rental equipment, and then head straight into the park for a jaunt. Or, if you're feeling like rewarding yourself for a job well done, you can grab a beer on your way out. Of course, you could just grab a beer even if you don't do anything physical – just saying.
Location: Pisgah Forest, North Carolina
Specialty: Cycling, Outdoor Gear, & Apparel
Noteworthy Features: Attached Tavern, Event Hosting, Access To National Park
L.L. Bean
One of our favorite things about L.L. Bean – apart from their excellent winter boots – is that their flagship store in Freeport, Maine doesn't actually have locks on the doors. Yes, this was done on purpose. It's an homage to the founder, Leon Leonwood Bean, who believed that customer service was of the utmost importance – even if that customer shows up in the middle of the night. While not all locations follow suit, this flagship store is actually open 24 hours a day, 365 days a year. Say what you will about big box retailers, but we like the attitude in this case. And it helps that their offerings are so wide-ranging and high-quality.
Location: Nationwide
Specialty: Outdoor Apparel, Activewear, Camping, Hiking, & Backpacking
Noteworthy Features: No Locks On Their 24-Hour Flagship Store, Trips & Tours, In-Store Educational Seminars, Etc.
Midwest Mountaineering
Typically, when people think of the midwest, they think of great big flat farmlands. And yes, that's the general topography in places like Kansas – but there's a whole lot of land unaccounted for elsewhere in the center of the country. For instance, Minnesota might not have anything as grandiose as the Rockies, but there's still plenty of hiking, climbing, biking, and running to be had on the hilly terrain they do have. And if you're going to give it a shot, there's no better place to gear up than Midwest Mountaineering. Located in the heart of Minneapolis, this shop is run by a small team of extremely knowledgable staff members – all of whom practice what they preach in regards to outdoor adventure.
Location: Minneapolis, Minnesota
Specialty: Rock Climbing, Skiing, Paddling, Camping, Etc.
Noteworthy Features: Used Gear Shop In Basement, In-Store Educational Courses, Event Hosting
Moosejaw Mountaineering
Though they were early adopters of the online sale space – having started their website way back in 1995 – this Michigan-born outdoor retailer also has quite a few brick-and-mortar locations dotted around the northern part of the Midwest. In fact, despite the fact that retail everywhere else seems to be suffering, Moosejaw has seen some pretty excellent growth year-in and year-out. And we can credit that to a couple things: their dedication to providing people with excellent outdoor gear and a healthy dose of not taking themselves too seriously. It's a welcoming environment and it makes Moosejaw special.
Location: Colorado, Illinois, Michigan, Missouri
Specialty: Winter Gear & Apparel, Hiking, Camping, Rock Climbing, Etc.
Noteworthy Features: Good Sense Of Humor, Massive Selection of Goods
Neptune Mountaineering
There are a lot of shops that sell mountaineering gear, but there are a lot fewer that do so in the shadow of actual mountains. Located in Boulder, Colorado, Neptune Mountaineering is a member of the latter group. But, more than just location and selection, the whole store is run and staffed by a knowledgeable group of actual outdoor enthusiasts and adventurers. After all, nothing beats hands-on experience. As an added bonus, this shop also houses an on-premise mountaineering museum full of all measure of historical gear.
Location: Boulder, Colorado
Specialty: Outdoor Apparel, Camping, Hiking, & Skiing
Noteworthy Features: In-Store Event Hosting, Staffed By Knowledgeable Adventurers, On-Premise Museum
Next Adventure
While there are a few cities on the Pacific side of the United States with plenty to offer in the great outdoors – none perhaps offer quite as much so nearby as Portland, Oregon. From its surrounding rivers, to the lush forests, to several mountains, access to the high desert, and more; this town is about as close to an outdoor mecca as there is on the west coast. And if Portland is Mecca, then Next Adventure is surely the center of worship. Since 1977 this independently-owned and -operated store has supplied explorers and outdoorsmen alike with everything they need to get out in the natural world. And, what's even better, is they offer a buy-sell-trade system, so you can swap out your old gear for shiny new stuff.
Location: Portland, Oregon
Specialty: Outdoor Apparel, Camping, Climbing, Paddling, & Moto
Noteworthy Features: In-Store Clinics, Outdoor School, Event Hosting, Rental Shop
Old Spokes Home
Though we're not entirely sure why, we've noticed that there seems to be mixed opinions as to whether or not cycling can be considered an outdoor activity. We posit that the combination of the fact that it takes place outdoors, necessitates a certain level of physical fitness, and requires gear means it absolutely belongs alongside other outdoor activities. In fact, cycling is one of the best ways to appreciate the natural world in some places – one of which being Burlington, Vermont; where the Old Spokes Home is located. The lush landscape and immaculate roads beckon riders from all around the world, and this is the shop that supplies them. They also have an in-store museum, repair shop, and host cycling-focused events.
Location: Burlington, Vermont
Specialty: Cycling
Noteworthy Features: In-Store Museum, Event Hosting, Bike Repair, Used Gear Shop
Outdoor Gear Exchange
Many folks will recognize GearX – this store's web presence and independent online outdoor shop. But they also have brick-and-mortar shop in Burlington, Vermont (not far from Old Spokes Home, interestingly enough). The difference between the two? Their speciality. Whereas OSH is a one-stop bike shop, Outdoor Gear Exchange caters more to the on-foot variety of outdoor activities, with offerings that range from apparel, to climbing gear, to skis, and a hell of a lot more. In fact, they also offer consignment, have an in-store repair shop, and rent equipment.
Location: Burlington, Vermont
Specialty: Apparel, Climbing, Skiing, & Camping
Noteworthy Features: Consignment, Service & Repair Shop, Event Hosting, Demo & Rental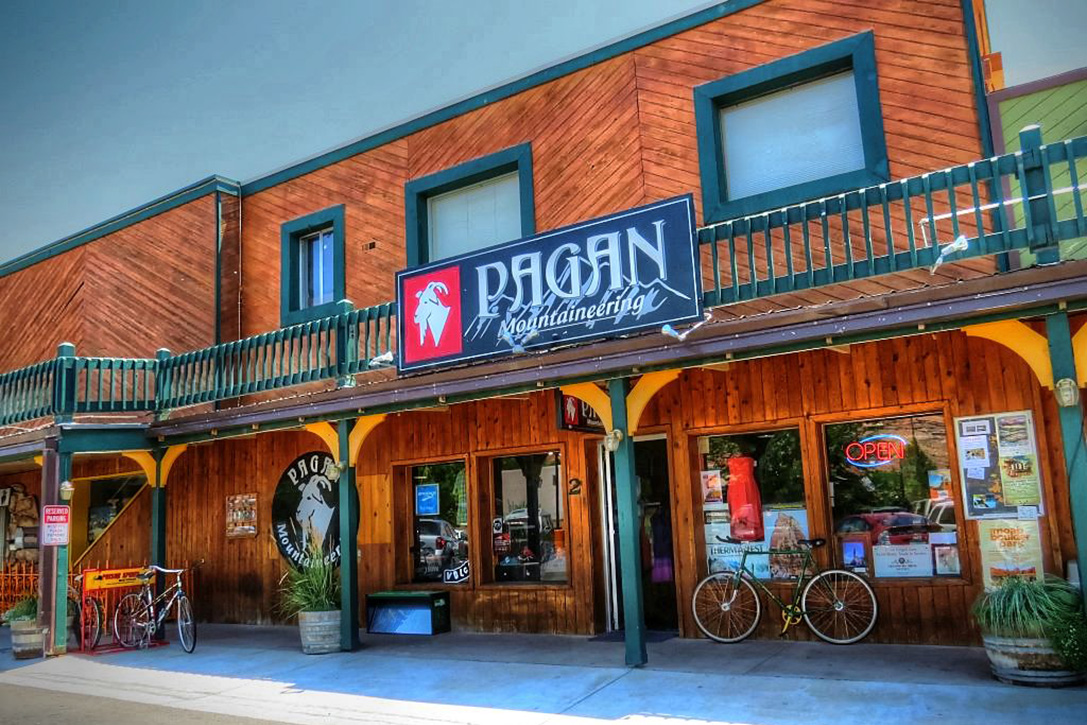 Pagan Mountaineering
Moab, Utah is an outdoor paradise when it comes to mountain biking, rock climbing, hiking, and more. And it's also where Pagan Mountaineering calls home. Located off the city's Main Street – right next to a restaurant and bar called Eddie McStiff's – this shop was started by actual rock climbers who were looking to give back to their community. As such, there's no better place in the area to get climbing gear. As an added bonus for anyone who's tastes include getting on top of a 4-wheeled plank of wood, they also have a wide selection of skateboarding gear.
Location: Moab, Utah
Specialty: Rock Climbing, Skateboarding
Noteworthy Features: Rental Shop, Wide Selection Of Area Guidebooks, Knowledgable Staff
Paragon Sports
You might not think to find an excellent outdoor gear store in the heart of what may arguably be the greatest modern metropolis on Earth. However, you'd be wrong. Found on Broadway in the Gramercy Park area of Manhattan, Paragon Sports has been selling a vast range of outdoor gear since 1908. For those counting, yes, that's more than 100 years. That also means this is one of the oldest sporting goods stores in the world. The shop is massive, has everything from baseball to yoga gear, and has been around long enough to know that staying around requires both an excellent and superb service.
Location: New York, New York
Specialty: Running, Skiing, Apparel, Outerwear, Etc.
Noteworthy Features: Event Hosting, Wide Range Of Gear Offerings, Personal Shopping
Redpoint Climber's Supply
As you might guess from their name, Redpoint in Terrebone, Oregon has an exceptional selection of rock climbing gear. What you might not know or expect, however, is that they also offer coffee, tea, mate, kombucha, and – best of all – beer. Yes, this shop essentially has a bar inside of it. On top of that, they also offer in-store massage therapy and something called 'energy healing.' However, if you're not interested in focusing your chakras, nobody will pressure you into it. Come for the gear, stay for the beer, and you'll certainly want to come back again.
Location: Terrebone, Oregon
Specialty: Rock Climbing
Noteworthy Features: Beer & Kombucha Bar, Coffee & Tea, Massage, Energy Healing
REI
Of course, no outdoor gear store roundup would be complete without REI. Whether you love them or hate them, it's become abundantly clear that they are one of the standard-setters in the outdoor industry. And since they are so widespread, they make it easy for just about anyone within reach of a metropolitan area to get their hands on some excellent stuff. Our favorite of their shops, however, has to be their flagship in Seattle, pictured above. Yes, that is definitely an in-store rock climbing pillar housed inside an atrium. And yes, you can climb it.
Location: Nationwide
Specialty: Apparel, Outdoor Gear, & Footwear
Noteworthy Features: Store-Specific Indoor Features, One Of The Widest Selections Of Gear In The World
Ski Haus
For all things winter, it's hard to do better than the Rockies in Colorado. Which also happens to be where this excellent outdoor retailer can be found. Ski Haus is home to everything you might need in the colder months of the year – including skiis, snowboards, snowshoes, and even ice climbing gear. Better still, their selection transcends the seasons, as they also have a full complement of summertime gear that ranges from bikes to flip flops. And, last but not least, they offer free shuttle service, so you don't even have to worry about making the drive yourself.
Location: Steamboat Springs, Colorado
Specialty: Skiing, Snowboarding, Outdoor Apparel, Cycling, Climbing, & Hiking
Noteworthy Features: Free Shuttle Service & Delivery, In-Store Repair Shop, Rental Equipment
Summit Hut
The Grassroots Outdoor Alliance is a collection of 40+ independent retailers and 65 vendors in the outdoor space dedicating to serving the community and protecting the world at large. They thought it appropriate to award Summit Hut the "Retailer of the Year" award. And that should give you an idea of the kind of quality gear and service you can expect when entering either of their Arizona stores. Whether you're looking for a new pair of hiking boots or a full set of camping gear, the folks at Summit Hut have got you covered in both the gear itself and in their knowledge of what might suit you best.
Location: Tucson & Oro Valley, Arizona
Specialty: Outdoor Gear, Hiking, & Backpacking
Noteworthy Features: Event Hosting, Member Of Grassroots Outdoor Alliance
Track Shack
Located in Orlando, Florida and in operation since 1977, the Track Shack is more than just a store – it's a hub of the outdoor community. Yes, that's partially because they're the best supplier of gear in the area. But it's also because they are dedicated to hosting a wide range of community-serving events. In rare fashion, this is more than just a store, it's a central pillar for the people and community around it. Truly we have nothing but good things to say about this organization from just about every standpoint.
Location: Orlando, Florida
Specialty: Running
Noteworthy Features: Race & Event Hosting, Charity Foundation, On-Premise Education
Uncle Dan's
It's funny how some of the quasi-hippies of the '70s have turned into entrepreneurs of the outdoor world. Or at least that's the case with Uncle Dan's. Started in 1972 by a Grateful Dead-loving free spirit (under the guidance of none other than his uncle Dan), this store has turned into one of the best places in the entire Chicagoland area to get your hands on some worthwhile gear. And really, what they want more than anything else, is to help you find the exact right stuff to help you get out on your next adventure.
Location: Illinois
Specialty: Camping, Hiking, Climbing, Skiing, Etc.
Noteworthy Features: In-Store Order Pickup, Inventor Outlet, Rentals, Event Hosting
15 Outdoor Brands You Should Know
if you're looking for some new gear, it might be worth your time before heading into a store to learn about the people making the gear. For that, you'll want to check out our article on 15 outdoor brands you should know.