Sep 25, 2019
Category: Style
By and large, most people consider watches to be luxury items — a consideration to be made once all your other gear bases are covered. That being said, even with the wide-ranging number of high-tech advents over the last couple of decades, watches are still incredibly useful tools, handsome and stylish accessories, and something we believe everyone should add to their everyday carry. And since they're available for those with just about any budgetary constraints, finding one that works for you is a fairly simple prospect.
Of course, the world of watches is still quite vast and hard to navigate — especially for those who aren't experts in the field. But if you've got a moderately-high budget and a general idea of the kinds of timekeepers you like, we've got some good news. We've put together a range of timepieces that are the best on which to spend your hard-earned money. These are the 20 best men's watches under $5,000.
Hamilton Khaki Frogman Auto Watch
Almost 70 years ago, the very first Hamilton Frogman was built for the U.S. Navy. This updated version boasts everything great about the original but also has a wide-ranging number of modern upgrades. Returning features include the iconic unidirectional rotating dive timer bezel, 300m of water-resistance, and underwater luminescence. It also boasts new additions including an in-house automatic movement with an 80-hour power reserve. And if you don't like this colorway, there are several other options available.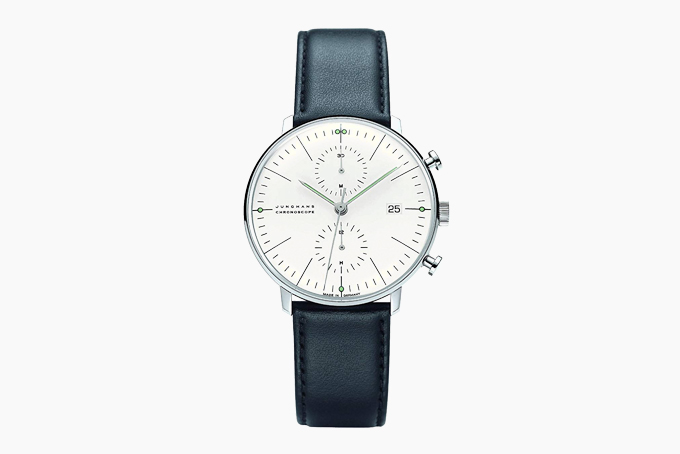 Junghans Max Bill Chronoscope Watch
If your tastes range more in the minimalist and Bauhaus styles, then the Junghans Max Bill Chronoscope is probably right up your alley — especially if you want a pared-down timepiece that still boasts the functionality of a chronograph. This stunningly-simplistic timepiece boasts a Swiss-made automatic movement, a stainless steel case, a gorgeous and comfortable leather strap, and a scratch-resistant domed crystal. A perfect meshing of function and fashion, this watch is not one to pass up.
Baum & Mercier Clifton Automatic Watch
For those with nothing but stylishness on the mind, we submit to you Baum & Mercier's Clifton. This is the kind of timepiece you'd cherish for a lifetime and hand down to the next generation as an heirloom. It's stainless steel case and silver dial are complemented beautifully by its brown leather strap and it's brought together with a reliable Swiss-made automatic movement. And the icing on top of the cake is the exhibition caseback, through which you can watch this magnificent and handsome watch tick away.
Oris Aquis Date Relief Watch
It's not unusual for handsome watches to also be handy and functional — but few have a cause imbued into their construction quite like the Oris Aquis Date Relief watch you see here. You see, this watch was designed specifically with the intention of raising awareness about the importance of the world's bodies of water. Its gray dial is intended to mimic stormy seas and its raised dive timer bezel is entirely new. It's also water-resistant to 300 meters, has an automatic self-winding movement, and boasts a screw-down crown.
Luminox Scott Cassell Deep Dive Automatic
Luminox is known quite well in the world of watchmaking and the outdoors for building some of the toughest timepieces around. And their Scott Cassell Deep Dive may very well be the best they have to offer — which is saying quite a lot. Made specifically with actual scuba diving in mind (as you might've guessed from its name), this watch is built from durable black-finished stainless steel, has a shrouded screw-down crown for extra protection and a helium release valve, can survive depths of up to 500 meters, and has a rotating dive timer bezel. Pair all of that with its stunning good looks and it is easy to see why we think this is definitively a top-tier performance watch.
Tissot Heritage 1973 Watch
Perhaps in your searches, you've found yourself drawn to traditional functionality but more unique looks. In that case, you'll probably be interested in the Tissot Heritage 1973. As its name suggests, this limited-edition racing chronograph was made to celebrate Kessel Classics — a vintage racing team — and only 1,973 examples were built. It's also marked by an automatic movement, a stainless steel tonneau-style case, a perforated leather strap, and an exhibition caseback to show off the reliable Swiss movement inside. A retro throwback with the benefits of modern construction, this is a superb car-inspired watch.
Victorinox Airboss Mach 9 Pilot Watch
You're likely familiar with Swiss Army Knives, which are also made by Victorinox, but they also offer a wide array of stupendous Swiss-made timepieces. Case in point, their Airboss Mach 9 is an especially stylish and unique pilot's watch boasting a tachymeter bezel, a blacked-out colorway with white and red markings, both chronograph sub-dials and a clever 24-hour superimposed dial, and it comes with a handsome link band. On top of that, it boasts a Swiss automatic movement, has a 48-hour power reserve, and has an exhibition caseback. If you're interested in checking out what the famous SAK brand has to offer in regards to timepieces, this one is the cream of the crop.
Weiss American Issue Field Watch
Presently, Weiss is one of the only brands that makes their watches, including the movements, on American soil. And that alone would garner them a spot on this list. It certainly doesn't hurt that their offerings are all superb — the American Issue Field Watch included. It's simple in its functionality, boasting a pared-down main dial and a small seconds sub-dial, but also elegant in its execution. That's helped by its battlefield styling, stainless steel case, nylon strap, and see-through caseback. If you want a timeless timepiece and American craftsmanship is something you value, go no further than this one.
Longines Presences Heritage Automatic Watch
If the military stylings of the Weiss watch above don't suit your fancy and you're hoping for something with a bit more refinement, then you might be in the market for the Longines Presences Heritage automatic watch. Unlike most of the others on this list, this timepiece features a case made from 18-carat gold, which solidifies its position amongst some of the best dress watches out there along with its reliable Swiss automatic movement, gorgeous and comfortable leather strap, and sapphire crystal. For the price, you're unlikely to find a classier time-keeper anywhere — least of all with a legendary pedigree like Longines offers.
Tudor Black Bay Dive Watch
One of the most iconic dive-inspired watches ever made, every single Tudor Black Bay timepiece is superb — the one you see here included. From its rotating dive timer bezel to its oversized screw-down crown, this is a classic through and through. It also boasts a stainless steel case, a self-winding movement with an impressive 70-hour power reserve, and waterproofing that's good for depths of up to 200 meters. Mate that with a unique black-and-red colorway and you can understand why we think this watch is one of the best you can get for a surprisingly low price. It's so good you might just want to pick up another.
IWC Portofino Automatic Watch
If gold and brown aren't your thing but you're still in the market for a more dress-appropriate watch, then this IWC Portofino might be more up your alley with its silver-on-black colorway. Even if you look past its striking and subdued good looks, this is still a top-tier watch for its price range. That's partially due to its stainless steel case, silver indices and hands to match, a Swiss-made automatic movement, a subtle date window, and a scratch-resistant sapphire crystal. And the most unsung hero of this watch is the exceedingly subtle red 60-second marking at the 12 o'clock position.
Bremont Supermarine Type 301 Automatic Watch
Named after an aircraft manufacturing company from the 1930s, this watch was actually made to pay homage to one of the most iconic planes ever built — Britain's Spitfire Type 300. Beyond its absolutely beautiful retro styling, this watch still has plenty of other features going for it. That includes a laser-engraved ceramic unidirectional rotating bezel, a scratch-resistant sapphire crystal, cream-colored indices and numerals, and a reliable Swiss automatic movement. One of the best retro timepieces around, this one is a favorite.
Sinn U1000 S Diving Watch
While there are plenty of brands that focus on appearance first and then functionality, Sinn takes a stand for the opposite. In fact, it's what they've built their brand upon. And that means that the stellar good looks of their timepieces are just a bonus on top of their reliability, as is the case with their U1000 S Diving Watch. As you can ascertain from its name, this is a true dive watch with an effective survivability of 1,000 meters underwater and a case and strap made from genuine German submarine steel — which is especially resilient against the corrosive effects of saltwater. And those are just a few of the things that make this dive watch exceptional.
Omega Speedmaster Professional Moonwatch
Seemingly on the opposite side of the spectrum as the watch above — at least in regards to its intended environment — Omega's Moonwatch is the spiritual successor to their original NASA-approved watch that traversed the surface of the moon wrapped around the wrist of both Neil Armstrong and Buzz Aldrin. It still boasts that same signature styling, as well, albeit with a modernized construction. Interestingly, however, it actually features a hand-wound movement (unlike most of the other watches on this list), an iconic black-on-silver stainless steel case, a tachymeter bezel, and chronograph functionality. A marvelous piece of historically-significant timekeeping, this is one of those rare watches every man should own in his lifetime.
TAG Heuer Carrera Automatic Watch
Unfortunately, our favorite of TAG Heuer's offerings — the Monaco, as worn by the legendary Steve McQueen — isn't under the $5k limit. But that doesn't mean you can't get this brand's legendary pedigree for less, as you very much can if you invest in the also-automotive-inspired Carrera. Complete with chronograph functionality, a tachymeter bezel, a date window, and more — this watch is absolutely loaded with functionality. Yet it still looks beautiful and easy to manage, which is not something we take lightly. As we said, it's not the Monaco, but it's still one of the best watches on this list.
Zenith Elite Classic Watch
If you're not already aware, Zenith is one of the absolute best under-the-radar luxury watch brands on the market. And, if you need proof as to why, just have a look at their masterful Elite Classic watch. A minimalist timepiece through and through, not only does this watch have absolutely drop-dead gorgeous pared-down styling, but the brand has taken that ethos a bit further by slimming down the case to just a fraction of the depth of similar watches. The said case is still made from stainless steel, the movement is still automatic (with a 50-hour power reserve), and it comes with a refined leather strap to tie the whole thing together.
Breitling Navitimer Chronograph Watch
Probably the most complicated in its appearance of all the watches on this list, the Breitling Navitimer Chronograph might also be one of the most all-around useful — especially for pilots and/or travelers. Not only does this watch tell the time exceedingly reliably — thanks to its Swiss automatic movement — but it also has chronograph functionality, a date window, and a slide rule bezel for on-the-go calculations and conversions. Busy yet beautiful, this is a pilot's best friend through and through.
Grand Seiko Heritage Spring Drive Watch
Though they get a bad rap when compared to their Swiss counterparts, Seiko has an extremely long history of crafting stupendous timepieces — especially if you consider their luxury Grand Seiko sub-brand. We don't think there's any denying that the Heritage Spring Drive watch you see here is classically-styled. After all, it does look similar to Rolexes that are three times as expensive. But don't let that figure fool you — the difference in price isn't in quality as much as it is in branding. That's because this watch boasts more than just similar looks — it also has similar functionality, like an automatic movement with a 72-hour power reserve, a tough stainless steel case, and 10 bar water-resistance.
Nomos Tangente Sport Neomatik Date Watch
Nomos is, unequivocally, one of the absolute best watchmaking brands in the minimalist space. And the watch you see before you today is a pretty good argument as to why they deserve such a distinction. For a watch that looks so clean stylistically, there's actually quite a lot going on here to help set this timepiece apart. For instance, the brand has shifted the date window about as far toward the edge of the dial as possible, replacing the 3 o'clock marker entirely. Furthermore, the bright blue hands are actually done up in SuperLuminova paint, alongside the hour incides, for easy reading in any light condition. And it's also water-resistant to 1,000 feet — a tremendous amount for a non-diving watch. All told, this is a unique watch that does quite a lot with very little, if any excess.
Bell & Ross BR V2-94 Bellytanker Bronze Watch
Named after the salt flat racers built out of decommissioned auxiliary aircraft fuel tanks, this is one of the most eye-catching watches on our list. It's also one of the rarest, as it's a special edition limited to just 999 pieces in total. And if that's not enough, it's also the only on our list with a bronze case. Mate that to its automatic movement, tachymeter bezel, chronograph functionality, exhibition caseback, and jaw-dropping gold-on-black colorway and it's pretty clear that this is the cream of the crop for just under $5,000.
The 25 Best Luxury Watch Brands On The Market
If the watches on this list weren't quite what you've been searching for and you've still got a bit of cash in your pocket, we guarantee you can find a timepiece that suits you from one of the best luxury watch brands in the world.
HiConsumption is reader-supported. When you buy through links on our site, we may earn an affiliate commission. Learn more