Not everyone needs to wear expensive three-piece suits, drive rare road rockets, and sport Rolex timepieces. There are affordable items out there that are still well-made and there' no shame in pursuing them. This is especially the case for watches. You may think that you need to save up for a prestigious Omega to channel your inner-James Bond or burn a hole in your wallet making payments for a Patek Philippe timepiece, but that's not the case.
A wristwatch is a necessary piece of everyday carry gear, and we highly recommend that you have at least one. Yes, you have a clock on your smartphone, but it's not always going to work correctly, and its battery dies fast. Wearing a timepiece will assist you in being punctual, helping you form a relationship with time, so you can appreciate it. We're here to guide you in finding an affordable timepiece with our list of the best men's watches under $100. All of the options listed are stylish, affordable, and well-built, so dive right in.
Casio A168WG-9
Casio has been making timepieces for quite a while, and they've come out with some affordable gems, including the A168WG-9. This water-resistant watch has every basic feature you need, including a 1/100 second digital stopwatch, Auto Calendar, and daily alarm. And with a gold metal band, it has a timeless retro aesthetic with a little bit of flash.
Case Size: 37.5mm
Movement: Digital
Timex Expedition Scout 40
This simple Timex watch is perfect for the modern adventurer who knows how to navigate without the use of a compass. The Expedition Scout 40 is water-resistant ups to 50 meters and is built with a date window, leather strap, and INDIGLO light-up watch dial, so you can stay sharp in the dark.
Case Size: 40mm
Movement: Quartz analog
Invicta 8926 Pro Diver Watch
Water-resistant up to 200 meters, the Invictus Pro Diver Watch is one of the most affordable of its kind. It has a 40mm stainless steel case, black mineral dial window, unidirectional bezel, and luminous hands and markers for readability underwater.
Case Size: 40mm
Movement: Swiss automatic
Swatch Elementary
Celebrating 100 years of Bauhaus design, the Swatch Elementary Watch is a masterpiece of minimalism inspired by school days. The 30-meter water-resistant watch is built with a silicone strap, plastic case, and a sturdy buckle. It's a fine timepiece in Swatch's Bauhaus Collection and perfect for those with an artistic eye.
Case Size: 41mm
Movement: Quartz
Daniel Wellington Dapper St Mawes
For events that require a classy timepiece, you can turn to the Daniel Wellington Dapper St Mawes. The round stainless steel 34mm case complements a subtle eggshell white dial and genuine Italian leather strap for a rakish aesthetic. And its precise Japanese-quartz movement is protected by a scratch-resistant crystal glass.
Case Size: 34mm
Movement: Japanese-quartz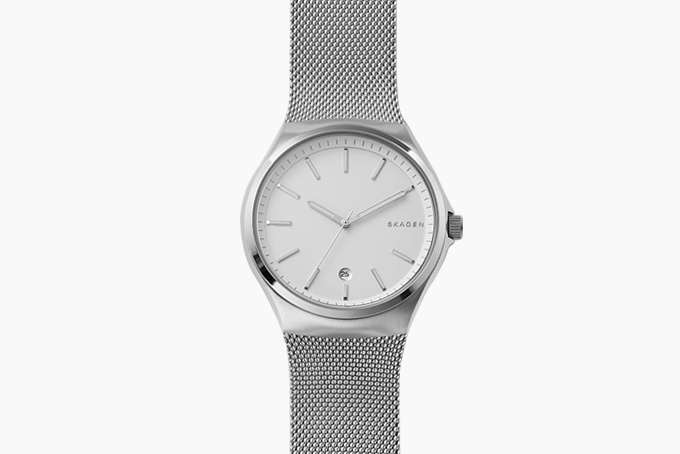 Skagen Sundby Titanium Watch
This sophisticated timepiece is a worthy addition to the wardrobe of any up-and-coming entrepreneur hungry for success. It boasts a 37mm titanium case and bezel, and a bold 22 mm stainless steel mesh bracelet. And it's water-resistant up to 30 meters, in case of accidental splashes.
Case Size: 37mm
Movement: Quartz
Orient Capital Version 2
For something more formal, look to the dapper Orient capital Version 2 wristwatch with its classic design that goes along well with any stunning suit. The 41mm timepiece utilizes a Japanese-quartz movement and has a stainless steel construction for longevity.
Case Size: 41mm
Movement: Japanese-quartz
Seiko SNK805 Seiko 5
The bold Seiko 5 is inspired by military field watches, as it adopts features to get you through any mission. Featuring an automatic moment with an analog display, luminous accents, a durable nylon strap, and day/date functions, you'll stay focused with this 30-meter water-resistant wristwatch.
Case Size: 37mm
Movement: Automatic
Timex Archive Acadia Nato Watch
Resurrected from the '90s, the Timex Archive Acadia Nato Watch is built for the urban battlefield. The 50-meter water-resistant watch boasts a QuickDate display, INDIGLO Night-Light for superb visibility in the dark, 40mm resin case, and tough military-inspired grosgrain strap. Not to mention the black and red colorways give it a stealthy aesthetic, making it a notable addition to your minimalist everyday carry.
Case Size: 40mm
Movement: Quartz
Citizen AU1040-08E Eco-Drive Watch
Made in the USA, the Citizen Eco-Drive Watch presents a stainless steel case, beautiful leather strap, luminous hands, a black dial, and a date indicator. It has Eco-Drive technology, which means it's powered by any light around you, so it never needs a battery. And it's water-resistant up to 10 meters to withstand splashes.
Case Size: 38mm
Movement: Japanese-quartz movement
MVMT Minimalist Watch
Designed in America, the MVMT Minimalist Watch is a sleek and simple timekeeper with a sophisticated look. The 30-meter water-resistant watch has a hardened mineral crystal dome and a stainless steel 45mm case to survive everyday wear-and-tear.
Case Size: 45mm
Movement: Miyota quartz
Nixon Base Tide
Combining classic style with modern technology, the Nixon Base Tide is a unique timepiece for the contemporary man. It boasts 100 meters of water resistance, a 22mm custom injunction-molded ultra-soft silicone band, and technology to report future tide times. Not to mention, it has a simplified negative LCD to make it easily readable underwater.
Case Size: 38mm
Movement: Custom digital module
Casio Edifice Watch
Casio's Edifice Watch mixes a timeless design with modern performance, delivering a timepiece fit to be a bold accessory for business meetings. It has a stainless steel band and 45.5mm stainless steel case, allowing it to go the distance. Powered by a Quartz movement, the 100-meter water-resistant timepiece is ergonomic, as it features a 1/20-second chronograph function, date window, and slide-rotating inner bezel.
Case Size: 45.5mm
Movement: Quartz
Komono Magnus II Watch
With a saddle brown one-piece genuine leather strap and a brushed metal case, this 30-meter water-resistant timekeeper is subtle yet elegant. Make an impressive first impression sporting this watch's sizable face and minimalist design.
Case Size: 45mm
Movement: Japanese-quartz
Seiko Solar Nylon Strap Watch
Inspired by the silhouette of a rugged field watch, this solar-powered Seiko timepiece is all class. Stay punctual in any mission with this wristwatch's day/date window, 10-month power reserve, tough nylon band, and 100 meters of water-resistance, making it suitable for swimming and snorkeling. And it has stencil-like numerals to complete its retro aesthetic.
Case Size: 43mm
Movement: Japanese-quartz
Timex Horween Leather Weekender
Featuring a vegetable-tanned Dublin Ale leather band by the Horween Leather Company in Chicago, as well as a nickel-plated brass case, this is a suave timepiece for any occasion. It's stripped of extraneous features, serving you solely as a precise timekeeper to ensure you meet your deadlines.
Case Size: 38mm
Movement: Quartz
Braun BN0024BKBRG
Simple yet stylish, this Braun timepiece will go with just about anything in the casual wear section of your closet. The 38mm watch features a seconds sub-dial and a Japanese-quartz movement for stellar accuracy. And it's water-resistant up to 165 feet, so you don't have to worry about small spills.
Case Size: 38mm
Movement: Japanese-quartz
Casio G-SHOCK DW5600BBM-1
For those looking for a watch with a retro vibe, this G-Shock option is worth considering. Part of a back-to-basics lineup, this 200-meter water-resistant wristwatch projects original G-Shock styling with a fashion-forward matte finish. It also has high-end features, such as shock-resistance and an Electro-luminescent Backlight.
Case Size: 37.5mm
Movement: Digital
Nixon Time Teller
The Nixon Time Teller is one of the company's bestsellers, and it's no fluke. The 3-hand movement watch has a dapper 5-link stainless steel band, custom molded hands, and applied indices, creating a timeless look for any event.
Case Size: 37mm
Movement: Miyota Japanese quartz
Victorinox 249087 Original XL Watch
Victorinox makes arguably the best Swiss Army multi-tool knife in the world, and they've taken their design expertise to create stellar watches, including this one. With 100 meters of water-resistance along with a Swiss quartz movement and rugged nylon band, this timepiece is ready for backcountry exploits.
Case Size: 43mm
Movement: Swiss quartz
What's The Difference: Quartz vs. Mechanical Watch Movements
A majority of the timepieces on our list of watches under $100 have a quartz movement. Check out our guide explaining the difference between quartz vs. mechanical watch movements and learn what goes on beneath the hood.