Forty years ago, few people would have believed you if you told them that the most vital instrument for professionals and lay-folk alike in the not-so-distant year of 2018 would be a computer, and one hardly thicker than a book, at that. But that's the case for the denizens of today's technologically-infused world. The laptop is our most vital every day instrument. It is the oar that ferries us through the virtual stream of the modern world.
For we rowers and coxswains of the digital river, protecting our paddles from damage is of paramount importance. Some things haven't changed in the last four-score years; a penchant for style and aesthetic remains a strong selling point for any product.  Security, comfort and style are universally the most important factors in finding the perfect case or sleeve to carry your laptop. In this list of 25 best Macbook Pro Cases and Sleeves, we have sought to provide them all. Don't find yourself without a paddle – check out this list below.
Mosiso Shock Proof Case
Cheap but resilient, the Mosiso Shock Proof case is textured in a diamond pattern for shock absorption. Made of water-resistant lycra material, this case provides adequate protection for your laptop, for a relatively low price.
Kayond Herringbone Woolen Water Resistant Case
The neoprene outer layer and woolen inner-lining provide two lines of defense from collision and shock. The neoprene is water resistant, too, in case your thermos pops open in your backpack. Of course, try not to get it too wet – after all, there is a difference between water-proof and water-resistant.
Tom Bihn Sleeve
From designer Tom Bihn comes a spartan and tough nylon laptop case. All-plastic features – no metals, even on the zippers – prevents the scant possibility of scratching up your laptop. The heavy-duty nylon outerlayer provides a tough shield, and the interior brushed tricot prevents any damage from within. This is the motorcycle jacket equivalent of laptop cases.
STM Goods Knit Glove Sleeve
This STM Goods case fits your laptop like a glove, and it has been thusly named. Zipper free, just undo the strap and your laptop is free for use. Simple, minimalist, and handsome, this bag is ideal for security checks, making it a must-have for travelers – simply undo one velcro strap, and slide your laptop out into the bin. It won't save you from invasive pat-downs, however.
Case Logic Deco Case
Made up of polyester, glossy and fibrous twill, and metal rivet accents, this case is durable and reliable – not to mention practical. A spacious front pocket provides the room you need for cords, accessories, pocket notebooks – even your thick, often unwieldy power brick can fit – and whatever else you want to tote along with your lap top.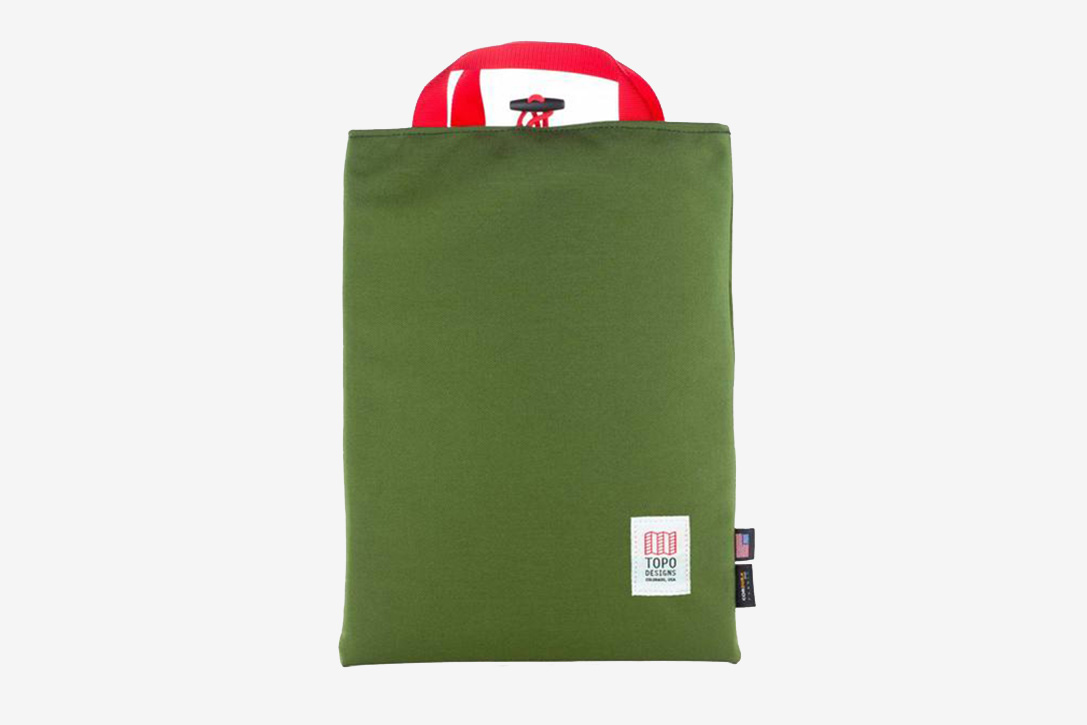 Topo Designs Sleeve
Simple, electric, striking like a lightning bolt, this sleeve from Topo designs has the distinct carry handles on top, so you can hold your laptop like a briefcase. Keep your baby swaddled tight with the draw string on top. No more lodging your computer awkwardly under your armpit. Swing low, with this sweet chariot.
Higher Ground Flak Jacket Slim
Though it isn't made of the same shrapnel-proof flak jackets they wear in the military, the Higher Ground Flak Jacket Slim is tough and incredibly compact. Equipped with a hideable shoulder strap, a handgrip, and two separated pockets, this vest may not be bulletproof, but it is drop-proof.
Timbuk2 Stealth Folio
The Timbuk2 Stealth Folio crams a ton of capacity into a compact space. With enough room for a lap top, charging cords, and all the accoutrements that you need, the Stealth 2 is a sleek and covert way to carry your weight in electronics. Plus, it looks like something out of a spy movie.
Grid-It Wrap
A reversal of the conventional laptop case, the Grid-It Wrap uses Grid-It's patented GRID-IT! band-driven organization system to simplify your accessories. The bands stretch with ease to accommodate even bigger items, and the network can provide slots for everything you need. Just find a space, and grid it. This is a great way to keep your everyday carry items nice and organized.
Caseable Customizable Sleeve
A seeming infinity of designs, colors, and materials await you at Caseable. Whether it's a Disney Princess, a helicopter, or a simple and elegant design that you want to watch over your laptop, you'll find what you're looking for at Caseable. The above design, entitled "Oxford," provides a measure of sophistication, with its checkered blue and distressed leather. A multitude of different custom designs await you and your specific preference on Caseable.
Pelican 1085 Laptop Case
The Pelican does kind of forego frills and flash for out-and-out toughness. Built in collaboration with BMW, the Pelican's rigid exterior and soft interior secures your laptop from harm of any kind. Makers of drone carriers, gun cases, camera cases, and tough-as-nails coolers, it shouldn't surprise you that Pelican engineered this laptop case to be indestructible.
DSPTCH Case
Made with ballistic mesh and lined with nylon packcloth and stitched seamlessly with channels to canalize your wires and cords, this DSPTCH case contributes organization and flexible toughness to protect your computer. An elastic pocket flexes to fit all ∂your essentials (or your inessentials).
TweLve South BookBook
Looking like a leather-bound tome that belongs in the Hogwarts library, or Ron Burgundy's bookshelf, this stylish laptop case is strengthened by two hardback book covers and rigid spine. While maybe not the most versatile of the bunch, this is definitely the most stylistically fun, and covert (if a little kitschy). 
Mujjo Sleeve
Stylish, colorful, and built with integrated storage compartments lined with wool to prevent damage from collision or shock, the MUJJO sleeve keeps it simple with its sleeve design. Made of wool felt and vegetable-tanned leather, this attractive, asymmetrical by-design laptop sleeve is soft and rich to the touch – as the all-leather exterior has been treated by aniline oil, to bring out its luster and smoothness.
Thule Gauntlet 3.0
THULE throws down the gauntlet with its extremely strong hardshell laptop case. It's a toss up which is tougher between the Gauntlet and the Pelican, but the Gauntlet has one distinguishing feature: a clamshell design allows you to use laptop while still in case. The Thule Gauntlet looks combat ready.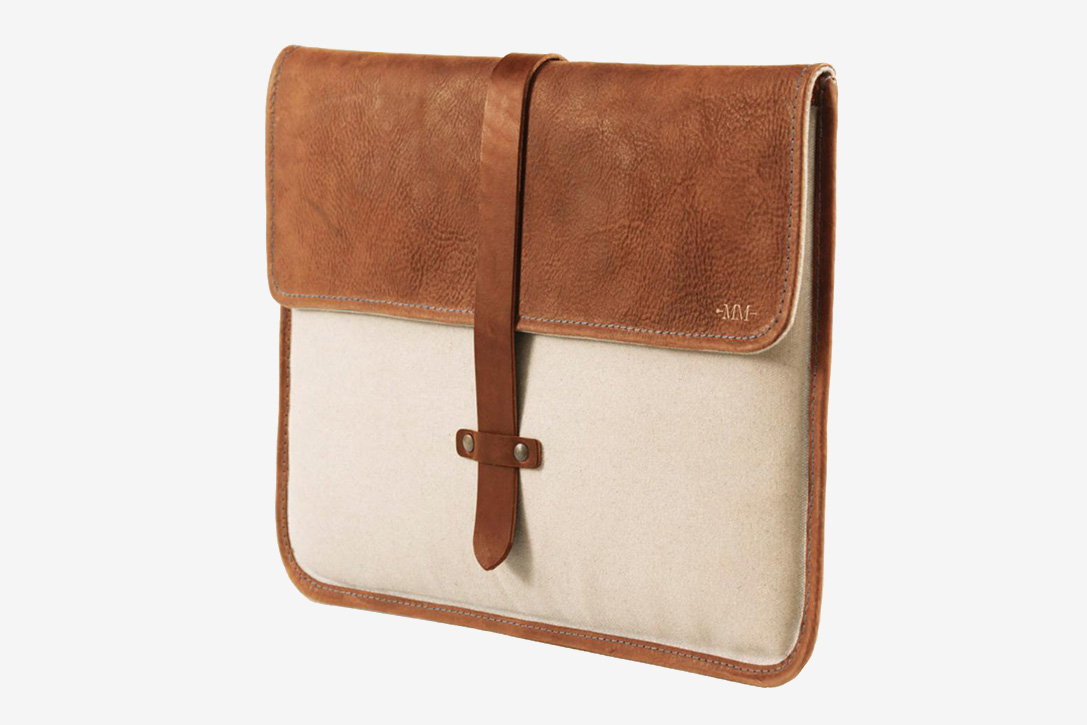 Mission Mercantile Sleeve
This attractive lather sleeve from Mission Mercantile has a quite professorial aesthetic – or at least a grad-student level of sophistication. People are liable to think you're lugging around a thesis in there. A rugged 18-oz. waxed canvas and full-grain leather exterior flap and trim protect that thesis – or laptop – from collisions, and the elements.
InCase ICON Sleeve
Crafted from a light but sturdy textured-performaknit material and edged with a Tensaerlite bumper for shock absorption, the InCase ICON sleeve is highly protective. A magnetic snap enclosure makes this design simple and easy, without the added convolution of zippers.
Lexdray x Tony Royster Jr. Drumstick laptop case
This sweet design from Lexdray AWOLNation drummer Tony Royster Jr. is designed to look like a rockstar's drumstick case. Its myriad pockets provide compartments for accessories of all kinds – drumsticks or otherwise. A releasable shoulder strap lets you tote this case with easy, and bottom padding ensures that this bag can survive a beating.
Valet Leather Sleeve
Reminiscent of a courier bag, this brown leather sleeve from Pad and Quill is crafted from saddle leather, giving it a rich and attractive sheen, and an imporous and durable skin to it. This slim carryall is smooth, but tough – and incredibly compact. Fit it in a backpack or suitcase with ease – we're not just horsing around.
Toffee Slim Leather Sleeve
This sleek, black leather sleeve can double as a stylish document carrier. A discrete interior pocket lets you store more than the deceptively smooth, minimalist silhouette indicates. Whether you're walking into a cafe to fire off some emails, or into a business meeting to present some contracts, look like a boss doing it with this case/folio.
Bellroy Laptop Sleeve Extra
The Laptop Sleeve Extra from Bellroy – makers of iPhone and iPad cases as well –  is made of lightweight microfiber, with a top flap made of soft leather. Two pockets for cables allow you to lug your essential accessories along with your laptop. While it doesn't have wild or radical adornments to distinguish it, it is a product of distinct quality and cohesion nonetheless.
Maple Macbook Sleeve
Hardwood exterior and soft felt interior give your laptop an timber-y skin to shelter it from the elements – and from your own clumsiness. Grovemade offers two wood-grain finishes, one in maple and the other in Walnut. Reinforce your technology with the fortitude of a forest. Just don't take a hatchet to this bad boy, and it should hold up well.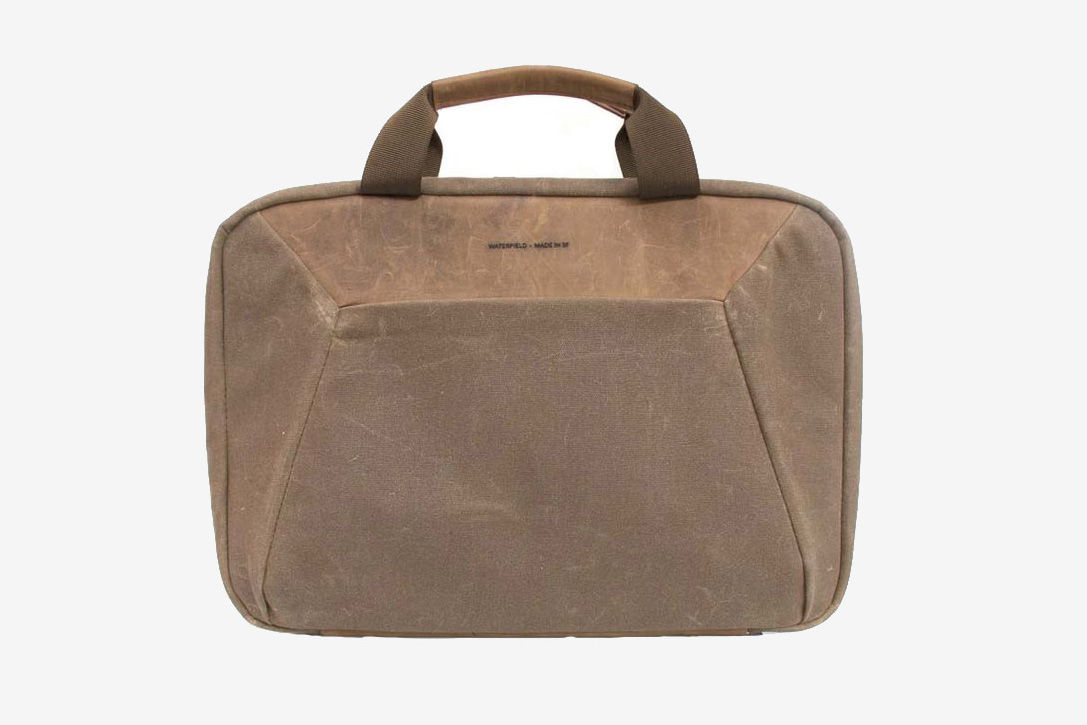 Waterfield Laptop Brief
Somewhere between a laptop case and a full-blown brief case, the Waterfield Laptop Brief makes an excellent tote bag for your laptop. Soft and secure, this beige distressed leather material provides an aesthetic of bookish ruggedness.
Hard Graft leather folio
The Hard Graft leather folio is small but mighty. It's seeming slimness is misleading (it could be the black color) because this case can carry much more than you would likely guess. Hard Graft boasts the capacity for "13" Touchbar MacBook, iPad, magazines, A4 documents, Surface Pro 4, charger, wallet etc.
This is Ground Mod 3 Laptop Case
The Mod 3 Laptop Case From This Is Ground is a portable office in a leather skin. The case is designed with built-in, high-power magnets, allowing for the magnetic integration of Mod inserts, like the sketch insert for artists, and the traveler insert, both of which are offered on the This Is Ground Website.
25 Best Bags For Business Travel
Those who take their tech on the road will sometimes go further than their local café . If you're packing up for a longer haul, take a look at this list of best bags for business travel.