We think it's safe to say that we've passed the point of no return when it comes to the integration of technology into most of our daily lives. That is to say, we're reliant upon it to the point of ubiquity. Even our most basic everyday carry loadouts now include smartphones, many people now use wearables (like smartwatches), and it seems like everyone is always in search of the nearest power outlet. And that's compounded even more for people that work office jobs.
Obviously, this is not necessarily a bad thing. The advancement of technology has bred a great deal of convenience, and it is ever-evolving in that regard. So long as you're not a Luddite, the ubiquitous and availability of high-tech gear may have very well made your life a good deal easier. And guess what? If you pick up some of the gear on the following list of the best high-tech office essentials, it might get even easier.
Twelve South PlugBug Duo
There are never enough outlets for all our tech, least of all when we really need them. But you can bypass that issue, so long as you're an Apple user, with the Twelve South PlugBug Duo. This clever device uses a single wall plug for up to three devices at a time, including a MacBook Pro and your choice of iPads, iPhones, and/or Apple Watches. And it even comes with alternative plug modules for those who travel internationally.
Yubico YubiKey 5 Series
It's pretty easy nowadays to have your identity and/or information stolen. But it's also equally easy to protect yourself with a hardware-based authentication solution — namely these Yubikeys made by Yubico. Better still, you can take a simple quiz on their site to figure out which one is best for you and they're all small enough to stash on your keychain or tuck away in a corner of your bag.
Nomad Ultra Rugged Lightning Battery Cable
Because powered technology has become so ubiquitous in our lives, many people are already carrying around cables in order to keep everything juiced up. As such, wouldn't you rather not carry around an inferior cable when there's an ultra-tough, ultra-convenient solution like the Kevlar- and ballistic nylon-wrapped Nomad Lightning Battery Cable. As an added bonus, this cable has its own integrated 2,350 mAh battery, so you can even use it to charge your gear when you're not near an outlet.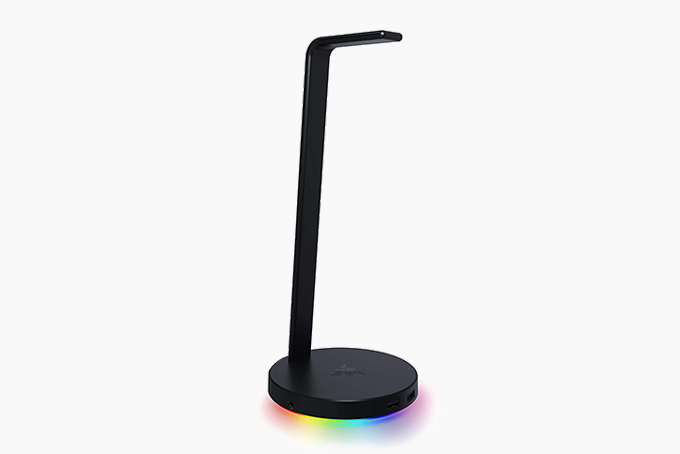 Razer Base Station V2 Headphone Stand
Even if you're working from home, you might still want to don some headphones to pump in music or to help keep from being distracted by your surroundings. But when you're not using them, you'll need somewhere to store them — and, no, we don't think tossing them on your desk counts as proper storage. That's why we like the Razer Base Station V2 headphone stand, which also happens to have a pair of USB ports, a 3/4″ headphone jack, and Razer's Chroma RGB illumination technology.
Keychron K3 Wireless Mechanical Keyboard
As long as you're not disturbing people with their noise, mechanical keyboards are quite superior to their brethren. And now you can have one with Cherry switches (Red, Blue, or Brown) that's oh-so-satisfying to type upon and still has wireless connectivity, so long as you pick up the Keychron K3 you see here. You can even upgrade this into the world's first-ever hot-swappable version — meaning you can change out every key on the fly, even while using it — which is pretty awesome.
Satechi Multi-Port Adapter V2
Despite the fact that we're all using more high-tech gear in our daily and work lives than ever, computer manufacturers still haven't started giving us more USB ports to plug them in. Well, Satechi has an elegant and handy solution in their Multi-Port Adapter V2, which comes with 4K HDMI, Ethernet, USB-C pass-through charging, and a trio of USB 3.0 ports. It even has a built-in SD/micro card reader.
Logitech MX Anywhere 3 Wireless Mouse
By the time the pandemic had kicked into high gear, everyone was quickly switching over to remote work — but that came with unique challenges. Logitech was hoping to solve one of those issues with their MX Anywhere 3 wireless mouse, which they touted as the "world's best work-from-home" mouse, due largely to the fact that it can work on just about any surface. It's that last bit that proves that their claim may very well be true.
Lenovo Pen Pro
Especially for digital artists, a smart stylus has become a must-have — but some are made better than others. And this one from Lenovo might just be amongst the best, as it has a whopping 4096 levels of pressure sensitivity, meaning it's a lot like writing and/or drawing with a real collection of pens, markers, pencils, etc.
Eve Energy Strip
While a power strip is a great way to maximize your outlets, many of them are not very efficient and even quite a bit wasteful. But the Eve Energy Strip is different, as this smart device will let you control all three outlets individually via an accompanying app and/or Siri voice commands. That means you can keep your energy conservation game strong and also conveniently power up whatever is plugged in at a moment's notice.
Ember Mug 2
We know firsthand how easy it is to get caught up in your work. And we know that sometimes means that hot cup of coffee you were looking forward to is now a lukewarm gross-out. But that problem can be a thing of the past with the self-heating and heat-maintaining Ember Mug 2, which comes in your choice of 10- or 14-ounce capacities and either white or black finishes. It's even waterproof, so you can clean it safely without worrying about damaging the built-in battery.
Nomad Base Station Pro Charging Pad
There was a time when our only juiced-up piece of tech was our smartphone. But now many people also have smartwatches, wireless headphones, and maybe even a second work phone. Well, you can charge all of them at the same time wirelessly with the Nomad Base Station Pro. Just drop your Qi-enabled device anywhere on its surface and — boom! — it will start charging. How's that for convenience?
WD_Black P50 External Hard Drive
For many folks, office tech is mostly stationary. But if you travel for work or even have a workstation at home that you use in lieu of going to the office occasionally, you might need some means of bringing your work (AKA your information) with you. And that's what you'll find in the WD_Black P50 external hard drive. Technically, this drive is made for gaming, but we picked it for two reasons: it looks great (all-black everything) and it has lightning-fast transfer speeds simply not offered by lesser drives.
Microsoft Surface Headphones 2
Headphones can simultaneously be a great means of piping in your favorite tunes or podcasts without bothering those around you and maintaining both focus and privacy. And while just about any wireless headphones or earbuds can manage those things relatively effectively, we're fond of the Microsoft Surface 2 headphones for their abundance of other features. That includes things like a 20-hour battery life, intuitive touch controls, the ability to get an hour's charge in just five minutes, and more.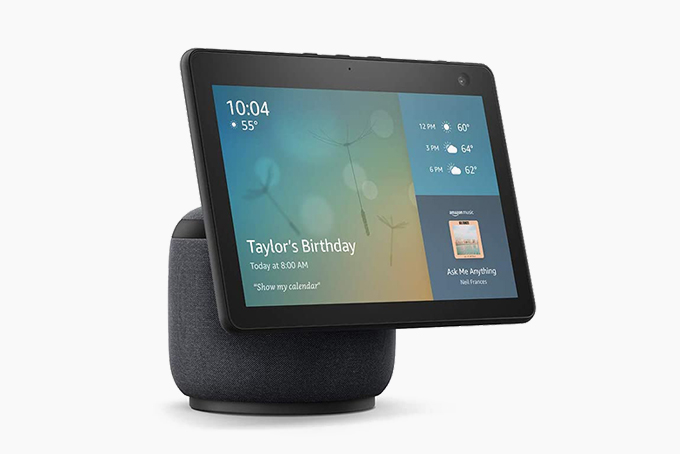 Amazon Echo Show 10
Though often touted as a household-friendly organizational, communication, and informational tool (amongst other things), we're firm believers in the Amazon Echo Show 10 as something excellent for office usage. This is because it can help you keep track of your calendar (sending reminders or setting appointments), is equipped with Amazon's Alexa voice-controlled AI assistant, can play music or podcasts, and can even make video calls (while automatically following you to keep you in frame). It's kind of like a high-tech secretary, actually.
Microsoft Surface Dock 2
Laptops are convenient alternatives to desktop PCs, but even the largest ones still have relatively small displays when compared to, say, modern widescreen monitors. If you're not ready to give up your laptop, however, you can have the best of both worlds with the Microsoft Surface Dock 2, which functions as a potent power supply, can connect your laptop to dual 4K monitors at 60Hz, and will help streamline your workflow tremendously.
Amazon eero 6 Mesh System
There is nothing more frustrating than discovering you've got WiFi connectivity dead spots in your home or office. For this reason, we're huge fans of mesh systems, specifically Amazon's eero 6 you see here. This kit comes with a base router and a pair of extenders that will help you keep a lightning-fast wireless connection throughout your entire workspace. And if you still need to cover more space, you can always add in more extension modules to extend the coverage even further.
Dyson Lightcycle Desk Lamp
A desk lamp is just a desk lamp, right? Well, not if it's the Dyson Lightcycle you see here, which was designed to last for 60+ years and will actually mimic the ebb and flow of natural light (AKA sunlight) and automatically adjust to your surroundings to help keep your body in its natural circadian rhythm. It also has a built-in motion sensor — so it will turn off automatically when you're not around — and it was designed specifically to help reduce glare and eye strain. This ain't your grandaddy's desk lamp.
Apple iPad Pro
Especially now that it's been updated with Apple's M1 chip, the iPad Pro has been solidified as the standard-setting tablet. Truly, none of the other options out there really come close. Even the standard iPad pales in comparison. With its gorgeous Liquid Retina XDR display, advanced Pro camera array, ultra-slim body, and 5G compatibility, this is the tablet to pick up if you're going to pick up a tablet… and you can afford it.
Apple iMac
Like the iPad Pro above, Apple's suite of iMac desktop computers has recently been upgraded to utilize the brand's new, groundbreaking M1 chip. More than that, however, the series has gone through a complete redesign to make the final result slimmer, faster, more powerful, and more colorful than ever before. If you're in the market for a new desktop computer, especially if your career is design-focused, we'd be remiss if we didn't highly recommend picking up one of the new iMacs. Yes, they're expensive, but they're worth every single penny.
Woolsey Smart Desk
Most folks don't think about their desk when it comes to high-tech office gear, but we think that is a shame, as picking up a desk with some integrated technology — like the Woolsey Smart Desk — can actually help streamline your workspace and make your office life so much easier. What sets this desk apart is a combination of its beautiful classic styling, integrated storage, embedded Qi-enabled charger, integrated surge-protecting power strip, built-in cable management system, and more.
The 10 Best Tech Organizers For Everyday Carry
For anyone who brings their office with them wherever they go, some means of hauling all that tech and accompanying accessories is a necessity. Find the perfect option on our list of the best EDC tech organizers.