From toddlers to seniors, who doesn't appreciate LEGOs? For over eighty years, the Danish company has been releasing fun-loving and thought-provoking models of some of the most renowned figures, scenes, and locations from all across the world, not to mention its entertainment counterpart. Let alone how versatile they are, the brand uses very high-end materials to provide enthusiasts with spectacular builds that are sure to last. We're big fans of the brand, particularly their automotive builds, which is why we've come up with a list of the best LEGO car sets you can buy.
Through countless releases and innumerable licensing deals that have been aimed to fit anyone of any age, one of LEGO's most consistently well-delivered themes resides in their broad variety of automotive replicas. Thanks to the brand's trademark TECHNIC technology, they have managed to implement incredible abilities through many of these meticulously detailed models. Luckily for fans of the two worlds and how they intertwine so effortlessly, we've compiled a list of the premier LEGO car builds that both beginners and experts can deck their homes with.
TECHNIC McLaren Senna GTR
Starting things off simple, this 830-piece set is a gorgeous model of the beloved hypercar right down to its butterfly doors that open as a part of this particular replica's trademark TECHNIC abilities. Measuring in at a foot long and clad with all sorts of appropriate branding, this is a perfect rookie build for any fan of speed.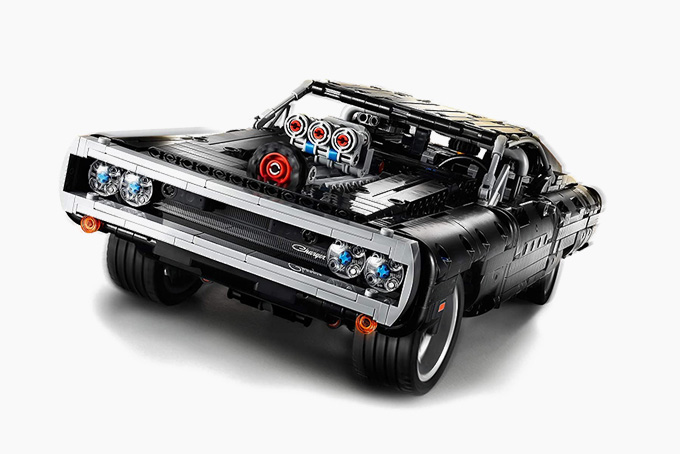 TECHNIC Dom's Dodge Charger
For better or worse, there is genuinely no film series more synonymous with the entirety of this century thus far than Fast & Furious. With Dom's signature 1970 Charger, you can now build the franchise's best-known car rather than dissect the countless number of sequels the original film has garnered. There's a lot of crossover love waiting to be given with this model, be it from fans of the model's iconic silhouette, Fast & Furious, or LEGO in general.
Fiat 500
Made up of an even 960 pieces, the LEGO Fiat 500 is a great replica, right down to the handbrake, sunroof, and openable hatchback with the car's rear-mounted engine inside. To top it off, LEGO wants to make sure their yellow brick car is intact, as it comes equipped with a spare tire ready for you just in case. For a sleek build that arrives at your door for a modest price, this classic Fiat is an icon of its time and makes for a build as soothing to look at as the Italian countryside it hails from.
TECHNIC Ford F-150 Raptor
Here we have the first truck that falls on this list, the treacherous Ford Raptor. Trademark TECHNIC capabilities make this beast of a pickup all the more fun to build. While its moving pistons and V6 are something all truck enthusiasts will appreciate, just wait until you see the strikingly detailed interior. Made up of 1,379 pieces, this model shouldn't take your average LEGO truck builder more than a couple of days to complete.
London Bus
While traveling to the other side of the pond may not be feasible during the COVID era, you can do the next best thing by picking up this proper London Bus model. Equipped (once you build it) with a panoramic windshield, sliding doors, and interior details like a ticket bin, half-spiral staircase, and discarded pieces of gum, you can remind yourself how much more therapeutic it can be to put a bus together in 1,686 pieces than it is having to ride one.
James Bond Aston Martin DB5
Gorgeous in nearly every sense of the word, James Bond's iconic 1964 Aston Martin DB5 from Goldfinger is one of a handful of iconic movie cars that have made their way onto this list — and arguably the best known. But you can still keep your LEGO agent's identity a secret with the car's changeable license plates and recreate classic sequences from the film thanks to its other fine-tuned details, those of which include an ejection seat and tire scythes. Get it while you can, as it's retiring soon.
Porsche 911
This beautiful 911 model is part of the Danish brand's Creator Expert collection. While a humble 1,458 brick makeup doesn't sound like it requires much expertise, it surely looks to play the part. Featuring the vehicle's emblematic roll bar, authentic spoiler, and a trio of customizable license plates geared to fit any Porsche purist's liking, this white Targa is a great build and will surely put skills to the test, no matter how many hands may chime in for assistance.
TECHNIC Ferrari 488 GTE "AF Corse #51"
This particular speedster is built to emulate the emblematic racing vehicle with a bevy of stickers included making it all the more realistic. To label this authentically detailed would be an understatement, as the toy company's attention to detail is brought out through this Prancing Horse's front and rear suspension, accurate interior, TECHNIC-powered V8 engine complete with moving pistons. At 19 inches long, please keep in mind that this 1,677 piece build is larger than you may expect.
Volkswagen T2 Camper Van
While we love to discuss the most lavish of real-life campers, this should do the trick for now. Volkswagen's classic T2 was made for the beach and LEGO exudes that entirely here. Equipped with a fitting surfboard and pop-top, this rare model is all prepped and ready for the beach. And in case you work up a bit of an appetite while putting it together, you can make your way into its small-scale kitchen and cook yourself up a nice meal (OK, not really). With a hefty 2,207 brick total, this model version of the perfect summertime ride makes for an incredible gift in the winter.
TECHNIC Land Rover Defender
Land Rover is known for making some of the most wanted vehicles across all fronts: luxurious, adventurous, and even plastic. This impeccably detailed model exudes authenticity, right down to the engine specifics and moving pistons. With its additional removable roof rack and storage box, you may just end up checking to see if you yourself will actually fit inside because, at a whopping 2,573 pieces, this Defender will dominate shelves as much as Land Rover's actual SUVs dominate trails.
Ghostbusters ECTO-1
Brace yourselves, as we are gearing up for an exciting stretch of classic cinematic automobiles that have stood the test of time; that is, at least according to the good people over at LEGO. This awesome carbon copy of the Ghostbusters' classic ride will keep builders protected from the paranormal with its ghost sniffer and ghost trap, both of which are accompanied by the quintessential scissor seat. For fans of the movie, both the original and the new sequel, this ECTO-1 model is truly a no-brainer — now all you need is a LEGO firehouse in which to park it.
Batmobile Tumbler
Inspired by the Dark Knight's imposing vehicle during Christopher Nolan's revered Batman series, this captivating replica is made up of 2,049 pieces and comes equipped with a plaque and a pair of characters in a jagged-masked Batman and a bewilderingly sinister Joker. From a visual standpoint, this is surely the most complex set that appears throughout this list. With its rugged-brick top, beautiful paintwork, and painstakingly detailed cockpit, the only thing this six-wheeled Tumbler doesn't do is transform into a motorcycle. Equipped with a display stand, this is quite an impressive replica, but it's not the only elite Batmobile that shows up here.
1989 Batmobile
This now-thirty-something-year-old Batmobile is an absolute challenge, but it's surely worth it. Made up of 3,306 pieces, Tim Burton would be proud to see the scrupulous effort that went into designing this classic, as it features pop-up machine guns and a sticker-clad interior, as well as figures of Batman, Vicki Vale, and the Joker — this one of course being Jack Nicholson's rendition, which still manages to look as rad as the late Heath Ledger's symbolic staging. Having this car in the mix as well as the Tumbler calls for nothing more than a high-end make of Adam West's original '60s Batmobile that started it all, and maybe even a sidecar for that friend of his. Your move, LEGO.
TECHNIC Bugatti Chiron
The iconic Bugatti Chiron is a model that needs virtually no introduction, whether it's a real car or a plethora of bricks. Here, its iconic silhouette is executed flawlessly in LEGO form and is one piece away from 3,600. This supercar features a monstrous W16 engine, eye-poppingly accurate details across the dashboard, and a TECHNIC-powered gearbox. For those eager to get their hands on this particular build, keep in mind that it will be retiring soon. With that being said, do yourself a favor and put one together sooner than later.
TECHNIC Lamborghini Sián FKP 37
Spending such a hefty amount on a LEGO set is bound to come with appropriate branding, and this checks both boxes. This gorgeous model comes packed up in a specially-branded box, making it just as difficult to tear the packaging off of as it is to build. With a cockpit as meticulously executed as one by the Italian automakers themselves, this Sián's scissor doors, adjustable spoiler, and technic-capable V12 engine all look to serve as many authentic factors that come to mind as possible when the word "Lamborghini" gets uttered.
The 15 Best LEGO Sets for Adults
As mentioned, the lovable toy company has always offered a mass variety of different builds to choose from, some of which may need an extra hand (or three). Nevertheless, if you're looking to expand on the brand and start replicating more than cars, then take a look at the general best LEGO sets for adults they have to offer.