When the Sports Car Club of America (SCCA) was founded in 1944, some of the first events it held were local time trials, also known as autocross. Comprised of tight, technical courses, these amateur races put handling and driver ability above engine output and outright top speed. Essentially a race against the clock, each autocross race allowed only one driver on the course at a time, with cones placed according to its layout. As the club and the events it hosted continued to grow in popularity, so too did the sport of autocross.
Fast forward some 70-odd years later and you'll find that autocross is alive and thriving. With well over 114,000 members in the SCCA and 300-plus events held annually, it's become a true driver's sport for the masses. Everyone from casual weekend warriors to sponsored pros competes at these races, with a variety of vehicles just as diverse as the drivers who helm them.
As such, the sheer volume of performance cars available makes finding a race-ready steed an intimidating task. Couple that fact with a confusing class structure, and it can be difficult to know where to begin. Lucky for you, we've done our homework, so take a look and see what we've picked for the best autocross cars.
Improving Your Performance
Things To Consider
Classes: First and foremost, it is essential to understand how the classing structure works in autocross. Within the SCCA, there are six primary categories. In ascending order of modification they are Street, Street Touring, Street Prepared, Street Modified, Prepared, and Modified. As the name suggests, Street covers cars that are pretty much bone stock, with minimal changes to their performance. On the other end of the spectrum, Modified describes those which are come just short of a proper racecar, with extensive parts upgrades to the suspension, powerplant, body, and chassis. Each of these six classes is made up of further subclasses designed to ensure an even playing field.
Modifications: If you're just starting out in autocross, it's best to keep modifications to a minimum. Even some of the most basic suspension and exhaust upgrades can quickly take you out of the Street class and into the Street Prepared or Street Modified classes. As is often the case, moving up in class means better drivers and tougher competition. If you're not careful, before you know it, your car could be classed above your driving ability. What's more, just because an upgrade optimizes your car for performance between the cones, doesn't mean that it'll make for the best everyday ride. So if you're planning to daily your autocross car, consider the roads your driving outside of the course.
The Driver: Unless you're a regular autocross competitor, you're going to be the limiting factor rather than your car's performance. Check your ego at the door and invest in some proper race-specific driving classes. They're both cheaper and more effective than any modification you can make to your car's engine or suspension. Once you know how to drive fast, it's only a matter of time before you become a regular podium finisher.
Acura NSX
Although the NSX struggles with a tall first gear and a longer wheelbase than some of the other cars featured here, it's a pretty consistent performer within its class, regularly netting some of the top spots in the field. On the pro autocross circuit, it was among one of the more-favored options, so with the right driver behind the wheel, an NSX can crush the competition. If you're considering autocrossing one of these cars, look for courses that allow you to carry more speed — you'll be doing yourself a huge favor. Buyer beware though, maintenance can prove a bit costly if you don't stay on top of it.
Audi TT
As the baby brother to the R8 in many respects, the Audi TT makes for a great autocross competitor. For instance, it features a short wheelbase that allows for quick handling and precision cornering. And should you opt for a Quattro model, you'll get all-wheel-drive, further improving the car's maneuverability and grip. However, it should be noted that your success in a TT really comes down to how you go about modifying it (and, consequently, how it's classed). It'll do far better bone stock in its respective Street class than it will in any Street Prepared or Street Modified class. Once you start upgrading the engine, suspension, and other performance parts, be prepared for a whole new level of competition. But if you're set on putting some money into your autocross car, start with a rear swaybar to tighten up the handling and cut down on the body roll. Oh and one final word of advice: As with any Volkswagen Group car, be sure to do your maintenance if you want to keep it kicking.
BMW E36 M3
As the poster child "driver's car," the M3 is highly-regarded for its superior steering, consistent power, and balanced chassis. The reality is that any M3 is bound to take you far in an autocross event, but few models are readily affordable to the average enthusiast. So even though the E36 isn't much of a standout performer when compared to other generations, it makes for some of the most fun you can have at a track day at its price. As such, it proves to be a particularly popular car to autocross — at least as a base platform for further customization. With aftermarket part support abounds, you can tune these cars to your heart's delight, making changes as you dial in your driving ability. Above all else, make sure to upgrade the cooling system if you're planning on becoming a regular autocross competitor. Otherwise, don't be surprised when your car overheats having sufficiently thrashed it around the course.
Chevrolet Camaro SS 1LE
While the Camaro is a good deal heavier than most of the small, tight-cornering hatches featured on this list, it can be a real competitor — provided that you're smart about the way you spec it. The 1LE package is a factory upgrade from the standard SS version, with a number of parts that make it suited to a life of lapping the track. For instance, it comes with stiffer springs for better performance between the lines. It also boasts upgraded Brembo calipers, allowing you to brake later and carry more speed into the corner. And with the addition of Track Mode, you can sharpen your steering and quicken your throttle progression at the push of a button. Should you opt for a later-model Camaro SS 1LE, you'll also get Magnetic Ride Control, a feature that adjusts the suspension in response to the road conditions in real-time. All that is to say — this may be a Camaro bred for the track, but there's tons of performance carryover for autocross racing.
Chevrolet Corvette
Autocrossing a Corvette is not for the faint of heart; it requires near-perfect driving skills and a good dose of grit in order to tame this beast between the cones. But if you're up to the task, a 'Vette will serve you well. Offering some of the most power you can get for the money, there's a reason you see these are popular at autocross events. That said, it's worth considering the characteristics of the course you'll be driving — horsepower figures mean nothing if you can't make it out of first gear. With its superior grip and responsive steering, the Z06 makes for a track-slaying machine. However, it's understandable that not everyone can spring for such a grail of a car; with the right mods, even a C5 generation Corvette can be a capable performer.
Honda CRX
Light, quick-handling, and — best of all — cheap, the Honda CRX is as fitting an autocross car as you could hope for. Sure, it doesn't have the acceleration of some of these more muscled options, but don't be quick to discount it. Ultimately, autocross is about quick changes in direction, and the lighter your car is, the more speed you'll be able to carry into the turns. As with most Hondas, they're pretty easy cars to work on, with tons of aftermarket parts availability. So whether you're making a fix to get you race-ready or upgrading a part to improve your odds, the CRX is an approachable platform great for honing your skillset. Like any hatchback worth its weight, it also makes for a pretty practical daily driver. Unfortunately, clean examples are becoming ever-harder to find.
Honda S2000
Out of the box, the venerable Honda S2000 is one of the most capable autocross cars to be had. Much like the Mazda Miata, it's known for its tight handling and impeccable grip. However, where the Miata is something of a one-trick-corner-pony, the S2000 also boasts some respectable power under the hood. As such, it's one car that's consistently well-represented at autocross nationals, no matter the class. Although you can most definitely improve performance by way of some powerplant upgrades, your money is better spent elsewhere. For instance, if you're hoping to make your Honda S2000 into a more competitive autocross car, you should first improve its aerodynamics and suspension. With the addition of a proper rear wing and a front diffuser setup, the extra downforce will make it a near-unbeatable threat.
Ford Focus RS
Under normal circumstances, front-wheel-drive makes the Ford Focus ill-suited for autocross applications. However, if you spring for the uber-hot RS model, you get a capable all-wheel-drive system ensuring top-notch cornering ability. Even better is that from 2018 onwards, Ford gave the Focus RS a limited-slip differential, saving you the hassle of doing it down the road and making it ready to lay down a fast lap time between the cones. While users will often complain about stiff suspension making for an unforgiving ride on the road, this means that you'll get less body roll navigating quick directional changes on the track.
Ford Mustang GT
Although the Mustang definitely needs some work to get it on par with the lightweights making up the rest of this list, the good news is that there's a solid base platform for customization. What's more, Mustangs are incredibly common, so you should have your pick of the litter when it comes to the year, color, and trim. Throw on some a set of stiffer springs, front and rear sway bars, and some better brakes, and this straight-line sprinter can be turned into a proper autocross podium contender. In particular, the GT strikes a good balance between power and price — specced any lower and it'll feel like a dog; any higher and a lot of its horsepower will go unused.
Lotus Elise
With an aluminum chassis and a composite body, the Elise weighs in right around 2000 pounds. Pair that with a reliable Toyota engine and you have a recipe for autocross excellence. Although they're not necessarily the best cars for daily driving because of their characteristic British build quality, they'll take you far in any competition. So whether it's a tight autocross or even just a spirited drive on a twisty road, you can count on the Elise to put the sport back into driving. Punching well above its weight class, this little exotic makes even the most average driver feel like a professional behind the wheel.
Mazda Miata MX-5
The Mazda Miata is the definitive autocross car. Cheap, reliable, and widely available, you'll have no trouble sourcing one of these on the classifieds. But just because it's a commonplace car, doesn't mean it isn't a capable performer on the autocross circuit. Rather, because of its low weight, short wheelbase, and unmatched handling, you're bound to find a grip of these at any event. With plenty of parts available, you can run it stock with minimal modifications or upgrade it to the point of pocket-sized racecar. And although clean, low-mileage Miatas are becoming of a rarity, even the most well-loved examples promise tons of fun. The bottom line is that matter the generation, you really can't go wrong here.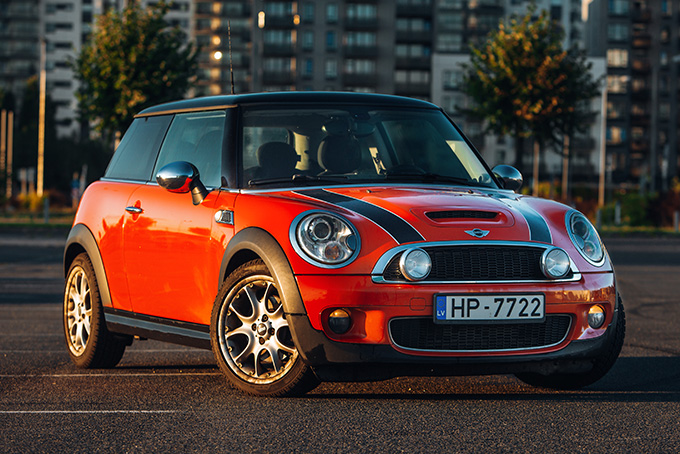 Mini Cooper S
Mini Coopers tend to do best in their respective stock autocross classes, so it's best to go light on the modifications. Although you'll likely be competing with cars with far superior power outputs compared to your Mini, the Cooper S does have a few tricks of its own up its sleeve. Thanks to a short wheelbase and a capable stock suspension setup, it provides a go-kart-like experience behind the wheel. And because of its bare-bones chassis, you'll quickly develop a feel for your car's limits, knowing where and when to apply brake and throttle through the turn. It's worth noting that Minis are notorious for their tire-munching, so keep an eye on the wear and be sure to rotate your setup regularly.
Nissan 350z
Even a cursory Craigslist search will tell you all you need to know about 350z's — they're incredibly popular among driving enthusiasts and they're excellent platforms for customization. Nissan really nailed it with the chassis design; it's an approachable entry into serious driving but it also has a high threshold for performance. This is one car that can easily take you from casual enthusiast to autocross expert, with plenty of upgrade potential along the way. With its robust build quality, this modern Z makes for a reliable commuter Monday to Friday and a proper driving machine come time for weekend racing. However, because of their popularity, clean manual examples are a bit of a catch — it takes a discerning eye and a good dose of patience to spot a good one.
Porsche 911 GT3
Taking 1st, 3rd, 5th, and 6th at the 2017 autocross nationals, the Porsche GT3 is one of the best cars you can buy for an afternoon of racing. Nimble to drive, perfectly balanced in weight, and providing a near-immediate throttle response, it's a bonafide street legal race car if there ever was one. Most autocross courses are too technical to make it out of second gear, but the chassis makes for fast transitions and effortless maneuvering around the cones. If you're considering bringing a Porsche 911 GT3 for your next autocross steed, just be sure to bring the driving skills to back its performance.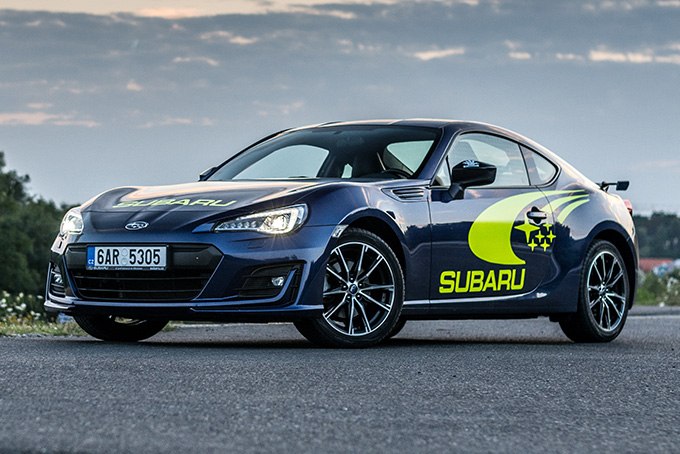 Subaru BRZ
If convertibles like the Honda S2000 or the Mazda Miata aren't your thing, consider the Subaru BRZ. After it was first introduced in 2013, it became popular on autocross courses for good reason. Because of their balanced weight, capable braking, and neutral handling, they've found their footing on the track and proven to be very competitive across several different classes. Admittedly, it has somewhat conservative power and torque figures out of the box, but this also makes it easy to push the car to the limits on a tight technical course. Short of the Miata, the BRZ makes for some of the most fun you can have at an autocross meet.
Subaru WRX
One of the most well-rounded performance cars you can buy, the WRX is a shoo-in for nearly any list concerned with fast lap times. Well-steeped with rally pedigree, it comes with AWD for confident handling no matter the conditions. While the hotter STI is undoubtedly a better-specced car, its classification means that it's aren't quite as competitive relative to the competition. Moreover, the WRX handles double duty better than its more powerful sibling, balancing the demands of a daily driver with a weekend autocross warrior quite well.
Toyota MR2
Another tiny, nimble rear-wheel-drive option, the OG MR2 does exceptionally well at slalom-style events where split-second decisions make or break the result. Its twitchy ride on the road translates quite well in autocross events packed with hairpin turns. Particularly popular amongst Reddit users, you know this one comes well-recommended. As with any 30-year-old car, there are a few areas of concern that need to be addressed if you want to stay in the race. For instance, brake technology has come a long way since the '90s, so it'd be worth upgrading to a more modern setup if you want to maximize your momentum through the turns. And, depending on the owner's history, the suspension is likely to have seen better days. Better to do some precautionary maintenance than see your JDM classic kick the bucket after the first trip around the course.
Volkswagen Golf GTI
The undisputed king of the hot hatch world, no performance car list would be complete without the Volkswagen GTI. It's something of a jack of all trades — equally at home doing the weekly grocery run or setting a blazing lap time. But that's the beauty of the platform: It's great at pretty much anything you could ask it to do. While the MK7 would be our top choice for its modern amenities and Audi build quality, we recognize that the classics have their appeal as well. If you're going to spring for an earlier model GTI, try to get your hands on a MK1 or a MK3 — they're the standout performers of the bunch.
The 20 Best Tuner-Friendly Cars Of All Time
Sold on the autocross concept, but looking for a car ready for modification? Check out our guide to the best tuner-friendly cars of all time to get the low-down on capable platforms for customization.