It goes without saying that boots are one of the mainstays of men's style. Without them, we'd be stuck wearing distasteful urban sneakers, slides, and sandals. That's a reality that we never want to see. Luckily, the heritage of our favorite boot brands runs deep within the world of footwear, providing us with plentiful styles, an ever-expanding catalog of offerings, and proprietors that have a penchant for the reproduction of history's most lauded designs.
That being said, the boot world is undeniably vast. If you're new to the genre, or you have a hard time keeping up with the endless torrent of models, it can seem daunting to find the perfect brand, style, and model for you. That's where we come in. Below, we've outlined three different genres of boot — including style, work, and hiking — in an effort to make your search a bit more intuitive. Each section will break down the finest boots in the genre and give you a sub-surface look at what it is that makes the model so special. Whether you're looking for fashionable fatigues that have been built for a night on the town, a more informal model that would work well on the job site, or an outdoor essential that'll take you far, far away from the concrete jungle, you'll find your vice in the selections below.
Stylish boots are rooted in their iconic lineage. They're the basis for any authentic outfit, providing one of the most important foundations for stylish expression. Below, you'll find a handful of lauded types and styles — including Chukkas, Chelseas, Brogues, and traditional lace-ups. If you're a fashionable gentleman who's looking to amplify his aesthetic, this is the section for you.
Nisolo Emilio Chukka
Nisolo's Emilio Chukka is a versatile boot that you can wear almost anywhere, save for the trail. It features a full-length sheep-leather insole, sheepskin lining, and a slip-free rubber heel cap, as well as an added layer of stitching for a more vintage appeal. Style these with a pair of cuffed pants for a truly iconic look.
Wolverine Men's 1000 Mile Fashion
Wolverine's 1000 Mile boots are among the industry's most lauded, and for good reason. These dapper-looking essentials feature a premium leather construction (sourced from the legendary Horween Leather Company), a durable, and dependable Goodyear Welt construction, and a unique design that passes through the hands of some of the USA's finest craftsmen prior to sale.
Astorflex Bitflex
The Astorflex Bitflex Chelsea boot is an eco-friendly model that encompasses some of Italy's most prominent design principles. It relies on an aesthetically-pleasing beeswax nubuck leather that's exclusive to Huckberry and boasts an ergonomic, form-fitting footbed, natural crepe rubber sole, and a supple, suede-like finish that's sure to enamor wherever you go. When the time comes to spruce them up, you can apply a vegetable or mink oil to give them a new lease on life.
Red Wing Heritage Weekender Chukka
Red Wing's Heritage Weekender Chukka brings the proprietor's legendary construction principles to a more stylish, inner-city boot. Calling upon over 100 years of experience within the bootmaking realm, this unique chukka features a full-grain oil-tanned leather upper form S.B. Foot Tanning in Minnesota, as well as a dependable stitch down conduction, Comfortforce footbed, and water/stain-resistances to keep it looking as good as new throughout the majority of its life.
Rhodes Dean Cap Toe
Rhodes' Dean Cap Toe shoes is a rugged leather boot that's surprisingly classy. Each pair is crafted by a set of artisanal hands at the brand's family-run Portuguese factory and leaves its floor with a breathable/odor-resistant calf leather upper, Texon insole, anti-shock foam, and speed-hook lacing for more intuitive donning and doffing. When the soles start falling apart, you'll be able to revive them due to the brand's resoleable Blake stitch.
Grenson Fred Leather Brogue
Grenson's Fred Leather Brogue is a testament to vintage boots, and it takes its job quite seriously. Built atop a dependable Goodyear-welted lug sole, this unique offering boasts a beautifully-realized calf-leather upper, subtle pull tabs, leather interior linings, and, as you might expect, substantial broguing. Thanks to its hiking-inspired silhouette, it obtains a vintage appeal that few boots can match. That being said, you'd never catch us wearing these in the great outdoors.
Filson Service Boot
Filson has a penchant for the creation of timeless clothing items, and its footwear is no different. The brand's Service Boot, for example, bridges the gap between contemporary footwear and its more militaristic vintage counterparts, thanks to its oiled, full-grain leather, craftable, welted construction, and rust-resistant nickel hardware. Inside, a comfortable suede-lined interior toe box has been added to improve foot security, complementing the boot's composite shank, reinforced roughout, and triple-stitched stress points.
FRYE Bowery Lace Up
When it comes to stylish footwear, it's hard to hold a candle to FRYE. The legendary boot brand has made a name for itself through the consistency of its heritage designs, and the Bowery Lace Up is a perfect example of its artisanal capacity. Each boot features a suite of interesting traits, including waxed laces, antiqued brass hardware, textured welting, and vintage, vegetable-tanned leather, pairing seamlessly with its enhanced rubber lugs and PORON footbed for increased traction.
Rancourt & Co. Brighton
Rancourt & Co.'s Brighton is a subtly-brogued boot with leagues of character. It features a finely-finished Mimosa calfskin leather, a full tan cowhide lining, and a natural leather midsole/welt, pairing seamlessly with its dependable Vibram 430 mini-lug outsole. Throw in some antique eyelets, flat-waxed laces, and a Black welt for easy resoling, you've got yet another contemporary offering with its eyes to the past.
R.M. Williams Urban Brunswick
R.M. Williams' Urban Brunswick is a functional boot that takes its cues from modern moc toes. That doesn't mean that it's out of the woods in terms of heritage composure, however. It calls upon subtle brogueing, an ultra-light EVA unit sole, and a medium round-toe to do its bidding, complementing its vintage Yearling leather.
A.P.C. Stanislas Leather Chelsea
A.P.C.'s Stanislas Leather Chelsea is yet another gored offering that proves the worth in simplicity. Calling upon an all-black premium leather upper, elasticated side panels, and a simplistic heel pull tab, these stylish offerings might look like any other Chelsea on the market today. What makes them so special, however, is their tenure in the hands of Portugal's finest footwear manufacturers, ensuring that no luxurious detail goes unchecked.
Church's Prenton Suede Chelsea
Church's Prenton Suede Chelsea is a rugged, yet refined model that would look right at home in any punk's collection. That being said, it also boasts an inherent feeling of timeless class, thanks to its rich brown suede upper, elasticated paneling, and stacked heel. To round things out, a traction-approved rubber sole and simplistic heel pull serve to tie everything together.
Common Projects Ankle-Length Chelsea
The majority of Chelsea boots that we've introduced thus far revel in their minimalist dialogue. Common Projects' Ankle-Length models, however, have something that they'd like to say. In order to make their statement, each boot is built with premium black leathers, chunky rubber soles, and elasticated side panels. Gold lettering accents the side of each model, working hand in hand with the Chelsea's trademark pull-tab to provide more utilitarian poise than its refined counterparts.
Work
Getting The Job Done Right
Workboots sit in a niche all their own. Oftentimes, they're seen as tools — accessories that are built solely to achieve a task or complement a job. However, that doesn't always take precedence. A number of the genre's boots are informed in both lineage and style, helping wearers to take on the job site without looking like they're wearing a generic, cookie-cutter brand. Below, we've included a handful of the workwear world's most prominent choices, as well as a few great-looking alternatives.
Carhartt CMF6366 Composite Toe
Carhartt's CMF6366 Composite Toe is a 100% leather offering that relies on the brand's rugged flex technology to give it the gumption it needs for day-to-day utilization. Each pair features a rubber, shock-absorbing sole, a padded tongue, and collar, and a lightweight EVA midsole for improved composure while on the job site. Finish that off with a supportive OrthoLite midsole, and you've got one of the most affordable (and capable) boots in the workwear industry.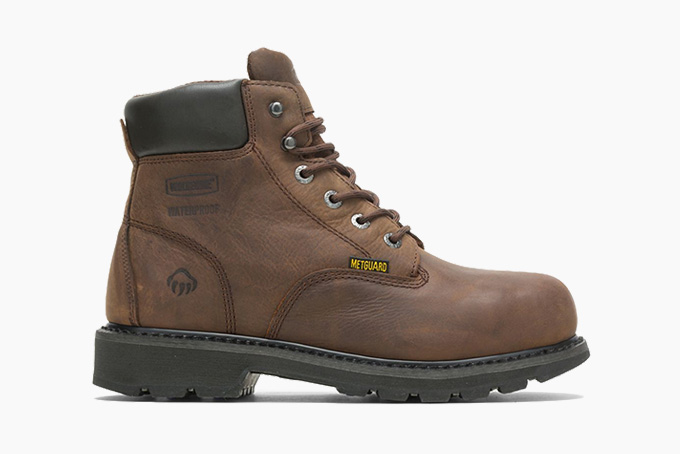 Wolverine McKay Steel Toe
Wolverine has already made an appearance on this list with one of the genre's most fashionable style boots, but that doesn't mean that it can't roll with the best that the workwear world has to offer. Its McKay Steel Toe is a perfect example of its utilitarian dedication, thanks to its high-performance full-grain leather exterior, waterproof mesh lining, and fully-cushioned footbed. It also boasts improved foot protection due to its internal metatarsal guard, as well as a slip-resistant rubber and PU outsole for sure footing.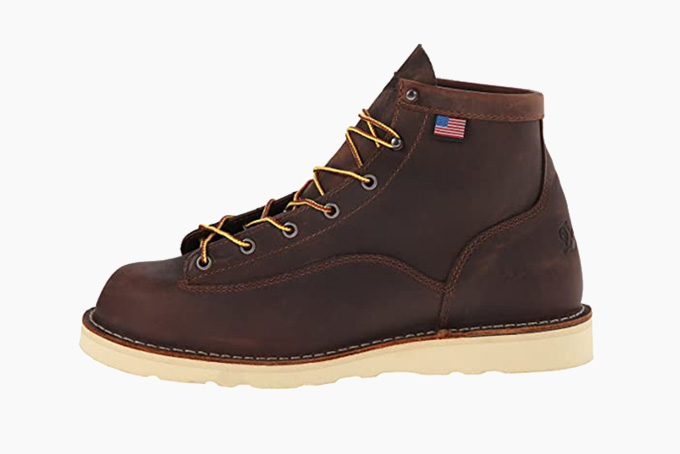 Danner Bull Run
Danner's Bull Run is a departure from the more stylish offerings that we see on a daily basis, but after one look at the boot, we could tell that it was from the fabled Oregon-based footwear provider. Like many of the manufacturer's models, each 100% leather offering is made in the USA, and features an oiled full-grain leather upper for increased durability. Below, a moc-inspired wedge sole gives the Bull Run a great-looking base for its many components.
Chippewa Birkhead Insulated
Chippewa stands tall as one of the workwear world's most prominent boot builders, and the Birkhead Insulated is a prime example of its efficiency. This eight-inch model features a Chip-A-Tex waterproof membrane, Flexelt insole, and an ASTM F2413-11 steel toe for even the most stringent jobs. Plus, it's got over 400 grams of 3M Thinsulate Ultra, making it breathable, lightweight, and moisture-resistant, without giving up its thermal qualities.
Blundstone Super 550
Blundstone's Super 550 might look like a more robust Chelsea, but you'd be wrong to write it off as just another stylish footwear accessory. Instead, this well-equipped model takes on a life of its own, thanks to its rugged, premium leather upper, removable EVA footbed, and Poron XRD inserts, which reduce wearer fatigue, thanks to their ergonomic design. Dive a bit deeper, and you'll find that the boot is made with both a polyurethane midsole and thermoplastic urethane outsole, which fight against hydrolysis and microbial attack. To round things out, an integrated steel shank assists with torsional stability.
Thorogood Men's American Heritage
Thorogood's American Heritage boot is true to its name. This All-American example features a Tobacco oil-tanned leather exterior, a removable, shock-absorbing footbed, and a comfortable Poron cushion insole for increased longevity. Aside from the fight against fatigue, the Heritage boasts an interesting MAXWear Wedge slip-resistant outsole and steel-toe protection at its front, providing protection, stability, and structure for workers who spend the majority of their time on their feet.
Red Wing Heritage Weekender Canvas
Red Wing's Heritage Weekender Canvas is a flexible stitch down boot that plays nicely with the brand's other models, thanks to its ultra-stylish design. That doesn't mean that it's not more formidable than those boots, however. Since it's a work-inspired model, this celebrated boot bridges the gap between utility and style, thanks to its lauded Red Wing leather and American-made waxed canvas. At its bottom, a Vibram Honeywheat Mini-lug finishes things off.
Red Wing Heritage Engineer
A departure from the more stylish Red Wing Heritage Weekender Canvas, this Heritage Engineer is a surefire work boot that has no qualms with its identity. It features a large, 9.5-inch shaft, a 100% Leather upper, and a sturdy Goodyear Welt construction for future resoling. Above its arch, a unique buckle outfitted with silver hardware makes its debut, providing support and security as you make your way through the muck and grime.
Hanwag Grunten
When we first saw Hanwag's Grunten model, we weren't sure if our eyes were deceiving us. Was it a workwear model? Surely not. It seemed to be something a bit more stylish, fashionable, and aware. As we read deeper, however, we were pleasantly surprised. Its genuine double-stitched construction, leather lining, rapid-lace hooks, and shock-absorbing heel gave it the allure of a time-tested workwear model, but it's sleek, heritage-inspired exterior made us think otherwise. Regardless, its grippy Vibram outsole and flex-zone heel have sealed the deal for its inclusion into the "Work" section of our guide.
Filson Uplander
Filson's Uplander is yet another model that calls upon the brand's iconic outdoor heritage for its well-informed persona. Each boot is crafted from a full-rain, heavyweight leather, and features a removable cork insole to help regulate moisture. On its exterior, a durable Vibram rubber sole has been added for increased traction on a number of surfaces, complementing its water-repellent sealed seams, stitch-down construction, and Goodyear-welted sole, which provides ample resoling opportunities throughout the boot's life.
Nick's Boots Traveler
Nick's Boots' Traveler is a stylish model that we'd have a hard time wearing at the job site, but that doesn't mean it can't hold its own among concrete and metal. This heritage work boot features an eight-inch shaft, USA-sourced and -tanned leather, and antiqued brass eyelets for a more timeless appeal. Finally, a well-tractioned Vibram rubber outsole and double-stitched design add plentiful reinforcement where you need it most.
White's MP-M1
Unlike its counterparts in our work-focused section, White's MP-M1 boot is a militaristic model that takes on a different role in the world of workwear. Inspired by the footwear that was adorned by American infantry during WWII, these rugged models feature a sleek one-piece backstay, a six-inch, full-grain water-resistant leather upper, and a utilitarian half-lug sole, making them perfect for field use.
Hike
Escape From The Inner-City
Unlike style and workboots, hiking variants are often lauded for their technical materials and focus on performance. As such, it's difficult for contemporary hiking boots to break away from the complex silhouettes that they've garnered over the past few decades. Regardless, aesthetics don't mean much when you're out on the trail. Below, we've outlined a handful of the genre's more advanced offerings, including waterproof, reinforced, and cushioned models that'll allow you to take on the environment with ease.
Salomon X Ultra 3 Mid GTX
Salomon's X Ultra 3 Mid GTX is a perfect hiking model for those who are indebted to the trail. Each boot features a dependable GORE-TEX waterproof bootie, an advanced, foam-cushioned chassis, and a soft textile lining for enhanced moisture control. Pair that with the shoe's protective tongue gussets, injection-molded EVA midsole, and Ortholite sock liner, and you're in for one of the most comfortable hikes that you've had in a while.
La Sportiva TXS GTX
La Sportiva is always at the top of our list when it comes to unique, outdoor-inspired design. The brand's TXS GTX is no different, thanks to the adoption of technical GORE-TEX fabric, 3D Flex protection, and a differentiated lacing system, which pairs rapid-lace hooks with traditional loops for a more intuitive lacing process. On its exterior, Vibram rubber rands and a Megagrip outsole provide unparalleled protection from the elements.
Vasque Breeze AT Mid GTX
Vasque's Breeze AT Mid GTX is another formidable offering from the brand. It incorporates a durable and aesthetically-acute waterproof nubuck leather upper, GORE-TEX membranes, and an air-mesh upper for increased ventilation during those long ascents. To round things out, an All-Terrain Compound (ATC) midsole provides wearers with increased cushioning and comfort, complementing its supportive thermoplastic polyurethane shanks for unprecedented stability.
HOKA ONE ONE Kaha GORE-TEX
HOKA ONE ON might be known for their distinctive trail-running models, but when it comes to full-fledged hikers, they can hold their own. The eye-catching Kaha is one of our favorites, thanks to its max-cushioned interior, grippy Vibram outsole, and waterproof membrane, ensuring that you'll be able to face the elements wherever you go. It's even been gifted with a more substantial midsole to protect your feet from rough, rocky descents, pairing nicely with its abrasion-resistant leather upper for the perfect balance of structure and support.
Under Armour Infil Hike GORE-TEX
Looking for a more utilitarian model to take you to the world's highest peaks? The Under Armour Infil Hike GORE-TEX should check all the boxes for our militaristic readers out there, thanks to its tactical design, textile and rubber construction, and 6.5-inch shaft. The shoe's high-abrasion textile upper has been treated to an Anafoam overlay for increased support and durability, working hand-in-hand with its molded rubber toe cap and waterproof membrane to create one of the finest hiking models on the market.
On-Running Cloudrock Waterproof
On-Running knows how to create a great-looking pair of boots. The Cloudrock Waterproof is a testament to that fact, but do they hold up to their competition? We think they do, thanks to their proprietary Missiongrip rubber sole, Swiss-engineered FlexLock system, and 360-degree mudguard. Pair that with an energy-efficient Speedboard and a durable wind- and water-proof membrane for increased efficiency, and we're sure that you'll feel the same.
Arc'teryx Acrux TR GTX
Arc'teryx continues to enamor with its technical designs, and they aren't confined to utility-approved outerwear. The brand's Acrux TR GTX boot features a beautifully-realized SuperFabric upper that calls upon micro-plate technology to keep them as light as possible, while still promoting above-average abrasion resistance. Injected EVA midsoles provide ample cushioning over long distances, while a 3D-molded OrthoLite insert has been incorporated to keep your feet free of fatigue. A grippy Vibram MegaGrip rubber sole and GORE-TEX waterproofing tie the Acrux together.
Salewa Mountain Trainer Mid GTX
Salewa's Mountain Trainer Mid GTX is yet another mid-height offering that goes above and beyond in terms of technical capabilities. It calls upon a GORE-TEX performance membrane, Cleansport NXT antimicrobial odor control, and an OrthoLite midsole for increased support during your most arduous treks. On its exterior, supple suede leather and a Vibram Alpine Approach sole bridge the gap between form and function.
Fracap M120 Ripple Sole Scarponcino
The Fracap M120 Ripple Sole Scarponcino is one of the most unique boots on our list, and that gives it a leg up in terms of stylishness. But that's not what we're looking for when it comes to outdoor boots, right? Luckily, the model is also fluent in mountaineering heritage, thanks to its Italian leather upper, reinforced ripple sole, and leather lining, which help it to take on the outdoor environment with ease. That being said, these are still a bit gaudier than their counterparts; the urban jungle might be their one true home.
Viberg Hiker Natural Chromexcel
Viberg's Hiker Chromexcel might be the perfect unison of outdoor appeal and stylish functionality. Based on the established model that was created in the 1970s by founder Edwin Viberg, who was in close contact with the renowned bootmaker, Bill Danner, this illustrious hiker would steal the hearts and minds of vintage enthusiasts. It features a whole-cut Chromexcel upper, a naturally-waterproof finish, and a unique lace-to-toe system that makes donning and doffing as intuitive as possible. If you're looking for the perfect boot to bridge the gap between the urban environment and the outdoors, search no further.
The 30 Best Men's Fall Style Essentials
Now that you've found the perfect pair of boots to take on the upcoming season, it's time to ensure that your wardrobe is ready, as well. Head over to our guide on the best men's fall style essentials to dial in your arsenal for the chillier months.