Photo: Aether Meridian Jacket
Over the course of human history, few other pieces of clothing have seen the same kind of innovation as has the rain jacket. It started out as a pretty rudimentary garment, with Inuit-designed caribou or seal skin anoraks being amongst some of the first examples of fully-waterproof rainwear. However, over time, rain jackets became increasingly complex in design, taking advantage of carefully-engineered technical materials and other such innovations in order to be better suited for their intended purpose. In fact, as early as 1824, a Scottish chemist by the name of Charles Macintosh had developed a fully-waterproof material he coined as 'India rubber cloth.' No doubt it was pretty cutting-edge stuff at the time, but it's far cry from what we expect out of our outerwear today.
While each brand is likely to have its own buzz-worthy marketing words for the materials that its rain jackets are made from, in reality, there are only a couple of different technologies in play. Most rainwear will employ some sort of naturally water-resistant nylon or polyester shell for the foundation with some sort of secondary applied coating or laminate to ensure its waterproofing ability is up to snuff. In recent years, GORE-TEX has become the gold standard amongst all other options — to the point that it's now practically synonymous with element-proof outerwear. That being said, many manufacturers will also elect to use a durable water repellent (DWR) finish because it's cheap for them to produce and easy for you to maintain. In any case, there's a world of solid rain-resistant options out there, so it's up to you as the user to decide what features are most important. Whether you're after a jacket with pocket provisions galore or simply one with a sense of street style, we're bound to have found something that's up your alley. So read on to see what we've picked for the best rain jackets for men.
The North Face Venture 2
At just 100 bones, The North Face's Venture 2 jacket is easily the best value proposition on our list, and it only gets better as you dive into its various features. For instance, it's made from the brand's DryVent 2.5L fabric, an ultra-breathable nylon ripstop material that's been coated in multi-layer polyurethane for improved waterproofing. And because it comes with Velcro® stormflap covers and taped seams, you can rest assured knowing there won't be any unwanted moisture ingress. Last but not least, thanks to its packable construction, the Venture 2 can be stowed in its own side pocket once the weather clears up.
Marine Layer Raleigh Rain Jacket
If you're after an offering that's ripe with retro style, look no further than the Raleigh Rain Jacket from Marine Layer. On the outside, it's been treated to some understated sand tones, with a design that hearkens back to days of bold '80s color blocks. However, this isn't just a jacket to stoke your nostalgia. On the contrary, with its durable water-repellent finish, seam-sealed tape, and elastic cuffs and hem, it's also more than capable of keeping the elements out. Add to that some woven hood lining, as well as some zippered handwarmer pockets and you, have a jacket that sets a new standard in comfort.
Everlane ReNew Storm Jacket
While there's no denying the advantages of wearing a rain jacket over using an umbrella, let's face it — not everyone wants to look like a would-be explorer on their everyday outings. Luckily, Everlane's ReNew Storm Jacket does just the ticket, with an aesthetic that's ready for the city and some three-layer fabric to keep the elements at bay. And when you consider that it comes with a micro-perforated middle layer for ventilation, handy pull toggles for hood adjustment, and a tapered design for a secure fit, this is one offering that looks as good as it performs.
Patagonia Torrentshell 3L
And where there's an offering from The North Face, Patagonia is soon to follow. The Torrentshell 3L makes for an ideal offering for those who are looking for a solid no-nonsense rain jacket. That's because it comes with Patagonia's 3-layer H2No Performance Standard technology, allowing for long-lasting waterproofing ability as well as breathable all-day wear. But that's not all — it also features a two-way-adjustable hood complete with a roll-down visor as well as a microfleece-lining at the neck. As an added bonus, it's even 100% recycled and sewn to Fair Trade certifications.
Stutterheim Stockholm LW
If anyone's accustomed to rainy weather, it's Stockholm-based Stutterheim, a brand that's embraced melancholy as one of its core maxims. This means that their Stockholm LW comes well-equipped against the wet, with a 100% polyester construction coated in a 100% waterproof PU membrane as well as some doubled-welded seams. And because it's a lighter take on the brand's classic Stockholm style, it comes unlined, making it great for year-round wear. If it's good enough for fisherman battling the Baltic Sea, it's more than capable of handling your commute to work.
Topo Designs Subalpine Jacket
Topo Designs is a brand whose bread and butter lies in making high-quality adventure-ready gear, so it goes without saying that they'd be able to put together a solid piece of waterproof outerwear. Such is the case with their Subalpine Jacket, an offering that's made with a drop-tail cut for extra coverage, two-layer DWR-finished nylon for element-resistance, and a visored hood for keeping rain and snow out of your face. Top it off with a plethora of pockets — including two on the chest, two at the side seams, and one on the inside for valuables — and the result is a jacket that's ready for whatever weather you encounter.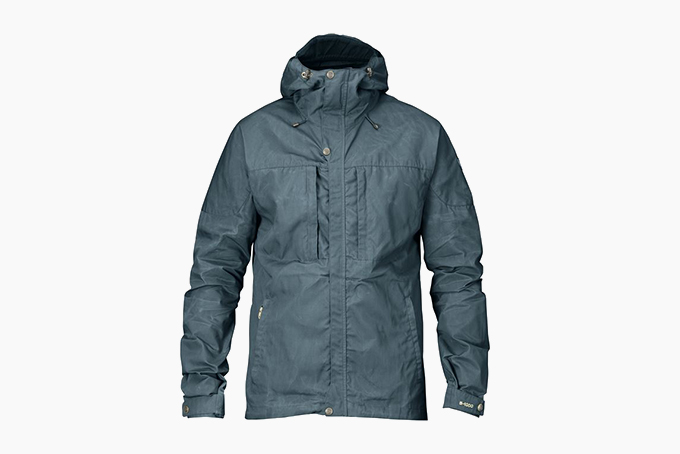 Fjällräven Skogsö
Since 1960, Swedish-based Fjällräven has been making outdoor gear that eschews unnecessary flash and filigree in favor of simple, honest dependability. For instance, the hip-length Skogsö is made from their G-1000 Lite fabric with G-1000 Original on the hood and shoulders, allowing it to be much cooler to wear than a fully waterproof jacket while still offering plenty of protection against the elements where you need it most. And because it comes treated with Greenland Wax, it's incredibly easy to maintain — just quickly slap on a new coating and you're good to go.
Nike ACG GORE-TEX "Misery Ridge"
Nike's ACG outfit has long served as the brand's go-to for outerwear that's as stylish as it is performance-inspired. Designed and tested in the wooded playgrounds of the Pacific Northwest, the Misery Ridge jacket is one offering that's up for even the wettest of weather. That's because it's been coated with a GORE-TEX membrane overtop its 100% recycled polyester construction, allowing it to keep body heat in and troublesome moisture out. Coupled with some massive underarm zips for airflow and a three-piece hood for adjustability, this is one rain jacket that works hard and looks the part.
lululemon Outpour Shell Jacket
On the outside, lululemon's Outpour Shell Jacket appears to be an otherwise simple garment, but dig a little deeper and you'll find that it's a piece of bonafide performance apparel. For instance, it sports a design that was made for movement, with strategically placed vents for improved airflow, a cinchable hem to keep things secure, and a pair of adjustable cuffs to keep your hands dry when riding a bike. And because it's made from the brand's Glyde fabric, it's airy enough to keep you from overheating while still being completely waterproof.
Mountain Hardwear Exposure/2
Although there are plenty of packable jackets on the market these days, many of them are lacking when it comes to their element-proof provisions. However, this take on Mountain Hardwear's Exposure/2 is an exception to the rule, because even despite its svelte 9.07oz weight and stowable construction, it features PACLITE Plus, a lighter, more compact form of GORE-TEX's time-tested technology. Suffice to say — if you're looking for a jacket that's second-to-none in its waterproofing to weight ratio, this option from Mountain Hardware fits the bill just fine.
Rapha Hooded Rain Jacket II
Rapha may be best known for its on-the-bike activewear, but the brand has recently expanded its offerings include some solid commuter gear as well. Their Hooded Rain Jacket II is made from three-layer softshell fabric, an addition that gives it some added stretch for a super comfortable fit no matter where it's worn. And because it comes with a host of hi-vis features — such as a pink drop tail, a hood retention strap, and some seamless signal cuffs — you'll stay seen (and therefore safe) anytime you're out in less than optimal light conditions.
Taylor Stitch The Dalton Jacket
Taylor Stitch's Dalton jacket makes for a great option for those who want a heritage military aesthetic with some modern performance to back it. That's because it takes direct inspiration from the British Royal Navy's hard-wearing Mk. III Foul Weather Jacket, an item that's become a staple part of any seafarer's attire since its introduction in the 70s. What's more, it's been made out of deadstock material from Taylor Stitch's other jackets and treated with a weather-resistant DWR finish to keep you dry throughout everything from light drizzles to full-on downpours. All that is to say — don't sleep on the Dalton.
On Waterproof Anorak
Forged in the fells of the Swiss backcountry, On is a brand that touts some serious technical trail expertise. As such, their Waterproof Anorak is more than capable of staving off wet weather, with a three-layer membrane that's both water- and wind-proof in addition to an elasticated hood that can be cinched tight. But the best part is that because of its hydrophilic lining, this jacket actively expands as it wicks moisture away from your skin — meaning that the more you sweat, the cooler things get. To put it another way — gone are the days of overheating in something that's little more than a repurposed plastic bag.
Filson NeoShell Reliance Jacket
Given that the weather can change at a moment's notice, it helps to have a jacket that's prepared for any eventuality. Enter the NeoShell Reliance from Filson, an offering that's as suited to drizzly day hikes as it is walking to work in the wet. Much like some of the other jackets we've featured on this list, it crafted using a fully-waterproof three-layer laminated fabric construction. However, because of its NeoShell mid-layer, it comes with tiny mesh filaments through which the slightest amount of air can pass. In other words — it's totally breathable while still blocking out virtually any wind that comes your way.
Arc'Teryx Sawyer Coat
While you might think that Arc'Teryx is a brand whose offerings are best-suited to the backcountry, in that respect you'd be wrong. For instance, the Sawyer Coat comes in dark neutral tones — either black or 'Nocturnus' — with minimal branding elements, making it a solid pick for any fashion-forward city slicker. But thanks to its GORE-TEX fabric, 3/4 length, and adjustable hood, it's leaps and bounds ahead of similarly style-conscious garments. It just goes to show that alpine experience can apply no matter where you are — even if the only mountains in sight are made out of glass and concrete.
Triple Aught Design Raptor Hoodie
Triple Aught Designs specializes in small-run mission-capable gear, and their Raptor Hoodie is no exception — every decision has been made with military-grade performance in mind. When it comes to its construction, the Raptor uses Swiss Schoeller fabric, with an adaptable c_change membrane, an ultra-repellent 3XDRY surface coating, and a UV-reflective Coldblack finish. And while you'd be lucky to fit much more than a hat under other jackets' hoods, TAD's three-panel design was engineered to be worn both underneath and on top of helmets, with three different adjustment points to ensure that it doesn't impair your peripheral vision. If you want to scoop up the Raptor, you'll have to act fast — it's limited to just 200 units per batch.
Blackyak Kostroma Jacket
Any time you venture out into the rain, staying dry is only one part of the overall equation; it's also equally important that you keep warm. While most other rain jackets are lacking in the way of insulation, the Blackyak Kostroma is one offering that's heaped with helpful heat-retaining features. In practice, this means that beneath its GORE-TEX INFINIUM shell, it hides a layer of removable Climashield APEX, a material that's thermally efficient, durable, and shape-retaining. And because the Kostroma includes the brand's YAK FLOW textile technology, it maximizes airflow while keeping heat loss to a minimum.
Aether Meridian Jacket
No matter careful you are about staying clear of the curb, all it takes is an ill-placed puddle and a passing car for you to end up soaked. Thankfully, Aether's Meridian Jacket has you covered (literally) with an extended cut that goes to about mid-thigh, meaning that even the most disrespectful of drivers doesn't stand a chance of getting you wet. What's more, it's fitted with tons of top-notch design elements, such as an adjustable waist with an internal tunnel, easy-to-move elbows with pleats, and a two-way weatherproof zipper. Packing down into its own included carry bag, the Meridian jacket is a clear cut above the rest.
Mission Workshop The Eiger
At the intersection of style, substance, and long-lasting durability lies Mission Workshop, a San Francisco-based brand whose driving purpose in life is to make quality products. End of. Their Eiger jacket is a case in point, for it combines a specially-made Italian textile (or Schiller c_change) construction with a classic field aesthetic. With six different pockets on the exterior and two on the interior, there's plenty of carrying capacity for your everyday essentials. And because the inner pouches come with media ports, you can stay plugged in without tying yourself up in a troublesome tangle of wires.
Vollebak 100-Year Jacket
When you're after an iron-clad defense against the elements, only the best will do, and Vollebak's 100-Year Jacket is the cream of the crop. For starters, it boasts a 43,000mm waterproof rating, a figure that far surpasses other high-end jackets' measly 10,000-20,000mm standard. And that's not all — because it's part of the brand's long-lasting 100-Year line, it's also impressively abrasion-resistant, with over 100,000 revolutions on the Martindale test to its name (most nylon garments clock in around 25,000). Oh, and if you aren't sold on it yet — let's not forget the Schoeller c_change membrane. Capable of contracting in the cold for warmth and expanding in the heat for ventilation, it makes for a highly-versatile getup.
What's The Difference: Waterproof vs. Water-Resistant
When it comes to fending off wet weather, we've but scratched the surface with these rain jackets. If you're looking for a more in-depth look on what's required to stay dry, be sure to check out our guide to the difference between waterproof and water-resistant.