Merino wool is a natural fiber sourced from Merino sheep. Both thinner and softer than regular wool, it's a far cry from that itchy handmade sweater knitted by your grandmother. With a host of performance qualities — including temperature regulation, odor-resistance, and moisture-wicking — it's actually quite the super fabric. Even still, merino wool is often second fiddle to its nylon counterpart.
With so many wool options out on the market, it can be tough to distinguish the winners from the washouts — especially when it comes to something as oft-overlooked as the humble t-shirt. But just because tees are simple doesn't mean they can be haphazardly slapped together and brought to market. Rather, it's precisely because of their simplicity that every thread counts. So instead of shelling out for a shirt that'll end up in a wrinkled heap on the floor, have a look at our guide to the best merino wool shirts and grab one you'll want to wear every day. Better yet, because it's wool, you can — no one will notice.
Woolly Ultralight Crewneck
Coming from a company that was founded to prove that wool could be done affordably, it only makes sense that Woolly's Ultralight Crewneck would earn a spot as our opening pick. This no-nonsense tee is made from 100% 17.5-micron merino wool and features a weight of 150 GSM. With flatlock seams, a tagless interior, and an athletic fit, it's so comfortable that you'll forget it's even there. Touted as a natural option game for anything you'd wear a shirt for, this one is a foundational piece perfect for building out your sustainable wardrobe.
Ridge Merino Journey T-Shirt
Whether you're wearing wool for work or for play, Ridge Merino's Journey T-Shirt is a sure-fire way to dress for success. Although this one isn't made from 100% merino wool, it's for good reason: reinforcement. By spinning the wool fibers around a nylon core — a blend Ridge Merino calls its (m)Force technology — this tee retains all the benefits of wool with a touch of added durability. With a fit cut both slimmer and longer than a standard shirt, the Journey tee is a capable offering living up to its name — it's ready for adventure, wherever it may take you.
Bombas Men's Merino Wool Crew
Offering quality socks backed by an even better social agenda, Bombas recently expanded its lineup to include other apparel essentials like this men's Merino Wool Crew tee. But this isn't your average merino wool shirt; rather, it features Bombas's Tencel blend, a fiber lauded for its superior cooling and drying properties as well as its super soft feel. Pair this with merino wool's similar qualities and you have a one-two punch that packs serious performance in a premium package. But the cherry on top is that, like every Bombas product, one purchased means one donated.
Ministry of Supply
Out of the labs of MIT comes the Ministry of Supply, a clothing company known for its engineering of high-performance business attire from the fiber-level up. Clearly their expertise carries over into the world of athletic and casual wear because their Composite Merino Active Tee is a standout performer. Featuring reinforced stitching, vented hems, and raglan sleeves, this shirt was designed to allow for confident movement with minimal wear. Where some manufacturers might slap together a tee with no thought to its construction, the Ministry of Supply tested every aspect of this shirt to the point of perfection. As an added benefit of its wool and recycled polyester blend, the Composite Merino Active tee can be machine washed and dried.
Unbound Merino Crew
Unbound boasts some unmatched merino wool cred. Not only is their wool sustainably sourced, but it also meets Woolmark, Responsible Wool Standard (RWS), and Worldwide Responsible Accredited Production (WRAP) certifications. To put it another way, it satisfies the highest standards when it comes to fiber content, performance, and color, all the while maximizing the welfare of the sheep as well as their pastures. Able to stay fresh for weeks between washes, this tee is a perfect companion to travelers looking to pack lighter. This is one option that's as luxurious as it is understated, providing you with a versatile wool shirt ready for any occasion.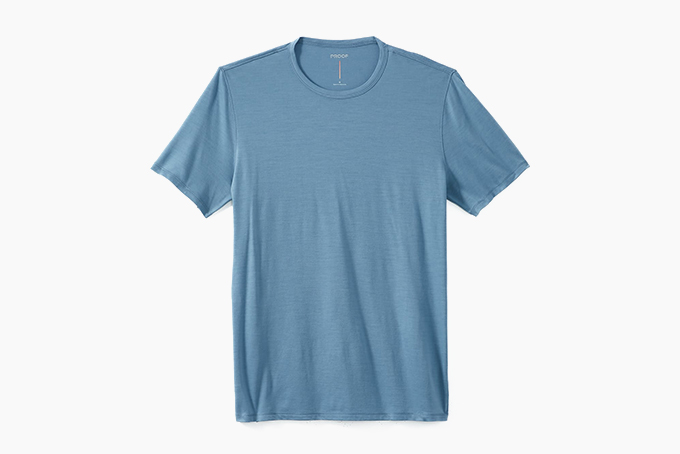 Proof 72-Hour Merino Tee
As the name suggests, this tee from Huckberry's Proof menswear line was designed to be worn for 72 hours straight — such are the odor-resistant and moisture-wicking properties of merino wool. Forged in the fires of outdoor adventure, this merino tee is equally at home tackling the daily grind. It comes in a variety of colors — from oxblood to Aegean blue — so you can go bold or keep things classy.
Smartwool Merino 150 Base Layer
The leading authority when it comes to all things wool, Smartwool is one of the brands responsible for popularizing the natural performance fabric. As such, their Merino 150 Base Layer was an obvious pick. With flatlock seams to minimize chafing and raglan sleeves to reduce wear, this tee is a perfect option for durable, year-round comfort. Like some other options on this list, Smartwool uses a nylon-core construction for added performance benefits. But that's not all — this tee is also naturally UPF 20+ courtesy of its merino wool fibers. If you're looking for an understated super shirt, this one is a good bet.
Olivers Convoy Tee
Based in Los Angeles, the folks at Olivers pride themselves on making top-notch athletic staples for men. Their Convoy Tee is a simple take on the merino wool shirt, giving you everything you need from a technical garment with nothing you don't. Made from 18.5-micron wool with a weight of 165 GSM, this is one shirt that'll keep you cool in dry in the warmest of temps and comfortably warm in the coolest of 'em.
Tracksmith Harrier Tee
Co-founded by Luke Scheybeler (one of the minds behind Rapha), Tracksmith specializes in premium performance running essentials that also look the part. Featuring a soft, lightweight construction, the Harrier Tee has quickly become a staple of Tracksmith's lineup since its introduction, even amongst its employees. As with all Tracksmith products, you'll find no unnecessary flash here — just classic colors for a tee as timeless as it is ready to run.
Filson 210G Crew
Offering a slightly heavier-weight than the rest of these options, the 210G Crew comes with the same great quality you'd expect from any Filson product. Naturally quick-drying and moisture-wicking, this tee absorbs 30% of its weight in moisture without feeling damp or heavy. But even better is the fact that it'll continue to insulate long after it gets wet. Wear it under heavier items or as a standalone statement — either way, this is one tee that's in a league of its own when it comes to base layer performance.
Western Rise StrongCore Merino Wool Tee
Founded with four key tenets in mind — technical fabrics, timeless styles, durable construction, and sustainable manufacturing — Western Rise's performance clothing exhibits the less-is-more mentality to a T. By reimagining how performance clothing is made, they've managed to pare down menswear to the bare necessities — nothing overbuilt, nothing unnecessary. Billed as "the only tee you need," their Strongcore Merino Wool Tee is simple in its construction yet potent in its performance. With a lean cut and a dropped tail, the Strongcore shirt is ready for any and all of your workouts.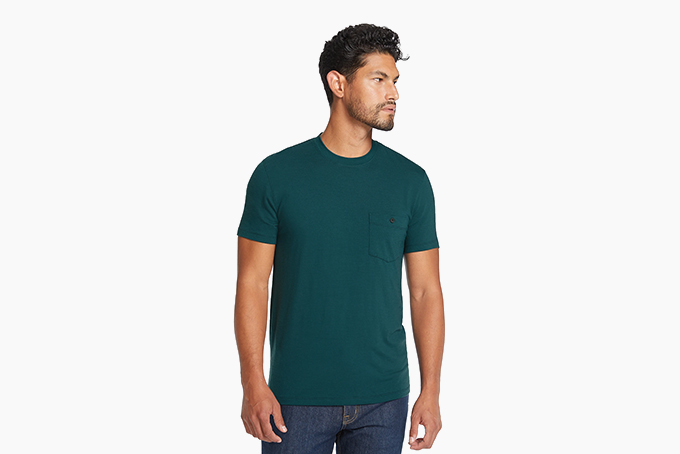 American Giant Ultra Merino Pocket T
Another option featuring a merino-nylon hybrid construction, American Giant's Ultra Merino Pocket T is a great choice for those looking for a long-lasting technical shirt with all the benefits of merino wool. While it normally only comes in classic black, American Giant added two limited edition titanium and blue spruce colorways. As the only pick on this list with a buttoned front pocket, this one dresses up perfectly for any occasion. But the cherry on top has to be that it's made right here in the USA.
The Best Men's Wool Socks
Sold on the super fabric and looking to further build out your woolen wardrobe? Head over to our guide to the best men's wool socks to see what we've featured for keeping your feet warm and dry.