Jun 14, 2019
Category: Gear
Regardless of the occasion, gift giving is a pretty tough prospect — one for which not everyone has a knack. And if you look up to your dad (or another father-type figure in your life), that can make it doubly tough come  Father's Day. Never fret, however, for not all hope is lost.
If you find yourself stumped on what you pick up for your pop this holiday, we've wrangled up thirty of the best Father's Day gifts you can get right now. Whether your budget is razor thin or your dad is notoriously hard to shop for, you'll still find the perfect present on this list. From outdoor-ready gear to home office essentials and everything in-between, the gear collected below is sure to make any dad's day.
PDW Ti-Line Camp Kitchen Collection
Sturdy and lightweight thanks to a construction of solid titanium, PDW's new Camp Kitchen lineup is perfect for any outdoor-focused father out there. Comprised of a folding spork, a stowable cup, and a mini pot with a lid, this set is all you need to make and enjoy delicious meals around the campfire.
Hacking Whiskey: Smoking, Blending, Fat Washing, and Other Whiskey Experiments
While there are plenty of whiskeys on the market that are enjoyable right out of the bottle, there are a number of simple tips and tricks you can use to make it all the more enjoyable. And you can learn all about them in the pages of Hacking Whiskey — an elegant coffee table book all about making good whiskey even better.
Fisher Space Pen
Ever since Apollo 7 launched in 1968, every single manned NASA mission has included a Fisher Space Pen as a part of every astronaut's standard loadout. But these pens — which can write upside-down, underwater, and in zero gravity — can also be used down here on Earth. And that makes them the perfect gift for any and all space-loving dads out there.
VNYL Subscription Service
It's safe to say that vinyl as an audio medium has returned in full force, but fleshing out a record collection can still be a daunting task. Luckily, the folks at VNYL can help your dad build his out every month through specially-curated deliveries. Whether your father is an old-school rocker or a hip-hop fanatic, this is the perfect way to keep him spinning records.
Standard Issue 1942 WWII Class A Comb
Based on the actual standard-issue combs given to American soldiers during WWII, this folding grooming tool is the perfect, stylish addition to any dad's everyday carry loadout. And it only helps that it is built from high-quality metal and premium leather — making it as beautiful and long-lasting as it is handsome and iconic.
The Sneerwell Flasks
Every man needs a good flask and few are quite as unique and conversation-starting as the offerings from The Sneerwell. Made from solid stainless steel, these 6-ounce vessels feature hand-cut graphics and a specially-applied patina that makes each one special. And the screw top closure ensures you'll never spill a drop.
Craighill Desk Knife
For designers and artists alike, a cutting tool is an essential thing to keep handy. But most, like the classic X-Acto knife, are not exactly something you'd want to leave out on your desk for all to see. By contrast, the Craighill Desk Knife is beautiful, functional, and even has ½" markers. Plus, this solid stainless steel tool was made in the USA.
Converse Custom Chuck Taylors
Few classic sneakers are as iconic and timeless as the Chuck Taylors from Converse. And while you could easily go down to the mall and pick up a standard pair, you could score way more points by building your dad a custom pair for Father's Day. With a wide variety of styles, materials, and graphics options, this is a tough gift to beat.
Sagamore Spirit Cask Strength Rye Whiskey
This year, Sagamore Spirits took home the SFWSC award for the best rye whiskey in the world. And while that particular release is going to be damn-near impossible to get your hands on, their normal rye offering is still definitely worth sipping. Bottled at 112.2-proof, this is the perfect whiskey to share with dad this Father's Day.
The James Brand Ellis Knife
Renowned for their ability to take classic pieces of everyday carry and elevate them to something better, The James Brand has taken their first swing at Swiss Army Knives with their Ellis folder. Beautiful and minimalist, this Sandvik steel and anodized aluminum tool boasts 5+ functions including a handy partially-serrated knife blade.
Wave+ Limited Edition Multi-Tool
Leatherman's Wave — with its 18+ built-in tools, one-handed operability, and solid steel construction — was already perhaps the best folding multi-tool ever created. But the legendary brand managed to make it even better by equipping it with removable and replaceable wire-cutters, giving it an even longer lifespan than ever before. And in this limited-edition colorway, it definitely can't be beaten.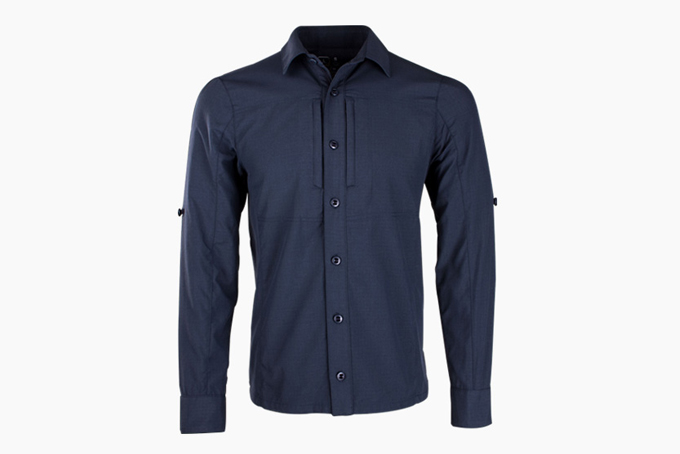 TAD Latitude Field Shirt
Constructed from ripstop nylon, TAD's Latitude Field Shirt is resistant to water, abrasions, punctures, and is even fast drying and lightweight. Pair that with its organizational pockets and built-in UV protection and it's easy to see why TAD thinks this is the shirt Indiana Jones wishes he owned.
BRNLY Slingpop Pocket Slingshot
An elevated and updated take on a classic childhood toy, Lucas Burnley's take on the slingshot is the perfect gift for those dads who refuse to grow up. Built from a solid piece of anodized aluminum, this USA-made EDC marvel also doubles as a bottle opener.
Oakley Ahyris Sunglasses
Boasting unique styling inspired by the human iris, Oakley's newest collection of glasses are an engineering marvel — especially when you consider that they all feature PRIZM technology that makes for enhanced colors, contrast, and clarity. Available as standard prescription glasses or sunglasses, these stylish specs are the perfect father's day pickup.
Apple AirPods
While there are a select number of alternative wireless earbuds, there's no denying that Apple's AirPods are at the top of the heap for a number of reasons. They're sleek, easy to use, have a solid battery life (which pairs with a charging case), and they feature the brand's signature styling. Even if your dad isn't particularly technologically inclined, he'll still appreciate the freedom these headphones bring.
Best Made SWS Roll Top Duffel Bag
A classic piece of carry that's perfect for weekend getaways, this take on the duffel from Best Made boasts some handy extra features. Namely, the 1000D Cordura nylon exterior paired with a water-resistant liner, YKK Aquaguard zippers, and a rolltop closure ensure that this is the perfect all-weather weekender. Available in four different colors, this quick bag is a brilliant Father's Day gift.
Pillbox Artist Series Portrait Bats
For well over a century, the sport of baseball has been an important part of American culture and history. And if your dad is a fan, he's probably got at least one or two favorite players who left their mark on the game. And that's what Pillbox's Artist Series of bats celebrates: the men who made baseball great. Made in the USA, this is the perfect gift for the sports-loving father.
Yeti Loadout GoBox 30
Famous for making some of the toughest adventure coolers on the market, YETI has finally unveiled a non-insulated storage container built with the same survivability. Perfect as a Father's Day gift for any dad who likes to go off-roading, overlanding, or just needs an ultra-tough container, this box will survive literal years of abuse and keep right on trucking.
Amazon Kindle Oasis E-Reader
Whether he's into historical non-fiction, classic literature, or even just reads the occasional tome on hunting, any dad who's into reading could benefit tremendously from an Amazon Kindle Oasis e-reader. Not only can it hold literal thousands of books, but it's also waterproof — making it perfect for taking out on the boat or reading by the pool as the weather heats up.
Iron & Resin Rambler Jacket
With its timeless styling, this trucker-style jacket is constructed from beautiful and durable weather-resistant Martexin waxed canvas that makes it protective enough to wear as a warm weather motorcycle jacket. It's also handmade in the USA and comes in either brown or black — so you can pick whichever one suits your dad the best.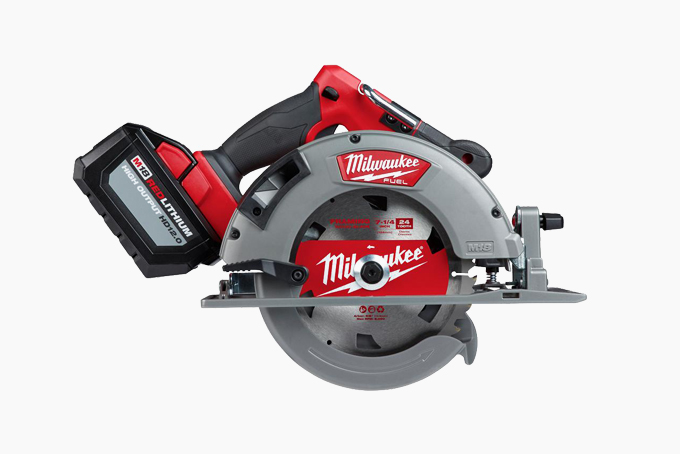 Milwaukee M18 Fuel Cordless Circular Saw
A staple tool that every DIY fanatic should own, a circular saw is not what you might call an essential tool, but it definitely makes short work of any woodcutting task and is a good deal quicker than manual sawing. And if you're going to get one for your dad this Father's Day, you could do a lot worse than one of the most trusted brands in tool manufacturing.
MWC Kampfschwimmer Military Dive Watch
Originally built for the use of police and military personnel operating in the world's most extreme environments, the MWC Kampfschwimmer dive watch is one of the most durable timepieces ever built. It also features a 24-jewel automatic movement, a screw-down crown to match the PVD-coated steel case, and a NATO strap. If mil-spec durability is on your dad's list of interests, this is the watch for him.
Red Wing Beckman Round 9011 Boots
Every man, dad or not, needs a solid pair of boots. And you can't really do better than those built by legendary footwear brand Red Wing. These gorgeous ones, in particular, are crafted from smooth-finished high-quality leather, have a Goodyear Welt construction, and will only get better with age.
GoPro Hero7 Black
GoPro is the name of the game in action cameras for a reason. And that can be seen in spades aboard their top-of-the-line Hero7 Black. It can shoot video in 4K, 12MP stills, has onboard image stabilization, and is even waterproof (without any housing) at depths of up to 10 meters. And that's just the beginning of what makes this a top-tier action camera.
Oculus Quest All-In-One VR Gaming Headset
There was a time when we'd never suggest getting a VR headset as a gift for a dad, but we're finally in the era where folks who grew up with video games are raising kids of their own. And since some of those dads are still gamers themselves, the Oculus Quest all-in-one virtual reality gaming kit might just be the perfect gift.
Shinola Runwell Wall Clock
Analog wall clocks are perhaps a bit anachronistic, but they're still marvels of human ingenuity and absolutely beautiful when built well. Such is the case with Shinola's Runwell wall clock. Built from zinc and aluminum, this mountable timekeeper features a smooth continuous sweet quartz movement that makes clock-watching an almost enjoyable activity. Of course, it can also be turned into a desktop clock with one of Shinola's compatible bases.
Master & Dynamic MW65 Noise-Cancelling Wireless Headphones
Whether your dad's a frequent traveler or just likes to zone out and listen to his favorite podcasts or music without interruptions, a pair of noise-canceling headphones is a surefire winner this Father's Day. And you can't go wrong with these ones from Master & Dynamic, as they're wireless, have up to 24 hours of battery life, and have style to spare.
Hyperlite Dirigo 2 Ultralight Backpacking Tent
If the father in your life likes to spend his free time away from the hustle and bustle of city living, then the Hyperlite Dirigo 2 ultralight backpacking tent might be right up his alley. Made from a Dyneema composite, this two-person tent weighs less than two pounds, but is still waterproof, windproof, resistant to abrasions and puncturing, and is made in the USA.
Garmin Marq Smartwatch Collection
Originally known for their auto-focused GPS devices, Garmin has since pared their tech into a wide variety of technology, including a successful series of smartwatches. But they've really stepped things up with their new, stylish Marq collection. Available in five different styles, these watches might be the ultimate smart timepieces for every activity. And they make a brilliant gift for any tech-minded dad out there.
Eames Lounge Chair And Ottomon
Possibly the most iconic single piece of furniture ever created, the Eames Lounge is the definition of functional art. Originally introduced in 1956, current editions are still loyal to the original design both in appearance and their high-quality materials — like solid woods and premium leather. If you've got the scratch to spend, this might be the ultimate Father's Day gift.
40 Tools Every Man Should Own
If you're still struggling to find that perfect something for the father in your life, you can't ever go wrong with something for the garage. You can find the right tool for every job on our definitive list of the essential tools every man should own.