While it may not seem like it right now, there will be a time when the public spaces reopen and we'll again be able to go out into the world to enjoy them. That includes, of course, campgrounds, state parks, and — of course — all the National Parks and monuments. And though it's pretty frustrating to be trapped inside right now, it also creates an opportunity.
So long as you have the means, now is an excellent time to stock up on new equipment — like camping gear you'll get to take out to the trails when this is all over with. Not only will it serve to give you something to look forward to, but it allows you to support the brands you know and trust — and we implore those who can support small businesses. Of course, you don't have to spend a fortune to get your hands on well-made stuff. That's why we put together this list of the best cheap camping gear you can get for under $50.
Smartwool Hike Light Crew Socks
You're probably not going to get a great pair of hiking boots for under $50, but you can absolutely get one of the best pairs of hiking socks for just $15 — so long as you buy these Smartwool Hike Light Crew Socks. They're comfy as all get-out, are breathable and odor-resistant, and they have extra support and reinforcements where it counts.
Morakniv Companion Fixed Blade Knife
It might be too bold to say that the Morakniv Companion is the best bang-for-your-buck budget fixed blade outdoor knife available now or ever. It also might be true. Whatever your position, there's no denying the value found in this knife's 4.1″ Sandvik steel blade, its high-friction synthetic grip, and its included sheath.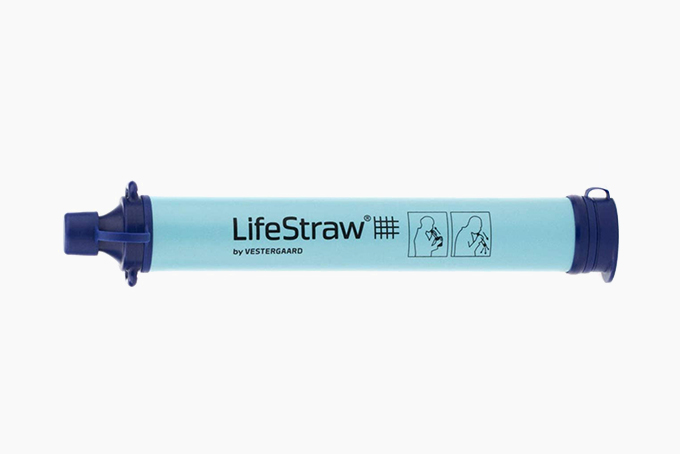 LifeStraw Personal Water Filter
God forbid you find yourself lost in the woods on your next camping trip. If that does happen, however, you'll be much more likely to survive if you've got a LifeStraw on your person or in your pack. This tiny personal water filter can clean up to 99.9% of all waterborne contaminants — including particulates, microbes, parasites, etc. — and can do so across a whopping 4,000 liters of water without harmful chemicals.
Thermos Stainless King Food Jar
If you're hitting the trails for just one night, you may want to avoid bringing along a bunch of camp cooking gear. That doesn't mean you have to eat granola or space bag MREs, so long as you stash a homecooked meal inside the Thermos Stainless King Food Jar. This bad boy can hold 24-ounces of food, will keep it piping hot for 14 hours or cold for 24, and it has an integrated bowl for easier eating and sharing.
Soto Pocket Torch
One of the handiest pieces of budget-conscious camping gear, the Soto Pocket Torch has the seemingly magical ability to turn the average gas station disposable lighter into a windproof, 2,300-degree, 20-minute torch. Best of all, it's still small enough to stash in your pocket between uses.
Sea To Summit X-Set Camp Dinnerware
If you're going to be doing a measure of campground cooking, you should also remember to pack some dinnerware. Of course, traditional plates and bowls won't cut it. But that's where Sea to Summit's X-Set comes into play. Collapsible and made from silicone, these bowls are food-safe, easy to clean, resistant to extreme temperature changes, and are available in either a two- or three-piece set.
BioLite Sunlight Solar Lantern
Powered by the light of the sun and capable of projecting 50-hours of 100-lumen soft-yet-far-reaching light, this clever camp lantern is a brilliant space- and energy-saving alternative to traditional gas lanterns. And while it can give off a pleasant white light, it can also be changed to other colors on the RGB spectrum to set the mood — like red for while you're telling ghost stories.
Klymit Luxe Camping Pillow
A regular pillow does not make for a great camping option, as they're often big, unwieldy, and take up a lot of space. Klymit's Luxe Camping Pillow, by contrast, is much more packable and still offers the same comfort and support you'd expect from a regular bedroom pillow. All you have to do is blow it up with 3-5 deep breaths and you're ready for your slumber.
Therm-a-Rest Trekker Lounge Chair
If you're smart enough to own a sleeping pad, you may also be interested in the Therm-a-Rest Trekker Lounge Chair, which can turn that sleeping pad into an ad-hoc camp chair — thus saving your some space and extra gear to haul. Plus, since there's not much to it other than some durable fabric and straps, it takes up virtually no space at all.
Gerber ComplEAT Tool
A four-piece set that was made to nest together like a Russian doll, the Gerber ComlEAT is one of the best all-in-one camp cutlery sets around. It includes a spork, spoon, spatula, and a one-piece multi-tool — which, itself, has a bottle opener, can opener, and even works as a pry bar. Made from anodized aluminum and nylon, it's easy to clean and maintain and packs nicely with the rest of a camping kit.
Matador Pocket Blanket 2.0
If you're camping, you'll probably have a sleeping bag. However, when you're not in your tent, it could still get a touch chilly — which is where the Matador Pocket Blanket 2.0 comes into play. With the ability to literally collapse down to a pocket-sized pack, this blanket is large enough expanded for up to four adults, is ultra-tough and waterproof, and can do double-duty as a picnic blanket or area tarp, so you don't have to sit in the dirt.
Black Diamond Spot Headlamp
Eventually, the sun will dip below the horizon and your campsite will be draped in darkness. And there's only so much light a campfire can give off. Rather than fussing with a handheld flashlight, we suggest picking up the famous and lauded Black Diamond Spot Headlamp. It will keep both of your hands free, illuminates anything you're facing with up to 300 lumens of light, and it's lightweight and comfortable enough for extended periods of wear.
Stanley Master Flask
After a long day of outdoor adventure, there are few things as satisfying as sitting down beside the campfire and enjoying a stiff drink. Of course, that's made a good deal simpler to manage if you pour your favorite camping whiskey into the Stanley Master Flask. It's made from powder-coated steel, holds up to eight ounces, and is completely leakproof.
Suunto M-9 Wrist Compass
There's a pretty good chance you'll use your phone or even a smartwatch to navigate the trails most of the time. You might even have a handheld GPS device. However, in the case that technology fails you, the Suunto M-9 Wrist Compass is a survival-focused contingency plan that could potentially save your life. Sure, you'll need to know how to read a compass, but that's a small price to pay for this glow-in-the-dark lifesaver.
GSI Outdoors Java Mill
While it might get the job done, instant coffee is just not as good as a freshly brewed cup of actual ground coffee. Thankfully, when you're at the campsite, that's made much easier to manage if you have the GSI Ourdoors Java Mill coffee grinder. This handheld device was made for outdoor usage, it weighs just 9.3 ounces, and it still has an adjustable grind for the perfect cup every time.
Adventure Medical Kits Mountain Series Backpacker
You should never venture into the wilderness without some way to dress and treat wounds — even minor ones. That doesn't change even if you're at a well-groomed campground. Of course, not all first aid kits are made for the trails; but this one is. Specifically geared towards outdoor adventure, this kit includes everything you might need in an emergency for two people across four days. It might be overkill most of the time, but you'll be thankful you have it when you do need it.
Hella Slingshots No. 4
Part childhood oddity, part genuine survival tool — slingshots are actually a lot more useful in the outdoors and in camping applications than you might think. If you're good enough with one, you can actually use it to hunt small game. Of course, most folks might just be happy pinging empty food and beer cans. And you can manage both with the handsome, USA-made Hella Slingshots No. 4 — which also happens to be made from genuine forked tree branches.
Sea to Summit Alpha Pan
In a dream kitchen, a Lodge cast iron skillet is hard to beat. But regular cast iron is very heavy and makes for a cumbersome piece of camping gear. Luckily, the folks at Sea to Summit have built a lightweight, more pack-friendly version in their Alpha Pan. At 8″ in diameter, it's plenty big for a quick breakfast, but small enough to stash in a hiking backpack without too much fuss. And that's aided, of course, by its collapsible handle.
Hydro Flask Trail Series Water Bottle
Hydro Flask already made some of the best vacuum insulated water bottles, and that was before they crafted their lighter, more compact Trail Series. A whopping 25% lighter than its predecessor, this 32-ounce bottle holds the same amount of liquid and keeps it cool or hot just as long. It just happens to be more hauling-friendly and fits quite nicely into a backpack's water bottle pocket.
Matador Transit30 Pocket Duffel
Even if you only need the bare essentials, you're still going to need a bag to haul your clothing, supplies, and more. And few bags are quite as versatile, durable, and packable than the Matador Transit30 Pocket Duffel at any price. This bag is puncture- and slash-resistant, water-repellent, and packs down to about the size of a beer can between uses. That means you could even stash it in your car's glove compartment for an on-the-go pack solution.
The 20 Best Pieces Of Camping Gear Under $100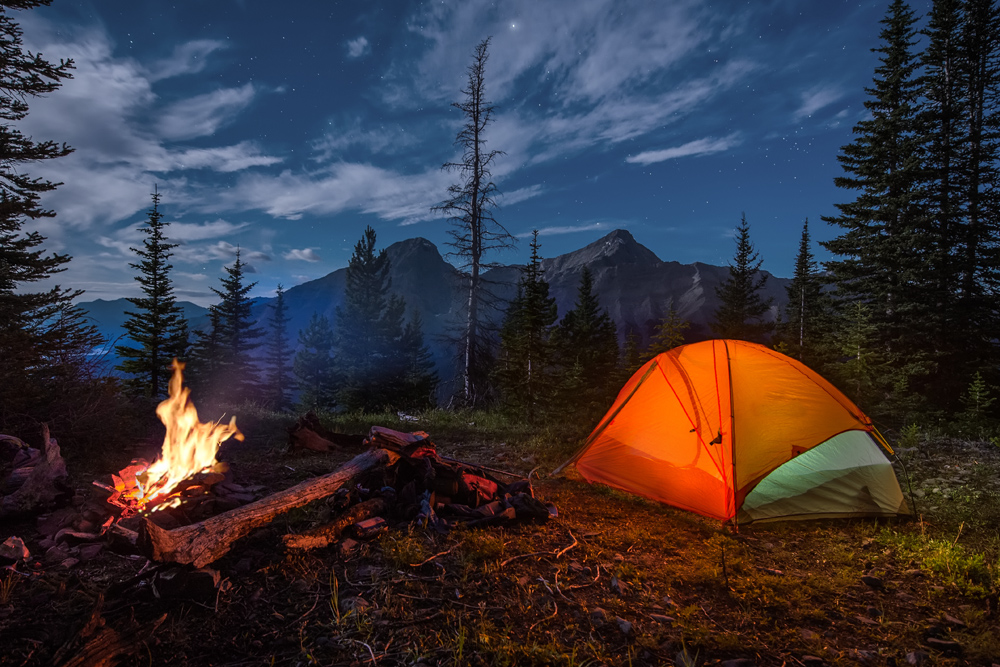 If you've got double the budget outlined on this list, your options for outdoor-focused gear open up quite a bit. Find all the shiny more premium options on our list of the best camping gear under $100.