Jul 16, 2018
Category: Tech
There's nothing as distressing as being far from home, when your phone battery bar suddenly strikes red. A panic sets in. How will you be able to get home without your precious all-in-one device, your GPS and summoner of ubers. Perhaps such a parable calls attention to an over-dependence on smartphones, but that's not the conversation we're having. We're talking about how best to solve the power problem.
The answer is the portable power bank, which has surged in popularity in recent years. Power banks are incredibly useful for when you need to charge your phone on the go, whether you're out late on a Friday night, or simply in the outside world, and away from an outlet. Below is our list of the 15 best portable power banks on the market today. Check them out, and get charged up.
Monster Card Charger
The most wieldy on the list, the Monster Card Charger can be tucked away in your wallet with ease. Despite its slim construction, the monster packs plenty of power in case of emergencies. The credit-card sized power bank offers 1,650 mAh in a Li-Polymer battery. Blue LED lights indicate when its time to recharge your little monster. A great back-up to have with you in case you ever find your battery life dwindling (you just have to remember to pack a lightning cable, and you're in business).
Anker PowerCore+ Mini
Another power bank of miniature might, the Anker PowerCore mini takes one of the top power banks on the market and shrinks it down. This little cylindrical charger doesn't have lipstick inside – though its about the same size as a lipstick tube – but it does have 3350mAh of power inside its premium aluminum case. It's technology is impressive for its small size: PowerIQ detects your device in order to yield a quicker charge. In 3-4 hours, your phone can go from 0 – 100% charge.
Jackery Bolt Portable Charger
Boasting a charging speed twice as fast as the original iPhone/lightning cable combination, the Jackery Bolt is lightning quick. Jackery says that the Bolt will charge your phone up to 2 full times in just 1.5 hours. Now that's fast. With a powerful 6000 mAh battery inside, this pint-sized power bank is a step up, and still highly packable for travel.
iMuto Taurus X4
From 6,000 mAh to 20,000, the iMuto Taurus X4 is plenty powerful for its size, and price point. Though smaller in dimension than an iPhone, the Taurus portable power bank can charge an iPhone nearly 8 full times, iPad Air almost 1.7 times, Galaxy S6 almost 5.7 times, and a Macbook almost 1.2 times. With 2 USB ports, you can charge two devices at the same time, a good option to get the most out of this 20,000 ampere per hour super battery. A lovely and useful smart display keeps you informed when it's time to recharge the battery, so you never get caught with no power.
Anker PowerCore
Having sold more than 10 million chargers, Anker is one of the leading names in charging technology. The PowerCore is their staple product. With a weight of just 12.5 ounces, the PowerCore offers 20,100 mAh, PowerIQ and VoltageBoost technologies to increase the speed of charge, and a 7-day charge capacity. Carry this awesome tool in your backpack through the work week, and you'll never run out of gas.
Zero Lemon ToughJuice
The tough juice is certainly no lemon. Built and billed as the world's Toughest USB-C/Type-C External Battery Pack, the ToughJuice from Zero Lemon has a 30,000mAh capacity. That's enough to charge your iPhone 11 times in full. Five USB Ports offer versatile functions – 1 Quick Charge 2.0 port allows for speedy revitalization, and three offer typical 1A charging. The battery is built with anti-shock, durable specs. It can survive almost anything – though try not to drop it in the water.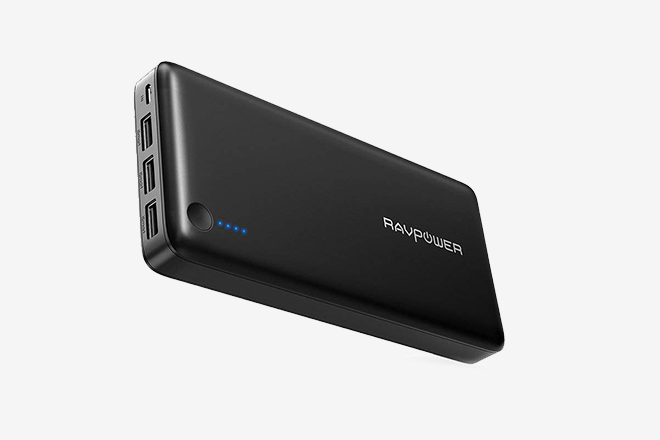 RAVPower Portable Charger
RAVPower means reliability. Their Portable external charger packs a wallop of power: 26,800mAh, to be exact. Built in smart technology automatically detects devices and adapts to an optimal charging pace. Capable of charging three devices – and fully restoring an iPhone's battery 6 full times, RAVPower is a trusted brand in the portable power bank industry.
Belkin BoostCharge
Belkin's latest release, the BoostCharge, is aiming to change the game. The BoostCharge (or, as they write it, the "BOOST↑CHARGE") external battery is designed specifically for iPhone and iPad. The Boostcharge is the first MFi-power bank to recharge using a lightning connector. In layman's terms, that means you can charge the battery with the same cable with which you charge your phone, by plugging it directly into the wall. That functionality makes life a lot easier when you're backup runs out.
TYLT Flipcard
TYLT, like Belkin, has laid to rest an age-old problem that power banks have always had, since they first came onto the scene. It's wonderful when an external battery is slim and compact, able to be put in your packet. But what about the cables that it needs to function? Who wants to carry around one of those cables, coiled tightly inside your pants pocket? Thanks to the TYLT Flipcard, which has its cables built right into the power bank, that will never be a concern. The all-in-one mobile charger has lightning, micro USB and USB type-C cables affixed to the battery. It has 5000 mAh of power, and a convenient carry loop, making this one of the most versatile power banks on our list.
AUKEY PB-T11
The AUKEY PB-T11 has 26,500 mAh and the best quick charge tech on the market: Quick Charge 3.0, which is four times faster than conventional charging. With five charging inputs, the AUKEY distributes power adaptively to any device that's plugged in, and promises never to short circuit. The PB-T11 has the same versatile lightning compatibility that the Belkin BoostCharge offers, too.
Anker PowerCore Jump Starter Mini
Anker brings a new dimension to the power bank world. The Anker PowerCore Jump Starter Mini is an external power bank that doubles as a jumper battery, complete with cables to attach to your car battery. With a 400A Peak 12V 9000mAh battery inside a ruggedized case, this amazing battery has twin USB ports to charge your phone – and if your car dies, it can charge that, too. The PowerCore Jump Starter Mini works with engines up to 2.8 L, and offers 15 jump starts from a single charge.
Mophie PowerStation XXL
Mostly known for their groundbreaking iPhone battery cases, Mophie's external XXL PowerStation is a product of equally pioneering power. When they say XXL, they mean it – the 20,000 mAh battery will lend your phone 100 extra hours of life. With 2.1A output charging speed, your devices will get filled in a hurry. A smooth and deceptively tough aluminum finish will protect the PowerStation from harm. Just smaller than an iPhone, this external battery from Mophie has XXL power, but a relatively petite size.
Kanex GoPower
The GoPower from Kanex has 15,000 mAh of power, allowing you to charge your iPhone seven full times, or your Macbook twice. A premium, sophisticated design separates the GoPower from the pack. A Built-in circuit protection board allows pass-through charging to your devices, so that you can charge the external battery, and your mobile device or computer at the same time, without threatening to blow a fuse.
Nomad Powerpack
The Nomad Powerpack is also at the apogee of external battery design, with its stark black, cross-hatched exterior. This Power Bank meets 1.2M mil-spec parameters for drop protection, and offers 3.5X iPhone charges, as well as 3VA speed charging technology. I would certainly not be mad about having this nomad charging my devices. Bluetooth technology allows you to track your batteries whereabouts (presumably in case it gets jammed under some couch cushions), the 9,000 mAh battery, encased by a polycarbonate frame & TPU rubber exterior and frilled with mortise and tenon joints is a device built to last, so that your battery can, too.
Goal Zero Venture 70
The Goal Zero Venture 70 is truly a tank of energy. The robust battery is a reservoir with 17,700 mAh to draw upon. It's completely waterproof; take it to the beach, or keep it poolside to keep your speaker charged. If it ever gets too grimy, simply rinse it down in the sink or with the hose. With all the best features that you covet in an external battery, this power bank is the surfer's dream.
12 Best Wireless Chargers For iPhone 8 And iPhone X
Want to stay home, but stay wireless, too? Then check out this list of the best wireless chargers for iPhone 8 and iPhone X, and keep it 100%.
HiConsumption is reader-supported. When you buy through links on our site, we may earn an affiliate commission. Learn more