Oct 25, 2019
Category: Style
As we head out of the summer and into the winter months, the full-fledged transition from beach-ready attire into that of a more full-figured gentleman can be nerve-wracking. Needless to say, most of us will head out to our favorite suppliers to pick up a few cold-weather clothes for the upcoming season, and while we're there, we're going to be looking for layering pieces to make the transition even easier.
If you're looking for a garment that's great for year-round wear, but adaptable enough to provide the perfect amount of cold-weather protection during the winter, few style staples can match the flannel. This iconic piece of outerwear has become an essential part of every guys wardrobe, thanks to its dependable construction, traditional fabrics, and a recognizable style that's perfect for layering with other clothing. Below, we'll outline a handful of our favorite variants from around the industry, and give you a perfect foundation for your ascent into the snow-covered season.
Uniqlo Checked
Uniqlo's Checked flannel is the perfect lightweight piece of outerwear for the fall, offering wearers a vibrant take on the traditional garment. This 100% cotton peripheral features a triple-brushed interior, a relaxed fit, and exceptional warmth thanks to its extra-soft composition, working alongside tasteful accents like a button-down collar and shortened front to keep things modern. Each example features a single-ply, 40-thread-count material construction and well-designed pocketing for everyday carry.
Pendleton Double-Brushed
Pendleton's Double-Brushed flannel is a classic iteration that covers all of the bases when it comes to colorful fall wear. As one of the most lauded proprietors in the industry, the company's iconic garment boasts an ultrasoft cotton composition, faux suede elbow patches, and a set of button-through pockets for elevated style. Each variant boasts a great-looking shirttail hem, as well as a variety of tartans and colors to appease buyers and work well alongside any outdoor outfit.
Outerknown Transitional Popover
Outerknown's Transitional Popover is a quintessential offering that pairs high-quality construction with a head-turning silhouette. In many ways, the flannel is similar to a long sleeve polo, offering the same style, durability, and pairing ability. However, in an effort to make Popover more accessible, Outerknown has implemented soft, supple cotton, likened to that of cashmere. A 100% organic cotton construction and tasteful design cues keep the Transitional at the top of the list for conscious buyers; and, if you're asking us, it's one of our favorite garments to layer with through the fall.
Patagonia Fjord
Patagonia is at the top of its game when it comes to making dependable outdoor garments, specializing in things like jackets, pants, and durable style staples. The company's Fjord flannel is yet another essential piece that draws on the company's exceptional expertise, offering buyers a long-sleeved iteration that's perfect for layering, warming, or soloing in the fall. An attractive collared neck and front-buttoned closure ensure that you can utilize the shirt in a number of different ways, from casual outings to more serious and stylistic layering. A straight hem and two capable chest pockets contribute to the garment's timeless look.
Topo Designs Mountain Shirt
Topo Designs specializes in the creation of adventurous gear, and as such, the flannel is a fair game. The company's Mountain Shirt is another addition to its established catalog, bringing a rugged 100% organic cotton twill construction, inherent Western detailing, and nostalgic style cues from the original garment to the table for interested buyers. On the garment's front, you'll find a set of oversized BDU buttons, paying homage to the militaristic staple.
Howler Brothers Quintana Quilted
Howler Brothers' Quintana Quilted flannel is an exercise in comfortable capability, offering yet another immaculate variant alongside the company's already-extensive inventory. A subtly-quilted tonal yoke, brushed cotton-ply flannel construction, and unique cats eye buttons on the cuffs and placket help the garment to stand apart from the competition, while classic colorways like Las Cruces Plaid and Officer Khaki keep things traditional.
Proper Cloth Scarlet And Black
Proper Cloth's Scarlet And Black flannel is a unique take on the traditional garment, but it doesn't stray far from the roots of the original. Its shadowy ombre exterior is accented by subtle Western characteristics, while a soft, but hearty flannel fabric gives wearers an essential style staple that's apt to last for years to come. Each example boasts a versatile design that's defined by its single-button cuff, double flap pocket, or dual-button cuff, should you go with the more "Westernized" Soft Franklin Spread.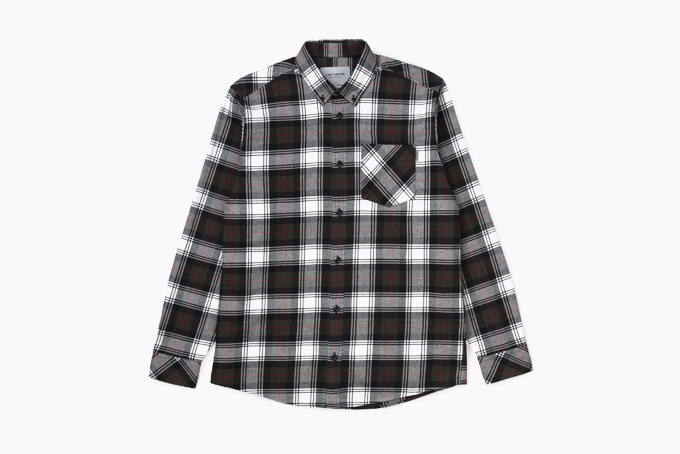 Carhartt WIP Bostwick Check
Carhartt WIP has a knack for combining modern stylistic elements with traditional workwear. Naturally, the flannel was the perfect platform to show off the company's expertise. With that in mind, the Bostwick Check is an attractive offering that's perfect for working outside, styling up for a night on the town, or layering during the wintertime, thanks to its durable cotton twill construction. Each variant features five-ounce twill fabric, alongside a yarn-dyed exterior, button-down collar, and the sought-after WIP script label that's become so widely acclaimed throughout the industry. A single chest pocket and curved hem keep the flannel grounded and up to the task, regardless of the application.
Buck Mason High Desert
Buck Mason's High Desert flannel is a heritage icon that's been steadily transitioned into a modern style essential. This slim-fit button-up is made using only the highest-quality Japanese cotton, keeping it durable, comfortable, and lightweight. As a result, it's supremely easy to wear year-round and gives way to the adaptable properties that the garment was built for. A rounded shirttail hem and unstructured plaid flannel keep the style piece fresh and formal at all times while giving off an aura of adventurous character that's hard to find in the space's alternative offerings.
Filson Alaskan Guide
Filson needs no introduction. The company is one of the go-to proprietors for heritage clothing, and its expertise in the creation of timeless peripherals is second to none. Luckily, the company decided to take a break from the production of high-end heritage work/casual attire to create the Alaskan Guide — a flannel that's rooted in practice and practicality. It's made with comfortable midweight cotton and boasts wind-resistant properties to keep your chill factor to a minimum. Whether you're hunting, fishing, or heading to the bar, the Alaskan Guide is a long-term garment that's been built for comfortable companionship.
Taylor Stitch Yosemite
Taylor Stitch's Yosemite flannel is the perfect garment for the end of the summer season. During transitional weather, this legendary peripheral brings exceptional warmth, comfort, and durability to the forefront, offering wearers an attractive mixture of qualities that aren't found in many alternative variants. Here, you'll find a nine-ounce 100% Organic Cotton flannel chamois, alongside a set of tasteful flap chest pockets, natural heritage buttons, and tailored openings to give the flannel a well-defined fit. To round out the iconic example, Taylor Stitch has implemented its signature California collar, giving the flannel yet another reason to make its way into your well-rounded wardrobe.
Allsaints Modello
Allsaints' Modello flannel is a stylish take on the iconic garment that's been tailored toward a more fashion-minded individual. Its compromised silhouette is a bit different than the original, but like the Hawaiian variants it's found inspiration within, it's been refreshed with a relaxing orientation to keep things simple and clean. It features the company's unique checked flannel fabric, button closure, and camp collar, giving it a look that's distinctly different than anything else that's currently offered. If you're hoping to stand out from the crowd, look no further than the Allsaints Modello.
Todd Snyder Scotch Plaid
Todd Snyder's Scotch Plaid flannel is a well-rounded garment that's been created with fall in mind. Each example boasts a silhouette that's characteristic of traditional urban adventure clothing and pays homage to the Scotch Plaid/cotton construction of the original style staple. A slender chest and sleeves provide a modern feel that's been updated to fit in alongside today's finest styles, layering and complementing them with ease, while a lightweight 100% cotton construction, heritage button closure, and button-down collar provide tasteful design cues that reference the peripheral's storied past.
Woolrich Alaskan Buffalo
Woolrich's Alaskan Buffalo flannel is a classic within the industry of shirtmaking, and as such, it sets the bar for the industry's most prolific variants. Each example is crafted using a 400-weight, 100% cotton fabric, and provides wearers with one of the warmest layers on our list, thanks to its heavy set orientation. A handsome buffalo check plaid pattern and subtle button-down front keep the garment in-line with the traditional flannel style, while a single-button cuff and sleeve placket ensure that the shirt's loose fit stays somewhat tailored.
Our Legacy Box Shirt
Our Legacy's Box Shirt is an iconic Italian flannel that calls upon the country's stylish roots to create something well above average. As the name suggests, this boxy peripheral brings a handful of modern characteristics to the forefront, including uniquely-set mother of pearl buttons, a subtle chest pocket, and wide placket. The implementation of a straight hem at the flannel's bottom lends itself to older styles, but thanks to the Box's modern design in other areas, it remains an attractive proposition for buyers who are looking to strike the perfect balance between retro layers, and up-to-date trends.
Gitman Vintage Red Cotton Fleece
Gitman's Vintage Red Cotton Fleece flannel is a winter-ready variant that's been made to take on the season's harshest weather. It's the perfect amalgamation of texture and color, giving wearers access to a durable example that's also as soft as they come. To keep up with consumer demand, the company has even updated its iconic silhouette to take on a more modern cut, reducing the sweep at the bottom opening and creating a straight-tailored style that'll pair well with a number of different outfits.
RRL Plaid Jacquard
RRL's Plaid Jacquard flannel is a mid-weight variant that blurs the lines between early fall and winter wear, bringing a traditional point collar and buttoned placket into the mix for the ultimate transcendental style. Each variant is pre-washed to take on a unique faded finish, and boasts a set of buttoned barrel cuffs to give it a classic look. To make the Jacquard even more attractive, a one-of-a-kind plaid fabric crafted from black indigo yarn has been implemented, creating a unique style piece that's sure to take your layering game to the next level.
A.P.C. Land
A.P.C.'s Land flannel rounds out our list a thin variant that makes up for its lightweight demeanor with an ultra-warm wool composition. It's adorned in large, stylistic plaid, and features a wide cut that's unique among the industry's alternatives. On the front, a collection of powdered horn buttons provide the perfect anchor point for the flannel's closure, and pair well with an elaborative back yoke, long sleeves, and pleat at the wrist. On the lower half, a rounded hem departs from the traditional straight style that you'll see elsewhere, creating a bespoke article that's also one of the industry's finest offerings.
The 10 Best Denim Shirts for Men
If you're already full-up on flannels and looking for a corresponding style to head into the winter months, head over to our guide on the best denim shirts for men to keep things clean and proper.
HiConsumption is reader-supported. When you buy through links on our site, we may earn an affiliate commission. Learn more