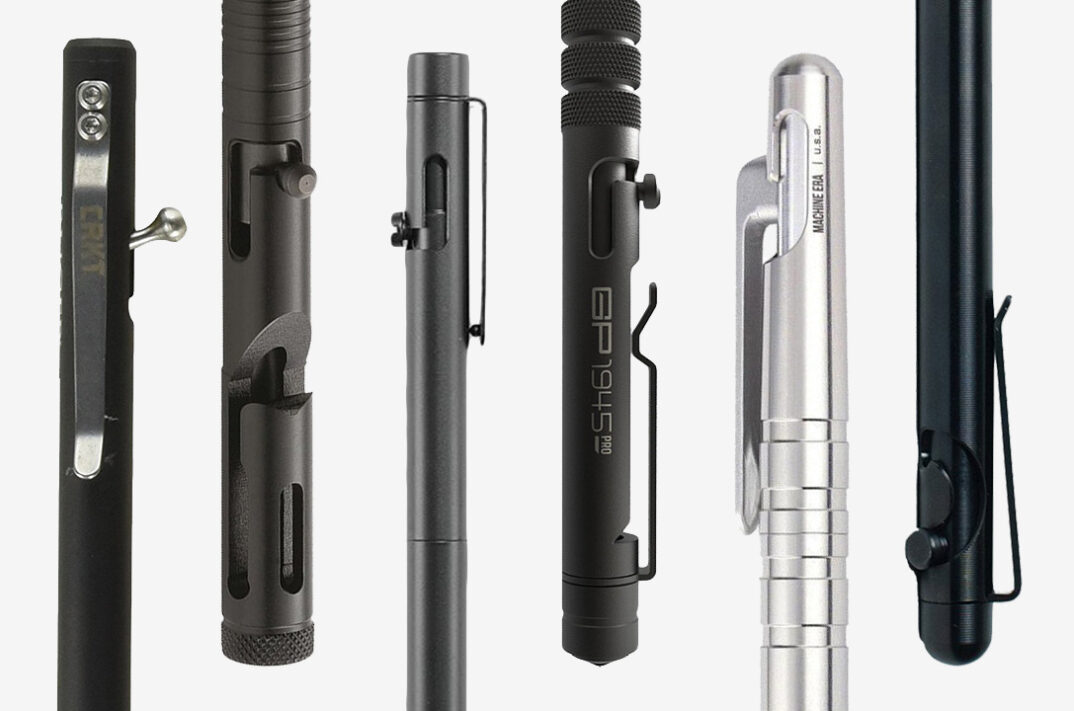 Everyone should be carrying around an everyday carry writing utensil of some sort. Honestly, there are far more reasons to keep one on your person than their are to leave it in your desk at home. Whether you just need a tech-free note-taking failsafe or you just like to scrawl down brainstorms every now and again, a pen is of the utmost importance.
That being said, capped pens and those with clicker mechanisms are pretty old hat at this point. If you want something with a bit more style and substance, however, don't fear – there are still plenty of options. One of the most interesting and impressive pen deployments is the bolt-action mechanism. And there are plenty of versions to choose from, whether you want something aggressive and tactical or you're looking for some refinement, you can find it here on our list of the 10 best bold-action EDC pens.
CRKT Ruger Bolt-Action Pen
Basic and straightforward, this bolt-action writing utensil is built from machined anodized aluminum, so it's certainly well-equipped for even the toughest daily use. Even better, it comes loaded with a Fisher Space Pen ink cartridge – the same one capable of writing underwater, upside-down, in zero gravity, and in just about any weather from the freezing cold to the boiling hot. For a no-nonsense tough EDC pen, go no further.
Boker Plus Cid Cal .45 Tactical Pen
While this beefy pen from Boker is certainly tough enough to get you through even the roughest of daily writing tasks, it also has some serious bonuses built into it. For instance, it can be used in self-defense applications and even has an integrated pocket clip for more compact and discreet carry. And, measuring up at 5 inches in total length, it's perfectly pocket sized for the daily haul.
GP 1945 Bolt Action Pen
At first glance, this bolt action everyday carry pen might just look like another tactical carry option. We assure you, however, that it has a lot more hidden away than you might think. For instance, the knurling on the grip doubles as a quick-reference measuring system (both metric and imperial). It also has a tungsten steel glass breaker tip on the end, as well as a hidden emergency whistle – perfect for survival situations. And, since it's made from aerospace grade aluminum, it weighs just 1.4 ounces, but is still super durable.
Machine Era Field Pen
Featuring one of the most unique takes on a bolt action deployment on our list of pens, this EDC marvel from Machine Era hosts an integrated pocket clip on the bolt mechanism – meaning the two pieces are one and the same. That means, you can depend on it to stay secure and closed when you're carrying it, and that it is easy to use once you've retrieved it from your pocket. It's also made in the USA, is compatible with Fisher Space Pen ink refill cartridges, and is built from sturdy stainless steel.
The Tin Mill Helic Bolt Action Pen
Easily the most unique take on the bolt action pen deployment mechanism we've ever come across, the Tin Mill's Helic Bolt Action Pen doesn't have a lever you push to access its tip, but rather works by twisting. This allows for a smooth and satisfying motion that can be depended upon for use after use. It helps, too, that this pen is built from super tough copper-plated stainless steel, comes equipped with a Pilot G2 Gel fine point refill, and has an attached pocket clip for quick access and easy carry.
Inventery Bolt Action Pen
Infused with the brand's signature minimalist style, this bolt-action pen from Inventery boasts a precision machined body that's clean and simple from tip to tail without sacrificing any durability. It's also compatible with the popular G2 ink refills, comes in three optional sizes, and features a detachable pocket clip.
Karas Kustoms Bolt Pen
While we're certainly onboard the bolt-action bandwagon, we also understand a desire to avoid completely abandoning more traditional deployment methods. And that's just one of the few things that makes the Karas Kustoms Bolt Pen special – it has a bolt-style deployment, but also functions like a traditional clicker, thanks to the plunger on top. These pens are also made right here in the USA, are built from metal (this one is solid brass), and are compatible with all Parker style refills.
Refyne P1 Modular EDC Pen
If you need a little bit more out of a device to add it to your everyday carry, then the Refyne P1 Modular EDC Pen is just the ticket. Not only is this titanium writing utensil excellent for scrawling notes, but it also comes with a magnetic detachable EDC flashlight for extra functionality. The portable torch is also micro-USB rechargeable and doesn't affect the functionality of the pen whether it is attached or not.
Tactile Turn DLC Titanium Slider Pen
Toeing the line between refined style and EDC ruggedness, Tactile Turn's Slider pen is a handsome addition to any everyday carry loadout, but doesn't skimp on toughness. This one also features a black DLC coating for extra durability and scratch-resistance, a titanium body that's as light as it is durable, and is compatible with all Parker style refills. And, if you're a fan of smoothness and precision, the unique arcing deployment is not to be missed.
Fellhoelter TiBolt Pen
If you're absolutely unwilling to compromise when it comes to quality of construction, stylishness, and uniqueness – then the Fellhoelter TiBolt pens are probably your best bet when it comes to an everyday carry writing utensil. They're available in a variety of different finishes – including copper, brass, zirconium, and more – and are even available in multiple sizes (in case your carry requires you to keep it compact). And you'll never have to worry about durability, as everything on these pens – from the tip to the tail, and even all the hidden parts inside – is made from titanium.
Best Everyday Carry Pens
Haven't quite found what you're looking for in an EDC writing utensil? Well, you'll certainly find something worth carrying on our list of the absolute best everyday carry pens.