Over the last decade, the electric vehicle segment has experienced enormous technological leaps and bounds, giving way to increasingly powerful and compact motors and battery packs. It's only been within the last year or two, however, that this technology has finally become potent and advanced enough to genuinely lend itself to use in off-road motorcycles. So, while this segment may not have even really existed half a decade ago, there's recently been a major influx of new, ever-more-capable models hitting the market on a regular basis — the latest and greatest of which we'll be counting down in this curated guide to the best electric dirt bikes.
While the sheer number of available options on the market currently gives riders a diverse selection of proton-powered machines from which to choose, it's also made it increasingly difficult to hone in on the bike that best suits you and your intended riding use — especially to the uninitiated. In an effort to streamline the experience of shopping in this emerging segment, we've broken it down, delving into the benefits of electric dirt bikes and what to consider when shopping, before diving into our picks for the best battery-powered dirt bikes currently on the market.
The Best Electric Dirt Bike Breakdown
Best Lightweight Pick

Segway X260

Best Overall Pick

CAKE Bukk Power Light

Best 450 Equivalent

Stark VARG Alpha

Best Dirt Tracker

Trevor DTRe Stella
Batteries & Benefits
The Upsides & Advantages Of Electric Dirt Bikes
There are numerous areas in which modern electric dirt bikes are objectively superior to their gas-powered counterparts — seven of the most crucial of which we'll be unpacking below.
Unparalleled Power: At times boasting more than ten times as much torque as standard 450cc dirt bikes, electric models offer what are truly remarkable, otherwordly amounts of torque. And, as an electric motor without a powerband, the gobs of stump-pulling torque produced by EV dirt bikes are unleashed instantaneously — rather than over a gas-fed engine's rev range.
Minimal Noise: And, as much as we enjoy the roaring four-stroke or the ringing of a two-stroke engine, the lack of an internal combustion engine does admittedly allow the rider to better appreciate their surroundings when riding out in nature — not to mention the fact electric dirtbikes don't annoy neighbors or attract unwanted attention from park rangers and/or law enforcement. With that said, electric dirtbike motors are far from silent, producing a whirling sound that increases in pitch as RPMs go up — not unlike a gas engine, albeit markedly quieter.
Reduced Maintenance: With far fewer moving parts, no need to change out fluids, spark plugs, or filters, and no cams or timing chains to adjust, motorcycles that are kicked along by EV powertrains require far less maintenance than regular gas-fed dirt bikes. This makes ownership a much more convenient experience, especially compared to two-stroke models that need top-end rebuilds after every couple dozen hours of riding.
Twist-&-Go Throttle: Without the need for a clutch and gearbox, electric powertrains are markedly more approachable than their manually-shifted counterparts, lowering the intimidation factor and making riding more accessible to novices. Rather than having to work a clutch and shift lever, electric dirt bikes boast an automatic, "twist-and-go" style throttle — which can often have its sensitivity adjusted.
Smart Tech & Future-Proofing: Because electric powertrains are regulated by modern, computerized controllers, the motor's performance characteristics can be adjusted, with elements such as throttle response, traction control, and "engine braking" able to be dialed in on the fly. As rolling smart devices, electric dirt bikes also often come with capabilities such as geofencing and tracking, remote locking and unlocking, and firmware updates that can be received over the air, largely future-proofing any one particular model.
Environmentally Friendly: While it probably goes without saying, since zero-emission vehicles don't produce any combustion, electric dirt bikes are almost always tremendously more environmentally friendly and sustainable compared to gas bikes. With the right equipment on hand, some of these bikes can also be solar-charged.
Freedom Of Design: Traditionally, the layout of dirt bikes has been dictated by the positioning of vital components such as the engine and gas tank. Electric dirt bikes, on the other hand, aren't limited by this layout and can have their motor and battery pack(s) strategically located in a myriad of different places, giving designers and engineers markedly more freedom, along with the ability to experiment with outside-the-box ideas and setups.
Battery-Powered Braappers
Factors To Consider When Buying An Electric Dirtbike
Whether it's an enduro, supersport, or an electric dirt bike, purchasing your first motorcycle can be a daunting task, especially if you didn't grow up riding. Knowing this firsthand, we've generated this handy primer on the eight most important areas to review before buying your first — or next — electric dirt bike.
Battery: Batteries obviously play a crucial role in the overall quality and performance of an electric dirt bike. Areas such as capacity, voltage, and the number of cells will collectively determine specs such as range, recharge times, and the number of lifecycles. It's also worth exploring if a battery is swappable, as well as what types of outlets or chargers it's compatible with.
Motor: As the heart of any electric dirt bike, its motor is extremely important. When shopping for a battery-powered motocross machine, you'll want to explore factors such as the type of motor, how much it weighs, how it's cooled, and where it's mounted on the bike (typically the swing-arm or frame).
Power: The immense power produced by electric dirt bikes is undoubtedly one of the segment's biggest benefits over traditional petrol-powered models. As such, it's well worth exploring an e-MXers horsepower and torque figures — the former of which is often measured in kilowatts.
Running Gear: While a dirt bike's power and acceleration are primarily owed to its powertrain (and gearing, to some extent), its other riding characteristics mainly boil down to the running gear — or components — with which they're equipped. This includes elements such as an e-dirt bike's suspension setup, chassis, swing-arm, and braking hardware — all of which play a pivotal role in a bike's handling and stopping power.
Size & Weight: Just like with traditional dirt bikes — that are typically offered in everything from 49cc up through 450cc sizes — electric models come in a wide variety of shapes and sizes, with a slew of different seat heights and riding positions. These battery-powered bikes can also weigh in at anywhere between around 100lbs all the way up to two-wheelers pushing 400lbs. When reviewing this particular area, you'll want to consider your height, skill level, intended riding applications, and whether or not the bike's ergonomics (and/or seat height) can be adjusted.
Smart Tech: GPS tracking, remote unlocking, and on-the-fly parameter adjustments are all frequently featured on late model electric dirt bikes, allowing for more personalization. What's more, similar to smartphones, today's electric dirt bikes also often come loaded with sensors such as accelerometers, gyroscopes, wheel speed monitors, and GPS sensors — all of which feed data several hundred times every second into an advanced processor.
App Connectivity: A growing number of dirt bikes are now being offered with connectivity to dedicated smartphone apps that allow users to adjust settings and parameters of the bike, such as power output, throttle response, traction control, or ABS levels. Many of these apps can also be used to download over-the-air updates.
Experience Level: No matter what type of motorcycle you're purchasing, your search should always be limited by your level of skill and riding experience. Starting on a machine that's too large and too powerful isn't just inconducive to learning, it's downright dangerous — plus it limits the amount of fun the rider has, as they're forced to focus on keeping the bike in check rather than perfecting their technique and advancing as a rider. The good news, however, is that quite a few of today's electric dirt bikes can have their power level and throttle response adjusted (i.e. lowered) in order to be compatible with novice pilots.
The Best
The Latest & Greatest All-Electric Brappers
Segway X260
Pros
Great for new & experienced riders alike
Puts down over 180ft-lbs of torque
Uses swappable batteries w/ 75-mile range
Can be ordered online & delivered straight to buyer's door
Cons
Would benefit from belt-drive
Suspension is lacking considering the price
Best Lightweight Pick: Though Segway built its name on producing standup electric scooters, the company has since applied its EV knowhow to producing a wide range of battery-powered vehicles, from go-karts to scooters to electric dirt bikes. The brand's X260 offers solid performance with a 46.6mph top speed, a roughly 120-lb curb weight, and a whopping 184.3ft-lbs of torque. Other highlights include connectivity to a smartphone app, swappable batteries, and an LED headlight, all as standard. In addition to being sold in a slew of different color options, this model is also offered in a more affordable and less powerful $3,500 X160-spec.
Top Speed: 46.6MPH
Output: 4HP & 184.3FT-LBs
Charge Time: 4-5 Hours
MSRP: $6,499
CAKE Bukk Power Light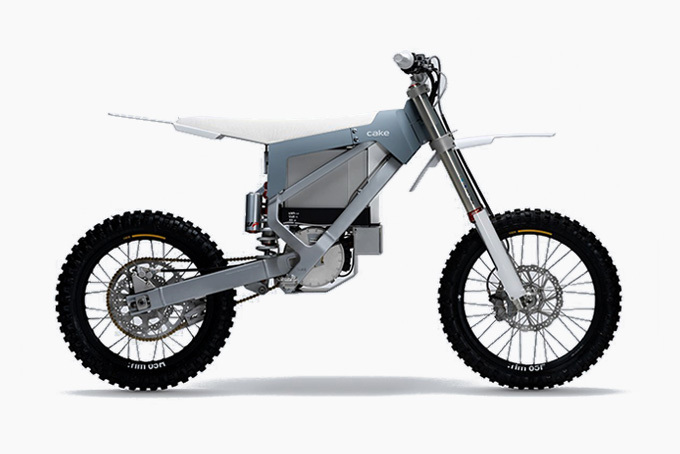 Pros
Sports award-winning, ultra-seek, futuristic appearance
Boasts a wildly impressive power-to-weight ratio
Benefits from use of CAKE's new Jante motor
Can be configured for on-road use
Unequvicaolly one of the most fun riding experiences you can have on 2-wheels
Cons
Battery size/range sacrificed to achieve ultra-low weight
Best Overall Pick: Successor to the Swedish EV outfit's already immensely capable, game-changing Kalk model, the CAKE Bukk is a thoroughly state-of-the-art all-electric dirt bike that combines an ultra-lightweight and nimble chassis with a ridiculously compact yet potent powertrain that cranks out more than 330ft-lbs of torque — a combination that allows for a riding experience unlike anything else on the planet. Additionally, razor-sharp handling and fantastic response are afforded through the Bukk's top-shelf suspension setup, which features an Ohlins mono-shock and a WP XACT PRO fork. On top of its ultra-sleek appearance, this model is rounded out by multiple ride and brake modes, an integrated skid plate, connectivity to the CAKE Connect app, and a swappable battery that can be fully recharge in just under 3 hours.
Top Speed: 50+ MPH
Output: 21.5HP & 336.3FT-LBs
Charge Time: 3 Hours
MSRP: $10,270
Stark VARG Alpha
Pros
Arguably the most advanced dirt bike ever developed
Equipped w/ over 100 different ride modes
Each VARG unit's suspension is tuned to the rider's weight
6.5kWh battery offers 6 hours of ride time & requires 1-2 hours to recharge
Carbon fiber sleeve motor spins at up to 14,200RPM & puts down over 690ft-lbs of torque
Cons
Costs a few grand more than your average flagship 450 (though also offers better performance)
Best 450 Equivalent: Touted as "the world's fastest motocross bike," the Stark VARG Alpha is a ridiculously high-performance off-roader with a state-of-the-art fully-electric powertrain that's good for 80hp and an unheard-of 691.8ft-lbs of torque. Weighing in at under 250lbs, the VARG also gets KYB suspension offering more than a foot of travel front and back, innovative skid plate design, forged and CNC-machined wheels, the world's lightest foot-pegs, Brembo brakes, 100 different ride modes, and the ability to custom-tune a slew of parameters including power curve, engine braking, and traction control. The VARG's IP69K-rated 6kWh battery also affords up to six hours of ride time. Based in Spain, Stark also offers a 60-hp standard version of the VARG for $1,000 less.
Top Speed: 70+ MPH
Output: 80HP & 691.8FT-LBs
Charge Time: 1-2 Hours
MSRP: $13,900
Trevor DTRe Stella
Pros
Belgian-built electric dirt bike engineered specifically for dirt-oval flat track racing
Equipped w/ premium parts & componentry throughout
Battery offers 60-mile range
Sold w/ wide array of stylish body & graphics kits
Also offered in street-legal variant
Best Dirt Tracker: While admittedly not what typically springs to mind when discussing electric dirt bikes, Trevor's DTRe Stella is a closed-course only, battery-powered two-wheeler built specifically for use on dirt tracks. This electric, turnkey flat track racer is built around a minimalistic trellis frame that's designed by Sarolea Performance and capped off with a single-piece tank and tracker-style tail section unit. Individually built by hand in Belgium, this bike features 19" Haan spoked wheels shod in Dunlop flat track tires, an 11-kW air-cooled brushless DC3 motor, and a 2.7-kWh C-battery pack that offers a more than 60-mile range and can be fully recharged in under an hour. Alongside the off-road-only model, Trevor is also producing a street-legal variant of the DTRe Stella for around $15,300.
Top Speed: 56 MPH
Output: 14.75HP & 191.7FT-LBs
Charge Time: 1.1 Hours
MSRP: $14,150
The Rest
Electric Dirt Bike Runner-Ups
SUR-RON Light Bee X
Tipping the scales at just a tad over 100lbs (plus the weight of its 60V, 176-cell Lithium-ion battery), SUR-RON's Light Bee X is a lightweight, entry-level electric dirtbike that boasts a 47mph top speed and a range of up to 60 miles on a single charge — depending on what riding mode is being used. Constructed around an anodized 6061 T4 and T6 aluminum frame that's created under 6,000 tons of pressure, the Light Bee X also features a rear mono-shock with a DNM TR link system and an inverted front fork that affords 8" of travel.
Top Speed: 46MPH
Output: 9.4HP & 28.76FT-LBs
Charge Time: 3 Hours
MSRP: $4,400
KTM Freeride E-XC
The first modern, mass-produced electric dirtbike from a reputable, mainstream manufacturer, KTM's FREERIDE E-XC combines the Ready To Race brand's signature blend of high-end components and an advanced chassis with a cutting-edge, fully-electric powertrain that generates 24.5hp and 31ft-lbs of torque — making it roughly comparable to your average gas-powered 250cc dirt bike or dual-sport. As one would expect from KTM, the FREERIDE E-XC comes loaded with top-shelf componentry such as WP XPLOR suspension fore and aft, along with FORMULA braking hardware. This model's Lithium-ion KTM PowerPack battery also affords a range of around 25 miles per charge.
Top Speed: 50MPH
Output: 24HP & 31FT-LBs
Charge Time: 2 Hours
MSRP: $8,799
Tactica T-Race Cross
Made by boutique Italian firm Tactica, the T-Race Cross is an ultra-high-performance, spare-no-expense competition-grade electric dirt bike that's been engineered specifically to win races. Brimming with top-of-the-line components including Brembo brakes and Öhlins suspension front and aft, the T-Race Cross also boasts a manual five-speed gearbox, two power modes, sleek blacked-out bodywork, and a single-shell split chrome-molybdenum chassis. And, while its range may seem extremely limited, its battery size was chosen to provide enough energy for 2 hot laps and nothing more.
Top Speed: 105MPH
Output: 67HP & 73.75FT-LBs
Charge Time: 20-30 Minutes
MSRP: $19,250
FLUX Performance Primo
Made by Slovenian startup FLUX Performance, the Primo is a ridiculously state-of-the-art electric dirtbike with some absolutely incredible performance figures. Powering the Primo is a frame-mounted electric motor with Formula 1-inspired straight cut gears that cranks out 85hp and an astounding 553.2ft-lbs of torque at the rear wheel. Running off of a 6.7kWh, 400V swappable battery that's set in a fully waterproof, aerospace-grade housing, the Primo is also equipped with a host of smart sensors, remote locking, GPS tracking, and the ability to adjust half-a-dozen different riding parameters on the fly. Also produced in street-legal dual-sport and supermoto variants, the Primo's perimeter-style aluminum cradle frame has been paired with a custom-designed cast swing-arm, an Öhlins' twin-tube-tech-equipped TTX mono-shock, and a top-shelf 48mm inverted KYB fork.
Top Speed: N/A
Output: 85HP & 553FT-LBs
Charge Time: N/A
MSRP: TBD
Honorable Mention
Excellent But Out Of Production
Alta Redshift MXR
Despite producing what at the time was unquestionably the most advanced, cutting-edge, and capable electric dirt bike in existence, Alta Motors sadly shuttered its doors in late 2018, putting an immediate end to all operations, including production. With that said, if you're shopping for an electric dirtbike, Alta's Redshift models — including the MXR — are still well worth considering. And, while it may require some legwork and patience, Alta's dirt bikes can still occasionally be found at select dealerships, as well as on eBay, Craigslist, and auction sites like Bring a Trailer.
Top Speed: 50MPH
Output: 50HP & 147FT-LBs
Charge Time: 1.5 Hours
MSRP: $11,995
The Best Electric Motorcycles Currently Available
More interested in a road-going eBike? Then be sure to cruise over to our guide to the best electric motorcycles for a handpicked list of all-electric two-wheelers from supermotos to superbikes.