Cars and cinema have been bedfellows for just about as long as the two of them have existed – which, strangely enough, happened at roughly the same time: the late 1800s. Perhaps it's because they both represent the marvels of technology. Or maybe it's just happenstance. In any case, they have evolved together along similar trajectories in a strange and seemingly symbiotic relationship, each feeding off the other at different parts of their history. One of our favorite representations of that relationship is in car movies.
Now lets make one thing clear: having a cool car does not necessarily a car movie make. The James Bond series, for example, boasts some very impressive vehicles and some even cooler chase scenes, but – at their core – those movies are spy thrillers. By the same token, there are also plenty of very bad car movies (we're looking at you, Herbie). The greatest car movies are the ones that balance both their action and their stories around the vehicles themselves – at least to a degree. For reference, we've put together the following list of our picks for the 20 best car movies of all time.
American Graffiti
Released: 1973
While most people know him for Star Wars, George Lucas first made a name for himself with this film about his hometown of Modesto, California. Starring Richard Dreyfuss and Ron Howard, American Graffiti follows a group of high school friends cruising the boulevard on their last night in town before they go off to college. It's loaded with classic cars, hot rods and, strangely enough, also features Harrison Ford as a traveling drag racer.
Apex
Released: 2016
If you've ever wondered what the difference is between supercars and hypercars, this incredible documentary is a pretty good place to start. Not only does it document the creation of the hypercar genre, but it gives the viewer some pretty intimate insights into the world of car designers, manufacturers, journalists, and everyone in-between. As an added bonus, it also features some gorgeous cinematography.
Bullitt
Released: 1968
If you were to ask a group of gear heads what the best car movie of all time is, they're probably going to tell you that it's Bullitt. You might get the same answer if you're trying to find out the best Steve McQueen flick, too. Boasting what is likely the best chase scene that will ever be filmed in San Francisco – which takes up an alarming 10 minutes of the movie – this movie also features the most iconic car in film history: a 1968 Ford Mustang Fastback in Highland Green with a blackout grille completely devoid of any badges.
The Cannonball Run
Released: 1981
Starring Burt Reynolds, Dom DeLuise, Farah Fawcett, Dean Martin, Sammy Davis Jr, Adrienne Barbeau, Terry Bradshaw, Jackie Chan, Peter Fonda, and Roger Moore (as himself) this is certainly the most star-studded film on our list. But the wide variety of vehicles, action, and a strange story – a cast of eccentric competitors participating in an illegal cross-country race – definitely puts this one somewhere in the top tier of car films. It's kind of like a live-action version of the cartoon Wacky Racers.
Days of Thunder
Released: 1990
If you've ever seen Will Ferrell's comedy flick, Talladega Nights, then you should probably know that Days of Thunder is the film that it is parodying. In fact, this Tom Cruise stock-car racing flick also features Ferrell's costar John C. Reilly, Ricky Bobby's signature slingshot move, and a spectacular NASCAR wreck. In all honesty, this movie is kind of like Top Gun in cars – and that's certainly not a bad thing.
Death Proof
Released: 2007
One half of Robert Rodriguez and Quentin Tarantino's Grindhouse double-feature, this film takes a unique spin on the slasher horror genre. And that's because the killer's weapons of choice are actually his cars – a 1970 Chevy Nova and a 1969 Dodge Charger, to be exact. With plenty of speedy action and Quentin Tarantino's signature flair, this tribute to muscle cars, exploitation films, and scary movies is a stellar watch for anyone who appreciates any of the aforementioned things.
Dirty Mary, Crazy Larry
Released: 1974
Although Peter Fonda and Susan George get top billing, the real stars of this action adventure movie are a souped-up 1966 Chevy Impala and a 1969 Dodge Charger R/T 440. The story follows two NASCAR hopefuls who pull a grocery store heist and have to, in turn, run from the law. It's a simple story with an ending we won't ruin for those who haven't seen it and is pretty much a non-stop car chase from start to finish. In any case, this is a petrol-powered classic through and through.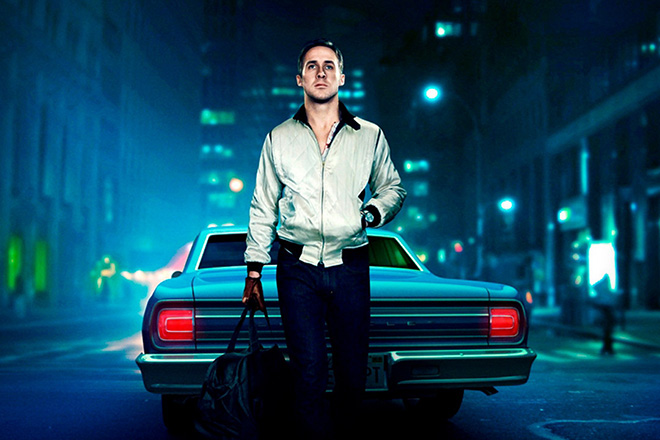 Drive
Released: 2011
If there was a film that could turn a Ryan Gosling hater into a bonafide fan, it's Drive. This neo-noir crime drama follows a Hollywood stunt driver who moonlights as a getaway criminal-for-hire. In the film, Ryan Gosling's character drives a beautiful 1973 Chevelle. And while it's certainly not the best year-model of this particular car, it's still an impressive beast nonetheless – especially when compared to the cars that came after it. In any case, this movie is a thrilling watch for anyone who like crime films.
The Driver
Released: 1978
Funny enough, this 1978 crime thriller was one of the movies that inspired the previous film, Drive. It's also been credited as a big inspiration to Quentin Tarantino and has gone on to achieve cult-status amongst movie fanatics. The story follows a nameless getaway driver, who steals fast cars and uses them in big-time heists, as he is being pursued by an obsessed detective. There's a lot of chases, gunplay, and enough cool classic vehicles to sate even the hungriest car movie fans.
The Fast and the Furious
Released: 2001
Say what you will about the storylines and the acting ability of the cast, but the entire Fast and Furious action saga has some of the best fast-paced adrenaline-pumping car scenes of all time. And, in just about every installment, they bump up the impressiveness by the nth degree. While it certainly can't be said that all of the stunts are realistic or even remotely feasible, they're still impressive and fun nonetheless.
Gone In 60 Seconds
Released: 2000
While this might spark a bit of controversy, we happen to think that the remake of Gone in 60 Seconds – starring Nick Cage and Angelina Jolie – is actually better than the original. It's not that the first wasn't a good movie (it definitely is), it's just that we credit the remake with helping to spark a revival in the appreciation of cars by the Hollywood mainstream. And, if it weren't for this movie, it's entirely possible that there never would have been 10 Fast and Furious movies. In any case, this action/adventure crime movie is definitely worth the watch for all car enthusiasts.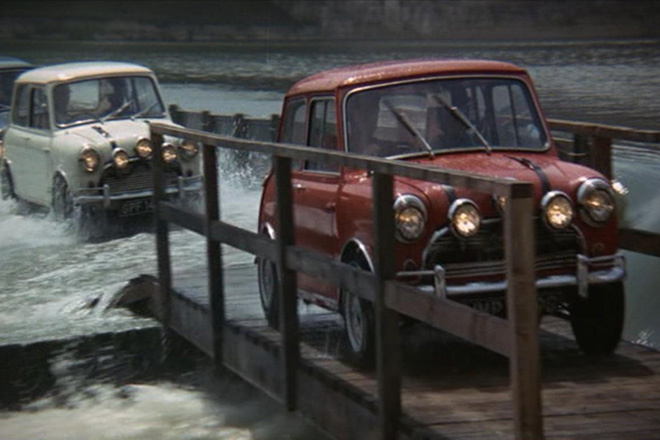 The Italian Job
Released: 1969
Unlike Gone in 60 Seconds, we think that the Michael Caine version of this film is far better than the Marky Mark remake of 2001. Again, they are both very fun car-forward films; it's just the original has the edge in this case. What's especially enjoyable about this movie is that it took an otherwise unassuming vehicle, the Mini Cooper, and injected it with a hefty dose of much-needed coolness by taking it on an impressive romp through the crowded streets of Turin, Italy. Funny enough, Michael Caine couldn't actually drive when this movie was being filmed.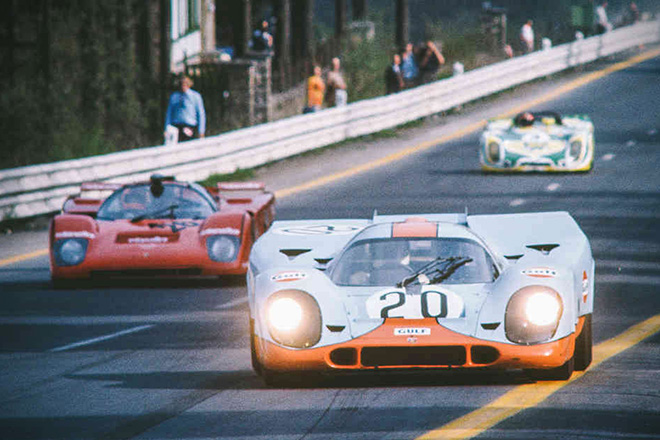 Le Mans
Released: 1971
If there's anyone out there that doesn't think that Bullitt is the best Steve McQueen car movie, it's because they think it's this one. For those who are not familiar, the Le Mans is a 24 endurance race that takes place over 14.5 kilometers of country roads in France. It's considered both the hardest endurance race in the world and has acted as a proving ground for vehicle manufacturers and drivers around the globe. The star vehicles of this movie are McQueen's iconic Gulf Team Porsche 917 and a Ferrari 512LM. While this film is certainly a work of fiction, it's also a fairly accurate look into the world of high-prestige endurance racing.
Mad Max: Fury Road
Released: 2015
The Mad Max franchise – and apocalyptic films in general – can be pretty polarizing. That being said, there's no denying how impressive the fleet of vehicles that appear in these films is. That's especially true for Fury Road. In case you are unaware, every single vehicle you see in this movie was actually built and drove out in that Australian desert wasteland. What's even more impressive is that much of the film's special effects – including many of the crashes, explosions, and jumps, were all done in real life, rather than with CGI. The downside is that means many of these franken-vehicles were actually destroyed during filming. Even still, this movie series is a killer one.
Rush
Released: 2013
Following the real-life rivalry between Niki Lauda and James Hunt, two Formula One drivers in the 1970s, this Ron Howard film is one of the most beautiful cinematic tributes to cars ever filmed. And it doesn't just look good – it's also a very entertaining watch, even if you're not that interested in the driving. This movie stars Chris Hemsworth, Olivia Wilde, and Daniel Brühl, the latter of whom really shines in his portrayal of Lauda. If you've got a friend or significant other who is reluctant to watch car movies, this is a good one to introduce them to the genre.
Senna
Released: 2010
In the mid-1980s, a Brazilian F1 driver by the name of Aryton Senna won three world championships in the sport before he tragically died in front of a live worldwide audience of 300 million people. This documentary film follows his atmospheric rise, the struggles he faced on and off the track, and the aftermath of his heart-wrenching accident that changed the racing world forever. While this flick is certainly one that will tug much more on the heartstrings of true petrol heads, it's also an incredibly well-done insight into the life of a legend and the greater world of F1 racing.
The Transporter
Released: 2002
It's a little known fact that this film was penned by Luc Besson – the same man that brought us Léon: The Professional, The Fifth Element, and Lucy. But it makes a lot of sense when you consider how masterfully this film balances martial arts, car chases, and an at least decent storyline (which cannot, unfortunately, be said about the subsequent sequels). This is also one of the films that put star Jason Statham on the map. It follows the story of a driver for hire who breaks his strict "no questions asked" policy when he realizes that the package he's been hired to transport is actually a woman. For reference: the transporter's primary car in the film is a 1998 BMW 750iL Euro model.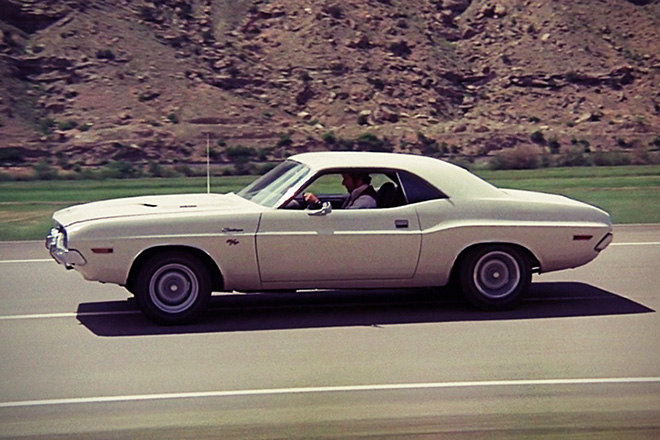 Vanishing Point
Released: 1971
As far as the story is concerned, this amazing car chase film is not all that dissimilar to The Cannonball Run – except that, instead of a big group of people driving in an illegal race across the country, it's just one guy. And while the aforementioned film is still worth a watch, Vanishing Point is certainly the more well-rounded film. This flick follows a car delivery driver behind the wheel of a 1970 Dodge Challenger R/T as he tries to make it from Colorado to San Francisco in less than 15 hours. The cars for the movie, by the way, were prepared by Max Balchowsky – the same man that prepared the mustangs for Bullitt.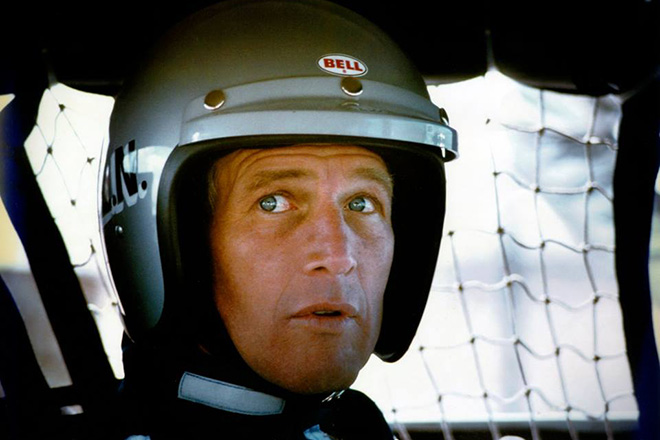 Winning
Released: 1969
While this is certainly a lesser known dramatic film, it makes this list for two reasons. First, it's one of the earlier films to cover actual realistic racing – as well as the allure of the sport and the obsession of the people that participate in it. Second, this is the film that got Paul Newman into the sport himself. And we don't just mean it got him interested as a fan. No, participating in the creation of Winning is chiefly what drove Paul Newman to actually start participating in racing as a competitor. In fact, there's a documentary about his racing life that shares the same name as this movie.
The World's Fastest Indian
Released: 2005
Yes, we know that motorcycles are not strictly cars. Still, this biographical picture follows Burt Monroe (played by Anthony Hopkins), a New Zealander who is dying of heart disease, as he tries to break the land speed record at the Bonneville Salt Flats upon his souped-up 1920 Indian motorcycle – a feat which he achieved in real life in 1967. This movie is fun, inspiring, and – at times – heartbreaking. And it speaks to us both as vehicular fanatics and as men aware of our own mortality.
Honorable Mention: The Blues Brothers
While it doesn't quite measure up as one of the best car movies of all times, The Blues Brothers (1980) still boasts some impressive chase scenes – including one through an indoor mall – and held the record for most cars wrecked in a film (103, to be exact), until the disappointing sequel deliberately broke that record by one car in the year 2000.