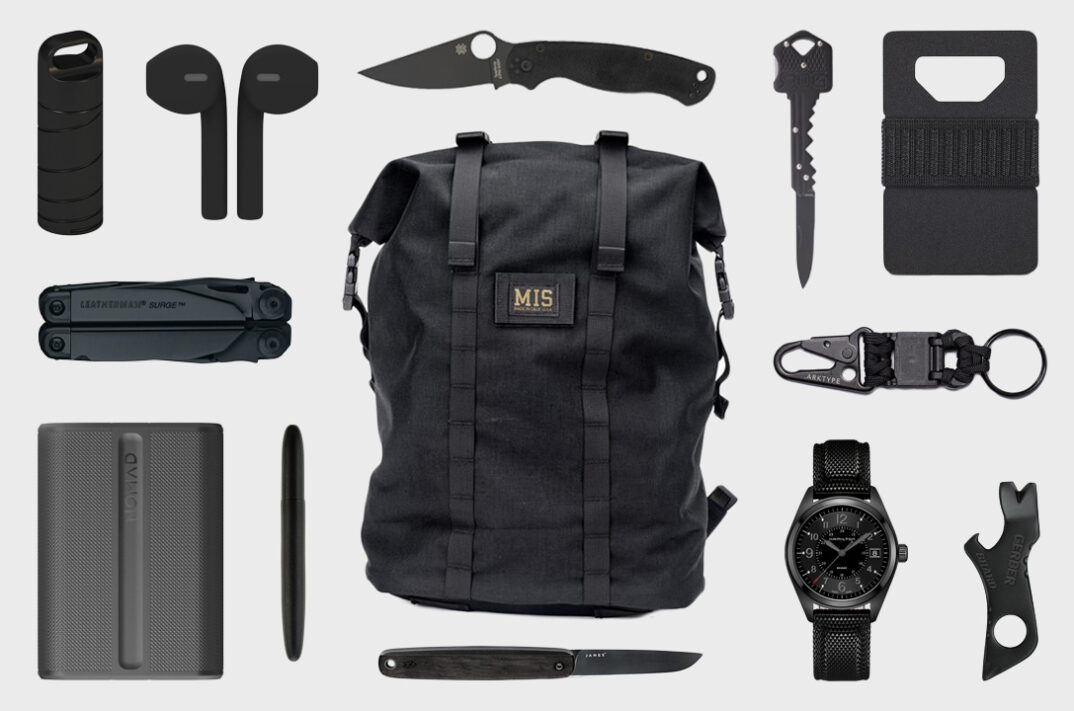 In case you haven't noticed, black (and all of its shades therein) is perhaps our across-the-board favorite color for any and all of our everyday carry gear. It's timeless, accessible, and matches with just about anything. But while some are content to own a few things with black highlights, we often like to take it to the next level.
All black everything – so the saying goes. From our commuter backpack, to our knives, to our wireless headphones and everything in-between, we don't just want it dark; we want it all completely blacked out. Lucky for us, some of our favorite designers and craftsman also happen to like the midnight color palette as much as we do. So it wasn't too difficult to put together the following list of 20 of the best all-black EDC essentials.
Gerber Shard Keychain Tool
Offering a host of different functions – including a bottle opener, nail pryer, and both philips and flathead screwdrivers – this keychain multi-tool is both one of the smallest and most affordable pocket-friendly devices ever to hit the market.
SOG Key Folding Knife
Masquerading as just another key on your keychain, SOG's Key Folding Knife is arguably the most discreet way to keep a functional EDC blade on your person at all times. And, despite measuring up at just 1.5″ in length, it still locks in the open position, so you don't have to worry about accidentally cutting yourself when using it.
Field Notes Pitch Black Notebook
Field Notes is at the top of the pocket notebook game and, with offerings like this one, it's easy to see why. With 64 lined pages beneath its sleek and handsome cover, these writing accessories are a must-have for anyone who frequently finds themselves looking for scraps of paper on which to scrawl.
Fisher Space Pen Bullet
The Fisher Space Pen Bullet isn't just a great EDC pen – it's one of the best writing utensils of all time. And, besides being plenty small enough to fit in your pockets no matter how full they are, it can also write underwater, upside-down, and in zero gravity.
The Tin Mill Key Safe
Everyone should keep a Tin Mill Keysafe with a stash of cash inside it on your keychain at all times. It's a great contingency plan in a pinch and, since it's made of super tough black oxide coated 304 stainless steel and is waterproof, it'll never let you down even in the most dire of circumstances.
AVEX FreeFlow Autoseal Water Bottle
Water is a necessity for life and that's plenty reason enough to add a water bottle to your everyday carry. This one, however, has the added bonus of being able to keep hot drinks hot for up to 10 hours and cold drinks stay chilly for up to 29 straight. Best of all, the patented AutoSeal button ensures that you'll never accidentally open this guy up and spill out its contents.
Spine Titanium Minimalist Wallet
With our everyday carry always somehow expanding, we've come to realize that a minimalist wallet is one of the best ways to slim down. And it doesn't get much better than the Spine Wallet – you know, since it's made from super tough titanium, weighs just 0.7 ounces, can hold up to 10 cards and some cash, and is made right here in the USA.
Arktype RMK Quick-Release Keychain
Anyone who likes the idea of a carabiner keychain, but isn't keen on having to constantly remove it from your belt loop should already own an Arktype RMK. If you don't now's your chance. It's made from a combination of hand woven 550 paracord, a military grade rifle hook, and a super slim profile neodymium magnetic quick-release clasp that'll never accidentally come undone.
FourSevens Mini MK II Flashlight
Very few small-form EDC flashlights are quite as capable as the Mini MK II from FourSevens. This 2.17″ offering has an output of up to 550 lumens, can run for 456 hours straight, has 6 reconfigurable illumination modes, and has a water-resistance rating of IPX8.
Cargo Works iPhone EDC Note Case
While a solid commuter backpack will get you where you need to go, sometimes short-form trips don't call for a cumbersome bag. In those cases, grab your Cargo Works iPhone EDC Note Case, pop a few pieces of gear and high-tech essentials into its internal organizational system, zip up the tiny case, and hit the road.
Mujjo Leather iPhone 7 Wallet Case
If you find that you constantly need your phone, but you only use a couple of the cards in your wallet, ditch the latter and slap this case on your phone. It'll keep your tech protected and can also carry the 2-3 wallet items you actually use on a daily basis.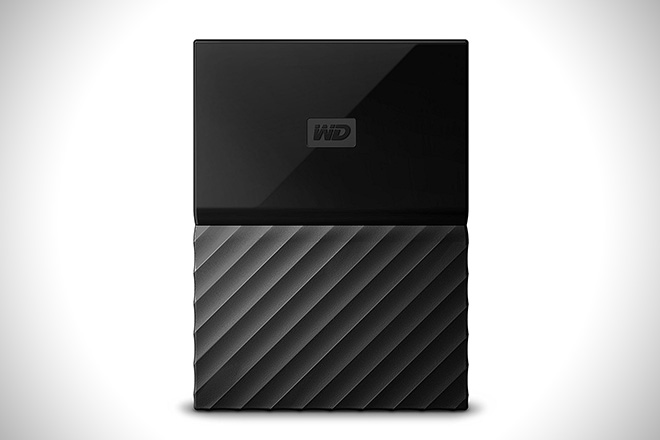 WD My Passport External Hard Drive
Whether you need to transfer secure files from one place to another or you just want a backup of all the music you keep on your laptop computer, an external hard drive is a must-have. And few, if any, compare to the My Passport line from WD. This all-black one, which comes in 1-4 terabytes, is especially enticing.
Bellroy Note Sleeve
If you want to slim down your carry, but you just can't give up your traditional bifold wallet, the Note Sleeve from Bellroy is a pretty solid compromise. It's got plenty of space (it holds up to 11 cards, cash, and some coins), but it is also a whole hell of a lot more pocket friendly than traditional bulky folding wallets.
Leatherman Surge Multi-Tool
If there's anything we know for sure, it's that Leatherman knows how to do multi-tools the right way. Their Surge is a perfect example – offering 21 different tools in an incredibly sleek and well-designed format. It's also operable with one hand and you can even access the tools when the pliers are closed.
Spyderco Paramilitary 2 Pocket Knife
Spyderco's Paramilitary 2 is one of the best EDC knives of all time. And that doesn't look like it's going to change anytime soon. This version sports a black G10 handle, black CPM S30V blade, and is made right here in the USA – just like all their knives.
Nomad Powerpack
Face it: sometimes you spend too much time on your phone and it dies. But it doesn't have to be that way, so long as you have a portable battery like Nomad's Powerpack. This little pocketable juice machine can charge an iPhone 7 up to 3.5 times and is military drop-tested for maximum durability.
The James Brand County Pocket Knife
Modeled after traditional scout-style pocket knives, this modern slipjoint pocket knife from The James Brand is a classier and more refined version of those folding blades we all had as a kid. And the black coated stainless steel blade and hardware is matches brilliantly to gorgeous Ebony wood on the handle.
MIS Roll Up Backpack
A cross between a killer everyday backpack and a tactical outdoor bag, this offering from MIS is made from a water resistant urethane finished 1000D Dupont Cordura, has PALS webbing for expandable carry options, and comes with a self-repairing YKK zipper.
BlackPods
What's the one problem with Apple's AirPods wireless earbuds? They only come in all white. That's why this brand is offering the same killer tech in a much better looking all-black format. So, with these, you still get the portability, wireless clarity, and superb Apple tech, but in a sleeker package.
Hamilton Khaki Field Watch
Nothing says modern refinement like a superb and sleek wristwatch. This one looks good no matter the venue – be that an outbound adventure or a casual dinner – and it promises to keep on ticking long after your technology has given up the ghost.