They say that it's more fun to ride a slow bike fast than it is to ride a fast bike slowly, and no one genre of motorcycle epitomizes this phrase quite like the minibike. These pint-sized scoots offer ample fun, thrills, and smiles-per-hour, relative to their size, displacement, and price. Having the ability to crack the throttle wide open and bang all the way through the gears on city streets without breaking a single law is far more enjoyable than keeping a liter-sized superbike in check and never getting out of second gear. And, from the outside looking in, it may appear that these diminutive little bikes are solely targeted at kids and smaller riders or lack freeway-capable speeds, though this simply isn't the case. In fact, today's market includes a wide selection of minibikes that have been engineered specifically for adult riders, largely in response to the increased demand for adult-friendly minis over the last few years.
Realizing the average rider is likely privy only to a few of the more iconic mini-moto offerings available, we thought we'd take the time out to put together this hand-selected list of the best mini bikes for adults currently in production. So, whether you're looking to dip your toes into the two-wheeled realm with a new rider-friendly, entry-level mini-bike, or you're an experienced rider simply looking for a pocket-sized ride for grabbing groceries or cruising the neighborhood, this list has got you covered with everything from eighth-liter cult favorites to small-wheeled electrics to high-performance kart track racers.
Cheap Thrills
Why You Should Consider A MiniBike
While minibikes admittedly aren't the most powerful or high-performance two-wheelers, they are nonetheless are capable of delivering a simple, stripped-down riding experience that maintains much of the thrills of full-size motos. The sensation of the wind in your face and the world speeding past you with nothing separating you from the ground is in no way lost on minibikes. On top of being cheaper to outright buy, minis are also far less expensive to register, maintain, and insure.
What's more, one can thoroughly upgrade a minibike with aftermarket parts for a fraction of what it would cost to build-out a big-bore moto project. And while it is a somewhat niche scene, there are thriving minibike racing leagues scattered across America (and the rest of the world), giving riders a taste of racing without the exorbitant overhead costs that typically come with two-wheeled competition (not to mention a markedly lower chance of injury).
If you don't have any intentions of taking on long-distance touring or motorcycle road trips, and simply want a little runner to rip around your block or go putting around the campsite, a minibike is a fantastic option. And while an eight-liter engine may not sound like much — as the omnipotence of sub-eighth-liter two-wheeled delivery vehicles in Southeast Asia and other parts of the world have demonstrated —these powertrains are more than sufficient for quick jaunts around urban areas or trips to and from the local grocery store.
With limited power, minibikes are also markedly more forgiving and easier to control than regular, full-size bikes. Damn-near whiskey throttle-proof, minibikes are perfect for introducing riders with zero experience to the world of motorcycling, as well as sharing the joy of riding with youngsters who aren't big or mature enough to swing a leg over a full-size bike yet. At the end of the day, minibikes offer a back-to-basics riding experience that, while primitive, can be enjoyed by just about anyone, and for many riders, is an instant reminder of why they fell in love with riding in the first place.
Good Things In Small Packages
What Factors To Take Into Account When Purchasing A Minibike
There are common factors that should be considered regardless of what type of motorcycle you're buying. Minibikes, however, are in something of their own league, and because they're generally built for very different purposes than full-size cruisers or sportbikes, the traits to consider when shopping are quite different, as well. Below, we'll briefly touch on the five most pivotal elements to take into account when in the market for a new minibike.
Engine Size: Traditionally minibikes were primarily manufactured with micro-displacement engines (usually around 50cc's), though in a bid to attract adult riders, larger and larger powertrains have been employed. It isn't uncommon to see production minibikes capable of 50-75mph speeds right out of the box. And, while the majority of minibike engines will be of the air-cooled, eighth-liter, single-cylinder variety, it's still worth looking into the manufacturer that produced the engine, what kind of internals and systems it uses (such as its cam setup or whether it's carb'd or fuel injected). And, just like every other facet of the motorcycle, automotive, and transportation industries, electric powertrains are increasingly permeating the minibike space, making EV models worth a look when shopping.
Manufacturer: As you'll probably glean from this list, minibikes can vary pretty significantly in terms of price, and much of this is owed to the marque badged on the tank. The larger more reputable manufacturers tend to utilize more premium materials and generally offer a higher quality product with superior performance and reliability. Likewise, the major motorcycle manufacturers tend to offer more robust and comprehensive factory warranties, along with better dealer and support networks. You are admittedly paying a bit of a premium for the more reputable name, though the higher MSRP, in this case, does get you an objectively better machine.
Street Legal Status: The lion's share of production motorcycles are entirely road legal, with the two main exceptions being turnkey race machines and minibikes. Depending on how you plan on using your minibike, you'll definitely want to consider whether or not you'll be needing street-legal status. Street legal models offer far more utility, though obtaining street-legal certification requires far more than having a manufacturer simply tack on a license plate, headlight, and set of indicators, and involves going through a lengthy and exorbitant road-legal homologation process — an expense that's ultimately passed onto the customers through a minibike's MSRP.
Style: Half-a-century-ago, the vast majority of mini bikes on the market looked a lot like the Honda Z50 or Suzuki Trailhopper, though today — much like the entry-level bike market — minibikes are available in a much wider and more diverse array of styles and genres, from off-road-flavored minis to pint-sized models inspired by naked sportbikes. The motorcycle world's love for all things retro hasn't been lost on the mini segment either, and as a result today's market also includes a handful of contemporary production bikes that are directly modeled after two-wheeled wares of yesteryear.
Aftermarket Availability: One of the coolest aspects of buying a minibike is being able to transform it into a high-performance race bike or an idiosyncratic head-turning custom build for much cheaper than regular full-size builds. If this is a path you plan on exploring, you'll want to do your homework looking into the abundance and availability of aftermarket parts (and services) offered for a particular model. As an example, the immense popularity of Honda's fan-favorite Grom model has given way to a thriving ecosystem of aftermarket parts operations and bolt-on kit purveyors.
The 8 Best Mini Bikes
Coleman CT200U
Harkening back to 1960s American scooter designs, Coleman's CT200U is a modern-day classic, consisting of a peppy little four-stroke overhead-valve 196cc single that's been dropped in an entirely rigid frame. Designed in Tempe, Arizona, and sold in black or red, the CT200U boasts a 200lb rider capacity and a beefy set of oversized wheels shod in all-terrain tires for tackling light off-road and trail-riding duties.
Engine: Air-cooled OHV 196cc Single-Cylinder
Horsepower: 6.5HP
Top Speed: 19MPH
Weight: 121LBS
Street Legal: No
Indian eFTR Jr.
Despite technically being designed for youth riders, the factory flat tracker-themed eFTR Jr.'s 175lb capacity means that it's also appropriate for many adults. Born out of a collaboration with Razor, this electric two-wheeler features a steel frame and matching adjustable mono-shocked swing-arm, a twist-and-go throttle, adjustable tracker-style bars, spoked wheels, an inverted fork, lever-controlled disc brakes front and aft, toothed metal foot-pegs, and a faux-carbon FTR750 replica tank. A 36V rechargeable battery affords up to 140-minutes of ride time at speeds of up to 15mph, too.
Engine: Electric Motor
Horsepower: N/A
Top Speed: 15MPH
Weight: 175LBS
Street Legal: No
CSC City Slicker
Taking clear visual inspiration from naked minis like the Honda Grom, the California Scooter Company's City Slicker is a surprisingly capable road-legal mini ebike, especially considering its sub $2.5K MSRP. Its 6aH Lithium-ion battery offers up to 50 miles on a single charge and takes as little as six hours to fully re-juice, while its swing-arm-mounted motor affords speeds of up to 37mph. Its 330lb rider capacity also means this pint-sized ebike is capable of two-up riding. Other noteworthy elements include 12" wheels, disc brakes with regenerative braking, a Gilmer belt final drive, multiple selectable ride modes, and LED lighting all-around.
Engine: Brushless Reverse Drive Electric Motor
Horsepower: 4.3HP
Top Speed: 46.6MPH
Weight: 216LBS
Street Legal: Yes
Benelli TNT135
In our opinion, the most underrated minibike currently in production, Benelli's TNT135 is a Chinese-Manufactured mini with an unmistakably Italian design with a street fighter headlight, flush body-integrated taillights and signals, and an exotic-looking dual-pipe exhaust setup. While priced lower than its Kawasaki or Honda-built competitors, the TNT135 is equipped with a surprisingly premium array of componentry including adjustable suspension with an inverted fork, a fuel-injected double-spark engine, and projector-style headlight beams. And, while it doesn't make for the most comfortable option, with its top speed of over 70mph, the little Benelli is also good for freeway travel.
Engine: Air-Cooled 134.7cc SOHC Single-Cylinder
Horsepower: 11.3HP
Top Speed: 73MPH
Weight: 255.7LBS
Street Legal: Yes
Kawasaki Z125 PRO
With the Z125 PRO, Kawasaki aimed to establish itself as the dominant player in the minibike space, with a fuel-injected quarter-liter naked that makes more power, offers a higher top speed, and features better equipment than the Honda Grom, all while coming in at a slightly lower MSRP. Adorned in sharp-looking bodywork, the baby Z also features petal rotors fore and aft, an inverted fork and off-set mono-shock, and an LCD display complete with a gear-position indicator — a feature typically reserved for larger, more expensive motorcycles.
Engine: Air-Cooled Fuel-Injected 125cc SOHC Single-Cylinder
Horsepower: 14.5HP
Top Speed: 77MPH
Weight: 244.8LBS
Street Legal: Yes
Honda Grom
Since its debut in 2014, the Honda Grom has turned into a bonafide cult classic, selling thousands of units and inspiring a host of competitors' offerings. For the 2021 model year, Big Red has bestowed the mini with a host of major updates including a new flat with a 30" height, 12" wheels slowed by ABS-equipped hydraulic disc brakes front and back, and newly-designed quick-release bodywork that makes the already custom-friendly Grom all the more conducive to customization. This latter area is furthered by the enormous availability of upgrades and aftermarket parts for the pint-sized Honda.
Engine: Air-Cooled 124.9cc SOHC Single-Cylinder
Horsepower: 9.7HP
Top Speed: 62MPH
Weight: 229LBS
Street Legal: Yes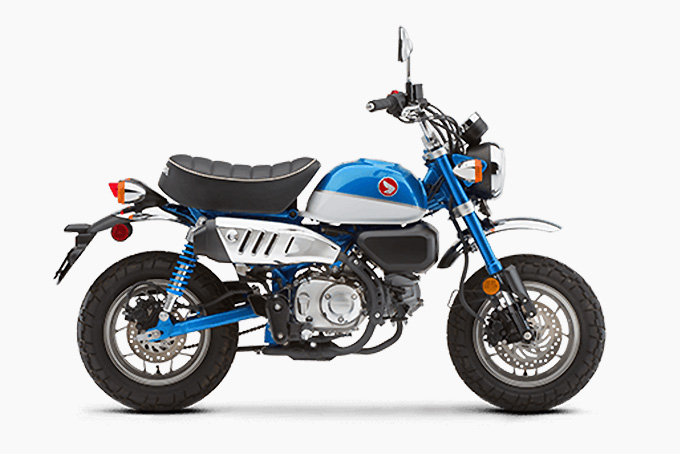 Honda Monkey
Originally designed as rides for a Japanese amusement park in the 1960s, Honda's Monkey range quickly went on to become a minibike icon and is ultimately what inspired the rerelease of the legendary Honda Monkey in 2018. Replacing the 1960's Z50's 49cc mill is the same air-cooled quarter-liter thumper found in the Honda Grom and Super Cub. In addition to the larger engine, the new Monkey does a superb job of maintaining the appearance of its predecessor, albeit in a larger-framed, more adult-friendly package that's more than capable of around-town cruising and even brief freeway stints.
Engine: Air-Cooled 124.9cc SOHC Single-Cylinder
Horsepower: 9.7HP
Top Speed: 65MPH
Weight: 231.5LBS
Street Legal: Yes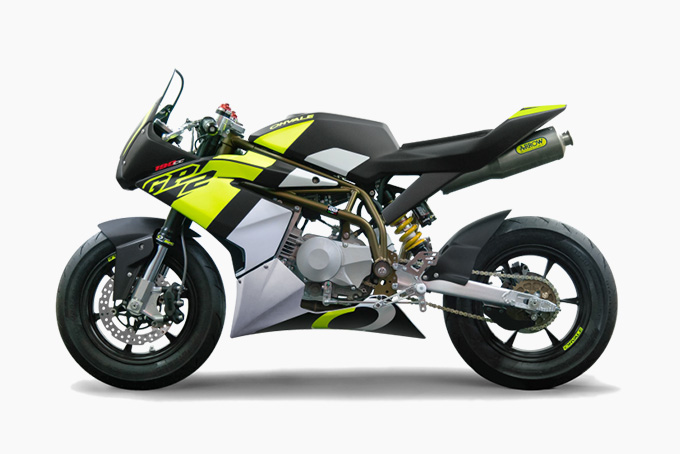 Ohvale GP-2
The Ohvale GP-0 is an ultra-high-performance minibike built for spirited riding on kart tracks and other closed courses. After becoming increasingly popular with adult riders — including WSBK and MotoGP riders that use the Ohvales for training — the boutique minibike outfit was prompted to release a new, larger version known as the GP-2 that's 5.5" longer, 5" taller, 4.3" wider, and now rides on bigger 12" wheels. Weighing just 156lbs at the curb, the larger GP-2 boasts a steel-tube frame paired with an aluminum swing-arm, and a Japanese-made 20hp Daytona 190 engine married to a four-speed manual transmission and spitting spent fumes via a top-shelf Arrow exhaust system. Ohvale also offers an optional Mupo fork and Alfano race display upgrades for an extra $600 and $490, respectively.
Engine: Air-Cooled 187.2cc SOHC Single-Cylinder
Horsepower: 20HP
Top Speed: 80MPH+
Weight: 156LBS
Street Legal: No
The Best New Motorcycles Under $5,000
Want an affordable new bike that's a bit larger than a mini, well then be sure to cruise on over to our guide to the best motorcycles under $5,000 for stellar entry-level-friendly models of all sorts.