When it comes to being able to enjoy technology while you're on the go — whether that be for listening to music, playing video games, tracking your fitness, or whatever else — portability is the name of the game. As such, wireless gear is going to garner the best value. And when it comes to wireless gear, no technology is more widespread or trustworthy than Bluetooth.
Originally invented by an electrical engineer, Dr. Jaap Haartsen, in 1994, Bluetooth has become the worldwide standard for wireless connectivity and can be found in everything from your smartphone to high-tech kitchen appliances. But its best application is probably in connecting portable, travel-ready devices — like headphones, speakers, tablets, and more. We've scoured the web to find the absolute best portable Bluetooth gadgets that money can buy and have collected them on the following guide.
Tile Pro Tracking Device
Small enough to fit inside your wallet if the need arises, Tile's Pro tracking device is a brilliant solution for anyone who misplaces their gear frequently. Better still, it doubles as a two-way tracker — meaning you can use it to find your phone if you have your tile but can't find your mobile device. This version also has twice the tracking range of previous generations and even includes a replaceable CR2032 battery — which is guaranteed for a full year from the purchase date. If you need a way to keep track of the stuff you misplace, you'll not find a better, more reliable Bluetooth gizmo than this one.
8Bitdo Zero Bluetooth Controller
Mobile gaming, over the last decade or so, has taken the world by storm. However, once you get into more complicated games that require multiple button inputs — like traditional platformers or FPS games like Fortnite — smartphones aren't exactly ideal. But that's one of the reasons 8Bitdo created their lineup of Bluetooth controllers. Their Zero you see here is ultra-tiny, can connect to just about any Android or iOS device, and allows for much more accurate inputs than the on-screen buttons. If you're a mobile gamer who enjoys more complex games, this is a must-have gadget for all your travels.
Satechi Bluetooth Media Button
One of the bigger downsides when it comes to Bluetooth audio streaming is that, if you're away from your device doing something you can't take your eyes off — like driving or riding your bike, for instance — it's difficult to control said device. Luckily, the folks at Satechi have created a bit of a solution in their Bluetooth Media Button. A simple interface with controls like pause, play, fast-forward, and rewind, this button is perfect for those who have a vehicle that isn't already equipped with steering wheel controls — like a classic car or a mountain bike. It can also be used anywhere else, however, so long as you're within 40 feet of whatever you're trying to control.
Fingerprint Bluetooth Padlock
While the clear frontrunner for the handiest Bluetooth application must be for wireless music streaming, the technology has a good deal of other uses, as well. For instance, it can be used to remotely unlock this padlock. All you need is your smartphone and one of these locks and you've got yourself a security solution that's far simpler to use than one with a traditional key or even a combination. Of course, the lock wouldn't be much use if your phone dies or you lose it — until you consider that it also has a biometric fingerprint scanner. Perfect for gym trips, this high-tech padlock is the perfect way to keep your gear secure when you're not around.
JBL Clip 3 Bluetooth Speaker
Even if they're compact enough to bring with you anywhere, there's a pretty good chance that your portable speaker isn't going to be waterproof enough to take into the shower. That is, unless it's a JBL Clip 3 Bluetooth Speaker. Small enough to attach to just about any pack or slip into your front pants pocket, this tiny-but-mighty piece of tech can play for 10 hours straight, has a waterproof rating of IPX7, and features an integrated carabiner so you can attach it to just about anything — be that a backpack, duffel bag, your belt loop, or otherwise.
Under Armour UA HOVR Infinite Running Shoes
We know what you're thinking: what could possibly be the point of putting Bluetooth technology into a running shoe? Well, the answer is incredibly simple. By putting sensors into the shoes themselves, Under Armour has created the ultimate fitness tracking device for those who are serious about perfecting their times, stride, and whatever other metrics you might need. And, even if these shoes weren't loaded with high-tech tracking, they'd still be superb running shoes — courtesy of a compression mesh upper, EVA midsole, and anatomical design.
Panic Playdate Handheld Gaming Console
Most handheld gaming devices require you to purchase cartridges in order to play games. The Panic Playdate, by contrast, will automatically update its onboard games library whenever new games become available. Better still, it offers Bluetooth connectivity — so, if you're in public but you still want to crank the volume, you can do that without disturbing the people around you. Of course, the Playdate is still small enough to stash in your pocket, making it easy to bring along with you anywhere. Better still, it's already slated for several releases from the folks who brought you games like Firewatch and Katamari Damacy.
Bose SoundLink Bluetooth Speaker
One of the best ways to share your music on-the-go, a portable Bluetooth speaker is the perfect accessory for any camping trip or outdoor party. And they don't get much better than the Bose SoundLink you see before you. Boasting a rechargeable lithium-ion battery, this 360-degree speaker can pump out tunes for eight hours straight per charge, is easy to pair with any other Bluetooth device, and can even share connectivity with two devices at the same time. And with a format that's easy to slip into any duffel bag, backpack, or even your carry-on and a weight of just 1.25 pounds, getting booming music on the go has never been easier or more convenient.
Klipsh T5 True Wireless Earphones
While most folks are probably keyed in on Apple's AirPods, there are actually quite a few alternatives — some of which offer far better audio quality than the supposed fan-favorite. The Klipsch T5 True Wireless Earphones are one such alternative. Offering the brand's legendary hi-res audio in a package that's small enough to slip into your pocket, these earbuds work for eight hours on a single charge, can juice up to 24 hours with their case, and were designed both for comfort and noise isolation. Audiophiles: ditch the AirPods and opt for these; you won't be disappointed.
Bose Noise-Masking Sleepbuds
Especially if you're a world traveler staying in unfamiliar beds, it can be a bit tough to get some sleep once the time comes to lay down and relax. One of the best ways to help curb insomnia, however, is by eliminating the unfamiliar city sounds that keep your brain firing on all cylinders. That's why Bose created their noise-masking Sleepbuds. These devices are designed to fit comfortably into your ears, where they will help drown out any distracting sounds. They also come with their own charging case, have an included app with a suite of soundscapes to lull you to sleep, and will work for hours and hours.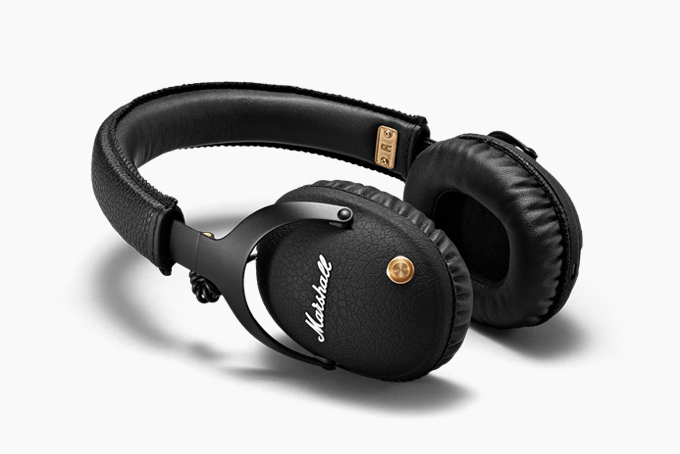 Marshall Monitor Bluetooth Headphones
There was a time when Marshall was known for one thing and one thing alone: guitar amplifiers. But they've brilliantly pared that expertise into a series of alternative audio devices — including their Monitor Bluetooth Headphones. Good for 30+ hours of listening, these handsome headphones are aptX codec-compatible — meaning you'll be able to listen to even the highest quality streaming audio and it will sound like you're there in the room with the performers — and have a range of 30 feet. Pair that with an included smartphone app, call compatibility, and the option to input a second pair of 'phones through its 3.5mm jack and these are some of the best headphones out there, bar none.
Adidas Smart Soccer Ball
Soccer is one of the most portable sports in the world because, at its core, all you need is a ball to play. But did you also know that Adidas has built a high-tech ball that can help you improve your handling skills, shooting, and more? Well, they have and this is it. Made in the USA from durable polyurethane, this smart ball comes equipped with integrated sensors that can determine and help improve strike point, speed, spin and trajectory. It's also compatible with iOS, Android, and Windows devices and charges in just an hour. Better still, a single wireless charge will keep it powered up for roughly 2,000 kicks.
Sena Momentum Bluetooth-Integrated Helmet
Whoever first incorporated Bluetooth tech into motorcycle helmets deserves some kind of award. And while it's a fairly widespread inclusion nowadays, few do it as well as Sena has in their Momentum helmet. Made from ultralight, ultra-tough composite fiberglass, this helmet will keep your cranium safe from impacts. But it's also loaded with a Bluetooth audio and communication kit that's good for 20 hours of talk time, has a range of up to a mile on the open road, offers support for up to eight different riders, and even has its own built-in FM tuner so you can pipe in the radio.
Garmin Forerunner 945 Running Smartwatch
Smartwatches have quickly become a standard piece of gear for many folks. But there are still plenty that stand head-and-shoulders above the competition — as is the case with Garmin's Forerunner 945. Built specifically to handle the rigors of triathlons, this ultra-tough smartwatch is compatible with music streaming services (but can also store up to 1,000 songs), has advanced fitness tracking tech (like a tracker that takes into account the weather and altitude), has contactless payment tech built-in, and even boasts a full-color GPS display — so you can map out your travels anywhere, anytime. Match that with a battery that lasts up to two weeks and it's easy to see the value in this watch, even when its price is considered.
Apple iPad Pro
Usually, when people think of Bluetooth gadgets, peripherals tend to come to mind. But they're forgetting that Bluetooth is a two-way street, as can be found in Apple's iPad Pro. With two available sizes — 11″ and 12.9″ — this Bluetooth-equipped tablet is the industry standard for a very good reason. It's fast, capacious, has a low learning curve, and boasts some of the best app compatibility anywhere. If money isn't an issue and you're in the market for a tablet, there are absolutely zero reasons to consider anything other than this — unless you've got a grudge against Apple.
The 12 Best Hi-Fi Bluetooth Speakers
Once you've got your portable gear covered, you might want to look into improving your home audio system. You can take a huge step forward in that regard by picking up one of the best hi-fi Bluetooth speakers.