It doesn't take an expert to know that car racing can be inherently dangerous. The good news, however, is that not only are the odds of anything serious ever happening very much in your favor, but there's also an ever-evolving array of cutting-edge safety gear that's available to the general public — some of which is identical to the equipment utilized by professional NASCAR, IndyCar, and Formula 1 Drivers.
In addition to affording a cleaner, more purposeful, and professional appearance and adding untold amounts of protection, auto racing gear can also enhance one's behind-the-wheel skills, increasing factors such as feedback and tactile feel. Because so many items are needed, assembling a full auto racing kit can be a somewhat daunting task, especially to those unfamiliar with the space and/or sport. So, with this in mind, we're attempting to streamline your path to wheel-to-wheel action, scouring the sector to deliver this hand-picked guide to the best auto racing gear essentials.
Auto Racing Helmets
Cranial Coverage
A crash helmet is arguably the most important component to one's auto racing kit, protecting your skull and its invaluable and irreplaceable contents from major impacts. Crafting a quality auto racing lid is much easier said than done, however, as these items need to be light and breathable enough to keep their wearer comfortable whilst still affording ample protection. Below, we've selected a trio of auto-specific brain buckets that pull off this delicate balancing act and offer class-leading cranial fortification.
Simpson Diamondback
Famously worn by Top Gear's "The Stig,"Simpson's Diamondback helmet is an iconic auto racing lid that gets better with each iteration. Assembled in Texas, the latest version features a new Italian-sourced composite shell, a panoramic eye-port with a sealed shield, and pre-installation points for HANs and comms systems. Simpson also makes a carbon fiber version of this same helmet.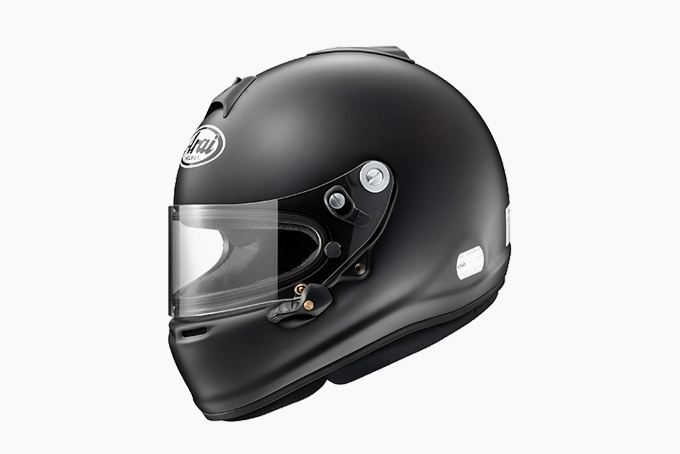 Arai GP-6S
Borrowing its shape from Arai's F1-spec GP-6RC model, the GP-S6 (or "GP-Sport6") boasts a shell that is constructed from the company's signature Peripherally Belted Complex Laminate, a suite of 10mm intake and exhaust ports, a wider eye-port with a new Positive latch mechanism, an all-new hardware setup, and the Japanese brand's 6 series 3mm thick visor.
Stilo ST5 FN Zero Helmet
Trusted by a slew of Formula 1 drivers, Stilo makes some of the most premium helmets on earth, and the Italian outfit's latest and greatest offering is its ST5 FN Zero model. Described as Stilo's new "Super Helmet," this elite lid is made from ultra-high-tensile carbon fiber and utilizes a state-of-the-art Advanced Ballistic Protection system that provides remarkable levels of protection while enabling the helmet to weigh in at around 3lbs (for a size large).
Driving Gloves
Wheel Grabbers
As one of your two primary points of contact and control with an automobile, your hands' ability to do their job when gripping and manipulating the steering wheel is extremely important, and gloves can help in this area on several levels. On top of providing protection — and some obvious style points — driving gloves can also hugely improve grip and tactile abilities as well as mitigate fatigue-inducing vibrations that are absorbed through the steering wheel and controls. Beneath are our picks for three of the best auto racing driving gloves currently available.
Sabelt Hero Superlight TG-10
For nearly half a century, Sabelt has been churning out top-quality racing gear from its Turin, Italy headquarters, and through its never-ending R&D process, the company has managed to stay at the technological forefront of its space — as evidenced by items like its Hero Superlight TG-10 gloves, a gauntlet-style set of driving gloves with a silicone base palm that's been internally reinforced to offer unparalleled levels of fire protection.
Alpinestars Tech-1 ZX V2
Whether it's cycling gear, motorcycle equipment, or auto racing kit, Alpinestars consistently produces some of the finest high-performance gear on the planet. The brand's Tech-1 ZX V2 gloves are one of the most state-of-the-art pairs of racing gloves currently on the market, sporting a flame-resistant aramid fiber main construction with a bonded aramid lining, all external seams, and a latex-sprayed interior that's supplemented via strategically-placed outer grip zones for maximum grip and control.
Sparco Tide RG-9
Sparco is another legendary name in the racing sphere, with a catalog that's always worth a look whenever you're buying new racing gear. Considered by some experts as the best gloves currently in production, Sparco's Tide RG-9 model is both SFI and FIA-certified, and is crafted from advanced 3D HTX — a Sparco-exclusive construction that hugely bolsters grip, absorbs vibrations, and increases its wearer's dexterity.
Racing Suits
Single-Piece Setups
The longtime uniform of car racers, auto racing suits are designed specifically to lend themselves to behind-the-wheel applications and are used across practically all of motorsport in one form or another, from kart racing to stock cars to Baja and Dakar races to Formula 1. Below we've rounded up our choices for the three best suits the market currently has to offer, whether you want to buy a suit to build the rest of your kit around, or plan on assembling the whole getup in an a la carte fashion.
OMP ONE-S1
Better known simply as "OMP," Officine Meccaniche Percivale is another important gear brand in the auto racing realm, based in Genoa and dating back to 1973. The outfit's ONE-S1 racing suit is made in Italy and was developed to be the lightest suit possible while still affording maximum comfort and protection — a feat that was at least partially achieved through the use of a stretch construction with a moisture-wicking quick-dry system.
Alpinestars Hypertech V2
The choice of a plethora of top-level drivers and the most advanced, state-of-the-art auto racing suit that Astars currently produces, the second-generation Hypertech model is an FIA-certified, single-piece garment that features a two-layer construction with integrated stretch panels at the lower back and sides, elbow, crotch and knee zones that were derived from data gathered in Formula 1, and YKK zippers with leather pulls. In typical Alpinestars fashion, this suit is offered in a variety of color schemes.
Sabelt Hero Superlight TS-10
Sabelt's current flagship racing suit, the Hero Superlight TS-10 hugely benefits from data and knowledge learned in top-level motorsport competition. This means a primary construction crafted from a 265 g/m² fabric with fully floating sleeves, pre-curved arms, a bi-stretch back elastic pane, and a dedicated pocket for accommodating a smartphone — a surprisingly uncommon feature in our smartphone-obsessed world.
Racing Shoes
Heel-Toe Helpers
Aside from their vision, lightning-fast reaction time, otherwordly instincts, and superhuman behind-the-wheel abilities, one of the biggest factors that separate world-class drivers from your average joe is heel-to-toe prowess. And because this is such a monumentally important area, manufacturers have designed shoes specifically to bolster and enhance one's ability to do this — three of the finest of which we've highlighted below.
Piloti Pinnacle
It's incredibly infrequent that companies enter novel territory and churn out a quality product on their first try, but that's nonetheless exactly what Piloti has managed to accomplish with its Pinnacle racing shoes. Developed in collaboration with Stand 21 — the world-leader in made-to-measure race gear — these SFI and FIA-approved race shoes have been extensively tested by ex-Le Mans champions and feature a buffed EVA heel, a reinforced lateral forefoot for unencumbered heel-toe action, and one of Stand 21's anti-vibration ATV hydrocarbon resistant soles.
Sparco PRIME T
Sparco believes that its new Prime T shoe represents the next generation of racing footwear, and with so many Formula 1 drivers currently utilizing the model, it's hard to say the company is wrong. The Prime T is built atop a fuel and oil-resistant lightweight rubber outsole that was designed specifically for piloting vehicles with stiff suspension and braking setups configured for the race track and boasts soft leather uppers with a perforated full Velcro closure system covering a breathable clothe tongue.
Alpinestars Supermono
A seriously next-level pair of race shoes that boasts a patented one-piece lace-less design that allows for a massively reduced material construction, Astars' aptly-named Supermono shoes are loaded with noteworthy features and proprietary materials such as a tongue and extensive hook and loop grip strap closure system made from CarbonX elastic fiber, kangaroo leather uppers with nitrile rubber collar padding and perforation zones throughout, a tubular lining construction in para-aramid fiber material, a reinforced micro-porous heel for added shock-absorbing, and an Alpinestars exclusive lightweight rubber compound outsole.
Base Layers
Underlying outfitting
It isn't until getting behind the wheel at the track for an extended period that most people realize just how physically grueling and draining auto racing can be. Just like with hiking, motorcycling, or any other number of sports or activities, proper base layers can make a pretty enormous difference when it comes to keeping their wearer as dry as possible and at ideal temperatures. Directly beneath we've rounded up a pair of the best base layers that were specifically engineered from the ground up for auto racing.
Alpinestars ZX EVO V2 Bottom
An advanced base layer built to Formula 1-spec, Alpinestars ZX Series EVO bottoms are made from a cutting-edge stretch material infused with a viscose fiber with superb flame resistance and heat transfer protection known as Lenzing FR. This compression-style base-layer also sports a Jacquard motif with Alpinestars logos and a seamless tubular construction that bolsters comfort and minimizes weight.
Alpinestars ZX EVO V2 Long-Sleeve Top
The upper body counterpart to the above item, the Alpinestars ZX EVO V2 Long Sleeve Top base layer features the same seamless, Lenzing FR fiber-infused construction and was also designed specifically for use in the cockpit of an automobile. FIA-certified, this item is available in four different color options, as well.
Other Gear & Accessories
Miscellaneous Motorsport Must-Haves
While the offerings above comprise the most important bare essentials, there's a variety of additional items that are more than worth a look for anyone planning on spending a decent amount of time at the track. This includes everything from safety-enhancing items, to gadgets and training tools for advancing your abilities as a wheelman.
Sparco Tour Bag
Unless you're merely sim racing at home, you'll need a bag to transport your gear and Sparco's Tour Bag is an excellent choice as it was made especially for accommodating race gear. As such it sports dedicated compartments for storing racing helmets and shoes, along with padded internal pockets to insure your kit makes it to the track safely. Other highlights on this piece of rolling luggage include reinforced wheels, a document pocket, and a telescopic handle.
Craftsman 450-Piece Mechanic's Tool Set
Not only do cars — race cars especially — require regular maintenance, but vehicles at the race track will need frequent fine-tuning in order to optimize the ride's setup for a particular circuit. In order to perform this vital task, you'll need a quality mechanics toolset, and when it comes to all-inclusive tool bundles for wrenching, dollar-for-dollar, it doesn't get much better than Craftsman's 450-piece set, as it contains the vast majority of wrenches, sockets, spanners, drivers, and Allen keys needed to perform the lion's share of trackside tasks.
Coolshirt Complete Club System All-In-One Kit
Water-cooling isn't just a highly effective means of keeping a car's engine at ideal operating temp, it's also just as good at keeping humans from overheating. Coolshirt System's Complete Club System comes with all of the necessary pieces to run a water-cooling system in a race car, including a liquid-cooled shirt, hoses, mounting hardware and brackets, and the hard cooler-style cooling unit itself.
AiM SmartyCam HD Rev 2.1
A cutting-edge action camera developed for use on the race track, AiM's SmartyCamHD Rev 2.1 can be paired with a GPS unit and an AiM data logger that are connected to a vehicle's ECU in order to overlay real-time metrics atop race footage such as track position, lap time and number, speed, gear position, RPM, and acceleration, braking, and cornering forces. The camera features a machined aluminum body, a TFT display, a fully weatherproof lateral door, and a proprietary telecentric lens that was developed exclusively for motorsport and is capable of reducing distortion, vibration, and the dreaded "wave effect".
HANS Pro Ultra Lite
Head And Neck devices — or "HANs systems" as they're more commonly known — are a wildly effective safety tool on the race track, capable of mitigating neck tension by 81% and the total neck load by 78%. The HANS Pro Ultra Lite utilizes lightweight carbon fiber in order to achieve a much lighter unit that doesn't compromise on protection. This item also includes the helmet attachment hardware, as well as the HANs device itself.
Garmin MARQ Driver
Designed as the ultimate race driver's smartwatch, Garmin's MARQ Driver is equipped with a host of features specifically for the track. Built around a rugged 46mm DLC-coated titanium case, the watch boasts a digital tachymeter and chronograph, a virtual pit wall feature, last race summaries, a track timer, and a lap time repeatability mode, as well as the regular suite of features one would expect from a modern smartwatch such as fitness, sleep, blood ox, and hydration tracking, GPS directions, a battery with a 12-day charge, topographical maps, music apps, and Garmin Pay, just to name a few.
The 8 Best Track-Only Cars You Can Buy
Still don't have a dedicated closed circuit car in your garage? Well, be sure to check out our guide to the best track-only cars for a look at some of today's most competent track-only track weapons.