'Adventure vehicle' is kind of a big term to be throwing around. And we're sure that there are a lot of different definitions that fit the bill. For us, however, it's a fairly specific genre of vehicle – not so much in form, but in function. First, it needs to have greater than 2-wheel drive in order to get us over the most unforgiving terrain during any time of year. Second, there needs to be enough space onboard for all of the gear we need to get us through a long journey (and perhaps seating for anyone that wants to come along). And lastly – though this one is pretty subjective in itself – it has to look good in the process… at least to some degree, as we'll be spending a lot of time with it.
It's important to note that we are aware of the overwhelming abundance of kit, custom, and restomod adventure vehicles on the market. We posit, however, that you don't have to spend 6+ figures on a one-of-a-kind apocalypse mobile in order to have a good time. In fact, there are plenty of perfectly capable cars, trucks, SUVs, and even vans you can drive brand new right off the lot. And that's what we've compiled here: the 15 best adventure vehicles that are available to purchase from your local dealerships. Have a look and see if there's anything that fit your travel needs.
Volkswagen Golf Alltrack
Though relatively new, the VW Golf Alltrack has already made a name for itself with people that like getting off the beaten path, but aren't necessarily ready to invest in a gargantuan truck or SUV. This little crossover still boasts all the necessary tech to keep you going way off the road, however, with all-wheel drive (plus Hill Control and an optional Off-Road mode), a turbocharged engine, and – believe it or not – paddle shifters. If you want a smaller off-road-ready vehicle with a whole lot of get-up-and-go, then it's hard to go wrong with the Volkswagen Alltrack.
Vehicle Class: Crossover
Seating: 5
MPG (City/Highway): 22/32
Subaru Outback
Another killer crossover, this Subaru is excellent in that you don't have to worry about buying a package that can't hold up to off-road adventuring. That is to say, every single trim package for the Outback comes with standard Symmetrical All-Wheel Drive and 8.7 inches of ground clearance. You can, of course, opt for an upgrade – though you'll end up with the same engine performance. That's not a problem, however, if you're expecting only interior enhancements, like premium leather upholstery, heated front and rear seats, and dual-zone climate control. It's also worth noting that all models, including the baseline one, come with roof racks that can store any gear that doesn't quite fit in the generous interior cargo area.
Vehicle Class: Crossover
Seating: 5
MPG (City/Highway): 25/32
Jeep Renegade Trailhawk
Yes, most of Jeep's Renegade models are not what you might call 'adventure-ready.' There is, however, a monolithic exception in their Trailhawk edition. For instance, this package comes with multiple driving modes – including a Rock Mode in its Selec-Terrain Traction Management System – has 4×4 capability, and comes with a 2.4-liter engine that can certainly handle it all. Sure, this compact SUV isn't going to get you to the North Pole and back, but it's plenty tough and capable enough to carry you up and over most hills, into canyons, and – with a quick rinse – will look just as great tooling around the city streets. After all, at the end of the day, it is still a Jeep.
Vehicle Class: Compact SUV
Seating: 5
MPG (City/Highway): 21/29
Toyota Tacoma TRD
The base model Tacoma is already one of the all-time best midsize pickup trucks in the world. But, it also has a couple of upgrade packages that bump it well into the realm of 'adventure vehicle.' For only about $6k over the base package price, you can get a TRD-badged off-road-ready Tacoma that eats dirt and mud for breakfast. And that's only half the benefit, as it also has a generous truck bed, in which you can part your bikes, a motorcycle, or even load it to the brim with camping gear and supplies. It also has a relatively large interior (for a midsize pickup) that seats up to 5 people inside. Sure, it might be a little cramped if you really do fill up all those seats, but the possibility remains.
Vehicle Class: Mid-Size Pickup Truck
Seating: 5
MPG (City/Highway): 17/21
Jeep Wrangler Rubicon
While you could probably muscle a baseline Wrangler up and over some rocks, you're going to get the best bang-for-your-buck if you cut the fat and go straight for the Rubicon. Available in a number of different trims – each of which suitable for a number of different adventures, but also with their own specific benefits – this is the vehicle that has set the standard for off-road capability. Truly, if you were going to pick the ultimate off-the-lot off-road vehicle, there's a pretty solid chance that it's going to end up being a Jeep Wrangler Rubicon. In addition to the classic looks and ruggedness, you can also choose between packages that offer a classic removable soft-top or a hard top for a little bit of a sleeker profile.
Vehicle Class: SUV
Seating: 4-5
MPG (City/Highway): 17/21
Toyota 4Runner TRD
If you like the idea of getting a super-reliable Toyota, but you're not keen on the lack of interior cargo space offered by the Tacoma, then your best bet is absolutely going to be the 4Runner. Not only is it offered with the same TRD badging and associated off-road capability, but it also comes with roof racks (for expandable gear storage for things like camping tents, snowboards, or whatever else), optional Crawl Control and Multi-Terrain Select driving modes, and has a generous rear storage area with an optional sliding rear cargo deck. And if it helps your decision, the 4Runner has also won the Kelley Blue Book award for best midsize-SUV resale value.
Vehicle Class: SUV
Seating: 5
MPG (City/Highway): 17/21
Dodge Ram 1500 Rebel Black
There's no denying the fact that Ram makes some of the absolute best pickup trucks out there. Most of them, however, are more inline with work vehicles than off-road adventurers. There are a few exceptions. And the best might be this one: their Ram 1500 Rebel Black Edition. For starters, this vehicle comes standard with a beastly 5.7-liter V8 HEMI engine mated to an 8-speed automatic tranny that will blitz over just about any terrain with its impressive power output. But it also comes with all-terrain tires wrapped around 17-inch black aluminum wheels and, of course, an all-black paint scheme. Not only is this pickup impressively capable, but it looks the part, as well.
Vehicle Class: Full-Size Pickup Truck
Seating: 5
MPG (City/Highway): 17/21
Chevrolet Colorado ZR2
There are off-road trucks. And then there's the Chevrolet Colorado ZR2. This bad boy is mean – both in appearance and capabilities. For starters, it comes with a number of segment-exclusive features – like Multimatic shocks, front and rear electronic locking differentials and the option to upgrade to a Duramax 2.8L Turbo-Diesel engine. It also comes standard with a 50mm lift, as well as skid plates and rock sliders, which is about as prepared as you can get for monstrous terrain without making modifications yourself. And with a multitude of good-looking trim packages, of which some are limited edition (like their Dusk and Midnight options), you really can't go wrong with this truck.
Vehicle Class: Full-Size Pickup Truck
Seating: 2-5
MPG (City/Highway): 19/22
Jeep Grand Cherokee Trailhawk
Most people are likely familiar with the Jeep Grand Cherokee, but we're under the impression that the familiarity stems from the idea that it's a road-going commuter SUV. Well, just like the Renegade, the Trailhawk edition begs to differ with that impression. This sleek-looking 5-seater comes equipped with the brand's Quadra-Drive II 4×4 system, has a blistering 0-60 time of 3.5 seconds (the best in its class), and has 5 driving modes you can choose from on-the-fly – including Auto, Sport, Snow, Sand/Mud, and Rock. Whether you're driving through a flurry or traversing the frozen wilds, the Grand Cherokee Trailhawk can get you through.
Vehicle Class: SUV
Seating: 5
MPG (City/Highway): 18/25
Ford F-150 Raptor
No conversation about off-road adventure vehicles would be complete without the Ford F-150 Raptor (and all its iterations therein). Simply put, this truck doesn't just drive over rocky terrain, it makes the terrain its b*tch. Standard, this vehicle comes with a twin-turbo intercooled 3.5-liter EcoBoost V6 engine mated to a 10-speed automatic transmission – giving it an impressive output of 450 horsepower and 510 foot-pounds of torque. It also comes with Fox Racing Shox with a clearance of 13 and 14 inches in the front and rear, respectively – making for an extremely smooth ride regardless of how uneven the ground is beneath it. And it sports some of the best looking and most aggressive styling in the game.
Vehicle Class: Full-Size Pickup Truck
Seating: 5
MPG (City/Highway): 18/25
Mercedes-Benz Sprinter 4×4 Cargo Van
You read that right, a van made our list of the best adventure vehicles. But let us make one thing abundantly clear: the Mercedes-Benz Sprinter 4×4 is not a normal van. In fact, it's not even in the same conversation as its drab delivery and soccer-mom counterparts. No, this bad boy is the basis for a great deal of custom adventure van conversion companies because it's absurdly capable, capacious, and badass. Seriously, throw any conditions at it; drive it over mud, snow, dirt, gravel, sand, whatever – it can handle it. It even has a low-gear differential for climbing up steep grades, towing and maneuvering heavy trailers, and navigating difficult off-road terrain. This ain't your grandma's van.
Vehicle Class: Van
Seating: 2+
MPG: 20
Toyota Land Cruiser
While Toyota's Tacoma TRD and 4Runner TRD are certainly formidable adventure vehicles in their own right, they just don't compare to the eliteness of the Land Cruiser. Not only can this full-size SUV handle the trails as well as any of its competition, but it also has an incredibly plush interior. Because, who says you have to be uncomfortable when you hit the trails? It also has the benefit of a whopping 8 seats – or a much larger interior cargo storage area depending on your haul – roof racks, and a beefy 5.7-liter V8 engine to move it all around. This is a modern classic SUV at its finest.
Vehicle Class: SUV
Seating: 8
MPG (City/Highway): 13/18
Mercedes Benz G-Class SUV
Believe it or not, but an SUV that qualifies as what most would call the "lap of luxury" can also be a terrain conquering beast – case in point: the Mercedes-Benz G-Class SUV. Not only does this SUV sport a timeless style, but it's got the guts to back it up. Like, for instance, its hand-welded sturdy ladder frame and galvanized steel body or the advanced V8 biturbo engine (that generates 416 hp and 450 foot-pounds of torque) under the hood. If you're looking for a brand new off-road SUV and you don't want to settle for anything less than the best – opt for this one.
Vehicle Class: SUV
Seating: 5
MPG (City/Highway): 13/14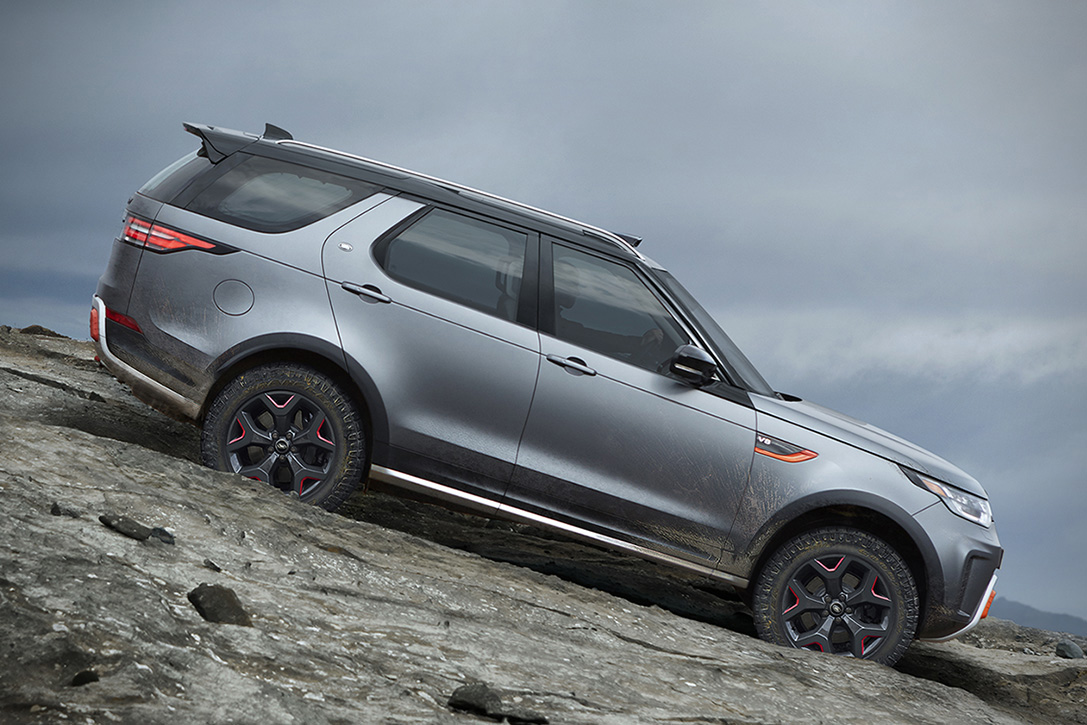 Land Rover Discovery SVX
To be fair, you can't exactly go down to the dealership and drive away in a Land Rover Discovery SVX. Not yet, at least. You can, however, be one of the first in line to get behind the wheel of the most powerful off-road-ready Discovery ever built through the brand's website. That is, unless you'd rather wait and risk them selling out. Before you sleep on this one, remember that it comes standard with 20" forged alloy wheels, aluminum underbody skid protection, increased ground clearance, a Terrain Response 2 system, and much much more.
Vehicle Class: SUV
Seating: 5
MPG (City/Highway): TBA
Land Rover Defender
So, the Land Rover Defender isn't in production anymore? That doesn't mean you can't still get one through your local Land Rover dealership. In fact, they have a whole sect of their business dedicated to matching people up with the used Defender of their dreams. Whether you're looking for a soft-top D90 for some quick weekend-warrior style trips, or you want a hard-top multi-seater D110 for an extended family jaunt into the snowy mountains, you can get it via Land Rover's secondhand Defender program.
Vehicle Class: SUV
Seating: Varying
MPG (City/Highway): Varying
Best Adventure Vans
Looking for a journey-friendly vehicle that you can actually sleep in without cramping up? Well, then you'll want to have a look-see at our list of the best adventure vans.