When it comes to men's everyday carry and style accessories, the wristwatch is about as classic and ubiquitous as they come. They're also, in our opinion, one of the core pieces of gear we believe everyone should own. That being said, the watch world is a vast and intimidating one that can be daunting to get into. And while we'd love for people to become knowledgeable in the gear category before making any spending decisions, we also realize that's a bit of an unreasonable expectation. As such, it might be a good idea to start with a recognizable name.
Perhaps no watch brand is quite as immediately recognizable as Rolex. You've seen them in movies; wrapped around the wrists of musicians, moguls, tycoons, and top-tier athletes; and they're so popular and recognizable that you might even know a few people who own one. That being said, picking out the right Rolex watch for a new collector is a feat in itself. To make things simpler and more manageable from a budgetary standpoint, we've rounded up five of the most affordable watches in the brand's lineup. While we'd certainly not call any of these Rolexes cheap, they're certainly more accessible than the rest of the brand's catalog and a great place to start your watch collection.
Most Affordable Rolex Breakdown
Best Entry-Level Rolex

Rolex Oyster Perpetual

Best Affordable Pilot Watch

Rolex Air-King

Best Affordable Field Watch

Rolex Explorer 40

Best Affordable Dress Watch

Rolex Datejust 36

Best Affordable Diver

Rolex Submariner
Is A Rolex Worth It?
Interestingly, though Rolex is a Geneva-based Swiss watchmaking company, they were actually founded in London, England back in 1905 by Hans Wilsdorf and Alfred Davis. It wasn't until after World War I that the brand moved operations to Switzerland. The greater point, however, is that Rolex has been around and making watches for a very long time. And while that history certainly earns them a bit of clout — especially because it means they've had the time and capital to employ some of the world's foremost watchmaking experts — there's a lot more that makes a Rolex watch so valuable and worthy of a price tag in the thousands of dollars. We've outlined some of the main points and things to look for below:
Quality & Exclusivity: One of the major reasons Rolex watches are so highly-sought-after is because of their unique combination of exceedingly intricate internals mated to cleanly-styled exteriors. Granted, unless your watch has an exhibition caseback, you might not ever get to see the said intricacies, but — so long as your Rolex is genuine and not a cheap knockoff — they're definitely there. Prior to 2004, all Rolex movements (the mechanisms that keep them ticking) were built by the Borer/Aegler family in a partnership that actually dates back to Rolex's founding. In fact, Rolex's first Swiss Certificate of Chronometric Precision was bestowed upon the brand in 1910 for their Aegler-made movements. That partnership and the excellence associated with it stayed strong right up and through a merger in 2004, in which Rolex actually brought the movement-making firm under their own umbrella. Now, every mechanical bit Rolex makes is both proprietary and in-house. And that means you can't find Rolex products (or any of their constituent parts) anywhere other than from the brand themselves.
Materials: While the proprietary mechanisms and designs are certainly a major reason Rolex stands apart from the competition, it's also only one of the many reasons the fabled watchmaking brand is held in such high esteem. Another thing that sets Rolex apart is their strict standards regarding the materials they will use. For instance, most watchmaking brands (even luxury ones) often use 316L stainless steel in the manufacturing of their cases and bands, which is an excellent material in that it's durable and looks good. But it's also abundant and fairly cheap. Rather, even for their "cheap" options, Rolex uses a proprietary metal, dubbed Oystersteel, that's based on 904L steel and is both higher in quality and rarer. Rolex is also known to exclusively use high-grade 18ct gold — yellow, white, and a proprietary pink gold called Everose — as well as platinum, a gold-steel combination known as Rolesor, Cerachrome, high-grade precious gemstones, and more.
Pop Culture Influence: As much as we'd like to believe otherwise, the influence of pop culture on the price of Rolex watches is an undeniable factor leading to their high starting cost. In fact, there is tangible data to suggest just that. For starters, three of the ten most expensive watches ever sold at auction were Rolexes. But more than that, one of them was the personal property of Paul Newman — the film star, business owner, and entrepreneur — and it sold for a jaw-dropping $17.7 million. And that's just one single watch. If you look at the greater history of Rolex watches, you'll see others owned and worn by rock musicians, hip-hop superstars, real estate magnates, literal royalty, movie actors, etc. Even former President Donald Trump is regularly seen wearing a Rolex watch. And as long as pop culture is driving up demand and name recognition, Rolexes will continue to be a very expensive prospect, even at the baseline.
What Is an Affordable Rolex?
If you've read any of our other guides the the best "cheap" watches in a particular category, you'll notice a stark price discrepancy between the references on those lists and the ones given here. Rolex is a luxury watchmaker and its more affordable timepieces are inherently going to still be expensive for a lot of people. However, we've focused on the brand's lower end – more specifically in the $5,000 to $10,000 range.
The Current State of Rolex
In its 118-year history, Rolex's reputation has done nothing but grow. While vintage models from the Swiss watchmaker are certainly coveted, the brand's new models are also just as beloved. For those who want their shot at watches on its current roster may have to join a waitlist of a few months to a couple of years. There's also the option of heading to the secondary market for past models (from an authorized dealer), which will certainly be more expensive than the original suggested retail price. Fortunately for fans, Rolex's design ethos hasn't changed too drastically over the years.
Beware of Counterfeits
Due to the seemingly overwhelming popularity of Rolex watches in pop culture, counterfeit Rolex watches are legion in their availability. And some of them are quite intricately-made to the point that you might not be able to tell the difference unless you're a bonafide horological expert. For this reason, we implore anyone looking to start a Rolex collection to be absolutely certain you're purchasing yours either from the brand directly or from a genuine authorized dealer — be that new or resale. At the very least, you should find an impartial watch appraiser that's trustworthy and have your Rolex of choice checked out prior to ever handing over a single red cent.
Rolex Oyster Perpetual
Best Entry-Level Rolex: Don't think for a second that just because the Oyster Perpetual watch is the least expensive on this list, that suddenly makes it a cheap Rolex watch. By all accounts — from its material construction to the movement hidden within — it's an exceptional high-end timepiece. It just happens to be on the less expensive end of the spectrum where Rolex watches are concerned. This minimalist wristwatch has a case and link band built from Rolex's proprietary Oystersteel — which is both handsome and exceptionally corrosion-resistant — and has a self-winding mechanical 3230 movement that can keep it ticking for 70 hours before it needs to be "charged" once more. And while that's enough to keep this timepiece interesting, it also features some impressive small details, like a radiant sunray dial and a scratch-resistant sapphire crystal. It's an entry-level Rolex, but it's still a Rolex.
Case: Oystersteel
Movement: 3230 Automatic
Size: 36mm
Type: Dress
Rolex Air-King
Best Affordable Pilot Watch: There are a lot of aviation watches available on the market. Some are comprehensive and complex, designed to help pilots make on-the-fly calculations relating to time, speed, fuel consumption, and more. Others, however, are more refined and made primarily to make discerning the time in-flight a simple and pleasant prospect. Rolex's Air-King certainly fits into the latter category, but it also has a bit of history attached to it that makes it even more desirable. You see, this watch is a modern interpretation of a watch style that Rolex has been making since the 1930s. It's equipped with a reliable in-house 3230 automatic mechanical movement (with a 70-hour power reserve), Oystersteel case with a matching link band, and a bold white-on-black dial with oversized hour markings at the cardinal points and slightly-smaller (but still very bold) minute markers in-between. Marked by a distinctive signature triangle marker at the 12 o'clock position, a bold green second hand, and "Air-King" font that's the same as it appeared back in 1950, this is a classic pilot's watch as only Rolex can build.
Case: Oystersteel
Movement: 3230 Automatic
Size: 40mm
Type: Pilot
Rolex Explorer 40
Best Affordable Field Watch: Especially when the timepieces feature more minimalist styling, it's easy to see that pilot watches and field watches actually have quite a lot in common. That being said, there are also some distinct differences between the two, which can be observed (at least in part) by having a gander at Rolex's Air-King above and the Explorer you see here. For starters, the Explorer (like its airborne sibling) is crafted from high-end Oystersteel and comes with a matching link band. It even boasts the bold and distinct triangular marker at the 12 o'clock position, as well as oversized hour markings at the 9, 6, and 3 o'clock positions. Even the shape of the hour and minute hand are the same, albeit these ones are a bit more toned down with a silver finish. You'll also notice that the remaining hour and minute markers are also toned-down — comprised of simple rectangles rather than big numerals. Furthermore, underneath its scratch-resistant sapphire crystal and dial, there's a self-winding 3230 automatic mechanical movement with a 70-hour power reserve. Designed for the adventurer that likes to keep their feet planted, the Rolex Explorer is an exceptional minimalist field watch.
Case: Oystersteel
Movement: 3230 Automatic
Size: 40mm
Type: Field
Rolex Datejust 36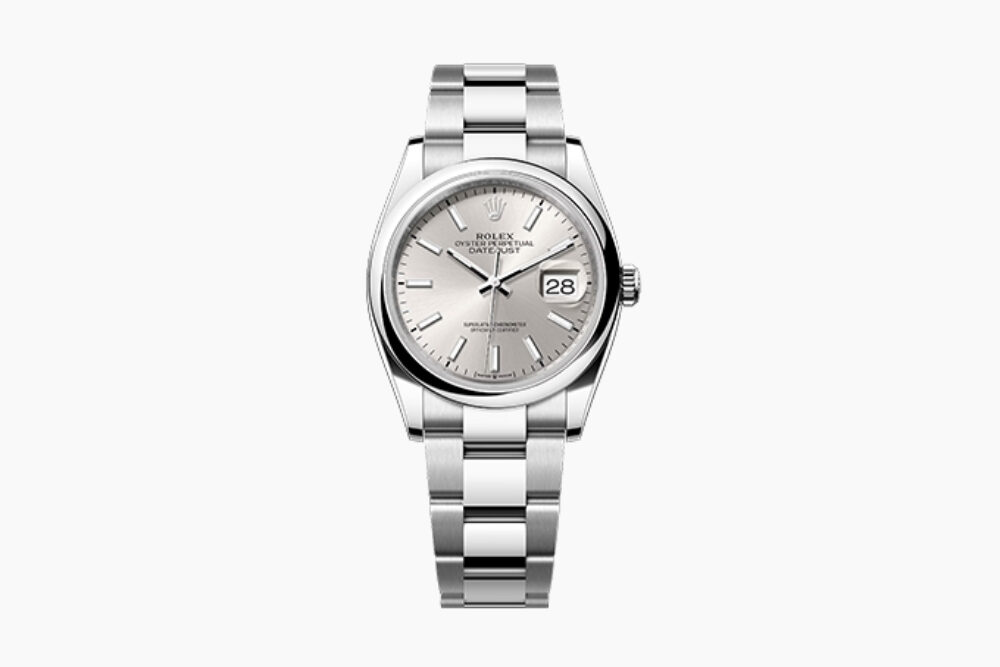 Best Affordable Dress Watch: For plenty of folks, the search for a wristwatch isn't about alternative functionality — like you might find in a survival watch or a hiking smartwatch. Rather, it's strictly a style accessory that needs to tell the time and should not be weighed down or complicated by unnecessary accouterments. If that's the category of collector you relate most to, you may be interested in the Rolex Datejust you see here. A high-caliber dress watch, this beautiful watch is a clean and simple timepiece marked by an Oystersteel exterior construction (with a matching link band), a simplified dial free of numerical markings (with a Rolex crown logo at the 12 o'clock position), and the handy addition of a date window beneath a magnified section of the sapphire crystal — an instantly-recognizable Rolex-exclusive feature known as a Cyclops Lens — perfect for those who know the value of being able to gauge the time and date at-a-glance. It also has an automatic movement good for 70 hours straight of time-telling, a simplified domed bezel, and more. This dress watch proves that Rolex has still got it.
Case: Oystersteel
Movement: 3235 Automatic
Size: 36mm
Type: Dress
Rolex Submariner
Best Affordable Diver: Of the four other watches on our list, none have the reputation and pedigree of the Rolex Submariner. In fact, this singular timepiece might just be the brand's most important watch of all time — or at least their most iconic, as it has been worn by the likes of Sean Connery's James Bond, Steve McQueen, Diego Maradona, Al Pacino, and so many more. That being said, it might seem surprising to see such a legendary watch on a list of the "most affordable" Rolexes. However, the numbers don't lie. For around $9,000 you can wrap one of these spectacular dive watches around your wrist in all its glory. While there are many different permutations of this waterborne watch, this particular one (the most budget-friendly) is constructed from Oystersteel — as is its band — and features an in-house 3230 automatic self-winding mechanical movement that's good for 70-hours of timekeeping. It also comes with its iconic Cerachrom unidirectional dive timer bezel, which matches its white-on-black dial brilliantly. It's even water-resistant to 1,000 feet. Of all the dive watches out there, the Rolex Submariner might just be the most significant, whether you're considering history, recognizability, or really any other metric.
To take a deeper dive, read our review for the Rolex Submariner.
Case: Oystersteel
Movement: 3230 Automatic
Size: 41mm
Type: Diver
The Best Affordable Watch Alternatives to the Rolex Submariner
If you're a Submariner fan but want something a little bit cheaper, hop over to our guide to the best affordable alternatives to Rolex's iconic dive watch.