It's that time of year again — the sun's shining, temperatures are rising, and everything is starting to feel a bit more "spring-like." Naturally, this also means that you'll have to set aside some time to pull your old tent out of storage, dust it off, and ensure that it's ready for the upcoming camping season. More often than not, you'll be happy with the way things turn out. But for those of us who want the latest and greatest, it doesn't take much to convince us that it's time for a brand-new outdoor enclosure.
Heading to a brick-and-mortar location or online store can be a bit overwhelming when you're looking for a brand-new tent. After all, there are more than enough lauded manufacturers, designers, and styles out there to choose from. Throw that in with a less-than-thorough understanding of all the new abbreviations, iterations, and technical breakthroughs since the last time you shopped for a wilderness-ready shelter, and you're in for a wild ride that you might not be prepared for. Luckily, we've done most of the hard work for you, aggregating a handful of new, up-to-date offerings from the industry's most lauded companies, and revisiting a few old favorites to give you the best of the best of the camping tent world.
Best Camping Tents
Best Overall

Mountain Hardwear Mineral King 3

Best Budget

Coleman Sundome

Best Upgrade

Sea to Summit Telos TR3

Best Single-Person

Mountain Hardwear Nimbus UL

Best Multi-Room

Wildcat Bobcat 500 Premium Family Camping Tent

Best for Cold Weather

66°North x HEIMPLANET The Cave XL

Best Rooftop Tent

Yakima SkyRise HD 3 Tent

Best Suspended Tent

Tentsile Stingray 3-Person Tree Tent

Best for Backpacking

Big Agnes Copper Spur HV UL2

Best for Standing

Columbia Mammoth Creek
How to Choose A Camping Tent
Size: Obviously size is one of the most important things to consider when shopping for a tent. If you're traveling alone, you won't want to lug something into the woods that's needlessly large. However, couples and families will want to make sure that there's plenty of space for everyone tagging along. Whether it's a two-person tent or one that has multiple rooms, the living area is crucial to know. Likewise, those with children may opt to have them sleep in separate quarters, so you might want to find what's most suitable for your budget if you need to buy more than one model.
Weight: The weight of your tent is something that's most important for backpackers and those setting up camp away from their vehicles. Obviously, the larger the tent, the heavier it's likely to be. And if you're the only one unpacking the car and setting it up, you might want something that can fit into your capabilities.
Construction: Don't overlook the materials used to make your tent. You'll want something that's, at the very least, water-resistant. Many models come with reinforced or taped seams. Likewise, you'll want a shell that's made from ripstop nylon or polyester to combat any stray sticks or rocks you may come across along the way.
Headroom: If it's important to you, you'll want to find a tent that maximizes the room above your head so you don't have to bend over as far — or at all. Most of the time this is accomplished by flatter ceilings and specifically angled walls (i.e., not as curved). Curved walls also decrease the actual usability of your floor space since most of the time you won't be standing at a slanted angle.
Mountain Hardwear Mineral King 3
Pros
Wall configuration maximizes usable space
Full mesh top allows you to stargaze
Best Overall: While there's no such thing as a perfect tent, this one comes pretty close. Balancing quality with price, Mountain Hardwear's Mineral King 3 is a 3-person option with a full mesh upper canopy for maximum ventilation and stargazing at night. There are 42.5 square feet of living space, but thanks to the angle of the walls, that space can be used almost in its entirety. This also means that the ceiling is a bit lower than normal at just 4ft. However, you can interpret this as a tent encouraging you to spend time outdoors during your wakeful hours. 
Size: 3-person
Weight: 7lbs
Floor Space: 42.5sq.ft
Coleman Sundome
Pros
Punches well above price point
Several size options
Incredibly durable
Cons
Side screens don't zip up
Best Budget: Not everyone wants or needs all the bells and whistles when camping outdoors. Coleman's Sundome is your best bet when trying to budget for everything you'll need to stock up on, especially if it's your first trip in a long time. If you're traveling alone or with a second person, the 2-person option will give you ample space for a queen-sized mattress, while the 6-person option provides a floor space of 10ft x 10ft and a 6-foot center height (3- and 4-person options are available as well). Welded corners, inverted seams, and a polyester taffeta 75D rainfly allow this tent to be waterproof, and the fiberglass frame makes this unit sturdy against 35-plus-mph winds.
Size: 2-, 3-, 4-, and 6-person
Weight: 7.5lbs to 8.5lbs
Floor Space: 35sq.ft to 100sq.ft
Sea to Summit Telos TR3
Pros
Carrying sacks convert to gear sacks and light diffuser
Extra headspace despite domed shape
Cons
Might be cramped with three grown adults
Best Upgrade: Sea to Summit is one of the most versatile outdoor gear brands around, so it makes sense that its Telos TR3 tent is just as versatile. If you're willing to shell out around $700, this abode will be worth every penny. A pair of tension poles maximize head space while an intricate system of vents improves airflow inside. Despite its unbelievably light weight (4.67lbs), the 3-person sleeper is held in three separate sacks when disassembled. Those sacks convert into gear pouches once the tent is erected, while one of them features a Lightbar pole for illumination above your head.
Size: 3-person
Weight: 4.67lbs
Floor Space: 40sq.ft
Mountain Hardwear Nimbus UL
Pros
Super lightweight
Easy to set up by yourself
Cons
Could be better in windy conditions
Best Single-Person: When traveling solo, you'll want a tent that can keep you protected from the elements and yet won't take multiple people to set up. Mountain Hardwear has several good options when it comes to camping tents so it's no surprise that its single-person model is one of the best out there regardless of size. The brand sheds some weight by outfitting its 20D rainfly with silicone on the outside for waterproofing. Plus, the pre-bent DAC Featherlite NFL pole makes for an easier setup for solo campers, while also being both lightweight and insanely strong.
Size: 1-person
Weight: 1.9lbs
Floor Space: 19.7sq.ft
Wildcat Bobcat 500 Premium Family Camping Tent
Pros
Two bedrooms, one living room, and one small side room
Inflatable setup
Customizable
Best Multi-Room: Adventuring with a large family can be fun until it comes time to figure out the sleeping situation. With Wildcat's Bobcat 500, you can bring a hotel room to the outdoors, with a 116.5-square-foot living room (including 6'8" of head space) that branches off into two bedrooms and a small side room. Make yourself at home even faster with the inflatable setup that takes just 4 minutes. You can also customize your space with four different bedroom configurations or the option to make it one giant room instead. There's also a canopy area in front with over 66sq.ft of space to air out wet clothes or gear. The only issue is the unit is quite heavy, but if you employ your whole group, it shouldn't be an issue.
Size: 6-person
Weight: 88lbs
Floor Space: 202sq.ft
66°North x HEIMPLANET The Cave XL
Pros
60-second setup via inflatable frame
Very durable
Best for Cold Weather: Just because the temperature starts to dip doesn't mean you should have to forego any potential camping plans. For the XL version of its flagship Cave tent, Heimplanet partnered with Icelandic outerwear company 66°North. To ensure its 4-season prowess, the brands tested the tent thoroughly in the toughest conditions in the world, enduring extreme winds and blizzards on the Icelandic tundra. Bumping up the Cave's square footage from 51.7 to 58.1, the XL is also constructed with double-layer ripstop polyester used for 66°North's jackets. Meanwhile, the ten-point geodesic design is inflated via the air-filled frame in about 1 minute.
Size: 3-people
Weight: 10.6lbs
Floor Space: 58.1sq.ft
Yakima SkyRise HD 3 Tent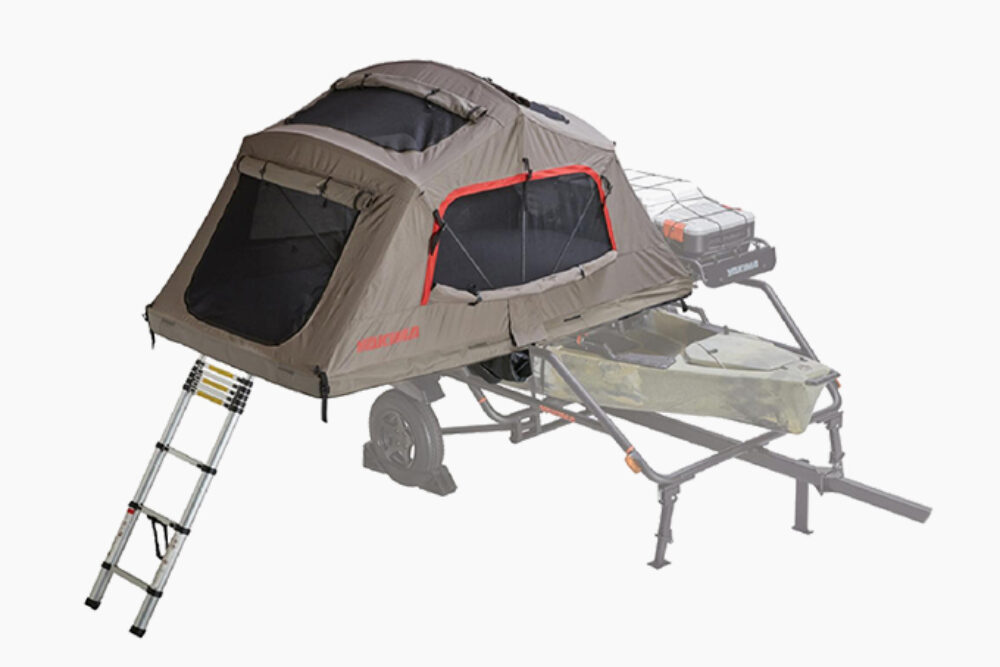 Pros
Compact but optimizes floor for more usable space
Waterproof and highly durable
Cons
Takes time to install initially
Best Rooftop Tent: The 10 Best Rooftop Camping Tents for Off-Grid ExcursionsRooftop tents may pose several disadvantages to regular tents: They're heavy, more expensive, and require a ladder to access. However, you'll avoid dewy soil and the occasional critter by finding a quality tent for sleeping on top of your car. Not to mention, the higher vantage point makes for impressive views in certain situations. Equipped with a 2.5-inch foam sleeping pad, Yakima's three-person SkyRise HD (there are other sizes as well) is a great choice for its tool-free setup and unique frame geometry that makes it surprisingly spacious. The angled panel in the roof makes nighttime stargazing easier, while the 600D ripstop polyester and 3,000mm waterproof PU coating make sure that you're warm and dry in all four seasons.
Size: 3-person
Weight: 114.64lbs
Floor Space: 37.3sq.ft
Tentsile Stingray 3-Person Tree Tent
Pros
Multiple entry points
No need for additional mattress
Cons
Not a ton of headroom
Requires trees or uprights around you
Best Suspended Tent: Along the lines of rooftop tents, suspended tents fuse the concept of sleeping off the ground with a hammock. Of course, using Tentsile's popular Stingray will only be possible if you're within the vicinity of a few trees. The brand has several amazing options available, but the Stingray soars in versatility. With an 880-pound weight limit and a 4-foot max headspace, the polyester treehouse can hold up to 3 adults (or 2 adults and 2 kids) over 78sq.ft of living space. Likewise, the triangular shape has entryways on each side and ample storage room. Compressing down for travel and weighing 24.4lbs, the Stingray is a good option for tree campers looking to save space in the car.
Size: 3-person
Weight: 24.4lbs
Floor Space: 78sq.ft
Big Agnes Copper Spur HV UL2
Pros
Lightweight
Inside has a lot of space for gear
Cons
Awning is a bit gratuitous and gets in the way of the front door flap
Best for Backpacking: While optimizing weight is the name of the game when it comes to backpacking or bikepacking, your shelter of choice will be one of the heaviest things you lug around. Recently updating its flagship Copper Spur HV UL2, Big Agnes has managed to get that weight down to just 3.5lbs. For bikepackers, it can pack down for storage on handlebars, panniers, and saddlebags, while still offering advantages to traditional hikers through its ultra-conscious bag footprint, saving space for other items that you might need to take along for the ride. Inside, 3D shelving, quick stash pockets, and media holders ensure that you'll always have a place to store your valuable electronics, joining forces with the Copper Spur's waterproof polyurethane-taped seams to provide adequate protection against moisture and wind.
Size: 2-person
Weight: 3.5lbs
Floor Space: 29sq.ft
Columbia Mammoth Creek
Pros
Ceiling doesn't drop off much toward the walls
Windows designed to open in the rain
Best for Standing: As we get older, crouching down or bending over for long periods of time seems less and less appealing (and less and less possible). Many campers will require a tent they can stand fully erect inside. While a lot of these options will come in multi-room configurations or weigh dozens of pounds, Columbia's Mammoth Creek weighs just 21lbs in its smallest version with its largest reaching just 38lbs. Available in 6-, 8-, or 10-person options, the unit ranges from 72" to 78" for its center height, which doesn't see much of a dropoff on the sides due to the tent's flatter roof and straighter walls. Taped seams prevent leakage, Omni-Shield fabric is made for quick drying, and unique pull-out windows let you see outside even during rainy days.
Size: 6-, 8-, and 10-person
Weight: 21lbs to 38lbs
Floor Space: 90sq.ft to 140sq.ft
The Best Camping Lanterns
If you want to make the most of your evenings in and around your tent, get yourself a quality light source from our guide to the best camping lanterns for the outdoors.