As diverse as duffel bags can get from time to time in both their purpose and functionality, nothing beats the durability of an adventure-ready waterproof duffel bag. For this begs the question, to what extent are you planning to expose this item to the elements? Ideally, the answer should be that it doesn't matter. These aren't water-resistant packs, they're waterproof. And if the waterproof vs. water-resistant debate weren't enough already, we can attest there's a definite bonus to opting for waterproof packs if the journey looks like it could be a wet one.
That's where the gear comes in handy, specifically the duffel bag, where no matter what's contained (waterproof or not), everything from expedition gear to apparel to tech is safe from harm's way and packed for protection. Fortunately, just like their non-waterproof brethren, waterproof duffel bags come available in several size options for both weekend trips and lengthier overland trips into the wilderness. Whatever the intended use, these options will keep things dry no matter what.
Best Waterproof Duffels
Best for the Gym

NRS High Roll Duffel

Best Small Duffel

Amabilis Dave Jr.

Best for Travel

Mad Water USA Duffel

Best Large Duffel

Ortlieb Duffel

Best for Camping

Filson Medium Dry Duffel

Best for the Beach

YETI Panga 50

Best for Extreme Excursions

Subtech Pro Drybag
Waterproof Vs. Water-Resistant
When it comes to your gear, it's important to distinguish between "waterproof" and "water-resistant." If something is water-resistant, it simply means that a product can resist moisture at some level, whether through water-repellant fabric coatings/treatments or fabric that's inherently water-resistant such as nylon or polyester, which obtains those properties because of its thickness.
If something is waterproof, however, it's largely due to the construction of the overall item. In the case of duffel bags, the materials used will be inherently water-resistant but bolstered by the likes of taped seams, impenetrable zippers, or other types of gaskets or seals. It's not always easy to tell how reliable some lesser-known brands are, but trustworthy names in the space won't usually let you down with their claims. Likewise, an IP rating will give you a good indication by looking at how high the last number is.
What to Look For in Waterproof Duffels
Materials: As we stated, certain materials are more water-resistant than others, such as nylon, polyester, and other synthetics. However, if you're traversing outdoors, you'll likely want something that's abrasion-resistant or ripstop.
Zippers: A bad zipper can make or break a good bag. Likewise, when it comes to waterproofing, you'll want something the likes of YKK Aquaguard, which prevents water from coming in.
Taped Seams: Stitching and sewing materials together will create inherent holes, even in the most water-resistant fabrics. These seams are often sealed off by fusing thermoplastic tape to them with heat.
Capacity: The capacity of a duffel will be a personal preference that has to do with what you're using it for and for how long. A weekend camping trip will require a larger bag than a day hike, unless you're packing for a larger group (although, it would make more sense for each individual to have his or her own bag).
Submersion: If you're dubious about a bag's waterproof claims (which are not held by any official regulation), you can get a good idea if the brand advertises that the duffel is submersible, which means that it can survive any amount of time underwater.
NRS High Roll Duffel
Pros
70L of capacity
Lots of webbing for attaching gear
Affordable
Best for the Gym: Although waterproof duffels will best serve the outdoor adventurer, the need may arise for an option to combat moisture if you're going to and from the gym or pool. Anyone familiar with the iconic NRS Bill's Bags will appreciate this similarly-designed duffel option that makes packing your gear and keeping it protected incredibly simple and straightforward. This option hosts a gear capacity of 70L, a heavy-duty 21 oz. PVC and polyester construction, a fold-down StormStrip closure system to keep the water out, and webbing chains for additional exterior attachments.
Material: 21oz PVC and polyester
Capacity: 70L
Submersible: No
Amabilis Dave Jr.
Pros
Affordable
Military-grade hardware
Useful accessory pocket
Stands upright with abrasion-resistant bottom
Good handle & strap options
Cons
Not submersible
Unreliable stitching
Best Small Duffel: If you're just embarking on a day hike in the rain or a solo weekend campout, you won't always want or need to pack a lot. For the ambitious weekend warrior who's economical about the gear he brings along with him, this 32-liter waterproof duffel isn't for the faint-hearted. Each Amabilis Dave Jr. pack features a waterproof tarpaulin and armor-plated SuperFabric exterior, #8 YKK Aqua Guard zippers, military-grade hardware, an internal zippered security pocket, and an anodized aluminum heavy-duty grab handle. Time to conquer the outdoors 48 hours at a time.
Material: Tarpaulin and armor-plated SuperFabric
Capacity: 32L
Submersible: No
Mad Water USA Duffel
Pros
Straps can double for backpack wear
Made in USA
Classy aesthetic
Lightweight
Cons
No external pocket
Could use a side grab handle
Best for Travel: When venturing from one climate to another, you'll want a duffel that can withstand any unexpected moisture. Yet another trusty and reliable USA-made waterproof pack, the USA Duffel from Mad Water is fully submersible up to 3 meters compliments of the double-coated PVC-free polyurethane, RF-welding, a YKK waterproof zipper, and various other heavy-duty components. Perfect for the outdoors as well, this bag has 1.5-inch nylon handles that are long enough to become backpack straps. Likewise, they're fitted with D-rings in case you want to tether these to a larger suitcase or even the tailgate of your truck. Comfortably store upwards of 30 liters worth of gear in this handsome bag without the worry of what a little rain or river-fording might contribute to your belongings.
Material: Polyurethane
Capacity: 30L
Submersible: Yes
Ortlieb Duffel
Pros
Two internal pockets
Reinforced bottom
Shoulder straps are padded
Easy to tie down with daisy chains
Best Large Duffel: If you have a big family or you're going camping for several days at a time, a sub-50L bag simply won't do the trick. From motorcycle touring to rafting and kayaking, to even mountaineering, the Ortlieb Duffel and its waterproof construction will keep your gear safe from whatever foul weather or rugged environment might dish out. Here, the brand opted for up to 85 liters of storage space, a TIZIP zipper for both durability and easy access, two internal pockets, a reinforced bottom, padded shoulder straps, two daisy chains for easy tie-downs to roof racks, and an outer mesh pocket to round things out.
Material: PS 620C fabric
Capacity: 85L
Submersible: Yes
Filson Medium Dry Duffel
Pros
Perhaps the most durable on this list
Dual-lock fastener on top
Lots of space inside
Wide mouth opening
Cons
Some may prefer a zipper closure
Could use some external pockets
Best for Camping: Filson seems to have its toes dipped in every facet of the outdoor gear space, but what's most impressive is how well it performs every time. Perfect for lengthy finishing trips, outdoor adventures, or trips through the Amazon rainforest for that matter, the brand's Medium Dry Duffel will keep what's meant to remain dry, bone-dry. We can attribute this to the bag's PU-coated 840D nylon exterior, water-tight construction, dual-lock top closure fastener, and high-density plastic hardware. Additionally, with up to 65 liters of capacity, there's plenty of spacious room for your gear to keep safe.
Material: 840D nylon
Capacity: 65L
Submersible: Yes
Yeti Panga 50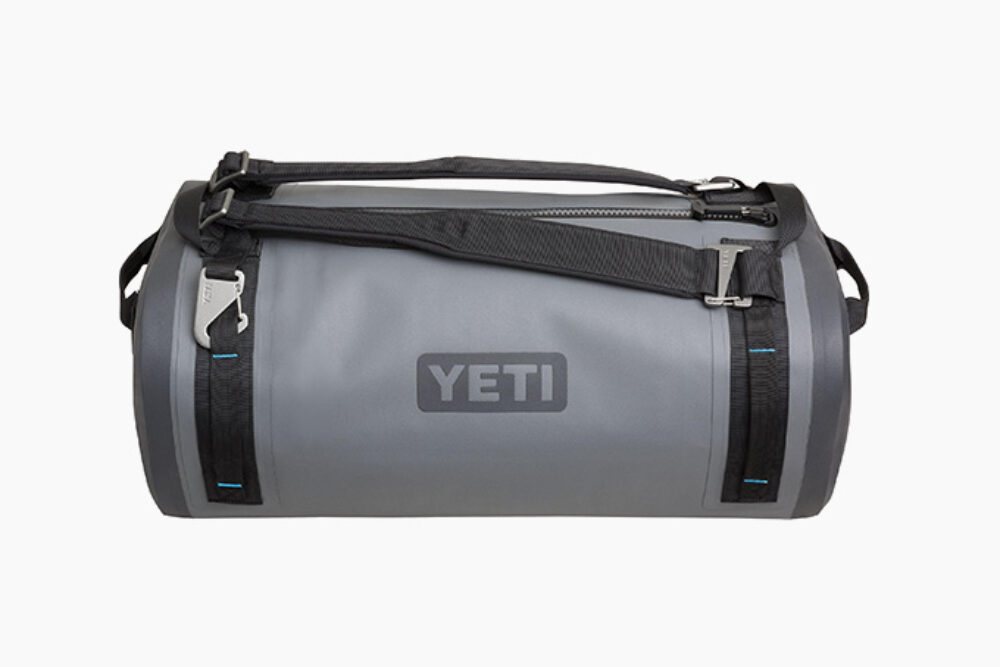 Pros
Can be worn as a backpack
Stands upright with EVA-molded bottom
Easy-access mesh pockets
Cons
Opening doesn't open super wide
Best for the Beach: A household name at this point, there's nothing Yeti can't build to perfection. At least that's what appears to be true with the likes of additional gear items to their famed cooler collection. Able to stand upright on its own and be worn as a backpack, the Panga is no different, featuring 50L of gear capacity, a waterproof zipper, a laminated high-density nylon shell making the bag fully submersible, an EVA molded bottom, and two easy-access pockets for smaller, yet valuable, carry items.
Material: Nylon
Capacity: 50L
Submersible: Yes
Subtech Pro Drybag
Pros
Super heavy-duty construction
Waterproof to 164ft
Floats even when full
Can be worn as a backpack
Best for Extreme Excursions: In the world of waterproof packs, the phrase "over-engineered" simply doesn't exist. Rather, a fully prepped and prepared duffel that can handle even the most extreme conditions and abuse is a welcome addition. Enter the Subtech Pro Drybag, featuring a 620D TPU construction with welded seams to last a lifetime, an air, water, and condensation-tight zipper making it waterproof to 164 feet, and detachable straps made from aircraft-grade 7075 aluminum alloy. With an IP68 rating, the Subtech can even float when fully packed and function as a backpack for good measure.
Material: 620D TPU
Capacity: 55L
Submersible: Yes
The Best Waterproof Backpacks
Perhaps duffel bags don't pack quite the all day comfort you're looking on your next outdoor excursion? Fret not, we've got you covered with our guide to the best waterproof backpacks.