When it comes to everyday carry, wallets are quite possibly the most ubiquitous item-type. Nearly everyone carries some version of one – from the eternal minimalist to the tactical fanatic – and that fact has opened up the market to a wide variety of possibilities in regards to size, shape, and even construction. So you can customize your choice of wallet to your individual style. And that's pretty great for anyone looking for something a little more unique than your classic leather bi-fold. If that idea speaks to you and you want to incorporate more substance and modernity into your carry: look to metal.
Modern technological advances have allowed designers and manufacturers alike to create some truly impressive offerings in the realm of metal wallets that are practical, easy to carry, and secure. If you are the aforementioned minimalist or tactician, guess what – there's one out there for you. And while they don't come in all varieties of metal (mercury, for example, is both poisonous and a liquid at room temperature), they do come in a vast number of different colors and finish options. That means it can be fairly painless to find one that suits you perfectly. To make it even easier, we've come up with a list of some of our favorites that could help get the ball rolling on finding your ideal metal wallet.
Best Metal Wallets Breakdown
Best Overall

Fantom S Wallet

Best Tactical Wallet

Gerber GDC Money Clip

Best Bare-Bones Wallet

HuMn Mini Wallet

Best Minimalist Design

Secrid Cardprotector

The Original

The Ridge Aluminum Wallet

Most Versatile

Dango A10 ADAPT

Best Titanium

Machine Era Ti5 Slim Titanium Wallet

Best Leather-Wrapped

Trayvax Element
Breakdown of Different Metals
Aluminum: The most common material when it comes to metal wallets, aluminum is lightweight, cost-efficient, and often aircraft-grade in today's models. What was once thought of as flimsy is now a go-to material thanks to modern technological advancements.
Titanium: A top-shelf material for wallets, titanium's corrosion-resistant properties and lighter weight come at a cost, but thankfully has come down in price in recent years due to improved technological efficiency.
Stainless Steel: Not as common because of how much heavier they are, stainless steel wallets are more often used in wallets' components rather than the main shell. The material is arguably the most durable pound-for-pound and its thickness makes RFID-blocking easier.
Are Metal Wallets Right For You?
Pros: Leather wallets are classy, traditional, and all-around beautiful, but the advent of the metal wallet, which itself was born out of the preponderance of cards instead of cash, has opened up the possibilities of adding mechanized functions to your money holders. Slimmer and more durable than bifold counterparts, metal wallets often allow you to access your money in an easier, more efficient way with unique contraptions built into the units.
Cons: Metal wallets are, however, heavier than leather ones and won't be your best bet if you prefer carrying cash over cards. Also, if you're the type of person who carries his wallet in your back pocket, you might want to think again before purchasing a metal wallet.
Fantom S Wallet
Pros
Unique card-fanning mechanism
Lightweight
Comes in different colors
Modular AirTag holder add-on available
Free shipping in U.S.
Best Overall: Built for the person who likes their gear simple but tough, the Fantom S model is the kind of wallet you might have in your pocket at the top of K2. Probably in part because its slim and lightweight construction made you forget you had it on you. Practically inventing the easy-access card-fanning design, Fantom's flagship wallet comes in three sizes, holding anywhere from 4 to 13 cards with an optional titanium money clip in six different color options.
Material: Aluminum or carbon fiber
Capacity: 4 to 13 cards
RFID-Blocking?: Yes
Gerber GDC Money Clip
Pros
Very slim
Comes with fixed-blade knife
Lightweight
Engraveable
Cons
Works better with bills than cards
Best Tactical Wallet: When the highly-lauded knife makers at Gerber decided to make a wallet, they realized that it needed something special and unique to make it stand out amongst the crowd. So they included a knife – more specifically their 1.75-inch stainless steel fixed blade held into place by a lock on the wallet itself. This unassuming money clip is perfect for the man looking for an effective way to tote around their cash and cards, but also a discreet way to keep a knife on his person.
Material: Titanium nitride-coated steel body with G10 front plate
Capacity: 4 cards + 4 bills
RFID-Blocking?: No
HuMn Mini Wallet
Pros
Aircraft-grade aluminum
Not bigger than it needs to be
Elastic is really sturdy
Can attach to key ring
Cons
Resistance takes some getting used to
Best Bare-Bones Wallet: As simple as it gets, the HuMn Mini Wallet's dual plates, which are made from aircraft-grade aluminum, are roughly the same size, shape, and depth as a normal credit card and the super sturdy elastic strap ensures that your wallet's contents will stay securely between them. Moreover, the holes in the corners allow you to attach this to a key ring if needed. And though it is a very basic design with several different color options, this American-made wallet still features RFID protection.
Material: Aircraft-grade aluminum
Capacity: 6+ cards
RFID-Blocking?: Yes
Secrid Cardprotector
Pros
Propels cards outward with one push
Sleek and simple
15 color options
Affordable
Best Minimalist Design: Utilizing a take on Fantom's fanning tech, the minimalistic Cardprotector from Secrid allows you to propel your cards outward with its patented mechanism. With 15 different color options, this aluminum wallet might be the perfect metal wallet if you're looking for something super simple but also want it to look sleek and stylish. Protecting 4 to 6 cards from bending in transit, the unit also protects against unwanted RFID.
Material: Anodized aluminum
Capacity: 4 to 6 cards
RFID-Blocking?: Yes
The Ridge Aluminum Wallet
Pros
The original thumb-push metal wallet
Minimalist aesthetic
Options in titanium, aluminum, and carbon fiber
Lifetime warranty
Cons
Pricey
Scratches and dents easily
The Original: Essentially inventing the space and often imitated, Ridge has every variant you'll need when it comes to metal wallets, with options in aluminum, titanium, and even carbon fiber. Every Ridge wallet – a slimline minimalist card and cash carrier – is as tough as it gets, but also comes with a T5 Torx driver, in case you ever want to take it apart in order to clean it. And the combination of the cash strap and easy-access thumb slot make this card a convenient addition to any EDC loadout. What's more, each model comes with a lifetime warranty.
Material: Aluminum, titanium, or carbon fiber
Capacity: 12 cards
RFID-Blocking?: Yes
Dango A10 ADAPT
Pros
Modular
Can transform into a bifold with add-ons
You can expand its carrying capacity with add-ons
Cons
Price can add up with add-ons
Most Versatile: When it comes to thinking outside the box with their EDC gear, few brands do it like Dango. Instead of hanging its hat on its super-stylish metal wallet, which itself holds 5 cards inside its aerospace-grade aluminum chassis that features its patented quick-release mechanism and enough room for some extra cash, Dango allowed its modular A10 ADAPT unit to transform into a traditional wallet to expand its carrying capacity when paired with the brand's Bifold or Single Pocket wallets. Thanks to its innovative rail system that allows for add-ons, you can also attach a neck lanyard or pocket clip.
Material: Aerospace-grade aluminum
Capacity: 5+ cards
RFID-Blocking?: Yes
Machine Era Ti5 Slim Titanium Wallet
Pros
Lightweight aerospace-grade titanium build
Corrosion-proof
Super sleek design
Has almost halved in price
Cons
Difficult to access cards in the middle
Smudges easily
Best Titanium: Designed to be the slimmest, lightest, and strongest everyday card carrier on the market, the aptly titled Ti5 Slim Titanium Wallet from Machine Era features aerospace-grade Grade 5 titanium construction, RFID protection, and a thumb slot that also doubles as a bottle opener. An exceptional pick for urban commutes, hiking, and travel, the wallet boasts a hand-finished exterior that's also corrosion-proof. Incredibly sleek in its design, the lightweight unobtrusiveness and super-high durability of this premium wallet make it one of the best offerings out there.
Material: Grade 5 titanium
Capacity: 7 cards
RFID-Blocking?: No
Trayvax Element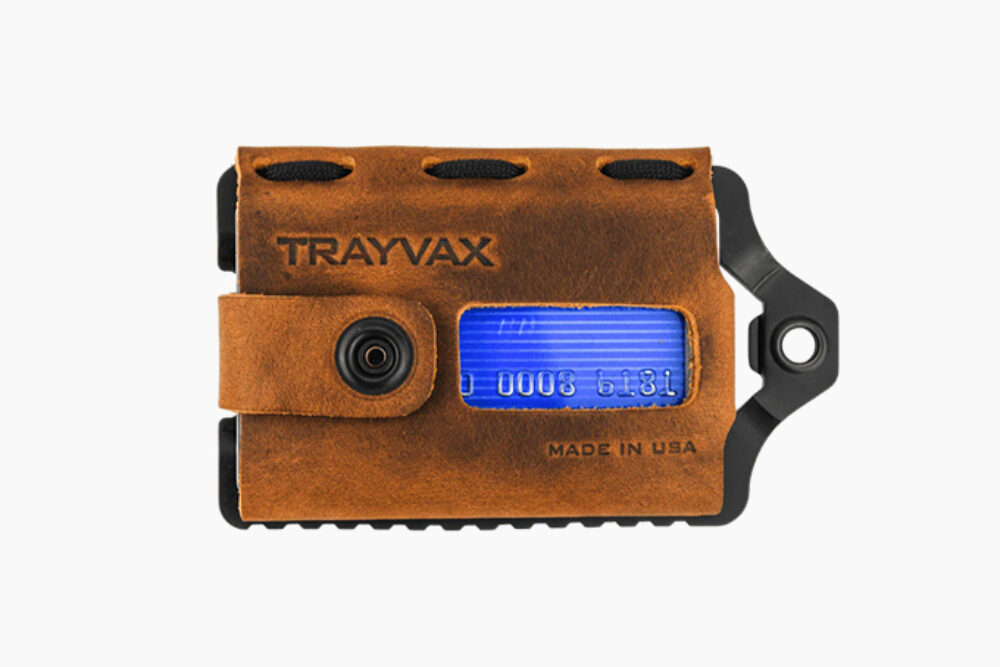 Pros
Rugged appearance
65-year warranty
Slim
Built-in bottle opener
Cons
Latch tends to come loose
Best Leather-Wrapped: A metal wallet is great for shedding weight and upping durability, but sometimes the aesthetic of a traditional leather wallet is nice too. Constructed from a stainless steel frame, this unit is then wrapped with top-grain, oil-tanned leather for a rugged appearance that no other metal wallet gives you while still retaining the toughness to survive through daily use. Not sacrificing a slim profile in the process, it comes with an integrated money clip and built-in bottle opener. Fitting up to ten cards and five folded bills, this wallet is made in the USA and has a 65-year heirloom warranty.
Material: Stainless steel and leather
Capacity: 10 cards + 5 folded bills
RFID-Blocking?: Yes
The Best Waterproof Wallets
Looking for a money holder to withstand your next adventure? Check out our guide to the best waterproof wallets on the market.