There are few things more frustrating than losing your wallet. It feels almost crippling when you're about to leave the house and you can't seem to recall where you last left it. Luckily, these days, options such as mobile pay exist, but our wallets are also used to hold our driver's licenses, cash, and even gift cards — none of which we can access via our phones. Likewise, while most stores are now capable of touchless checkout options, restaurants still require a physical form of payment.
Fortunately, technology can still help us out when it comes to losing our wallets. Apple's AirTag tracking chips don't just help us find our lost valuables, but can provide us some peace of mind. Since its debut last year, AirTag has become incorporated by tons of companies who have since made products with built-in or add-on chip holders so users no longer have to worry about misplacing their most important belongings. Here to help you filter through the plethora of options available, we've compiled a guide to the best wallets for AirTag.
Best AirTag Wallets Breakdown
Best Budget Pick

Hawanik Slim Wallet

Best Tactical

Raptic Tactical Wallet Case

Sleekest Design

Spigen Wallet S

Best Pouch Wallet

Bellroy Card Pocket

Best Overall

Fantom Wallet with AirTag Holder

Best for Big Spenders

Ekster AirTag Card Holder

Best Classic Fold Wallet

NOMAD Goods Card Wallet Plus

Best for Travel

NORMEST AirTag Leather Travel Wallet
What Is AirTag?
Just Keeping Track
While Apple's AirTag wasn't the first device-tracking chip when launched in 2021, it's quickly become the most popular and accessible. Now, over a billion iOS users can benefit from the technology to find missing keys, wallets, luggage, and pets, among other things. AirTag is water-, dust-, and splash-resistant, which only increases its longevity and chances for survival.
For short distances (around 30ft), iPhone users can track down their AirTag-equipped items using Bluetooth. Outside of that range, the chip utilizes surrounding iPhones from other people to pinpoint its location for you to find. If someone else finds the object, they can use their own app to figure out who it belongs to, accessing the information you've assigned to the AirTag, such as your name, address, and phone number.
AirTag Vs. Other Trackers
Pros And Cons
While fairly new to the tracker game, AirTag is just one type of tracker out there. However, AirTag's versatility gets a big boost thanks to Apple's ubiquity. In other words, brands want to make their products AirTag-compatible simply because more users want them to be. That said, some of the other options available are pretty handy, especially for non-iOS users. Here, we will break down AirTag's most prevalent competitors and compare them to the Apple tracker chip.
AirTag vs. GPS: Both GPS and AirTag trackers can be great in their own rights, but your situation will help determine which one you'll want to choose. Since AirTag uses the cellphone position of other iOS users, it will work best If you live in well-populated areas. However, despite GPS services often needing some sort of paid plan, tracking your items in more rural and off-the-grid locations will be nearly impossible with AirTag, thus making GPS a better choice when taking your gear out hiking or overlanding.
AirTag vs. Chipolo: Although it's been around much longer, launched from a 2013 Kickstarter campaign, Chipolo tracking works the same way as AirTag: via Bluetooth connectivity and the iOS Find My service. The Apple tracker has a few benefits over Chipolo, including a higher water-resistance rating, a more compact size, and more usability since most brands have now made AirTag-compatible products or add-ons. However, Chipolo does have both the thinner ONE Spot chip and the credit card-style CARD that can fit better into your wallet. Comparing chip to chip, the plastic case on the ONE Spot is more scratch-resistant and has a built-in keyring loop for hanging on your keys and wallet. And while the Chipolo chip is noticeably taller, AirTag is also slightly heavier and thicker when stuffing it into your wallet.
AirTag vs. Tile: This is another Bluetooth versus Bluetooth comparison. While both possess the same IP67 water-resistance rating and are pretty affordable if bought individually, Tile will be slightly less expensive and have more options. However, those options come with a caveat. Aside from the Tile Mate chip, the other devices have batteries that can't be replaced, including the credit card-shaped tracker (albeit with a lifespan of several years). And while Tile is compatible with non-iOS phones, it requires the pinged users to also have the accompanying app, thus making AirTag's location accuracy more reliable, since all iOS users have the Find My service.
Hawanik Slim Wallet
Pros
Specifically designed around the AirTag
A lot of color options
Has dedicated ID window
Cons
Pockets are pretty stiff before getting broken in
Best Budget Pick: Specifically designed for the Apple tracker, Hawanik's Slim Wallet is a great choice if you're looking to test out the AirTag's capabilities and don't want to shell out a ton of cash. Available in 12 colorways and made from artificial leather, this thin wallet keeps the tracking chip inside a buttoned compartment on one side. Its minimalist silhouette is perfect for those who don't keep a lot of cards or cash on them. It's capable of holding your ID, five standard credit cards, and six folded bills, which store nicely on the inside.
Capacity: ID, 5 cards, and folded bills
Material: Artificial leather
RFID-blocking?: Yes
Raptic Tactical Wallet Case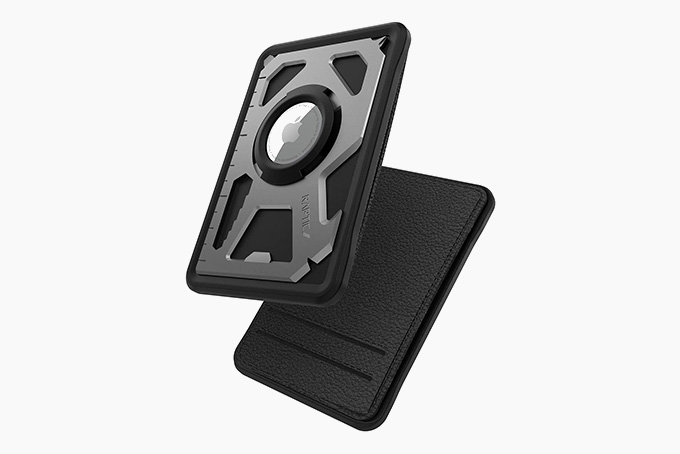 Pros
Comes with 8-tool stainless steel multitool
TSA-approved
Very affordable
Best Tactical: For fans of everyday carry or just tactical-minded individuals, the Raptic Tactical Wallet Case is your best bet. Equipped with a built-in AirTag holder, this wallet stores four cards or two cards with folded bills. However, the highlight is the snap-on multitool, which sports eight different functions, including a pair of screwdrivers, a wire cutter, a letter opener, a pry bar, a bottle opener, a hex head wrench, and a 3" ruler. Moreover, the wallet itself is made from high-quality vegan leather that's made to last you for years to come.
Capacity: 4 cards; 2 cards with folded bills
Material: Vegan leather
RFID-blocking?: No
Spigen Wallet S
Pros
Really intuitive design
Budget-friendly
Cons
Not super comfortable in your rear pocket
Sleekest Design: Spigen is a brand that knows about outside-the-box designs. The South Korean mobile accessory expert always looks to level up its products in one way or another. With the RFID-blocking Wallet S, the elastic strap holds up to twelve credit cards in the middle, which can be accessed on one side by pushing them on the other. Meanwhile, a separate nylon elastic strap acts as a money clip of sorts on the outside, with silicone pads to ensure your folded bills don't slip and slide. This AirTag-holding wallet comes in two attractive colors: gunmetal and black.
Capacity: 12 cards + folded bills
Material: Polycarbonate
RFID-blocking?: Yes
Bellroy Card Pocket
Pros
Unzips more than just halfway
Includes a high internal coin pocket
Includes secret compartment for extra SIM card
Leather is superb
Cons
Some may not love that cards & bills aren't in sleeves
Best Pouch Wallet: Unlike traditional zippered wallets that just unzip on one side, Bellroy's Card Pocket comes more than halfway open. Capable of holding up to 15 credit cards and a plethora of folded bills, the wallet also sports a high internal pocket for coins and an additional secret compartment for an extra SIM card. The premium leather is eco-friendly and sourced from tanneries that have been gold-rated by the Leather Working Group. While this Bellroy pocket wallet doesn't sport a built-in AirTag holder, the coin pocket is perfect for keeping one inside.
Capacity: 15 cards + folded bills
Material: Leather
RFID-blocking?: No
Fantom Wallet with AirTag Holder
Pros
Fans out your cards when needed
Minimalist design looks really nice
Great range of sizes
Very durable
Best Overall: Fantom's wallet line has long been a favorite of ours, which is why we were excited when it added a proprietary AirTag pouch to its shop. Made to fit on the end of the minimalist Fantom R and S flagship wallets, the AirTag holder comes with screws and a hex driver for easy attachment. Built from race car-grade aluminum, the S and its upgraded R wallet have options that range from a 7- to 13-card capacity, made for pulling your credit cards quickly with its fanning capability.
Capacity: 7 to 13 cards
Material: Race car-grade aluminum
RFID-blocking?: Yes
Ekster AirTag Card Holder
Pros
Deploys easily with clever ejection mechanism
Holds a lot of cards
Really durable
Cons
Easier for right-handed users
AirTag band could be more secure
Best for Big Spenders: Ekster's AirTag Card Holder is a fan favorite in the smart wallet space right now thanks to its pristine construction and versatility. Built from aircraft-grade 6061-T6 aluminum, the wallet also has an expandable backplate for holding up to 15 credit cards, which fan out when needed thanks to a patented ejection mechanism, and six folded bills. The minimalist design comes equipped with a silicone AirTag holder on the outside as well as RFID-blocking technology to prevent contactless theft.
Capacity: 15 cards + 6 folded bills
Material: Aircraft-grade 6061-T6 aluminum
RFID-blocking?: Yes
NOMAD Goods Card Wallet Plus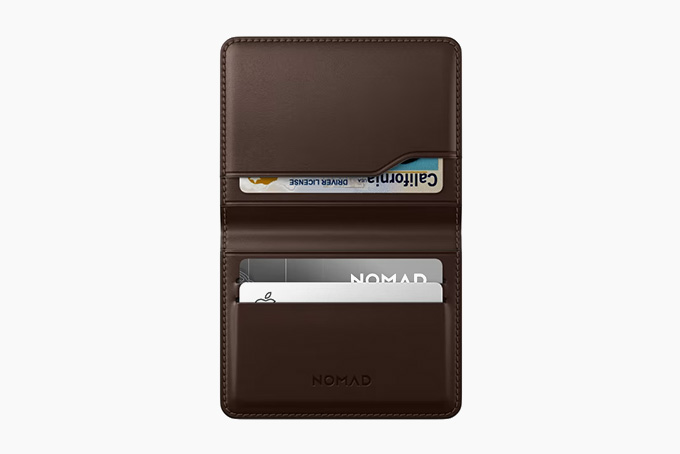 Pros
Classy aesthetic
Very slim profile
Lots of card room
Best Classic Fold Wallet: NOMAD is great at making a number of products. Towards the top of that might be its Card Wallet Plus. Constructed of signature thermoformed American-made Horween leather — which prevents the skin from stretching out when stuffed with money or an AirTag chip — the wallet combines both a slim silhouette and dynamic capabilities. It's able to hold up to 16 credit cards, or 12 cards with folded bills, and includes an external pocket for a single card. Likewise, since it's made to last for years to come, the leather develops a nice patina over time.
Capacity: 16 cards; 12 cards + folded bills
Material: Horween leather
RFID-blocking?: No
NORMEST AirTag Leather Travel Wallet
Pros
Large enough to hold your passport
Lots of room for folded bills as well
Cons
Cards tend to be looser than desired
Expensive
Best for Travel: If you find yourself jet-setting quite often, it's possible you're looking for a solution to hold both your money and your passport. NORMEST's AirTag Leather Travel Wallet is the best you'll find, made to be the size of your laissez-passer, to which it provides easy access while also holding up to 12 cards and 20 folded bills on the opposite side. Of course, the outside of the RFID-blocking, environmentally-certified leather wallet boasts a secure AirTag pouch so you won't be late for your flight searching for your irreplaceable papers.
Capacity: 12 cards + 20 folded bills
Material: Environmentally-certified leather
RFID-blocking?: Yes
Honorable Mention
An Added Bonus
NOMAD Goods Card for AirTag
While most of these wallets have built-in holders for AirTag chips, NOMAD was thoughtful enough to make its own proprietary AirTag Card for those who don't want to upgrade their favorite money holder. It's designed to fit flush inside any wallet to prevent the stretching or warping caused by the small, round chip when inserted by itself. Built from polycarbonate and finished with a soft TPU surface, this accessory, just like the AirTag itself, has the thickness of 10 credit cards and thus is meant for larger wallets (i.e., not hard wallets or cardholders). The AirTag chip is not included but fits inside the card easily.
The Best AirTag Pet Collars & Accessories for Your Dog
Now that you're wallet is secure, keep track of your dog by getting a new strap from our guide to the best AirTag pet collars and accessories.