Summer, more so than any other season, is a time in which your choice of footwear proves paramount to the success of your outfit. Of course, sneakers will suffice in most cases, and they do deserve a spot in your warm-weather rotation. However, wearing them day after day isn't just a fashion faux pas; it also comes with a host of unwanted compromises. Because let's face it: whether you're hitting the beach or heading into the office, you're going to want something a bit more appropriate for the environment. In the case of the former, those crusty old kicks will be spilling sand everywhere for weeks on end. And when it comes to the latter, chances are pretty good that your workplace doesn't want "casual Fridays" becoming an everyday occurrence.
Thankfully, the market for summer shoes is always growing, meaning there's bound to be something out there that jives with your signature style whilst providing you with an option fit for the occasion. And while it would be a daunting task to sort through everything for yourself, the good news is that you don't have to go it alone. On the contrary, we've put together this handy guide to give you a cross-section of what the industry has to offer. So, no matter if you're looking for some slick slides, a pair of suave espadrilles, or even some classy sneakers, rest assured that our best men's summer shoes guide has you covered.
The Best Summer Shoes
Best Rubber Clog

Crocs Dylan Clog

Best EVA Slip-On

Merrell Hydro Moc

Best Classic Slip-On

Vans Slip-On Shoe

Best Hiking Sandals

Nike ACG Air Deschutz+

Best Everyday Sandals

Birkenstock Arizona

Best Desert Boot

Clarks Desert Boot

Best Japanese-Made Sneaker

Shoes Like Pottery SLP01 JP Lo

Best Boat Shoe

Rhodes Footwear Tahoe Boat Shoe Montagna

Best Espadrille

Sabah Slip-Ons

Best Hiker/Sneaker Hybrid

Salomon Xt-6

Best Italian-Made Sandals

Todd Snyder Nomad Suede Crossover Sandal

Best Loafers

Rancourt and Co Beefroll Penny Loafers

Best Premium Sneaker

Common Projects Original Achilles Leather Sneakers

Best Drivers

Tod's Gommino Shoes
What Makes A Good Summer Shoe?
Style: Between sneakers, sandals, and slides, there are plenty of style choices for you to choose from. Much of what informs these styles has to do with the function (which we'll get into below), but the look is also important. For beach days and casual nights on the town, a pair of sandals or flip-flops always look the part. But if you're vacationing anywhere with rough terrain or plan on adventuring a bit, then something more supportive like sneakers is best. Loafers and slip-ons can be elevated with the right summer garments, like linen pants, so they're a great choice for formal outfits.
Function: The function you'd like out of summer shoes should determine how you decide what to grab. Generally speaking, sandals are for relaxing (especially if it's outside in hot weather), sneakers are for going out and about in places with less forgiving terrain, and loafers are ideal for formal events and professional settings. But these aren't official rules, and there are many hybrid options and versatile shoes out there.
Fit: While our guide spans the footwear gamut, ranging from espadrilles and sandals to loafers and sneakers, you'll find that the majority of picks lean towards the former – and a lot of that comes down to fitment. The summer season brings with it hot and sticky weather, and we tend to be a lot more active during the season, bouncing from one place to the next. And for these reasons, we tend to prefer footwear that's easy to slip on and off, and provides some nice breathability for our feet throughout the day. If you do opt for sneakers or other close-toed footwear, make sure you choose something with some wiggle room for your feet to swell during the day.
Crocs Dylan Clog
Pros
Reasonably priced
Looks like leather
Best Rubber Clog: The comeback kid with the funky shoes comes through with a surprisingly subdued silhouette that's more akin to a traditional clog than the label's usual output. The Dylan Clog has the same Crocs Comfort and water resistance that we know and love, in the style of a leather mule (with some added texturing to really seal the deal). So you may not be able to rock any Jibbitz with this particular pair, but you'll have a versatile clog with Crocs utility.
Merell Hydro Moc
Pros
Vegan-friendly
Good for outdoor adventures
Best EVA Slip-On: This is one of the most popular Crocs alternatives in the game right now, and for good reason, because Merrell's Hydro Moc is a versatile shoe made with EVA foam. Not only do you get the water-resistance from the EVA, but the environmentally friendly BLOOM and FloatEco Foam also provide lightweight cushioning. Whether you're hanging at home, or tackling the trails, this slip-on has your back.
Vans Slip-On Shoe
Pros
Iconic style
Great daily drivers
Cons
Not as breathable as other picks
Best Classic Slip-On: Everyone's favorite beater sneaker had to be included in our best summer shoes list, because what better representation of reckless summer fun is there? Although you don't have to make the cover of Thrasher if you go with these Vans, the durable construction and timeless style will keep you going all season long. And they're lowkey enough to pair with your favorite trunks if you hit the beach, or some jeans if you hit the town.
Nike ACG Air Deschutz+
Pros
Inspired by the classic '90s outdoor sandals
Quick-drying
Best Hiking Sandals: In case you've missed it, technical sandals are one of the hottest trends in menswear at the moment, and it's easy to see why when you consider this ACG option. A truly versatile shoe that can handle some time in the city just as comfortably as a stint off the beaten path, the Air Deschütz + is a perfect pick for those who want to give their rotation a bit of utilitarian functionality. And here's the thing — with their integrated Zoom Air unit and their drop-in footbed, these make for an option with foot support in spades.
Birkenstock Arizona
Pros
Made in Germany
Super comfortable footbed
Cons
Best to wear without socks while breaking in
Best Everyday Sandals: Embrace your inner nature hippie and treat your feet to some comfort with a pair of Birkenstocks. This classic two-strap Arizona silhouette is ideal for summer, since it provides all of the same orthopedic benefits of the clogs, albeit in a far cooler (not to mention more stylish) package for summer temps. For those who aren't familiar with Birks — they'll only get better as the leather straps and EVA bed mold to your feet.
Clarks Desert Boot
Pros
Great formal choice
Based on Clark's original 1950 design
Cons
May get a bit warm in hot weather
Best Desert Boot: While we wouldn't say that most boots are suitable for summer wear, this is one option that proves an exception to the rule. Based on Nathan Clark's original 1950 Desert Boot design, they feature a premium suede upper, a sustainably sourced crepe sole, as well as a simple, four-eyelet lace fastening. With their minimalist aesthetic and signature style, this is one pair of boots that is sure to add some class to any outfit. Should you subscribe to a vegan lifestyle, Clarks even makes an option that's completely animal-friendly.
Shoes Like Pottery SLP01 JP Lo
Pros
Handmade in Japan
Durable yet flexible
Best Japanese-Made Sneaker: SLP's shoes are made similarly to how Japanese pottery is fired as they're heated up in a 120° C kiln for 70 minutes. This process (ka-ryu) is used to create high-quality vulcanized shoes with extreme attention to detail, all by hand in a 135-year-old factory in Japan. So you can trust that you're getting premium sneakers if you go with this pick, which features a cotton canvas upper, an outsole cemented to the upper's canvas, and a blue rubber sole for some unique style.
Rhodes Footwear Tahoe Boat Shoe Montagna
Pros
Durable and slip-resistant outsoles
Handcrafted in Leon, Mexico
Cons
Specific care instructions
Best Boat Shoe: Beefy boat shoes are getting some love at the moment, so we've included our favorite pick from Rhodes Footwear that has a moc-toe design inspired by old-school boat shoes, with an added slip-resistant Montagna Outsole. These leather shoes are handcrafted in Leon, Mexico, and fully lined with bovine leather for added comfort. So make your next trip on the water safe and stylish with these boat shoes.
Sabah Slip-Ons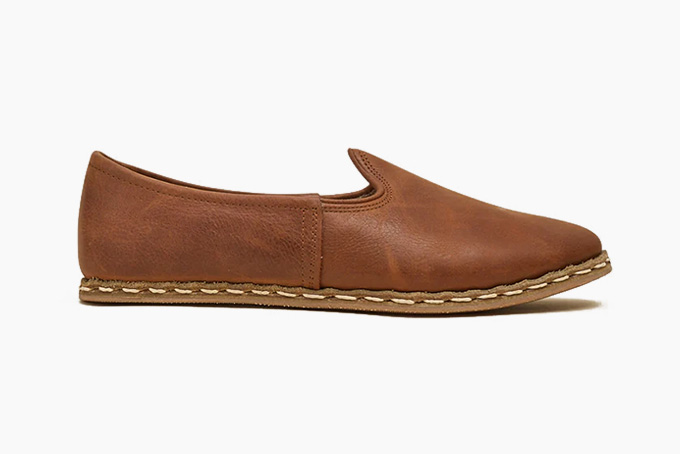 Pros
Versatile and comfortable
Made with natural leather
Best Espadrille: If you're looking for a travel shoe that's durable, comfortable, and as stylish as they come, you can't go wrong with a pair of Sabah. Between their hard-wearing leather cowhide upper and their continuous stitching, they make for some of the longest-lasting slip-ons you can buy. Better still, though, is that once the rubber sole wears out, it's incredibly simple to swap in a new pair. Put another way, these are shoes that you buy for life.
Salomon Xt-6
Pros
Great for the city or or the trails
Abrasion-resistant upper
Cons
Paint is prone to scratches
Best Hiker/Sneaker Hybrid: Though Salomon's XT-6 was originally designed for ultra-distance athletes pounding out heavy mileage, it's since become a staple within the world of streetwear on account of its technical proficiency. Secured by the brand's trademark QuickLace system and riding on a layer of soft EVA foam, it makes for a perfect adventure-ready hiker because of its downhill lug pattern and abrasion-resistant upper. Rock 'em around town or hit the trail — the XT-6 is one shoe that can take it all in stride.
Todd Snyder Nomad Suede Crossover Sandal
Pros
Soft and lightweight
Handmade in Italy
Best Italian-Made Sandals: Los Angeles-based label Todd Snyder knows all about sunny weather essentials, and these premium suede sandals that are handcrafted in Tuscany are a shining example. Inpsired by summers in Italy, the artisans use traditional techniques to craft a lightweight sandal with a molded foam footbed, and a super soft finish. And they're classy enough to pair with some trousers if your day of relaxation turns into a night at the bar.
Rancourt and Co Beefroll Penny Loafers
Pros
Made in USA
Genuine hand-sewn construction
Best Loafers: In contrast to most loafers that are stiff, uncomfortable, and ill-fitting, Rancourt And Co.'s Beefroll is one option that's actually kind to your feet. That's because they're cut from Horween Chromexcel leather, a hide that's been tanned with a special blend of natural oils and waxes in order to make it extra soft and flexible. But that's not all; the leather also features a unique self-polishing property in which a quick wipe with a cloth will have it looking good as new.
Yuketen Sal 1
Pros
Handmade in Portugal
Tanned suede sourced from Italy
Cons
Need to avoid contact with petroleum (but that shouldn't be too hard)
Best Mules: These ultra-luxe clog sandals are handmade in Portugal using nothing but the most premium silky cow suede sourced from Tuscany. Because they come with a 3D-molded footbed through the toes, the arch, and the heel cup, they not only fit securely but also lessen foot fatigue over a long day. And since they ride on a dual-layer jute and crepe sole, they offer some pretty respectable shock absorption along with some impressive slip resistance to boot.
Common Projects Original Achilles Leather Sneakers
Pros
Great for the city
Made in Italy
Cons
Only available in full sizes
Best Premium Sneaker: Last but not least are these sweet leather sneakers from Common Projects. At $465 per pair, they're definitely on the spendier side; however, the brand practically owns this silhouette, and this is a style that's gone on to become an instantly recognizable classic. Oh, and, as with any white sneaker, the best part about them is that they go with basically everything. Good thing, too; between the upscale aesthetic and the comfy construction, you'll never want to take 'em off.
Tod's Gommino Shoes
Best Drivers: Although we'd all like to be speeding through the Italian countryside in an iconic open-topped classic, unfortunately, that's an opportunity that only a few will have. With these driving shoes, you can at least look the part, as they come crafted from a supple nubuck with some grippy rubber studs. If you really want to dress for the dream, we'd recommend pairing them with some chinos, a linen shirt, and your favorite pair of Persols — you'll be oozing with old-school cool. Unfortunately, though, we can't help you source a 280SL.
THE BEST MEN'S SANDALS FOR THE SUMMER SEASON
While we've presented you with plenty of worthwhile warm-weather footwear options here, they're a mere fraction of what the market has to offer. If you're looking for more open-toed essentials, be sure to check out our guide to the best men's sandals for summer.