Summer is right around the bend, and that means a lot more time spent outdoors with our friends and family. Exploration and curiosity are in our blood, but to utilize everything that the wilderness can provide for us, we need to be properly outfitted. Adequate clothing for outdoor endeavors is always essential, and while footwear has always been a mainstay of the genre, the utilization of water shoes might be something that you've always placed on the back burner.
You don't have to be embarrassed about your exclusion of these water-focused footwear pieces. After all, unless you live in an area where stream and creek crossings are a dime a dozen, it might not seem like the most immediate issue. However, taking precautions to remain agile on the trail is always the most logical option, meaning that even if you're wearing your favorite pair of durable hiking boots, it's always nice to have a backup. Thankfully, most water shoes are small, compact, and stowable, allowing them to be packed away for use when things get a bit slippery. Below, we'll go over our favorite variants from around the web, and give you some insight as to what you should be looking for when perusing your next pair.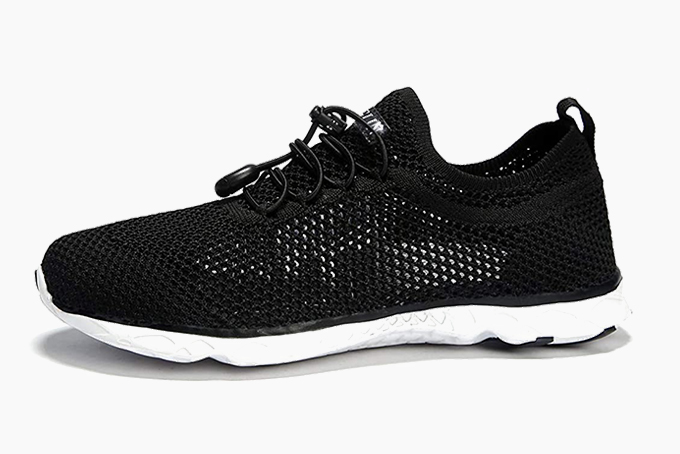 Zhuanglin Men's Quick Drying Aqua
Zhuangli's Quick Drying Aqua shoes are a simple and affordable option that can get you into the water with no questions asked. These minimalistic offerings are sleek, aerated, and breathable, thanks to a durable air mesh upper and a Solyte midsole that's been designed to provide adequate support and rebound as you make your way through creek beds and rivers. In addition, the shoe's ComforDry sock-liner and Water Grip outsole join forces to create one of the most comfortable, traction-focused items of footwear in the industry, making it a fan favorite among wearers looking to grab a pair for their next weekend jaunt.
ALEADER Men's Quick Drying Aqua
ALEADER's Quick Drying Aqua is yet another affordable option that takes on the modern silhouette of a traditional sneaker, making it perfect for quick trips, or for packing away until you need it most. The shoe's air mesh exterior gives it a lightweight persona, while still allowing it to dry faster than many of its competitors. Where the rubber meets the road, you'll find the same Solyte midsole and Water Grip outsole as Zhuanglin's similarly-named variant, offering exceptional traction, bounce-back, and durability when faced with wet conditions. Inside, a ComforDry sock-liner and additional arch support help to provide a perfect foundation for your feet, minimizing fatigue and increasing comfort.
KEEN EVOFIT ONE
KEEN's EVOFIT ONE is a tried and true water shoe that's been built with experience at its back, thanks to the company's long-running outdoor lineage. It features a synthetic upper that integrates moisture-wicking EVOFIT fabric to keep things comfortable and breathable while calling upon a proprietary Aquagrip rubber-blend sole and TPU inserts to promote stability on the world's most slippery surfaces. Inside, a unique PU midsole provides a higher-than-normal ground feel, while a Metatomical footbed helps to support your foot's arch and heel with natural contour. Better yet, each example is built right here in the USA at KEEN's Portland, Oregon factory.
RAX Men's Quick Drying Slip-Resistant Aqua
RAX's Quick Drying Slip-Resistant Aqua shoe is one of our favorite offerings, thanks, in large part, to its urban silhouette and sleek design principles. Calling upon a sneaker-like appearance and a comfortable, supportive slip-on architecture, the RAX Slip-Resistant Aqua is prepared to take on any waterway when you need it most, boasting a lightweight quick-dry material, a slip-resistant, lugged rubber outsole, and a toe that's been imbued with rubber and TPU to provide unparalleled protection from rocks and debris. To round things out, a breathable air-mesh upper allows your feet to breathe whether you're on the trail or in the river.
Adidas Outdoor Men's Terrex CC Jawpaw II
Adidas Outdoor's Men's Terrex CC Jawpaw II offers everything that you've come to expect from the company's athletic shoes, but with a more water-focused persona. While it might not be the most aesthetically-pleasing offering on our list, it's surely one of the most formidable, thanks to its man-made fabric construction, rubber sole, and slip-on architecture, helping to dissuade debris like rocks and dirt from entering the shoe as you wade through waterways. A breathable, quick-drying upper and Climacool technology provides 360-degree cooling for your foot during hotter days, allowing you to ventilate with ease. Pair that with one of the most tractable rubber outsoles in the industry, and you'll revel in optimal grip, regardless of the wet conditions.
Columbia Vent
Columbia's outdoor-focused gear is always top-notch, and that doesn't change when it comes to the brand's footwear. While they might not be intensely-focused on the water shoe market, examples like the Vent do more than enough to fill in the gaps, thanks to the shoe's quick-drying construction, drainage ports, and reinforced mesh architecture At its top, the Vent features a draw closure to provide a secure fit with a pull of its cord, pairing well with the shoe's sleek, slip-on persona to keep foreign debris out of its inner area. Once you step out of the water, a handful of ventilation ports and an Omni-Grip rubber sole will help to optimize drainage, while still ensuring adequate grip as you're waiting for the Vent to dry.
Helly Hansen HP Foil F-1
Helly Hansen is well-known for its expertise in outdoor clothing and apparel, and while the majority of its product has been devised for use on the trail, it's also fostered a hefty selection of water-focused gear. The HP Foil F-1 water shoe is one such example, boasting a quick-drying mesh upper, a dependable EVA midsole, and a multi-directional grip system to keep you stable and upright as you traverse your most trafficked waterways. Throw in some of Helly Hansen's recognizable branding, an intuitive drawcord closure, and reinforced cord loops, and you'll be more than prepared to take on the next body of water with the Foil F-1.
Merrell All Out Blaze Aero Sport Hiking
Merrell's All Out Blaze Aero Sport Hiking Shoe is a mouthful, but its name shouldn't distract you from its ability to achieve greatness in virtually any ecosystem. As one of the only "laced" variants on our list, the 100% polyurethane-coated leather shoe boasts various sections of ventilating mesh, a synthetic sole, and Merrell's Omni-Fit system to keep things as secure as possible. Inside, a Bellows tongue and molded TPU heel counter promote additional stability and protection from debris, while a formidable Vibram TC5+ outsole provides all the traction you'll need to take on those plentiful creek crossings.
Chaco Odyssey
Chaco's Odyssey shoes are one of the most technical offerings in the industry when it comes to water traversal, thanks to their hydrophobic engineered mesh upper, synthetic overlays, added toe protection, and injection-molded ladder lock buckles. Inside, a dual-density LUVSEAT midsole provides unparalleled comfort, stability, and rebound, working alongside the Odyssey's bespoke ChacoGrip Plus outsole to provide exceptional grip and debris avoidance. Aside from maintaining a secure fit throughout your travels, the shoe's interesting antimicrobial architecture is also completely collapsible, allowing you to pack it away with the smallest footprint possible.
Astral Loyak AC
Astral's Loyak AC is a sleek, unimpeded variant that looks great, and performs even better. It utilizes an ultrafine ripstop mesh upper, thermoplastic urethane reinforcement to provide adequate abrasion resistance, and a sock-like fit to promote comfortable all-day wear. When you set foot into any waterway, the shoe's level footbed and Flex-Grip outsole will be put to work, calling upon divided lugs and razor siping to offer predictable traction and performance. Once you're done, however, you'll be treated to ultra-fast drying and ventilation thanks to the shoe's aerated mesh upper and drain outlets.
HOKA ONE ONE Hopara Multisport
HOKA ONE ONE tapped into its lauded expertise as one of the outdoor industry's leading footwear providers when it made the Hopara Multisport — a breathable water shoe that adopts many of the brand's recognizable traits. It features a lightweight synthetic upper, various cutouts for drainage, and a gusseted neoprene construction that reduces friction, while also helping to secure the foot for long-winded trips. After sliding your foot into the shoe, a neoprene collar will help to keep out rocks and debris, while a rubber toe cap will serve to protect you from any external inhibitors that look to cut your day short. Finally, a grippy rubber outsole and rubberized EVA midsole join forces to promote sustainable comfort throughout the day, courtesy of the shoe's multidirectional lugs and grooves.
Olukai Inana
Olukai's Inana shoes round out or list as one of our favorite offerings. Not only do these attractive examples serve as the preferred year-round training shoe for a handful of Hawaii's lifeguards, but they've also been built to remain fully functional during any athletic pursuit, thanks to a padded mesh upper, quick-drying fabrics, a Wet Grip rubber sole, and a hydrophobic footbed that ensures water retention is kept to a minimum. But don't worry, your day in the water is a bit too much for the Inana to handle, the shoe's various drainage ports will take care of it, allowing you to carry on, press forward, and explore, without having to worry about bothersome moisture.
The 10 Best Waterproof Socks
While most folks tend to wear water shoes without socks, some might want that extra layer of comfort, protection, and warmth. In that case, you'll find what you're looking for on our list of the best waterproof socks.