Sep 5, 2019
Category: Gear
When the sun's shining bright on the trail, it's only natural to want to wear more liberating apparel. Hiking boots are the go-to gear for heading into nature for some quality time with the natural world outside the city, but sometimes your feet need something less bulky. For those days when Mother Nature's bringing the heat, you have to act accordingly by dressing down a bit. Slipping into a pair of hiking sandals will make your journey more manageable.
Sure, you can grab the best pair of breathable hiking boots on the market, but they won't compare to solid sandals that will air out your feet as you make your way through the countryside. If you choose well-built pair of sandals for your into-the-wild adventures, you'll get an ample amount of protection from the terrain. However, it can be a pain to research hiking sandals worth your consideration, as there are plenty out there to choose from. But you're in luck since we took the time to gather the best hiking sandals out there. We're confident you'll find a pair of rugged toe-freeing footwear for hot summer hikes.
Picking The Perfect Pair
Comfort, Traction, & Stability
As with hiking shoes or boots, adventure sandals are not created equal. So, honing in on a few important aspects will lead you to find the perfect pair. First, the sandals you choose must be comfortable on your feet. A lightweight, cushioned design will satisfy your feet, but you also have to make sure the shape of the design is right for you. Second, make sure the sandals have plenty of traction, so you don't slip on the trail. Grippy materials, such as Vibram, should make up the soles. Last, you want sandals that provide ample stability, as this makes the difference between sloppy flip-flops and performance footwear. They should have stiff midsoles and pronounced arches for ideal support. We kept all of these key characteristics in mind when forming our best hiking sandals list, so jump right in and find your winner.
New Balance SDL330
Buckle your feet in New Balance's SDL330 hiking sandals and let your feet enjoy the breeze while you make your way through the trail. Featuring a 3-point adjustable upper with hook and loop closure for stability and REVlite midsoles, you can tackle any terrain. To ensure a natural stride, the footwear is built with Purealign contoured footbeds with 360° heel cups along with anatomtical support for your arches.
Xero Z-Trail Sandals
With FeelTrue rubber for amazing grip and abrasion-resistance along with FeeLite soles for flexibility, allowing natural movement, Xero's Z-Trail Sandals are an adventurer's dream-come-true. The rugged hiking sandals also have TrailFoam middle layers to absorb impact, providing extra protection for challenging terrain. If you're looking for a pair of outdoor sandals that defend your soles without feeling bulky, the Z-Trail is for you.
Chaco Z/Cloud
Combining a classic sandal silhouette with pillow-top comfort, Chaco's Z/Cloud sole protectors are ready for outdoor escapades. They're built with polyester jacquard webbing uppers, LUVSEAT dual-density PU midsoles for a comfy ride, and ChacoGrip rubber outsoles to ensure reliable traction. Making sure you can claw into the trail for stability, the outsoles feature a 3mm lug-depth. Once you step into these sandals, they'll live up to their name, as you'll feel like you're walking on clouds.
Luna Origen 2.0
Luna uses non-marking upcycled tire tread to create the grippy outsoles for the Origen 2.0, supporting the Earth while providing you with footwear to support your feet on outdoor treks. These hardwearing outdoor sandals also have Vibram midsoles for stability and comfort, as well as premium leather laces to secure them onto your feet. Free your toes on your next hike with Luna's Origen 2.0 hiking sandals.
Vivobarefoot Total Eclipse Lux
Inspired by ancient running sandals, Vivobarefoot's Total Eclipse Lux toe-freeing footwear is the total package. They're built with Wild Hide leather uppers, leather footbeds that mold to the unique shape of your feet, and patented ultra-thin Pro5 outsoles that are five times more puncture-resistant than standard soles of the equal thickness. Follow the footprints of our daring ancestors in these contemporary hiking sandals.
Bedrock Cairn 3D Pro Adventure Sandals
Don't get caught slipping in Mother Nature's backyard and get your feet in a pair of Bedrock's Cairn 3D Pro Adventure Sandals. They feature extra-sticky Vibram Megagrip outsoles and a molded footbed for stability, so you can stay upright one the journey ahead. For a locked-in feel, they have sole-hugger wings along with three adjustment zones, so they'll stay on your feet throughout the hiking adventure.
Filson x Merrell Convert Sandals
Three decades in the making, the Convert Sandals by Filson and Merrell are a work of outdoor footwear perfection. The hiking sandals have compression-molded EVA footbeds, three-point adjustable straps, and multi-directional textured soles, making them a go-to pair when you want to tour the outdoors. And they also have stretch-resistant canvas webbing and a raised ridge, protecting you against sticks, rocks, and debris.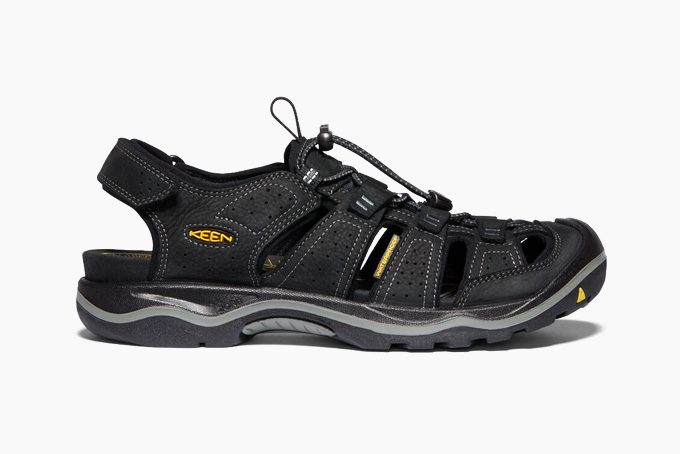 Keen Rialto II
If you want something more breathable than hiking boots, but don't want the exposure of standard sandals, Keen's waterproof Rialto II is the answer. In addition to giving you plenty of coverage, they feature a lace-lock bungee system, an environment-friendly premium leather construction, and CLEANSPORT NXT technology for odor control. To ensure comfort, they have PU midsoles and microsuede-lined PU footbeds with arch support.
Teva x Snow Peak Hurricane XLT2
Teva teamed up with legendary outdoor gear brand Snow Peak to create the Hurricane XLT2 hiking sandals. These incredible foot protectors include two of Snow Peak's popular elements: metal tri-rings from their titanium camping gear and water-ready webbing found in the paracord used in their apparel. Additionally, the sandals are made with Durabrasion rubber for reliable traction, EVA midsoles for lightweight cushioning, and nylon shanks for endless support.
Ecco Yucatan Sandals
Offering top-tier walking comfort, Ecco's Yucatan sandals are a solid pick with proven features. To help you tackle the trails, the Yucatan sandals have direct-injected PU midsoles with full-length RECEPTOR technology, rubber outsoles to help you maneuver through the backcountry, and Nubuck uppers. And to ensure your feet stay snug on the journey, they feature dual-density footbeds, adding another layer of comfort.
The Ultimate Guide To Learning How To Hike
Now that you have a pair of reliable hiking sandals, it's time to learn some basic knowledge on tackling trails. Check out our ultimate guide on how to hike before you head outdoors.
HiConsumption is reader-supported. When you buy through links on our site, we may earn an affiliate commission. Learn more