We can all agree that there's nothing quite like a good hiking boot. However, when the summer sun starts to rise and we seek to wear something that won't trap that heat, total foot enclosures may not be the most desirable option. That's where the more open design of hiking sandals comes in. What may seem like an odd choice at first, this age-old style of footwear has been worn by man for 10,000 years. Predating the laced shoe by around two millennia, sandals were the optimal choice for early humans simply because of how easily they could target points for strap support and how breezy they were. Not much has changed since then, except for technological advancements that have made outdoor sandals today better than ever.
Whether we want to evade a sweat-soaked sock or desire to traverse through low rivers and streams without needing to wait for our shoes to dry off before using them again, hiking sandals are an excellent alternative to boots. Easy to clean, the open-air option might still be the most versatile on the market. Of course, no two pairs of feet are the same, so choosing the best sandals comes down to what's best for your own situation. Here, we've made it a little easier by compiling a list of the best pairs of hiking sandals out there, based on criteria such as comfort, traction, durability, and support.
Nike Canyon
With a plush foam midsole for incredible arch support, the Nike Canyon is rugged, ergonomic, and stylish all at once. The outsole is sturdy as well, and the triple-strap closure ensures that your feet and lower ankles will be supported at all times. Available in five color schemes to cover you from the woods to the city streets, the Canyon is also one of the best-looking options available. And at $75, these sandals are not only budget-friendly, they're an unmatched bargain.
Xero Shoes Z-Trail EV Sandals
For those who want a lightweight option without sacrificing any comfort or support, Xero Shoes' Z-Trail EV Sandals are your best bet. The dual-chevron tread and multipoint adjustment allow you to be locked in place when going uphill or downhill. Utilizing triple-layer FeelLite rubber outsoles, these sandals boast 76% less weight and bulk than your average sport sandals at just under 11 ounces, and yet the BareFoam footbeds offer a surprising amount of sturdiness. Made so your feet move in a natural way, the flexible Z-Trails are also constructed from recycled water bottles.
Earth Runners Alpha Adventure Sandal
This minimalist pick won't be for everybody, but Earth Runners' Alpha Adventure Sandals still provide a sturdy and long-lasting sole made from Vibram Morflex and are responsibly sourced from small-batch, low-impact dyes. With five options, including black and camo, the 1-inch-wide laces are made from a wrapped mil-spec nylon with a hydrophobic polyester core to prevent stretching when wet for maximum stability, fitting around your entire ankle comfortably to prevent joint rubbing. Don't let the appearance fool you: These sandals are plenty comfortable and are built to last through many hikes.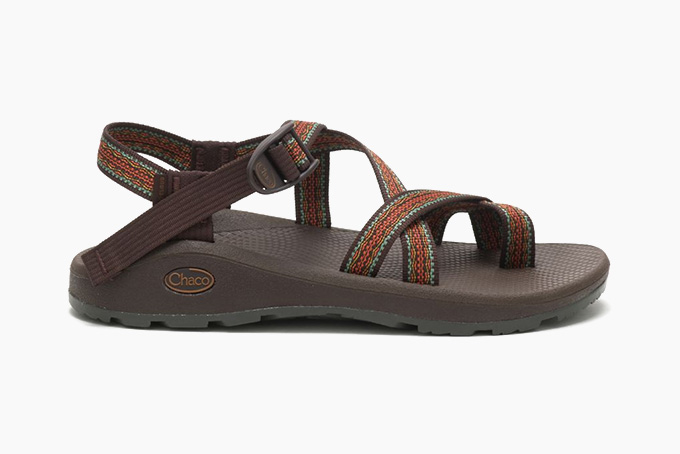 Chaco Z/Cloud 2
An update on Chaco's flagship hiking sandal, the Z/Cloud 2 has the additional toe loop this time around for added forefoot control to better traverse any condition. Still constructed using polyester jacquard webbing uppers and an injection-molded ladder lock buckle to help you better customize your fit, these hikers are also as comfortable as ever thanks to the LUVSEAT dual-density PU midsoles that allow them to live up to their namesake. To help you dig into the trails, the 3-mm lug depth on the outsoles offers unbelievable traction.
Teva Terra Fi 5 Universal Leather
Since 1984, Teva has made a name for itself as an amazing outdoor brand, especially when it comes to footwear, and it helped to pioneer the sports sandal all those years ago. Made for multi-day adventures, the Terra Fi 5 can withstand the long haul, crafted from a tannery-sourced leather that ensures a small-batch feel with a sturdiness and moldability that's simply top-tier. The spider rubber outsoles help you take on the slipperiest paths and the PU midsole cushioning molds to your feet without giving way as your hike progresses. The Terra Fi 5 is simply one of the best outdoor sandals out there, which is what we've come to expect from Teva.
Bedrock Cairn 3D Pro Adventure Sandals
It's hard to find a sandal that can anatomically mold to the bottom of your feet while still maintaining a 0-mm heel-to-toe drop. However, Bedrock has been perfecting the craft for over a decade with its Cairn 3D Pro Adventure Sandals. Featuring sole-hugger wings and sticky Vibram Megagrip on the soles, these minimalist shoes ensure a rugged, yet lightweight tour of the outdoors. The unique triple-adjustment straps (patent pending) and sturdy arch support keep you going for hikes both big and small.
Filson x Merrell Convert Sandals
When a premium hiking shoe brand and high-end outdoor clothing company come together for a hiking sandal, you'd better pay attention. Three years ago, the collaboration between Merrell and Filson turned heads and supported feet as the Convert unsurprisingly became one of the most comfortable and longest-lasting sandals on the market. The compression-molded footbeds and Air Cushion midsoles keep your dogs at bay for as long as the durability of the shoes themselves provides. As versatile as expected, the Convert's multi-directional textured soles and raised ridges on the footbed allow for adventures through any terrain.
Luna Retro Mono 2.0
Made to order in Wenatchee, Washington, the Luna Retro Mono 2.0 revamps a beloved classic. Minimalist and lightweight at only 5.9 ounces, yet unbelievably sturdy, these sandals are designed to be your go-to piece of footwear whether you're lounging at home or going for a weekend hike. The Mono 2.0 has an incredibly flexible outsole to match its Vibram Morflex tread underneath to help you grip any surface, and each point of adjustability stems from one continuous lace of climbing-grade webbing for ultra customization. The footbed is built with Luna's own Monkey Grip Technology and form-fits to your foot over time for unmatched personalization.
Keen Newport H2
Some hikers want a little more toe protection in their footwear. That's where Keen's Newport H2 sandals come in. Made to be both a hiking sandal and water sandal, this hybrid is roomy and breathable without sacrificing the true spirit of a sandal. Sporting 10-point adjustability and quick-cinching bungee laces for added comfort and sturdiness, the Newport H2 is more open-aired than the brand's Rialto line, with wider cutouts on the side and extra space in front to spread out the toes. The tread on the bottom features a multi-directional lug pattern with tire-like razor siping for ultimate traction.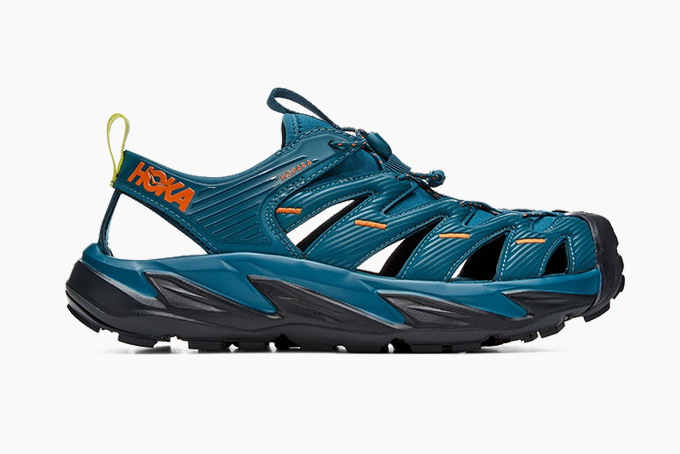 ​​Hoka One One Hopara Multisport Sandals
Another toe-guarded model that provides total safety and security on the trails, the Hoka Hopara Multisport possesses versatile functionality no matter the situation. Built with strategically-placed cutouts for easier drainage and ridged uppers for better water runoff, these sandals are optimal for wet conditions. The low-profile footbed is cushioned and comfortable, yet firm and responsive enough to provide sufficient support when pushing off. Additionally, the bungee laces can be cinched up quickly and stored away so you don't have to worry about them throughout the day.
The Best Summer Hiking Gear Essentials
If you're heading outdoors this summer and are looking to outfit yourself with the best gear possible, then check out our guide to the best summer hiking gear essentials.