Summer is in full swing, and as restrictions on outdoor activities and daytime journeys start to relax, it's time to prepare for the last stretch of freedom before the wintertime takes hold. We've been robbed of some vital time in our lives, and that means that, when things begin to quiet down, they're going to liven right back up — albeit, in a much more enthusiastic way. That means beach-front barbeques with friends and family members, days on the surf, and the sand, and of course, a good weekend spent with your closest compatriots on the deck of a boat. But you wouldn't wear just any pair of shoes when you're headed out for a day on the water, right? That's where the stylish and functional "boat shoe" comes into play.
Over the years, boat shoes have become something of a staple within the worlds of style and fashion, especially for those who have adopted a more "preppy" wardrobe. These days, they've become synonymous with high-profile attire, yacht-worthy gatherings, and days at the country club, but that doesn't mean that they're far removed from the realm of contemporary style. In fact, there are a handful of both traditional and modernized models that are perfect for a day at the bar, at the office, or anywhere in between. Below, we'll sift through a hefty portion of the genre's most versatile variants, and give you a quick rundown as to why they're so prominent. Throw on that Hawaiian button-up, a pair of comfortable, beach-savvy shorts, and grab that cocktail — we're about to dive straight into our list of the best boat shoes for men.
Sanuk Men's Casa Barco
Sanuk is known for its numerous slip-on styles, and although the Casa Barco isn't immediately recognizable as a traditional boat shoe, it's still a nice addition to the genre. Unlike its leather-clad counterparts, the Casa Barco boasts a textured, vintage-washed canvas upper, and a molded EVA footbed that's removable for easy cleaning. It's even been gifted with an AEGIS antimicrobial additive since it's likely that you'll be using the shoe in a more humid environment. But don't let the Barco's technical implementations fool you, it's still a stylish, boat shoe-inspired model with full-grain leather paneling and vulcanized construction for comfortable all-day wear.
Sperry Top-Sider Men's Authentic Original
Sperry owns the boat shoe space, and the company's Top-Sider line is, undoubtedly, one of its most recognizable models. As such, it boasts a timeless silhouette and design that's become synonymous with the genre's nautically-inclined name. You'll find everything that a boat shoe should be in the company's Authentic models, which boast a premium leather upper, moccasin-stitched shoe, slotted collar, and rust-resistant eyelets. A 360-degree lacing system is coupled with the shoe's hand-sewn Tru-Moc silhouette to provide exceptional security and comfort as you traverse the deck, but they'll work just as well in an urban setting, thanks to their tasteful non-marking outsole and shock-absorbing EVA heel cup.
Dockers Vargas
There's nothing quite like a solid pair of Dockers pants to complement your day at sea, but what few people don't know is that the brand also trades in the production and design of some of the genre's most prolific footwear. The Vargas is one such example, boasting a 100% leather upper, a grippy rubber sole, and a cushioned EVA footbed to provide unparalleled comfort alongside those cuffed chinos. Inside, wearers will also find a molded EVA heel cup for additional support, while still being able to revel in the classic, two-eyelet design that we've all come to expect from the conventional boat shoe.
Timberland Men's Classic 2-Eye
Timberland's Men's Classic 2-Eye boat shoe is a testament to its unique approach toward design and tastefulness. Known primarily for their fashionable boots, the company has deviated quite a bit from its traditional silhouette but has found a way to implement its long-lineaged expertise here. A 100% leather upper, rubber sole, and cushioned interior ensure that wearers won't miss out on the quality-of-life features found in the genre's most prominent models, while still offering that timeless Timberland look that's made the outfit so prominent among its contemporary audience. Plus, with a motto like "boating is not an activity, it's an attitude," you can don these aesthetically-pleasing boat shoes with peace of mind.
Sebago Men's Docksides
Sebago's Men's Dockside shoes take on the look of a classic boat shoe, and as such, they're relatively true to the formula. You won't find any outstanding technical additions or interesting construction principles here. Instead, the Docksides rely on their commitment to the genre's trademark traits, calling upon a 100% leather upper, a sleek, but grippy rubber sole, and moc-toe stitching that blends seamlessly with the shoe's around-the-collar rawhide lacing. To keep you comfortable and supported, each pair has adopted a molded EVA foam insole, shaping to your foot and providing a customized fitment, over time.
Toms White Canvas Men's Dorado
Like Sanuk's Casa Barco model, Toms' White Canvas Men's Dorado doesn't hold true to the traditional look or feel of a boat shoe. Regardless, it's been crafted for use on the decks of the world's finest boats, thanks to its wonderfully-realized slip-on styling. Instead of leaning too far onto either end of the spectrum, the Dorado strikes the perfect balance between the sneaker and it's nautically-themed counterpart, boasting an ultra-lightweight construction, a durable textile upper, and a customized Toms rubber outsole, providing more prominent traction over their general-use model. Inside, an OrthoLite Eco LT insole and breathable, lightweight cushioning take on the brand's 100% vegan and plant-derived construction principles, meaning that you'll look (and feel) good each time you decide to throw the pair on for the day.
Silver Street Boat
Silver Street's Tan Boat shoe is a smart, upscale offering that stands out from the rest of the genre's inclusions; mostly due to the fact that it was tailored and crafted from the get-go as a premium offering. Instead of focusing wholeheartedly on nautical use, the aptly-named Boat features a more urbanized silhouette, calling upon a tasteful leather trim, slip-on styling, a lace-up front, and a unique apron toe that looks inherently classy. Since these are crafted from suede and leather, it might not be the best idea to wear them in a wet environment — but that's alright, especially if you're looking for a boat shoe that you can take with you to a more formal outing in the city.
Marks & Spencer Leather
Looking for a boat shoe that doesn't take any drastic changes, and honor the time-tested design of the original model? Marks & Spencer's Leather variant might be the perfect example for you, especially since it boasts a trademark leather and lace-up design, a relaxed, slip-on style, and a siped rubber sole for those moments when extra grip is what you need the most. That doesn't mean that these great-looking variants don't have their own intricacies, however. Inside, wearers will find that the brand has decided to introduce its very own Fresh feet technology, helping to fight against microbes and odor-causing bacteria, without sacrificing comfort.
L.L. Bean Casco Bay
L.L. Bean's Casco Bay is another amazing model in the brand's expansive shoe lineup, and this time, it's catered toward the sea. Each shoe features a comfortable, all-leather upper, a handsewn silhouette, and a siped rubber outsole, which helps to provide grip while on-deck, and also siphons water away from the model's more prominent surfaces. You'll find a handful of additional quality of life features throughout, including a super-soft, barefoot-approved sockliner and functional wraparound lacing to ensure that you've got the best fit possible.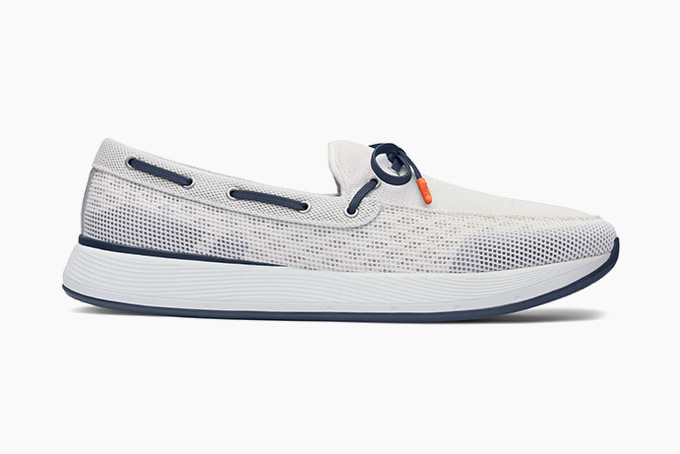 SWIMS Breeze Wave Lace
SWIMS joins our list with their Breeze Wave Lace, and if we're being honest, this boat shoe-inspired model is one of our favorites. Not only is it functionally and constitutionally sound, but it's as handsome as they come, adopting a modern design that places it firmly on the path to becoming a contemporary classic. But don't take our word for it. Its mesh and foam-padded interior, molded-plastic heel counter, and injected phylon midsole provide an air of comfort akin to today's modern athletic sneakers, while still providing exceptional breathability, courtesy of a durable mesh upper, ventilated portholes, and a relaxed collar. Worried about catching traction when you're top-side? Never fear. The brand's specially-designed and textured rubber outsole has your back, regardless of the situation.
Lems Mariner
Lems' Mariner has nautical use in its blood, but that doesn't mean that it has to adhere to the traditional design principles that dictate many of today's modern boat shoes. Instead, it takes on an updated silhouette — an evolution of the distinctive variants that we know today — to create something a bit more eye-catching. Instead of the narrow fit of its peers, the Mariner takes on a widened toe box, as well as a lightweight demeanor that'll keep your feet free of fatigue over long periods of wear. However, they don't depart from the boat shoe's tried and true fabrics, calling upon a premium, full-grain leather upper to do their bidding.
Clarks Un Pilot Lace
Clarks' Un Pilot Lace is one of our favorite offerings on this list, and for good reason. These casual examples are sleek, stylish, and bold, giving you the ability to stand apart on the boat deck or in the bar. They feature a semi-updated silhouette that's distinct to the brand and call upon a lightweight nubuck leather upper, lace-up closure, and breathable Ortholite footbed to keep you comfortable and confident as you take on the situation at hand. And if you're worried about donning these great-looking boat shoes without socks, you don't need to worry — they're crafted to wick away sweat and moisture and deter odor, keeping your feet in a healthy condition during those long hours at the dock.
Brooks Brothers Leather
Brooks Brothers Leather boat shoe is a testament to the brand's generation appeal, and while they might not be as flashy as the shoe manufacturers dress options, they hold their own when it comes to style and prominence. As such, their approach to the "boat shoe" becomes something of a lesson in elegance, instituting a leather upper, lining, and a hand-sewn Tru-Moc construction to promote the shoe's fashionable persona. You won't find a traditional-looking model here, just one that was heavily inspired by its progenitors. However, that's not always a bad thing, especially if you're looking for a more formal model that can transition from the sea to the board room in an effortless manner.
Ralph Lauren Merton
If you're looking for an iconic iteration of the boat shoe, search no further than the Ralph Lauren Merton. This timeless model has no interest in adapting to modern norms, nor does it care about its quality of life features, technological advancement, or texture deviation. Instead, it holds true to the design and construction of the genre's earliest models, adopting a heavyweight leather upper, rope-inspired treads, and durable rawhide lacing to complement its antiqued metal grommets. Sometimes, it's not worth it to fix something that isn't broken.
Mark Mcnairy El Gringo
High-end boat shoes aren't confined to construction and development in North American and European locales. Some of them, like Mark Mcnairy's 'El Gringo,' are fashioned in the style capitals of South America. These unique grey suede examples are perfect for a night on the town and cater toward a more high-profile audience, meaning that they might not be the best for an actual day at sea. But where they fall short in true top-side utility, they more than make up for in aesthetic presence and comfortability, making them one of Mexico's most prominent boat shoe models.
R.M. Williams Barham
R.M. Williams has a knack for the creation of timeless shoes, and when it comes to the Barham, there's hardly a nautical model that can compete. Each example has been expertly crafted with durable, oily pull-up leather by the company's talented workers, and features a two-eyelet, laced upper, classic moccasin construction, and a cushioned innersole to promote all-day wear. But it doesn't stop there. They're also fully lined, enhancing their durability over long periods of movement. To round things out, a 360-degree lacing system has been included along the shoe's collar giving it a smart, aesthetically-pleasing appearance that can be coupled with a variety of clothing options for uncompromised stylishness.
Sperry Gold Cup Authentic
Early on in this guide, we praised Sperry as one of the finest manufacturers in the boat shoe space. Our opinion certainly hasn't changed, and where the original Top-Sider caters toward a more substantial segment of the brand's followership, the 'Gold Cup' Authentic aims a bit higher. The 'Gold Cup' is a true gentleman's boat shoe, taking on a suite of high-end components like hand-burnished leathers, 18K gold detailing, and rawhide laces, to give it a bolstered presence among even the most prominent nautical models. That being said, it still boasts the same traditional silhouette as its sibling, and even calls upon a similarly-siped sole, siphoning water away from its more textured grip areas.
FRYE Briggs Boat
FRYE excels at the creation of high-end footwear, and their dress-shoe/Chelsea variants are some of the most practical in the industry. Since that knowledge is naturally applied elsewhere, it makes sense that the brand's Briggs Boat shoe is equally as stunning. It boasts a handcrafted, classic moc construction, a non-slip rubber sole, and a secure lace system with rawhide fastenings. But it's the shoe's minor enhancements that make it so special, including a padded collar, cork-flecked finish, and a character-filled exterior that garners unique and genuine wear over time.
Eastland Yarmouth
Eastland's Yarmouth is a legendary model from one of Maine's most prominent footwear manufacturers, and as such, it retains the heritage-inspired silhouette that we've come to know and love from the genre's alternative examples. Unlike its two-eyelet counterparts, the Yarmouth boasts a unique, single-eyelet design, and utilizes a traditional, true moccasin construction, 100% American Horween® leather, and a cushioned leather sock liner to maintain its prominence within the space. There's also a leather welt, handcrafted rawhide lacing, and a grippy rubber camp moc outsole, helping to keep you stable and upright when the water gets a bit too choppy.
Yuketen Canoe Moc
Yuketen's Canoe Moc rounds out our list as a premium, American-made model that places authentic perfection above all else. Each handsome model takes on a suite of interesting traits, including 100% full-grain Horween leather, a vegetable-tanned leather insole, foam heel pad, and additional vamp leather, as well as a 100% natural leather outsole, for good measure. Take solace in the fact that Yuketen's handsome, style-focused model is also in the best hands possible, seeing as it's the result of years of bespoke cobbling and footwear manufacturing expertise.
The 18 Best Sandals For Summer
Ready to go out on the water but not interested in wearing a closed-toe shoe? Head over to our guide on the best sandals for summer to pick up a new pair of open-toe examples for a day of fun in the sun.