There are few shoes that speak to casual, laid-back wear like the espadrille, and if we're being honest, there aren't too many people who know about the transcendental style. While we might not see a ton of people taking part in the espadrille genre these days, the shoe style is still very prominent in Europe — and most importantly, Spain — where it originated. Since the 1300s, these minimalist shoes have been the staples of peasants and low-income workers, thanks to their easy-to-craft design, primitive architecture, and dependence on attainable fabrics. Today, however, they're a bit more nuanced, coming in virtually every shape, size, and make.
It's no secret that the roles of today's espadrilles have been somewhat reversed. Instead of seeing them on the feet of the commoner, they've become an essential favorite among aristocratic individuals who enjoy their lightweight, simplistic style, aerated design, and beach-savvy persona, making them a must-have in the more stylish regions of the Mediterranean. Due to their popularity, many footwear companies have adapted them for consumption in the West, leading to various offshoots, variants, and styles. Below, we've outlined a few of our favorites, as well as provided you with some interesting input as to why they're so unique.
Soludos Men's Dali Canvas
There are new-age espadrilles, and there are classics. Soludos' Dali Canvas variant falls squarely within the latter, securing one of the most timeless silhouettes around, while still being able to squeeze out a bit of contemporary style. As a result, these comfortable textile staples can be worn at the beach, to the restaurant, or anywhere in between, without seeming too laid back or casual. But if you do find yourself walking from place to place for a day of exploration, don't fret — they're outfitted with a jute footbed for intrinsic comfort and breathability, as well as a rubber outsole to keep you stable on a variety of different surfaces.
TOMS Men's Canvas Classics
There's no such thing as an espadrilles list without TOMS, and while the brand might not be considered an "iconic" staple within the genre, they've become exceedingly notable among the younger consumer base. The truth is, these canvas-clad examples are as comfortable and functionally-sound as their generational counterparts, thanks to their proprietary toe-stitch, elasticated "V" near the foot's top arch, and a suede insole that helps to combat foot fatigue with its comfortable construction. And if the shoe's latex arch insert isn't enough to get you talking, you might be enthused by the Canvas Classics' one-piece mixed-rubber outsole, which provides longer wear life and extended durability before having to pick up another pair down the road.
Havaianas Men's Origine III
Havaianas' Men's Origine III is a shoe for the summer. Not only was it designed to look the part of a classic beachfront essential, but it's also been adorned with the company's signature rubber sole and breathable fabric upper for those days where you can't stay off your feet. Each great-looking variant boasts a cushioned footbed, rice-texture padding, a durable canvas upper, and detail stitching that harkens back to the genre's progenitive models, giving them an air of informed modern appeal that's hard to beat.
VISCATA Men's Sitges Canvas
VISCATA's Sitges Canvas variant is as close to the iconic style staple as your going to get these days, thanks to its Spanish heritage. Not only were they handcrafted in Barcelona to take on the area's Mediterranean spirit, but they feature modern updates that make walking in any urban environment an enjoyable experience, thanks to their grippy rubber outsole, jute insole, and breathable canvas upper. Each pair is crafted from the finest cotton canvas and features a real leather lining, making it a bit more classy than some of the other offerings on this list, while a moldable interior area helps to mimic your foot's natural shape, providing unparalleled personalization catered to your distinct walking habits.
Frye Men's Montauk
Frye is a world-renowned footwear manufacturer that's built its reputation on the back of its premium, upper-echelon leather. While they might not specialize in the creation of espadrilles, opting instead for a more formal "boot and brogue" approach, you shouldn't take it lightly. Each 100% leather example uses the same renowned material as its more prominent offerings and boasts a capable rubber sole for adequate traction on virtually any surface. You won't find any traditional stitching here, but that's alright — the shoe's distinctive styling, silhouette, and overall design help it to straddle the line between iconic and contemporary, providing wearers with a viable option for both formal and casual outings.
Drake's Herringbone Cotton-Canvas
Drake's Herringbone cotton-canvas espadrilles provide wearers with a more elevated take on the traditional piece of footwear, but that's not necessarily a bad thing. While they might be a bit divergent from the genre's regular offerings, their originality makes them a viable contender that'll fit in well alongside your wardrobe's more formal shoes, like Oxfords or brogues, without looking too out of place. Since they're made in the style's home country of Spain, they've got all the gumption they need to remain true to their heritage, while an internal grosgrain trim and grippy rubber outsole serve to round out the staple for confident everyday wear.
Castañer Pablo Canvas
If you can't tell by the name, Castañer's Pablo Canvas espadrille is yet another variant from the style's home country of Spain. Aside from its commitment to the long-running tradition of the country's most versatile footwear, it seamlessly blends modern and midcentury styling to create the perfect unison, meaning that you'll be able to wear these on more formal occasions, as well as that random day-trip at your beach house or timeshare. With close to 250 years of experience and expertise in the shoemaking realm, you can bet that you'll get more than you bargained for with Castañer's Pablo — the true evolution of the espadrille style.
Scarosso Pablo
Scarosso's Pablo is a summer essential that we can't praise enough. It sports a functional, contemporary style that's also full of a timeless character, thanks to its classic composure, a subdued blue suede upper, and a rope sole that's capped with a performance-focused rubber tread for those longer treks. Inside, wearers are treated to a comfortable, branded insole, calling upon premium leather and a bit of handmade magic to pull everything together. The result? A stylish offering that puts the rest of the industry's espadrilles to shame — subjectively, of course.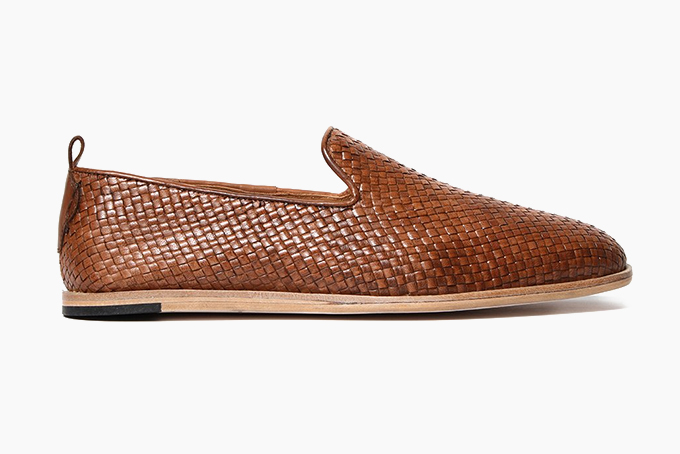 H By Hudson Ipanema Tan
While they might not fit the traditional role of a common espadrille, the Ipanema Tan — constructed by H By Hudson — is an undeniably handsome, hand-woven model for those design-minded folks out there. As an aerated variant that's perfectly tailored to the warmer summer months, this unique offering features a premium leather lining, upper, and sole, giving it a distinct personality alongside the larger collection of rubber-adorned variants on this list. If you're looking to stand out while still staying somewhat true to the espadrille style, these are the shoes for you.
Vince Men's Chad
Vince's Chad espadrille might have two first names, but it's a truly unique take on the recognizable silhouette that we've all come to know and love. To provide wearers with an up-to-date offering that pulls only the most notable aspects from the genre's leading shoes, this great-looking offering seems to straddle the line between a more contemporary slip-on and espadrille styling. It features a synthetic sole, a suede upper, and a cowhide interior that promotes adequate comfort throughout the day, while a functional rubber outsole allows for surface-savvy movement.
Mulo Striped Seersucker
Mulo's Striped Seersucker was created to change the game for espadrilles, especially in the cases of capability and functionality. To achieve this, they adopted a more sporty appearance than their more style-savvy counterparts, calling upon a sneaker-like structure, elasticated inserts, canvas linings, and pull tabs for easy donning and doffing. Pair those with the shoe's urban-adapted rubber sole, and you've got a recipe for success, especially if you're looking for something that speaks to the espadrille style, without resting wholeheartedly on its timeless traits.
Sabah Fort Worth
Sabah's Fort Worth espadrille is a refined take on the iconic silhouette. It features an Instanbul-sourced medium brown leather upper, as well as the genre's recognizable stitching and hand-constructed appeal. Unlike the canvas-clad variants on our list, this unique offering offers buyers a premium material that will garner more character with age, taking on a generous patina as it's exposed to different climates, weather, and conditions. But if you're not a fan of that worn-in look, don't fret. More often than not, their great-looking leather exterior can be refurbished and restored with a bit of natural cream and conditioner.
Loewe Collapsible-Heel Suede
Loewe's Collapsible-Heel Suede espadrille isn't just for formal get-togethers and familial events; it's also a formidable shoe built for everyday walking. Of course, it still boasts a traditional leather sole, meaning that it's not as hard-wearing as some of the rubber-based variants on our list, but that doesn't make it any less commendable, especially since it uses a unique leather/rubber mix. It's made in the style's homeland and takes on a handful of iconic traits that helped the original to gain traction with wearers, while still adopting an updated architecture for refined wearability. The shoe even takes on a supple beige suede upper and subtle designer emblems for added effect.
Tod's Collapsible-Heel Nubuck
Tod's Collapsible-Heel Nubuck espadrilles are not to be confused with TOMS' more affordable offering, but when it comes to wearability and function, they aren't the world's apart. Yes, they look drastically different, but their roots in the espadrille genre extend beyond aesthetics, with each taking on the handy collapsible heel for backless wear. Of course, Tod's Nubuck variant is made from a premium, ultra-smooth leather, and feature rubber-trimmed jute soles for exceptional grip on a variety of different surfaces. To ensure that you're ready for anything the urban environment has to offer, each pair has been designed around a padded leather insole to promote breathability and all-day comfort.
Tom Ford Suede Barnes
When it comes to men's style, there are few individuals who can match Tom Ford. The designer's focused fashion lines are full of essential items that help to keep guys around the world from falling into a depressive wardrobe lull, and thanks to the company's Suede Barnes espadrille, our drab outfits are injected with life, once again. Each pair boasts a premium suede upper, a contrasting leather heel, and an unlined interior, taking us back to basics with a bare-bones shoe that looks, and feels, anything but. To round things out, the designer has added a cord sole and rubber outsole for increased wear life and dependability, making these handsome models the most expensive on our list.
The 10 Best Hiking Sandals
Looking for something a bit more versatile and adaptive than the dressy espadrilles on this list? Head over to our guide on the best hiking sandals to find some minimalist footwear that's been build for the outdoors and keep those newly-bought style staples in good condition.