We scoured the internet and our archives to curate a list of brands in the men's style space that are setting the tone with their offerings of classic and contemporary menswear, athleisure, techwear, and everything else that can serve as the tentpoles for any man's wardrobe today. These brands are all high-quality, comfortable, easy to wear, and undeniably fashionable, which is why we love them. So without further delay, let's dive into our list of style brands on which we feel all men can rely.
Our Selection
Style is one of the most important facets of the modern-day man. Not only does a man's style affect how the world sees him, but it also is important as a mode of self-expression. However, due to the vastness of the internet and the saturation of the fashion industry, finding the right brands to wear can be daunting, to say the least. While we can't tell you what to wear, we can recommend to you impeccable brands, backed by our love of style and years of collective experience in the space, whose quality and timeless styles make them worth knowing, so we did precisely that with this guide to the boutique men's style brands you should know.
3SIXTEEN
Why It Made the cut
3sixteen developed its first pair of jeans alongside the legendary Kuroki Mills in Japan back in 2008, and continues to be a mainstay in the denim scene.
While it sells a variety of different garments and fabrics, 3sixteen is, first and foremost, a denim company. Actually, it's more accurate to say that it is a raw denim institution. Its designers worked with the iconic Kuroki Mills in Okayama, Japan, when 3sixteen was developing its first pair of jeans in 2008, and ever since it has been a force to be reckoned with in the denim space. The impetus behind 3sixteen's meteoric rise to success in the style space is its Secret-Service-caliber attention to detail. Every stitch, patch, button, and cut is meticulously made for all of its garments, which is why they'll last you forever. If, for whatever reason, denim isn't your thing, worry not because 3sixteen also offers a wide variety of shirts, outerwear, shoes, hats, and other accessories that evoke a laidback, rugged look without sacrificing style points.
Founder: Andrew Chen
Location: New York, NY
Year Founded: 2003
Known For: Denim
BILLY REID
Why It Made the cut
Billy Reid harnesses modern southern style with each entry, whether it be a reliable basic or a luxurious piece.
Alabama-based Billy Reid employs the less-is-more approach to its garments, creating quality pieces that mix contemporary aesthetics with Southern sensibilities to create timeless pieces. Since its founding in 1998, Billy Reid has thrived with a polished and detailed style for its contemporary Southern clothes. It toes the line between rugged masculinity and fashion-forward design, resulting in a line that is elevated, sophisticated, and outrageously stylish. While its Americana roots are still present, it's clear in the design language of its latest garments that the Alabama brand is evolving with the times as its clothes are more upscale casual. By focusing on its own voice, premium quality, and versatility, Billy Reid has become a modern man's fashion staple. Heck, even James Bond owns a Billy Reid pea coat.
Founder: Billy Reid
Location: Florence, AL
Year Founded: 1998
Known For: Men's basics, southern-inspired, Western wear
BUCK MASON
Why It Made the cut
Each piece of clothing from Buck Mason is a modernized take on an American classic that looks awesome, feels more awesome, and is made to last.
Buck Mason was founded in Venice, California, circa 2013 by Sasha Koehn and Erik Allen, who worked closely with a local family factory to make small-batch garments by implementing old-school techniques and new-age technology. One of the most important tenets of Buck Mason is simplicity and minimalism. Their approach to design completely takes the guesswork out of creating a wardrobe for its wearers, as practically any combination of their high-quality garments is sure to yield an impressive outfit. By refining the American wardrobe and relying on good, old-fashioned premium fabrics, Buck Mason has become a go-to brand for men throughout the country.
Founders: Sasha Koehn and Erik Allen Ford
Location: Venice Beach, CA
Year Founded: 2013
Known For: Essentials, retro-inspired clothing, leather, denim
ENGINEERED GARMENTS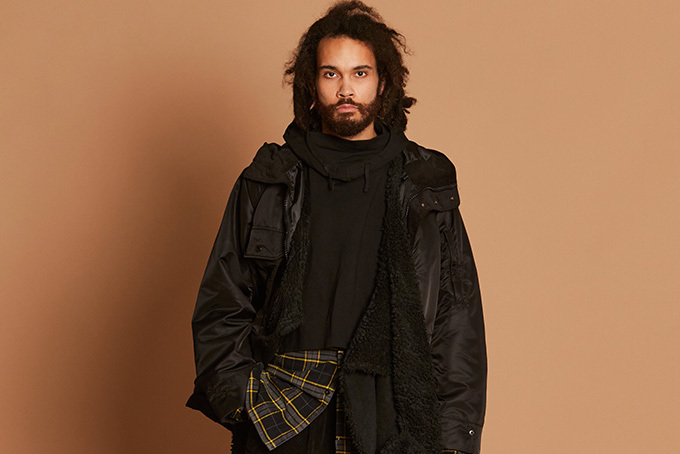 Why It Made the cut
Blending Japanese style, Americana, workwear, and a variety of other backgrounds, Engineered Garments is truly in a league of its own.
Engineered Garments was founded by Daiki Suzuki in New York in 1999. He drew inspiration from his years buying for the Nepenthes stores, which he also founded, and then crafted garments according to his own design sense. Much like Suzuki himself, Engineered Garments was forged in a crucible of American and Japanese influence. If its style had to be boiled down to its very essence, one could label this brand as Japanese Americana, which, while almost sounding oxymoronic, lends itself to an undeniably fashionable aesthetic. Its unique blend of backgrounds, as well as its military-adjacent style of workwear, shorts, and fashion-forward blazers, may not be for the conservative dresser, however, those willing to trust in the striking aesthetic of Engineered Garments' pieces are all but guaranteed to up their style quotients.
Founder: Daiki Suzuki
Location: New York, NY
Year Founded: 1999
Known For: A blend of workwear, sportswear, and fashion
FREENOTE CLOTH
Why It Made the cut
Born in San Juan Capistrano, California, Freenote is a small brand that embodies the timeless appeal of classic American style.
While many entries on this list endeavor to modernize traditional garments, there are those who understand the value of sticking to the original classics. Enter: Freenote Cloth, a no-frills old-school Americana brand that makes everything in, you guessed it, America. They implement the oft-overlooked formula of sourcing the finest materials and working with only the highest standard of excellence. Every piece made from Freenote is hand-selected to ensure that their mammoth-high standards for quality and durability are met. Think of Freenote as the brand a modern-day Steve McQueen would wear: rugged, durable, versatile, and effortlessly cool.
Founders: Matt and Andrew Brodrick
Year Founded: 2013
Location: San Juan Capistrano, CA
Known For: Denim, menswear, basics
GITMAN VINTAGE
Why It Made the cut
Gitman Vintage reinterprets old-time classics through a modern lens to launch itself back into the fashion fray.
Gitman Vintage is an American-made shirt collection that has roots in the fashion industry dating all the way back to the 1930s. While the pajamas that the original Max Gitman made were undoubtedly great, the Gitman Vintage brand that we're referring to was founded in 2008 when Gitman's creative director, Chris Olberding, was looking at the vibrant fabrics and zany designs in archived line books. The label is famous for its button-down Oxford and classic chambray shirts, but its newer designs include far more modernized and colorful design choices, such as Aztec-patterned shirts, pineapple prints, and even retro-themed numbers. By broadening the definition of what a shirt collection is, the Brooklyn-based brand continues to prove why its near-century-old reputation has lasted so long.
Founder: Max Gitman and Chris Olberding
Year Founded: 2008
Location: New York, NY
Known For: Formal clothing, oxford shirts, ties
GOLDEN BEAR
Why It Made the cut
Covering everything from leather jackets, to wool jackets, to their mega-famous varsity jackets, Golden Bear is one of those timeless brands that only offers stellar garments to last a lifetime.
Jackets are the superior mode of outerwear. There, we said it. And if you're looking for a superior outerwear brand to design the superior mode of outerwear, then you must check out Golden Bear Store. The brand's founding stretches back a century ago, to 1922, and while Golden Bear got its start by making purpose-built jackets for Bay Area dockworkers, the brand has evolved to be a mainstay in the jacket space thanks to its impressive designs and stalwart durability. Seriously, there are turtles that don't last as long as some Golden Bear jackets. In a time that's plagued by fast fashion and cheap knock-offs, Golden Bear shines as a beacon of hope and quality for jacket lovers throughout the world.
Founder: Sam Slater
Location: San Francisco, CA
Year Founded: 1922
Known For: Jackets
IMOGENE + WILLIE
Why It Made the cut
I+W's American-made approach to its products revolves around drawing inspiration from vintage jeans and Americana-style garments and adding a modernized Southern flair to them.
Imogene and Willie is a Nashville-based brand with a romantic and simple genesis: husband and wife Matt and Carrie Eddmenson set out to make a perfect pair of jeans to fit their imperfect bodies. What started as, in their eyes, a Hail Mary plan to sell 250 pairs of their Imogene (women's cut) and Willie (men's cut) jeans resulted in Imogene + Willie becoming a tour-de-force in the denim space. Their clothes are simple, durable, and timeless. While they sell a variety of high-quality shirts, outerwear (especially from their Alpha Industries collaboration), and hats, their denim products are simply genius.
Founders: Carrie and Matt Eddmenson
Year Founded: 2009
Location: Nashville, TN
Known For: Jeans, denim, accessories
JANE MOTORCYCLES
Why It Made the cut
Equal parts military uniform fabric, contemporary style, and motorcycle culture, JANE has developed a ravenous following for its high-quality, locally crafted garments.
It's no secret that the automotive and fashion spaces are closely intertwined, so it only made sense to include a moto fashion brand like JANE Motorcycles, a brand that perfectly captures the ethos of motorcycle culture. The Brooklyn-based company employs a minimalistic approach to its garments, focusing on materials, construction, and design, the Holy Trinity of style. It sources the best fabrics that the U.S. and Japan have to offer to create workwear that looks cooler and feels better than most designer clothes in the fashion space. It's hard to make casual wear look stylish and last you years, but JANE just makes it look easy.
Founders: Adam Kallen and Alex DiMattio
Location: New York, NY
Year Founded: 2013
Known For: Moto fashion
KNICKERBOCKER
Why It Made the cut
With an elevated casual style that harkens back to the early to mid-twentieth century, Knickerbocker is unapologetically fashionable and a great vintage-style standout.
Andrew Livingston and Eitan Braham started Knickerbocker in 2013 when they bought an old hat factory in Queens with money they raised from Kickstarter. The brand shines as an example of grassroots campaigning gone right, having collaborated with The New York Times on a very successful pop-up in 2019. The Big Apple-based brand now has a flagship store located on Canal Street in downtown Manhattan, where they sell their own pieces. Aside from designing gorgeous, modernized versions of classic garments, one of the highlights of their flagship location is the Knickerbocker Bookstore, which contains an impressive array of vintage art and design books to add to the old-timey style and vibe from which the brand draws inspiration.
Founders: Andrew Livingston and Eitan Braham
Location: New York, NY
Year Founded: 2013
Known For: Casual, basics, vintage
LADY WHITE CO.
Why It Made the cut
The clothes you'll find at White Lady Co. are definitely casual but retain fashion-forward elements to elevate them into modern-day classics.
Just out of its nascent stages following its founding in 2015, Lady White Co. is an L.A.-based fashion brand that offers a modern take on sportswear with West Coast influences. When the company first started, it had a very specific specialty: white jersey T-shirts. After mastering that garment, Lady White Co. went on to expand its collection to polos, long sleeves, knitwear, jackets, and even books. More than anything, its style reflects contemporary West Coast sensibilities in the form of basic, minimalist garments.
Founder: Phillip Proyce
Location: Los Angeles, CA
Year Founded: 2015
Known For: Elevated casual, jersey T-shirts
LEFT FIELD NYC
Why It Made the cut
There's a palpable toughness that the clothes from Left Field NYC evoke, which is an extension of the durable Americana roots to which it stays true to this day.
A Brooklyn-based raw denim brand, Left Field NYC was founded by Christian McCann in 1998. Its style alchemizes a rugged blend of aesthetics from Americana, biker culture, and vintage classics. The brand has the distinction of being one of the modern American-made pioneers in the fashion space, ensuring that every step of production takes place locally. While it specializes in denim, the label offers a wide breadth of classic-looking garments that span from workwear like coveralls and greaser garage jackets to good old staples like raw denim jeans, flannels, and tees. If you're looking for an American-made icon to up your thread game, then Left Field NYC is the place to start.
Founder: Christian McCann
Location: New York, NY
Year Founded: 1998
Known For: Raw denim, workwear
MOLLUSK SURF SHOP
Why It Made the cut
With strong roots in California, Mollusk Surf Shop is a surfing institution that embodies the laidback ethos of West Coast surf culture.
Mollusk makes everything from surfboards and wetsuits to board shorts and everyday wear. While the philosophy of the brand is strictly surf culture, Mollusk's aesthetic also injects skate culture into its design language to create a collection of elevated streetwear that's perfect for both urban living and exploring the great outdoors. It's a brand that lets its high-quality clothes and simple yet stylish designs do the talking, which allows it to embody the laidback cheekiness that makes surf culture so appealing in the first place.
Founder: John McCambridge
Location: California
Year Founded: 2005
Known For: Streetwear, surfwear
NANAMICA
Why It Made the cut
Using sportswear and utility as the foundation for its design language, nanamica has made a high-quality line of elevated casualwear that's best worn in the outdoors.
nanamica is a Tokyo-based fashion label that was founded by Eiichiro Homma in 2003. Translating to "house of the seven seas," nanamica focuses on sustainability for its production methods while also evoking a relaxed and inclusive vibe as an extension of the brand's belief that we're all connected. Aesthetically, the brand perfectly marries streetwear and performance wear that's reimagined through a contemporary lens. Due to the inclusive nature of its design philosophy, nanamica employs neutral designs and colorways that allow wearers of any gender, ethnicity, or background to wear its garb comfortably. It's truly an adventure brand of the modern, progressive age.
Founder: Eiichiro Homma
Location: Tokyo, JP
Year Founded: 2003
Known For: Sportswear, casualwear, streetwear
NORSE PROJECTS
Why It Made the cut
Through simplicity and high-quality materials, Norse Projects has created a collection of garments that transcend both seasons and eras.
Established in 2004, Norse Projects is a Copenhagen-based label making timeless clothing that draws influence from streetwear, skate culture, Danish design aesthetic, and high fashion. The result of this eclectic blend of styles is a line of season-proof garments that are as stylish as they are functional. Like many inclusions on this list, Norse Projects draws inspiration from the annals of history but executes its garments with a modern-day twist. Combining colorways that skew toward dark, neutral colors and minimalist designs with the occasional vibrant pop of color, Norse Projects toes the line of purpose-built clothing and elevated streetwear in a way that's uniquely its own.
Founders: Tobia Sloth, Anton Juul and Mikkel Grønnebæk
Location: Copenhagen, DK
Year Founded: 2004
Known For: Streetwear, workwear, outdoor gear, fashion
THE REAL MCCOY'S
Why It Made the cut
The Real McCoy's lives up to its name through its head-turningly stylish collection of denim, sportswear, military wear, and leather jackets.
The Real McCoy's is a Japanese clothing brand that's built a well-earned reputation for its meticulous reproductions of vintage clothing from the 1940s and 1950s. For this label, overkill is underrated. It only sources the most premium materials for its garments, no matter where in the world they may come from. From a production standpoint, literally, every aspect of the brand's process is executed with obsessive attention to detail, which is why almost every piece it makes is iconic. The Real McCoy's inability to eschew excellence has been the propellant force that rocketed this brand to worldwide acclaim.
Founder: Hitoshi Tsujimoto
Location: Kobe, JP
Year Founded: 1990
Known For: Vintage clothing
REIGNING CHAMP
Why It Made the cut
Through respecting the details and mastering simplicity, Reigning Champ has created durable clothes with an unparalleled level of comfort.
If you're looking for premium athletic wear that's as stylish as it is versatile, then Reigning Champ is the brand for you. Based in Vancouver and founded in 2007, Reigning Champ grew from humble streetwear beginnings to become one of the most recognized brands in the athleisure space. Though its streetwear influence is still apparent in its design language, Reigning Champ's line of garments has grown more streamlined and elevated, along with the company as a whole. You'll be hard-pressed to find a superior athleisure brand.
Founder: Craig Atkinson
Location: Vancouver, BC
Year Founded: 2007
Known For: Athleisure
SATURDAYS NYC
Why It Made the cut
Saturdays NYC designs and produces high-quality menswear that has garnered worldwide acclaim through its dedicated craftsmanship and traditional style.
Saturdays NYC opened its doors in 2009 in New York's boutique-filled SoHo neighborhood. Founders Morgan Collet, Josh Rosen, and Colin Tunstall endeavored to create a stylish label that redefined what it means to live, work, and surf (yes, it's a thing) in New York City. Saturdays' aesthetic is the fashion equivalent of having your cake and eating it, too. It combines the comfort of athleisure, the sophistication of New York fashion, and the laidback sensibilities of surf culture to create a one-of-a-kind brand with a stellar style quotient. Though its garments are primarily outdoor-centric, Saturdays' casual garments can be flaunted in practically any setting.
Founders: Morgan Collet, Josh Rosen, and Colin Tunstall
Location: New York, NY
Year Founded: 2009
Known For: Menswear, casualwear, outdoor wear
SCHOTT NYC
Why It Made the cut
Founded in 1913, Schott NYC was established by Irving Schott, the designer of the first motorcycle jacket.
Few American-made fashion staples command the respect and adoration the way Schott NYC does. While Schott may not have made the first-ever leather jacket, it certainly immortalized the form, so much so that Marlon Brando wore one of the brand's fine leather offerings in his 1953 movie The Wild One. Over the course of its near-110-year history, Schott has served as the gold standard of leather jacket-making by sourcing premium ingredients and ensuring every minute detail of its gorgeous garments is executed to the highest degree possible. If Schott's leather jackets somehow aren't your thing, worry not, as the brand also sells jackets in an array of other fabrics and styles, as well as a handsome line of shirts, sweaters, shoes, and pants.
Founders: Irving and Jack Schott
Year Founded: 1913
Location: New Jersey
Known For: Leather, jackets, accessories
SNOW PEAK
Why It Made the cut
As far as minimalistic, technical garments are concerned, Snow Peak is among the greatest in the world.
Known for its minimalist and utilitarian outdoor gear, Snow Peak may be considered Japan's answer to Patagonia and The North Face — though, since it's older than both brands, perhaps they should be thought of as the West's answer to Snow Peak. Since 1958, the Japanese-based brand has specialized in making understated yet elegantly designed garments with a level of detail that epitomizes the excellence of Japanese craftsmanship. Snow Peak's minimalist approach to design is purposeful so as not to distract from the natural beauty of the outdoors. What's more, Snow Peak doesn't just stop at designing all of its outdoor garments with preternatural attention to detail; each piece is rigorously tested to ensure its durability and functionality are up to the iron-clad standards that launched Snow Peak into relevance in the first place.
Founder: Yukio Yamai
Location: Niigata Prefecture, JP
Year Founded: 1958
Known For: Outdoor gear, winter gear, technical apparel
TAYLOR STITCH
Why It Made the cut
This SF-based label focuses on elevating and refining classic menswear staples with reliable apparel.
Another West Coast standout, Taylor Stitch, has been pushing the boundaries of menswear since it was founded in 2007 by Michael Maher, Barrett Purdum, and Mike Armenta. The San Francisco brand prides itself on creating rugged garments that are responsibly sourced, expertly crafted, and made to last for years. Though its aesthetic is simple in nature, the designers at Taylor Stitch take a detailed and technical approach to garment making, which is one of the main reasons its garments age like a fine wine. Taylor Stitch may have its roots in making premium shirts, but over the course of its short history, the brand has expanded its offerings to include pants, sweats, footwear, and some of the coolest jackets in its space.
Founders: Michael Maher, Barrett Purdum, and Mike Armenta
Location: San Francisco, CA
Year Founded: 2007
Known For: Shirts, menswear, basics
TODD SNYDER
Why It Made the cut
Todd Snyder specializes in menswear that's inspired by a mix of "Savile Row craftsmanship, military tailoring, and a distinct New York sensibility."
Todd Snyder launched his eponymous label in 2011 in New York City and offers a wide array of garments that range from bespoke tailored suits to collaborative capsules with iconic brands like Champion, New Balance, Timex, and FJ Company. With these collabs, the designer has expanded his already impressive purview to redefine the arenas of athleisure and streetwear, as well. Rarely do you see such a young brand make such an impact in just over ten years, but then again, talent along the likes of Todd Snyder is a rarity in itself.
Founder: Todd Snyder
Location: New York, NY
Year Founded: 2011
Known For: Menswear, elevated basics, streetwear, athleisure
VEILANCE
Why It Made the cut
Veilance was founded by fellow technical heavyweight and outdoor apparel innovator, Arc'teryx, to develop innovative, purpose-made outdoor gear with an urban patina.
Since 2009, Veilance has been setting the standard when it comes to technical apparel. The Vancouver-based brand's drive to innovate materials and engineer its garments has launched it well ahead of its competitors in terms of technical capabilities, but despite being tech-forward first, the brand still has an understated elegance in its minimalist aesthetic, blending simplicity and fashion-forward tenets with its next-gen materials to yield attractive garments with eye-popping utility.
Founders: Dave Lane and Jeremy Guard
Location: Vancouver, BC
Year Founded: 2009
Known For: Technical apparel, gorp, outdoor gear
WAX LONDON
Why It Made the cut
At its core, Wax is a sustainability-based label, ensuring that every material it sources to construct its garments is ethically and responsibly sourced.
Wax London is a British label that has created quality, contemporary menswear since its 2015 inception. Along with being a sustainable brand, Wax London's approach to garment making seems to be a vendetta against fast fashion as an idea, as all of its pieces are designed to have a timeless aesthetic and durable construction to last you for the long haul. Like nanamica, Wax London also hinges a lot of its design philosophy on inclusion, creating minimalistic, neutral garments that any person could feel comfortable wearing. In particular, Wax London's flannels and outerwear are particularly popular amongst its wide-ranging fanbase.
Founders: Tom Holmes, Steffy Neceva and Richard Singh
Location: London, ENG
Year Founded: 2015
Known For: Menswear, sustainable basics
WHITE MOUNTAIN ENGINEERING
Why It Made the cut
Taking fashion to outdoor gear, this Japanese-based label is a streetwear icon and continues to be a major player in the scene.
Rounding out our list is the fashion-forward Japanese label, White Mountain Engineering. Specializing in outdoors-inspired streetwear, White Mountain Engineering's founder, Yosuke Aizawa, created a design philosophy that revolves around three tenets: design, utility, and technology. This hat trick of criteria led the brand from being a small, boutique label when it was created in 2006, to the streetwear powerhouse it is today. While the garments present an understated and minimalist aesthetic, their technical fabrics and detailed design make them able to thrive in harsh outdoor environments, providing a layer of versatility that is often unseen in the streetwear space.
Founder: Yosuke Aizawa
Location: Tokyo, JP
Year Founded: 2006
Known For: Technical apparel, outdoor gear, fashion
The Best Wardrobe Essentials for Men
A good chunk of these brands landed on our guide to the best wardrobe essentials for men, which you can check out for more reliable options.