Until recently, it might have seemed a bit slothful to lounge around the house all day in your most relaxed clothing. Why, you ask? Well, time is money, and unless we're forced to sit inside and waste our days away, chances are, we're out enjoying our limited days with friends, family, and active endeavors. These days, we've found that there's a bit more time to sit back, reflect, take everything in, and ponder our next big project, trip, or pursuit. Being stuck inside has its advantages, though, with dress-code becoming something of a non-existent mantra. And you know what that means — pajamas on weekdays, weekends, and everything in between.
In order to take full advantage of this unique time in our lives, we've found working from home to be an open invitation for unparalleled bliss and comfort; the kind that can't be found working in an office setting where personal upkeep, appearance, and refinement all matter. Instead, we and many others have been achieving our daily goals from the comfort of our own couches. Sooner or later, wearing your daily wardrobe of business-casual jeans and dress shirts gets a bit old, especially when you're working from your living room. That's where loungewear comes in. Below, we've outlined a handful of our favorite laid-back options for in-home relaxation, allowing you to work (or play) in the coziest way possible. Sure, a traditional pajama might be the only thing you'll need to waste your days away in quarantine, but when it comes to personal care, you're going to want to keep an updated arsenal of sets, tops, shoes, and socks to get you through the tough times. So sit back, relax (more), and dive into our guide on the best pieces of loungewear for men.
J.Crew Cotton Poplin Pajama Set
Every guy needs a set of solid pajamas to wear during those laid-back days. Whether you're looking for an outfit that you can take with you as you travel, slip into for a comfortable afternoon with your significant other, or don during that work-from-home business meeting where webcams aren't mandatory, J.Crew's Cotton Poplin Pajama Set is a preferable companion. Unlike other modern pajama sets, this unique iteration arrives as a slimmer version of its counterparts, boasting a tailored silhouette that gets rid of unwarranted drape and messiness. But, even if it cuts back on extra fabric, it doesn't mean that it's any less comfortable.
Sleepy Jones Henry Pajama Set
Judging by Sleepy Jones' name, it's safe to say that they know a thing or two about nightly loungewear. The company's Henry Pajama Set is a quintessential selection of two of its finest sleepwear/relaxation pieces — the Henry shirt, and Marcel pant — both of which are crafted from the softest cotton around. The best part? The Henry is as versatile as they come, taking on the role of a day-wear due to its dressy, refined appearance. Go ahead, wear it to work — nobody will be able to tell the difference.
Robes
The Gentleman's Staple
Reigning Champ Mélange Loopback Hooded Robe
If you're going to be hanging around the house for a night of cozy relaxation, there's nothing as iconic as an extra-long robe. Since the timeless staple has remained relatively unchanged throughout the years, one of the industry's leading apparel providers, Reigning Champ, has decided to switch things up. To give the essential item a more modern appeal, the brand has introduced its hooded loopback variant — a grey melange example that makes full use of its deep pouch pockets, detachable belt, and plush silhouette.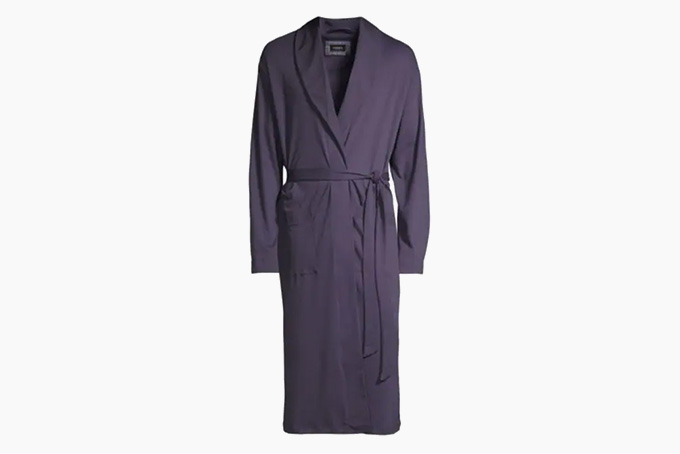 Hanro Night and Day Cotton Robe
Hanro's Night and Day Cotton Robe is a by-the-book example that holds true to the garment's timeless characteristics, relying on its extra-long appeal, belt, and deep-cut design to promote comfort in virtually every area. This 100% cotton variant is especially plush and has been outfitted with both patch pockets and a belt tie for intuitive donning and doffing. Despite its larger silhouette, it's been crafted to remain lightweight and malleable, making it a perfect option for the modern traveler. But if you're looking to wear it around the home, never fear — it works equally as well in its role as weekend attire.
Oliver Spencer Cannington Gingham Pyjama Shirt
Oliver Spencer's Cannington Gingham Pyjama Shirt is a stylish loungewear/sleepwear option that could fare well on its own, even outside of the home. This ultra-soft example boasts a premium gingham cotton construction, a loose, relaxed fit, and a checkered silhouette that's both aesthetically-pleasing, and classic. It's even got buttoned cuffs, side slits, and a breast pocket for you to store important accessories as you drink a cocktail on your patio, deck, or lookout.
Mr P. Slim-Fit Cashmere Sweater
Mr Porter has the best interests of any man in check, and the brand's in-house design wing, Mr P., provides guys with stylish essentials from every walk of life. There are even garments like the Slim-Fit Cashmere Sweater, which boasts a timeless crewneck design, subtle detailing, an ottoman-stitched neckline, and a durable, 18-gauge cashmere construction that makes it perfect for pairing with heavier overshirts. That's right, we said overshirts, meaning that you'll be able to utilize this garment for lounging, sleeping, or a night out on the town. Now that's what we call multipurpose.
Purchase: $385
Nike Training Slim-Fit Tapered Logo Sweatpants
Nike's athletic gear is all about mobility, adaptiveness, and comfort, and that doesn't end when it comes to loungewear. The brand's Slim-Fit Tapered Logo Sweatpants were built to help you relax in style, but can also be used for any strenuous activity or workout, thanks to their moisture-wicking Dri-FIT fabric, fleece backing, and stylish silhouette. The best part? They've been tapered to provide a more modern appeal, meaning that you'll be able to rock these bad boys at the gym, at the bar, and of course, on our couch.
John Elliott Escobar Slim-Fit Loopback Sweatpants
When it comes to iconic loungewear, John Elliot is the way to go. The brand's Escobar Slim-Fit Loopback Sweatpant is an exercise in sleek, stylish design, introducing a tapered, but relaxed silhouette that blurs the lines between in-home comfort and urban technicality. Each pair draws inspiration from sportswear adopted by South American footballers in the 1980s and features its own proprietary Japanese cotton-blend, loopback interior, and elasticated openings to keep things secure. Since these look just as great when paired with regular clothing, they make an attractive multipurpose alternative to more classic lounge variants, allowing you to utilize them in and out of the home.
Purchase: $230
Thunders Love Charlie Colour-Block Mélange Socks
If you're going to be spending a lot of time indoors, there's almost nothing better than throwing on a pair of great-feeling socks to spend your day in complete comfort. But not every sock is created equal. Thunders Love's Charlie Colour-Block Melange, for example, are spun from premium, multicolored yarns, and boast a recycled cotton-blend construction that deviates from traditional water waste and harsh chemical manufacturing. Instead of settling for a pair of low-quality foot warmers, how about you take a step into the world of super-soft melange?
Paul Smith Three-Pack Striped Stretch Socks
If there's a designer who understands a man's inherent need for comfortable foot knits, it's Paul Smith. His Striped Stretch Three-Pack brings not one, but three different iterations of his famous multicolored socks to the forefront, allowing you to experience an ultra-soft cotton-blend, adaptable stretch, and supreme coziness. Like most of the company's refined garments, these stylish accessories are professionally crafted in the United Kingdom and even come with their own unique presentation box.
Purchase: $60
Glerups Model G
Glerups' Model G slipper/shoe is making its rounds as one of the industry's newest infatuations, and for good reason. These ultra-comfortable footwear examples are crafted with a 100% pure wool upper and come complete with a durable, but soft leather sole that won't mark or make noise as you traverse your home's wood flooring. They might not be as visually appealing as some of our favorite in-home footwear staples, but for what they lack in aesthetics, they more than make up for in warmth, versatility, and absolute comfort.
Quoddy Fireside Leather-Trimmed Shearling-Lined Suede Slippers
Quoddy's Fireside Leather-Trimmed Shearling-Lined Suede Slippers are classics. If there's a loungewear silhouette that we remember from our youth, it's these guys. And with a fully-lined, insulated shearling interior, leather trim, and an air-injected Vibram rubber sole for additional support and traction, it's clear why they continue to inspire a feeling of unparalleled comfort. There's even a functioning lace at the top of each shoe to dial in your ideal tightness, allowing you to take a more relaxed slip-on approach, or secure them for the long haul.
The 15 Best Sweatpants For Men
The centerpiece of any set of loungewear might just be the classic sweatpants. However, you can only wear your single pair so many times before they get a bit… unsightly. Thankfully you can re-up and restock with any and all of the options on our list of the best men's sweatpants.