Your back is one of the largest and most important muscle groups in your body. And while there are numerous ways to work it out and make it stronger, one of the best is by performing pull-ups. Unfortunately, unless you have access to a gym, it can be pretty difficult to find a way to do them. However, if you're the type to exercise in your own home, you're not out of luck just yet.
Thanks to clever human ingenuity, there are a huge number of pull-up bars — some mounted, some that slot into a doorway, and others that are entirely standalone — you can buy for your home, office, garage, or wherever else you need one. But, be wary — there are a lot of cheap imposters not worth your hard-earned cash. It's with this in mind that we've scoured the web for the best pull-up bars for your home gym, which are collected in the following guide.
Best Pull-Up Bars Breakdown
Best Budget Option

Iron Age Pull-Up Bar

Best Portable

Perfect Multi-Gym Pro

Best Overall

Ultimate Body Press XL Doorway Pull-Up Bar

Best for Experts

Titan Fitness Multi Pull-Up Bar

Best for Limited Space

Rogue Jammer Pull-Up Bar

Best Freestanding Pull-Up Bar

Baseblocks Basebar

Best Non-Doorway Mount

Rogue P-4 Pull-Up System

Best All-in-One Tower

Adidas Performance Power Tower
Pull-Up Vs. Chin-Up
Before you begin working a pull-up bar into your routine, which can be daunting in its own right, make sure you know the difference between chin-ups and pull-ups. Chin-ups are performed with your palms facing you, thus working out your biceps and chest. This complements a pull-up, performed with your palms away from your body, which strengthens your back and shoulders.
How Does Bar Diameter Affect Results?
If you're looking to improve your forearm strength in the process of building your upper body, look for bars that are thicker in size. This will force you to use more of your forearm muscles in attempts at maintaining a firmer grip. A thicker bar can also improve your grip as well.
What To Look For In A Pull-Up Bar?
Even amongst the admittedly few options for pull-up bars out there that are worth your money, there are some noteworthy differences between them. Picking out the right one for you is going to be a lot easier if you know what you're looking for. More specifically, there are several factors you should consider before ever reaching for your wallet, which we've outlined for you below.
Type: As mentioned, there are a few different types or styles of pull-up bars available to purchase. The least expensive and most approachable for most people is the doorframe variety, which fits (usually temporarily) within the span of a doorframe, as its name suggests. These rely on the sturdiness of the frame to bear the brunt of the weight upon them, which can make them a bit intimidating (you can see plenty of pull-up fails online). The second, for our purposes, is the mounted variety, which gets bolted to a wall, crossbeam, overhang, etc. These are sturdier than the doorframe variety, but they do require installation (which you can do yourself if you know how or you can hire someone with the knowledge). Lastly, there are freestanding options that usually require a bit more space, but they're sturdy and they don't require any mounting.
Weight Limit: For the most part, pull-up bars have a weight limit in the 300-pound range — which means most people don't have to worry too much about this factor. However, it's important to realize that weight, when applied quickly and with a force (like gravity), actually increases the overall load (thanks, law of kinetic energy) — like how a punch hits harder than just the weight of the fist. That means, if you're dropping down too quickly, your body weight plus the applied force of gravity could eclipse the 300-pound limit. As such, it's important to be aware of this factor and potentially choose something with a higher limit to be safe.
Space/Permanence: This one is a two-parter. First, you need to determine if you have room for the different types of pull-up bars. Then, you'll want to consider whether your pull-up bar can stay in place indefinitely or if you'll need to be able to move it from time to time. For standalone options, you'll need a good deal more room, as they're often heavy, unwieldy, and not exactly packable. Mounted options tend to take up far less space, but they're still pretty permanent, as they require mounting. Doorframe pull-up bars can be removed/moved when they're not being used, so space is less important and you can usually stash them in a closet or someplace similar. Again, which option you choose will be determined by your workout space, your personal desires and needs, etc.
Price: Of all our factors to consider, price is probably the most obvious — but it still necessitates mentioning, as it could potentially make your choice for you. If you're on a tight budget, your options will likely be limited to the doorframe and perhaps a few mounted options. However, if you've got deep pockets, all of the options could open up and you'll have your pick of the litter. Just make sure to set a reasonable budget before you even start your search.
Iron Age Pull-Up Bar
Pros
400-pound weight limit
Good bar thickness
Incredibly easy to assemble
Stores easily
Cons
Lower mounting bar may get in the way during certain routines
Best Budget Option: A first glance might make you think this is one of the many, many generic pull-up bar options available online. However, a closer inspection elicits a different result, as the Iron Age Pull-Up Bar actually utilizes patented technology for its doorway fitment, good for weights of up to 400lbs — which is actually a higher limit than some of its higher-priced competition. It also requires zero assembly, stores easily, and is super simple to slot into the doorway of your choice. It was also recently updated with a curved handle at the ends for a wider grip option.
Type: Doorframe
Weight Limit: 400lbs
Perfect Multi-Gym Pro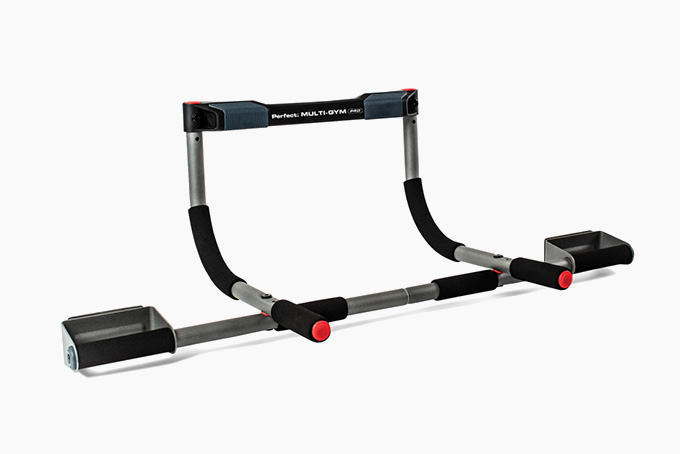 Pros
You can dismount easily for use with other exercises
Three grip options
Doesn't take up a lot of space
Budget-friendly
Cons
Not for thinner door frames
Best Portable: Some of the best pieces of gym equipment are those with built-in versatility, like the Perfect Multi-Gym Pro you see here. Yes, this is an easy-to-mount doorframe pull-up bar with a trio of grip options and a 300-pound weight limit. But it can also be taken down and used on the ground for dips, push-ups, and even ab work (situps and crunches). If you're looking to maximize your minimalist home gym setup, you can't go wrong with this offering.
Type: Doorframe
Weight Limit: 300lbs
Ultimate Body Press XL Doorway Pull-Up Bar
Pros
Perfect amount of options no matter your difficulty level
Mount bars can extend for larger doorways
Bar is perfect thickness
Cons
Hangs a bit below top of doorway
Best Overall: To maximize your muscle gains, working out your muscle groups in varying ways is practically a necessity — and it's super simple to manage, at least for your back, with the Ultimate Body Press XL Doorway Pull-Up Bar. This is because this temporarily-mounted doorframe rig offers 6+ different grip options — meaning you can perform standard pull-ups, chin-ups, wide grip pull-ups and chin-ups, narrow-grip pull-ups, and chin-ups, etc. Better still, the mount bars can be extended to accommodate larger doorways, if you have the need for that.
Type: Doorframe
Weight Limit: 300lbs
Titan Fitness Multi Pull-Up Bar
Pros
Over 16 different grip options
600-pound max weight
Affordable
Best for Experts: The first on our list that features a mounted format, the Titan Fitness Multi Pull-Up Bar is like the Perfect Multi-Gym Pro above… if they pumped it up with steroids. Not only does it have a far higher weight limit — 600 lbs, when properly mounted, to be exact — but it also has 16+ different spots that can be gripped, meaning you can run the gamut of pull-up and chin-up styles or even practice mixed-grip versions. Hell, you could use this rig like Ninja Warrior-style monkey bars — making this a formidable offering all around.
Type: Mounted
Weight Limit: 600lbs
Rogue Jammer Pull-Up Bar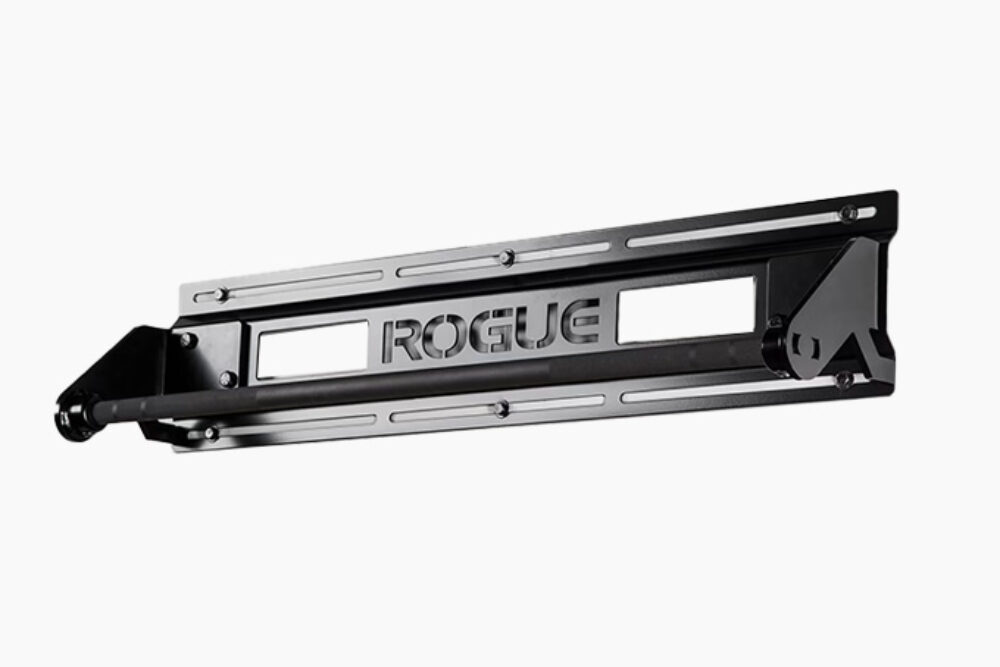 Pros
High max weight
Doesn't hang below the doorway
Option between knurled and smooth bar texture
Super sturdy
Cons
Doesn't extend far enough for non-doorway mounting
Best for Limited Space: If you want a mounted pull-up bar that isn't quite as obtrusive as some of the other options out there — either because you're limited on horizontal space or you just don't want a huge mounted piece of equipment above your head — you can't go wrong with the low-profile Rogue Jammer Pull-Up Bar. While its format lends itself to above-doorframe mounting, we'd caution against putting this pull-up bar on a flat wall, as it doesn't quite extend far enough. But if you have a doorway, crossbeam, or something similar, this exceptional pull-up bar is a tough one to beat.
Type: Mounted
Weight Limit: 500lbs+
Baseblocks Basebar
Pros
You can move it around
Easy to store
Don't have to worry about it falling off like mounted bars
Best Freestanding Pull-Up Bar: If you're wary of doorframe pull-up bars and you don't have the option for either a mounted option or a full-blown power tower, you're not entirely out of luck. That's because the folks at Baseblocks have crafted their clever, collapsing Basebar — which is perfect for small spaces, like apartments. It does have a lower weight limit than any of the others on our list, clocking in at a max of 230lbs, but that's made up for by its easy-to-store format, lifetime warranty, and overall convenience.
Type: Standalone
Weight Limit: 230lbs
Rogue P-4 Pull-Up System
Pros
High max weight
Easy installation
Basic setup
Cons
Better for tall ceiling heights
Best Non-Doorway Mount: If you're a take-no-prisoners exercise fanatic and you only want the best of the best pull-up bar for your home gym, mounted options simply don't get better than Rogue's — of which we're focusing on the P-4 System you see here. Made from solid 11-gauge steel, this pull-up bar suits spaces with ceiling heights of at least 9'6″ (but there are options for shorter roofs, also from Rogue) and has a formidable 500+ pound weight limit. If you look at this option and think, "Wow, that looks like professional gym equipment," you'd be exactly right — it is. Plus, as a cherry on top of the cake, it's also made in the USA.
Type: Mounted
Weight Limit: 500lbs+
Adidas Performance Power Tower
Pros
Enables you to do dips, leg lifts, and other workouts as well
Pretty fair price
Cons
Requires some floor space
Best All-in-One Tower: Though not practical for most people, especially those limited on space, there's no denying the allure of the adidas Performance Power Tower as a dedicated, standalone piece of workout equipment. It requires no mounting, no doorframes, and offers more than just pull-ups and chin-ups — namely, it has collapsible arms for dips, leg lifts, etc. If you've got the space to accommodate such a large piece of dedicated workout equipment, it's a sound investment in your fitness-focused future.
Type: Standalone
Weight Limit: 297.6lbs
The Best Rowing Machines for Your Home Gym
If you're looking to target your entire body during your daily workout, get yourself a unit from our guide to the best rowing machines for your home gym.