Sometimes, you just need some simple, reliable apparel from a label that you can trust. But it can be hard to know which ones are worth your time with all the options out there (especially online). So whether you're looking for sustainable brands that place a large emphasis on well-sourced products, or gargantuan, industry-leading manufacturers who pride themselves on their transparent practices, we've established a list of the best brands for basics that deal in the realm of essential men's attire. Below, you'll find a handful of trustworthy brands that make the highest-quality basics in the best way possible, giving you a firm foundation for every outfit you can imagine.
Best Men's Basics Brands

Our selection
As a fashionable guy who's also cognizant of the breadth of companies, practices, and styles in the men's fashion space, it can be relatively daunting to find a trustworthy brand that you can turn to for all of your essential items. Not only do you have to keep the quality of the manufacturer's clothing, materials, and work practices in mind, but you also have to do your research — especially when it comes to the clothing that you wear on a daily basis. Which brands are focused on sustainability? Are there companies that give back? Are you supporting a manufacturing process (and company ethos) that falls in line with your own? While most guys might not think about these intricacies, many do. After all, what really sets one "basics" company apart from the other? For our guide, we've narrowed down the best brands for basics that craft wardrobe essentials with care. Whether it be shirts, jackets, or underwear, each brand on this list takes pride in making reliable everyday apparel for men who just want something that works. We've also included some brands that try to elevate basics into something more fashionable, with a modern twist on classic designs, along with labels that work hard to keep manufacturing here in the States.
American Giant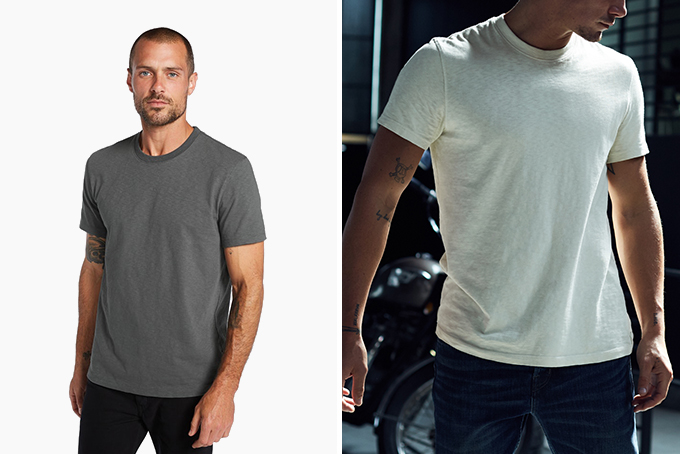 Why it Made the Cut
American Giant not only makes reliable basics, but works to keep its manufacturing in the States.
American Giant is a bombastic company that looks toward the future with bright eyes — understanding that in order to compete, thrive, and prosper in the apparel space, American brands need to reinvent the way that they approach the industry. As one of the most innovative (and open-minded) companies on this side of the Pacific, AG invests in the future of American clothing with both the technology and practices to compete against influential clothing manufacturers overseas, whilst building an extensive catalog of classic styles, colors, and fits in North America's most prolific production centers. Sticking true to the company's ethos of "Made-In-The-USA Must Evolve Or Die," American Giant looks to reinvent the way that manufacturers approach modern clothing — and if you ask us, they're doing a fine job.
Founder: Baynard Winthrop
Year Founded: 2011
Location: San Francisco, CA
Basic Rights
Why it Made the Cut
This UK-based label crafts ethically-sourced basics for affordable prices, and works to elevate them into something more stylish.
Basic Rights focuses on fostering relationships within the manufacturing process, bringing an undeniable feeling of community, preservation, and culture to the fashion industry's reserved persona. The sustainable brand produces ethically sourced basics for the modern man, paying mind to the connection that people share with their clothing, as well as the world around them. From tees and pants to shorts and jackets, Basic Rights focuses on maintaining a commitment to bringing you the best quality goods at an affordable price point — all while giving back to the community. For every product that the company sells, they've pledged to work with Trees For The Future to plant an oxygen-producing companion; doing their part to foster a more sustainable future for everyone.
Founder: Freddie Cowan
Year Founded: 2016
Location: UK
Buck Mason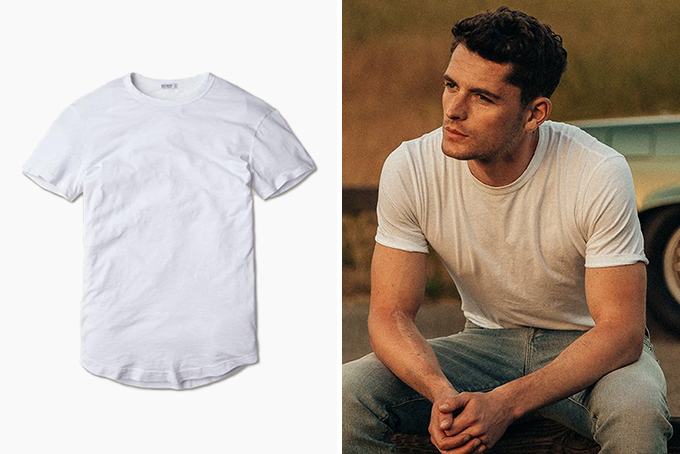 Why it Made the Cut
Buck Mason combines Southern California style with Americana to create reliable and timeless basics.
Buck Mason brings an architectural background (and staunch focus on product design) into the limelight for the heritage clothing industry — giving consumers access to the basics that they need, with a tried-and-true, hands-on approach to back them up. The iconic apparel manufacturer seeks to make the world of "fashion" less complicated for their buyers, establishing an expansive catalog of classic American styles that pair easily with an iconic-looking wardrobe. Consistent build quality and the company's unique approach to hand-made examples have left many faithful consumers coming back for more — and we'd be hard-pressed to say that they weren't one of our favorite American-made brands, to date.
Founders: Sasha Koehn and Erik Allen Ford
Year Founded: 2013
Location: Venice Beach, CA
Everlane
Why it Made the Cut
Not only is Everlane dedicated to making sustainable apparel, but the label is radically transparent, sharing every step of the process.
Everlane is another expansive basics company that has become one of the biggest players in the clothing industry due to its ethical practices, enticing designs, and affordable price points. The brand has made it a point to portray its radical transparency to the worldwide consumer base, placing an emphasis on its ethical in-factory relationships, commitment to a fair workplace, and mission to provide the best-quality goods without all of the complexities of environmental politics. That being said, each piece of basic apparel is built with only the finest materials, giving you an exemplary article of clothing that you'll be able to wear for years to come while looking great in the process.
Founder: Michael Preysman
Year Founded: 2011
Location: San Francisco, CA
James Perse
Why it Made the Cut
This West Coast-based brand wears the area's geography and culture on its sleeve, with stylish basics that are always high-quality.
James Perse is a quintessential basics brand hailing from North America's west coast. Placing a strict emphasis on its California roots, this boutique brand focuses on conveying its company culture, exceptional values, and innovative ideas to a worldwide audience while keeping a close eye on classic cuts, styles, and adaptations. Since it was founded in 2003, it's grown at an alarming rate — even finding a place at specialty retailers like Barneys New York, Nordstrom, and Saks Fifth Avenue — and boasts one of the most well-received "basics" lineups of any brand. As a West Coast favorite, James Perse has made a name for itself by providing buyers with an expansive listing of iconic styles and designs, citing attention to detail and a commitment to quality goods as the primary selling points of the company.
Founder: James Perse
Year Founded: 1996
Location: Downey, CA
Les Basics
Why it Made the Cut
Les Basics has perfected minimalist menswear and work closely with local artisans in Bali to craft individual pieces with care.
Les Basics is the epitome of a basic men's brand, bringing some of the most minimalistic pieces of attire to the forefront for guys everywhere. With a staunch focus on the creation of long-lasting articles of clothing, the aptly-named brand set out on a mission to create pieces that would reflect their sustainable values and beliefs, while also searching for an environmentally-conscious way to do so. The solution? All of Les Basics clothing is made on-site by local artisans in Bali (and other Indonesian islands) where, instead of focusing on mass-production, the brand has opted to create each individual piece with care. The creators of this one-of-a-kind brand believe that the steps taken — from initial design and conception, all the way to the final production run — are of the utmost importance to buyers, as well as workers. Because of this, each article of clothing is finished in limited quantities and maintains an entirely unique silhouette.
Founder: Frederique Lessard
Year Founded: 2016
Location: London, ENG
Los Angeles Apparel
Why it Made the Cut
Not only does Los Angeles Apparel craft reliable gear, but they're dedicated to keeping jobs and manufacturing here in the USA.
Los Angeles Apparel might sound familiar, and that's because they are. As an offshoot/competitor to the iconic brand, American Apparel, this West Coast-based outfit has opened its doors to customers who are looking for affordable, well-built basics that are produced right here in the USA. Like some of the other brands on our list, the company focuses on complete transparency relating to production practices, in-factory conditions, the implementation of living wages, and a commitment to creative design, without the derogatory price tag. Los Angeles Apparel has become known for its exceptional take on America's most classic cuts and styles — supplying buyers with all the essentials they'll ever need to build a handsome outfit.
Founder: Dov Charney
Year Founded: 2016
Location: Los Angeles, CA
Reigning Champ
Why it Made the Cut
If you're in the market for athletic basics, Reigning Champ's apparel is always durable, stylish, and modern.
Reigning Champ brings athletically fashioned basics to the table for guys who are looking for a "little more" out of their essential apparel. With a focus on premium designs and styles that have been approved by athletes everywhere, this decade-old brand preaches a tried-and-true list of principles that respect the details, master simplicity, and emphasize unrivaled comfort. From shorts, shirts, and in-house compression fabrics that were built to withstand the abuses associated with everyday training, to common essentials like plain tees and hoodies, Reigning Champ has all the bases covered when it comes to men's basics.
Founder: Craig Atkinson
Year Founded: 2007
Location: Vancouver, BC
Richer Poorer
Why it Made the Cut
Richer Poorer takes ordinary apparel and elevates it with a minimalist yet sophisticated design.
Richer Poorer has made quite the name for itself in recent years, quickly becoming one of the most sought-after boutique basics brands for men, the world over. Whether you're looking for a perfectly crafted pair of briefs, socks, or undergarments, this predominately innerwear-oriented company provides the best gear around. As one of the only "true" basics brands on this list, Richer Poorer fosters a humble design principle that pairs well with the company's catalog of minimalistic attire, including simplistic designs, colors, and fabrics. The brand does its best to elevate ordinary items into the realm of exceptional design — and as far as we're concerned, they've delivered on that statement tenfold.
Founder: Iva Pawling
Year Founded: 2010
Location: San Marcos, CA
Uniqlo
Why it Made the Cut
As one of the most famous basics brands, Uniqlo has been making affordable and reliable apparel since the '80s.
Uniqlo brings guys what they really want — low-cost basics that can be bought, worn, and replaced with relative ease. As the last company on our list of boutique basics brands, this essential-focused company boasts a gigantic catalog of modern cuts, fits, and styles, making it easier than ever to find your preferred attire for a variety of outfits. There's not much to cover here — Uniqlo is the quintessential brand for basic attire that's affordable, exceptional, and built for the common guy.
Founder: Tadashi Yanai
Year Founded: 1984
Location: Yamaguchi, JP
The Best American-Made Clothing Brands
Now that you've got a feel for all of the best basics proprietors in the industry, head over to our guide on the best American-made clothing brands for an inside look at the USA's most prominent manufacturers.