While tremendous strides have been made in recent decades, auto racing remains an inherently dangerous activity. Though the introduction of safety measures like on-board fire suppression systems, roll cages, window nets, "SAFER" barriers, HANS devices, and fire suits have all helped to mitigate the risk of injury associated with careening a car around a race track, one racing safety staple that remains a vital piece of any track-day head or auto enthusiast's kit is the auto racing helmet.
From casual kart competitors to professional Formula One drivers and everything in-between, today's auto racing helmet market runs the gamut. While this ultimately enables drivers to select from a diverse array of purpose-built auto lid offerings from a wide range of price-points, it can also make finding the right helmet for you feel like looking for a needle in a haystack. So, to help you hit the track with the best possible brain bucket, we've pored over the best models from the most trusted names in the business to bring you the 15 best auto racing helmets.
History Of The Helmet
From Leather Lids To Carbon Composites
Introduced in 1908, the earliest auto racing helmets were essentially cloth and/or leather items — which were arguably more hat than helmet — that provided minimal protection and were similar to the first football helmets of the same era. These helmets remained the status quo in auto (and motorcycle) racing until the dawn of the 1950s when the first hard shell auto racing helmet designs began to emerge.
In 1954, Bell designed the 500 TX helmet that in '57 became the first mass-produced hardshell auto racing helmet. In addition to a handful of extremely-iconic cars, the '60s also saw multiple outfits working on full-face helmet designs, though it would be another decade or so until they too would see mass production. In the decades that followed more and more innovations were made in the area, including the use of liner materials that more efficiently absorbed energy, composite shell constructions, fire-retardant materials, and bolstered comfort and eye protection.
What To Consider When Helmet Shopping
Six Things To Know Before Buying A Brain Bucket
Regardless of what kind of lid you're looking for, there are a number of areas that should be taken into account when in the market for an auto racing helmet.
Helmet Type: While all auto racing helmets perform the same basic function of protecting your noggin in the event of a crash, today's helmet market boasts brain buckets built for specific types of driving/racing. There are basic track day helmets for casual enthusiasts, and while they don't need to meet the same stringent standards as race lids, these nonetheless offer solid protection and are usually reasonably priced, granted they lack some of the high-end amenities of top-shelf race lids.
Race helmets are top-of-the-line offerings, boasting the best materials and construction and bestowed with all the latest and greatest tech and peripheral accessories like HANS posts and comms, and hydration systems. Lastly, there are rally helmets which are dedicated race helmets, though designed specifically for off-road and rally use.
Materials: The next major area to consider is the type of materials used. This will play a pivotal role in the level of protection a helmet affords, as well as how much it weighs. The main types of materials used on modern helmets are fiberglass, carbon fiber, and composites, the latter of which boasts the most complex construction and is usually comprised of a combination of fiberglass, carbon fiber, and kevlar.
Ventilation & Aerodynamics: Airflow properties are hugely important on racing helmets. Wearing a thick, padded, hard-shelled, hat can get hot fast, so a well-ventilated helmet with solid airflow channels will make a big difference in keeping you cool while behind the wheel, enabling you to better focus on the task at hand. In a similar vein, a helmet's aerodynamic properties are also important, especially for open cockpit mediums where the helmet isn't protected from behind a windshield.
Safety Standards: The next big area to think about before buying a helmet is safety standards. For auto racing helmets the two main standards are SNELL and FIA. These are rating standards that determine if a helmet is up to snuff for racing duties. If you want to race at a track, your helmet will need to meet (at least) one of these ratings. There are multiple SNELL and FIA ratings so be sure to do your homework before pulling the trigger on a purchase.
Fitment: For a helmet to properly do its job it has to precisely fit your head. Most helmets are offered in multiple sizes (and multiple shell sizes), with some affording additional adjustability for an even more precise fit. Not only is it important to get a helmet in your size, but just as important is buying a helmet that fits the shape of your head. Different manufacturers will make helmets geared toward slightly more round or more oval crowns, so it's important to measure your head and then figure out what company and model is most conducive to your protecting your dome.
Accessories: While this area is most applicable to helmets of the race variety, accessories are nonetheless another important aspect to pore over before making your purchase. Different helmet models afford different accessories such as HANS (Head and Necks Support) systems, ventilation or hydration setups, communication equipment, visors, duckbills, and tear-offs, just to name a few.
HJC AR-10 III
When it comes to a budget auto racing helmet that doesn't compromise on quality, it's hard to do better than HJC's AR-10 III. Constructed from an advanced fiberglass composite weave shell, this SNELL-approved helmet boasts an anti-fog polycarbonate visor with tear-off posts, as well as pre-installed M6 terminals for head and neck restraints. Inside, its Fire Resistant Moisture-wicking Comfort Carbon interior, coupled with the brand's "Advocated Channeling Ventilation" system together allows for an incredibly comfortable helmet, even when worn for long periods.
Helmet Type: Track Day
Shell Material: Fiberglass Composite
Safety Standards: SNELL SA2015
Origin: South Korea
Conquer Carbon Fiber Full Face
Conquer is one of the smaller helmet companies out there, though it nonetheless has a handful of solid models amongst its lineup including the plainly-named Carbon Fiber Full Face. Weighing in at just a single pound, this helmet boasts full carbon fiber composite construction on the outside with fire-resistant interior padding, and a 3mm flame-resistant, anti-scratch visor (with tear-off posts). Snell certified, this Conquer item is a premium version of a straight-forward, no-frills track day helmet.
Helmet Type: Track Day
Shell Material: Carbon Composite
Safety Standards: SNELL SA2015
Origin: N/A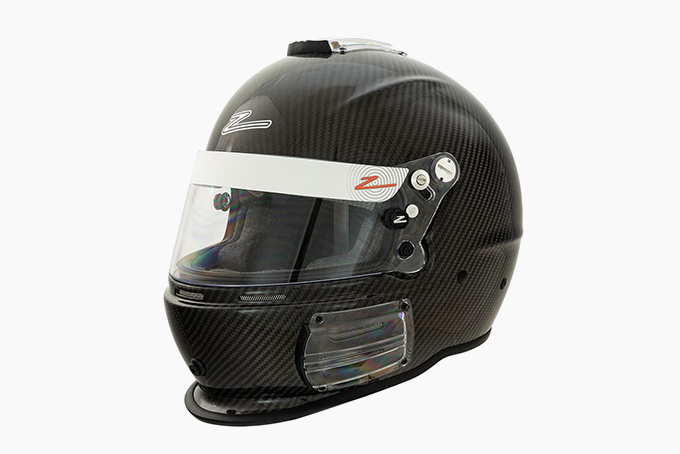 Zamp RZ-44CE
Not only is Zamp's RZ-44CE helmet a solid piece of protective gear at an accessible price-point, but it's also one of, if not the most versatile premium helmet in its class. Making this carbon mix-shelled helmet's value even better is its included aerodynamics kit, though it's also ready for comm systems and natural or forced air (or plugs). Made in America, the helmet's fire-retardant and washable/removable interior boasts ear muffs and ear pads as well as a chin-bar with EPS foam and a hydration hole.
Helmet Type: Race
Shell Material: Carbon Composite
Safety Standards: SNELL SA2015 / FIA 8859-2015
Origin: America
Bell GT5
Bell's GT5 helmet is without a doubt one of the most legendary auto racing helmets ever produced. Paired with an advanced multi-density, multi-piece liner, this lid's carbon composite shell boasts large eye ports, a robust ventilation system, M6 terminals for FHR anchor, and a synthetic rubber gasket seal that keeps dirt, water, and debris from getting inside. And, despite its relatively affordable nature, the GT5 comes loaded with functionality, being fully compatible with side and top air attachment systems, as well as integrated channels in the face to accommodate drink tubes or communication systems.
Helmet Type: Track Day
Shell Material: Carbon Composite
Safety Standards: SNELL SA2015 / FIA 8859-2015
Origin: America
Arai GP-6S M6
For well over half-a-century, Arai has been producing premium, handmade Japanese helmets, and the brand's tradition for unparalleled craftsmanship and execution is on full display in its GP-6S M6 helmet. The Japanese brand's take on a mid-tier track-day helmet, the GP-6S M6 features Arai's proprietary PBcLc (Peripherally Belted Complex Laminate) shell construction which is also utilized in the helmets Arai makes for professional Formula One drivers. Open and closable 10mm ventilation ports and a soft EPS liner both make the GP-6S incredibly comfortable and help to reduce fatigue. It's pre-installed 6mm washer/nut also allow it to accommodate a variety of HANS devices.
Helmet Type: Track Day
Shell Material: Carbon Composite
Safety Standards: SNELL SA2015 / FIA 8859-2015
Origin: Japan
Roux R-1C
Though one of the lesser-known brands in the auto helmet world, Roux still produces well-designed, ultra-premium racing lids (including a recent collaboration with Pinin Farina). This particular Roux offering is the company's flagship model in a composite shell. Underneath the surface, a unique water-cooling system helps to keep the driver from overheating, which is further helped along by its integrated hydration system and its solid ventilation. It also has HANS anchors, a noise-canceling comm system, an emergency helmet removal system, is offered in a carbon fiber version, and is sold with a clear and smoked (dark) visor and an extra set of shield hardware.
Helmet Type: Race
Shell Material: Composite
Safety Standards: SNELL SA2015
Origin: America
Bell GP3 Carbon
Originally developed for use in F1 competition, Bell's GP3 Carbon helmet is a thoroughly modern American-made brain bucket, made from an ultra-lightweight carbon fiber shell. Alongside integrated channels in the chinaberry for comms and hydration systems, this helmet also boasts M6 terminals for FHR anchors, optional chin spoiler for open cockpit vehicles and karts, and open/closable ventilation setup, a multi-density multi-piece energy-absorbing liner, and an optical-grade injection-molded double screen anti-fog visor. If you still aren't sold, this was the exact helmet worn last season by 11 F1 drivers (including Lewis Hamilton), making it the most popular helmet in the sport by a longshot.
Helmet Type: Track Day
Shell Material: Carbon Composite
Safety Standards: SNELL SA2015 / FIA 8859-2015
Origin: America
Sparco Sky RJ-7I Carbon Fiber
Sparco has earned an impressive reputation for producing high-quality auto racing components, and though the Italian company may be best-known for its steering wheels and race seats, it also makes some fantastic racing helmets. The Sky RJ-71 is the Italian company's take on a top-shelf rally lid. It boasts an integrated comm-ready setup complete with an adjustable carbon fiber boom and noise-canceling mic – both with military-grade (Nexus)
connections – all wrapped in a carbon-kevlar-reinforced carbon fiber shell. This HANS-ready helmet also comes with a matching carbon fiber peak.
Helmet Type: Rally
Shell Material: Carbon-Kevlar-Reinforced Carbon Fiber
Safety Standards: SNELL SA2015 / FIA 8859-2015
Origin: Italy
Simpson Carbon Diamondback
Famously worn by Top Gear's "The Stig," Simpson's Diamondback helmet is something of a modern-day icon in the motorsport world. Made in America, this carbon fiber variant features an aerodynamic profile and shape with a fully-sealed reccessed eye port. The unique-looking track day lid is frontal head restraint-ready and is offered with a side-pipe option (for an added fee) and supplementary dedicated comm systems.
Helmet Type: Track Day
Shell Material: Carbon Fiber
Safety Standards: SNELL SA2015
Origin: America
Sparco Prime RF-9W Supercarbon
Sparco's top-of-the-line lid, the RF-9W Supercarbon offers a classic full-face silhoutte in a modern and premium 8860 carbon weave. The helmet features a pre-impregnated carbon fiber shell that's reinforced via a layer of carbon kevlar, and a removable and washable liner (with polystyrene padding) that offers ample adjustability. In addition to HANS posts, this lid also comes drink and comm system ready.
Helmet Type: Race
Shell Material: Carbon-Kevlar-Reinforced 8860 Carbon Fiber
Safety Standards: SNELL SA2015 / FIA 8859-2010
Origin: Italy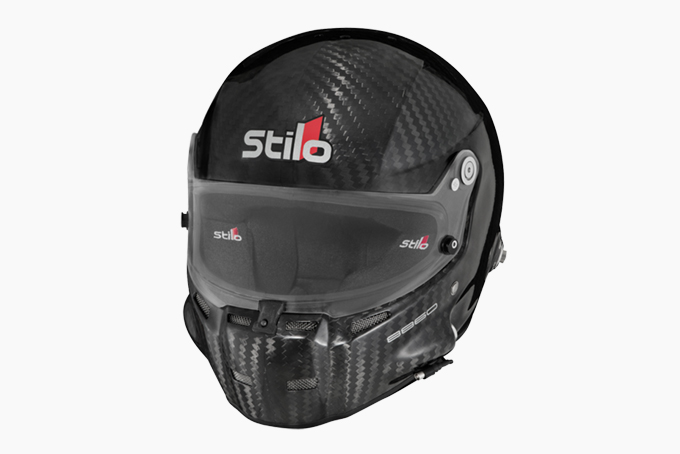 Stilo ST5 F 8860
Worn by a number of Formula One drivers, the ST5 F is Italian helmet brand, Stilo's flagship model, and this particular spec is the company's top-of-the-line 8860 carbon version. Made from ultra-lightweight medium tensile carbon, this helmet sports a small aerodynamic shell that offers stellar vision range and ventilation, helping to lessen fatigue during grueling endurance events. This Stilo lid's comm system setup is also adjustable, plus it gets a multifunction visor-locking clasp. And, while the ST5 F 8860 Carbon is undeniably a high-performance helmet, it also looks the business, with its aggressive Italian aesthetics.
Helmet Type: Race
Shell Material: 8860 Carbon Fiber
Safety Standards: FIA 8859-2010
Origin: Italy
Bell Racing HP7 Carbon
The HP7 Carbon is Bell Racing's high-dollar, spare-no-expense auto racing lid. Capable of absorbing as much as 40% more energy "standard models", this helmet features an ultra-lightweight shell composed of aerospace-grade carbon fiber. A total of 14 intake and exhaust ports offer incredible ventilation, too. Offered with or without an aerodynamic chin-spoiler, this helmet was developed by Bell with help from a variety of F1 teams and drivers and despite its robust nature, tips the scales at just 3.5lbs.
Helmet Type: Race
Shell Material: 8860 Carbon Fiber
Safety Standards: SNELL SA2015 / FIA 8859-2015
Origin: America
Arai GP-6RC 8860
Carbon fiber has long been the go-to choice for top-of-the-line auto racing helmets, though Arai's GP-6RC model takes this idea and runs with it, utilizing the Japanese outfit's own proprietary carbon weave that retains the materials stellar strength-to-weight ratio while affording superior flexibility. Designed for use in F1 but available to the public, this high-end made-in-Japan helmet also comes with 10mm intake and exhaust ports, Arai's Performance Enhancing Device (aero kit), pre-riled HANS posts, a 6 Series (3mm) locking visor, and removable and customizable cheek pads for a perfect fit, every time.
Helmet Type: Race
Shell Material: 8860 Carbon Fiber
Safety Standards: SNELL SA2010 / FIA 8860-2010
Origin: Japan
SCHUBERTH SF2 Pro 8860
Another helmet seen on a few of today's Formula One pilots, the SF2 Pro is the flagship auto helmet offering from German outfit, SCHUBERTH. This top-shelf version of the helmet is made from a carbon-aramid-hybrid weave that enables it to tip the scales at an insanely-light 1,150 grams while still doing a phenomenal job of absorbing and dispersing impact. And despite boasting one very slippery drag coefficient, this helmet funnels an impressive 14-liters of fresh air through it every second at 60mph thanks to a whopping dozen air inlets (and a half-dozen exhaust outlets). It's also wireless-comm-ready, fire-resistant, and offered with a myriad of plush interior options.
Helmet Type: Race
Shell Material: 8860 Carbon-Aramid Composite
Safety Standards: SNELL SA2015 / FIA 8860-2010
Origin: Germany
Stilo WRC DES ZERO 8860
The WRC DES ZERO Carbon helmet from Stilo is the result of setting out to build the absolute best rally helmet possible with little to no concern for production or material costs. Constructed from the world's lightest 8860 carbon weave, this proffesional-grade rally lid boasts an integrated, adjustable microphone boom, earphones, and plug. Also adjustable is this elite rally helmet's (optional) short visor and tinted, motorcycle-style drop-down sun visor. When it comes to rally helmets, it really doesn't get much better than this (and at 1,120-grams, it doesn't get much lighter than this either!).
Helmet Type: Rally
Shell Material: 8860 Carbon Fiber
Safety Standards: SNELL SA2015 / FIA 8860-2010
Origin: Italy
The 8 Best Track-Only Cars You Can Buy
Now that you've got your racing gear situation squared away, why not check out our guide to best track-only cars you can buy to ensure you come correct next time you hit the race track.