As you're likely well aware, we are firm believers that everyone should own a pocket knife (at least one). They are tremendously useful tools, both for urbane city-dwellers and backcountry woodsmen alike. Truly, whatever walk of life you come from, you should at least consider picking up a blade of some sort – even if it's just one of the many functions in an everyday carry multi-tool.
But, if you're going to buy a knife, you should also be prepared to take care of it. Yes, that means you should know how to sharpen your blade – but that's not the end all be all of knife maintenance. Especially if you use your blade in the outdoors, be that at a campground or just in your own backyard, you should give your knife a thorough cleaning every once in a while. That is, unless you want to have to buy a new one every time yours gets too filthy to use. If you value your knife, however, you'll probably want to read up on our following guide on how to clean your pocket knife.
Necessary Maintenance: Good For Your Gear
Like every quality piece of gear, knives go through normal wear and tear. Even fixed blades need to be sharpened and cleaned every once in a while. Pocket folders, however, are especially susceptible to gunk and filth, however, as they have moving parts. If you want to keep your knife in working order, that means you're going to have to clean it every so often.
Thankfully, cleaning a pocket knife is not as daunting a task as you might think. In fact, to perform basic maintenance, you don't even have to take it apart. Sure, there are hardcore knife enthusiasts out there that might argue the contrary, but your average EDC user doesn't have to perform comprehensive maintenance to keep their blade in working order. And that's all the more reason to get the job done every once in a while – it's not that hard and it can extend the life of your knife much further.
As a side note, there are a couple things you can do to help yourself along before you start. For instance, getting familiar with your knife and its condition will help you know what you need to focus on. If your blade has some rust spots, take note of it. Similarly, if your pivot feels a bit stiff, you'll want to pay extra attention to it during your cleaning. Finally, though this is an easy task, it can also be a dirty one. Make sure you've got a good space picked out. A workbench works great, but you'll want to avoid things like your kitchen counter or your dining room table, as knife cleaning requires oils and lubricants that can be toxic.
Cleaning Supplies: Here's What You Need
There are a few things you'll need to have on hand before you get started. Some are absolutely necessary, but some can be swapped for alternatives – just use your best judgment in doing so. Remember, what you choose to clean your knife with will, in part, determine the life of your blade – so you should take care as such. Don't trade anything out or skip a supply or step out of sheer convenience, because it can have negative consequences.
Scotch Brite No Scratch Scour Pads
In order to scrub off any impurities from your blade, such as dirt or rust, you'll want to have a non-abrasive scouring pad. Do not, under any circumstances, use steel wool, as it will strip the metal from your blade, severely shortening its functional life and scratching it terribly. These ones from Scotch-Brite will work perfectly, as they are made of no-scratch nylon, can be washed and reused, and aren't too pricey. Alternatively, you can use wet/dry fine grit sandpaper, and it should also get the job done.
OXO Good Grips Deep Clean Brush Set
The scouring pad you use isn't necessarily going to clean all the gunk off your blade. To get anything that your scouring pad misses, you'll want a non-abrasive cleaning brush. These ones from OXO Good Grips are excellent, though you could also swap them out for a regular toothbrush or, if you've got a really rusty blade, you might want to get a brass bristled brush. If the latter is your choice, however, be careful not to strip your blade of too much material. Metal on metal is always a risky choice with cleaning.
Hoppe's No. 9 Gun Bore Cleaner
Designed to clean gunk and rusk off of gun barrels, this oil is a superb cleaner for pocket knives, as well. As an added bonus, it's also made in the USA. If you don't want to spend the $8 bucks to purchase this, however, you can also swap it out for a mild dish soap. Again, this depends upon how much you value your blade and whether it is important enough to get something specifically designed for cleaning a metal tool. Just don't get anything grainy, abrasive, or acidic, as it can have a severe negative effect on the end result.
Liquid Wrench L112 Penetrating Oil
Both for after-care and cleaning the hinge of your blade, this penetrating oil is perfect for lubricating your knife's pivot and is better than, say, WD-40. That's not to say you couldn't swap it out – you absolutely can and it will work just fine for most blades – but if you have something that's perhaps a family heirloom or a very expensive pocket knife, we suggest something a little more robust.
Q-tips Cotton Swabs
As mentioned, you don't have to take your knife apart to clean it. But, if you want to get in all the nooks and crannies, it helps to have a box of cotton swabs. They're cheap, effective, and small enough that they can get the job done no problem.
Polishing Cleaning Cloth
To wipe off all the excess gunk and oils after you've finished cleaning, a non-abrasive cleaning cloth is essential. Sure, you could use a normal terry cloth towel, but you might not end up with a thoroughly wiped down blade after everything is said and done. Similarly, paper towels can leave behind fibers. In our opinion, this polishing cloth is a much better option and will get your knife clean as a whistle.
Step By Step: A Method To The Madness
First and foremost, you'll want to make sure you have all your supplies on hand, clear out your workspace, and have a trash can nearby and some paper towels or rags to clean up any spills or debris. You may also want a pair of rubber gloves to keep your hands clean and protected. Once you've prepared everything, the following steps will get your knife back in working order. Just remember, ever knife is different – from its format, to the locking mechanism, to its purpose, and so on – and so cleaning will be a little different for every knife. These basic steps, however, can be altered to suit just about any folding blade out there. If you're worried that your knife can't be maintained in this manner, get in touch with the manufacturer to find out your options.
Alternative Action: Other Knife Cleaning Options
While the above method works pretty well for most everyday carry pocket knives, some folks may want to look to other solutions – whether that's because they're interested in a more thorough cleaning or because they don't want to get their hands dirty and risk harming their knife. Luckily, there are a couple different alternative options for cleaning your knife. Not including the obvious: buying a new one.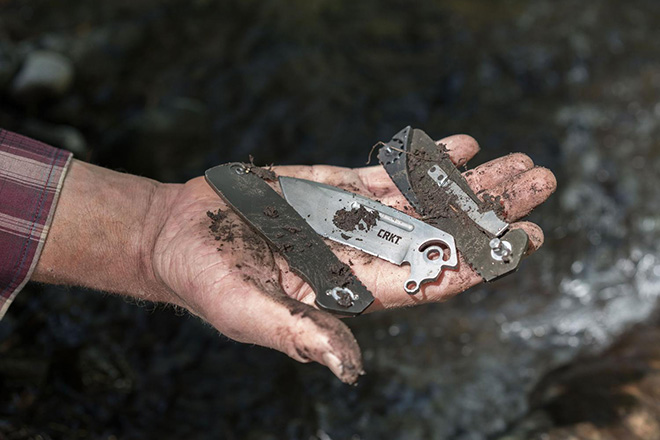 Alt Option 1: Full Dismantling
As we mentioned before, you do not have to completely take your knife apart in order to give it a decent cleaning. But, if you're confident enough in your abilities, are familiar with the working parts of your knife, or own a blade designed for easy dismantling, you absolutely can take your knife apart and clean it piece by piece. It's longer and a good deal more complicated, but the upside is the thoroughness of the cleaning. Apart from the fact that you're taking the knife apart, the cleaning methods you follow should be basically the same as above. Again, we do not recommend this for amateurs and suggest that you get in touch with your knife's manufacturer for their suggestions and warranty information before you try and take it apart.
Alt Option 2: Mail-In Services/Workshops
There are a number of different customizers and brands that offer knife comprehensive restorations via mail-in. Yes, it sounds risky. Not only are you sending in your knife to a person you may have never even heard of before, but you also have to depend upon the USPS (or whatever alternative you choose) to get your blade to and from the workshop. Still, you'll have to weigh those cons against how badly you want your knife fixed and how little you want to do it yourself. Alternatively, if you do a little digging, you can probably find a metalworker or knife maker in your area that can provide the same service. You're still going to have to hand your blade over, but you won't need to ship it anywhere.