Adventurers and backcountry explorers have to trust their equipment with their lives. As such, quality pieces of outdoor gear are required to possess a high degree of craftsmanship and durability — traits that, while making for a solid piece of kit, tend to come at a high price. And it's for this reason that Amazon's — now semi-annual — Prime Day sale has become so noteworthy, as it gives hikers, campers, survivalists, and other off-grid enthusiasts the chance to acquire high-quality gear without the typically high prices. So, with this in mind, we've thoroughly scoured the online retail giant's offerings to deliver this guide to the best Amazon Prime Day outdoor deals.
LifeStraw Personal Water Filter
The Lifestraw is a small but powerful survival filter that's equipped with a microbiological filter and a microfiltration membrane that together remove a whopping 99.999999% of waterborne bacteria and parasites from water, as well as microplastics as small as 0.2 microns — and can do so for up to 4,000 liters of water before needing replacing.
Stanley Master Series 24oz Vacuum Insulated Thermos
Made from high-quality 18/8 stainless steel with a hammertone green finish, the Stanley Master Series 24oz Vacuum Insulated Thermos is a double-walled leakproof 24oz vessel with a handle and a screw-down 360-degree lid that can double as a cup or bowl.
Morakniv Craftline
Morakniv makes some of the best survival knives on the market, and the Swedish brand's Craftline fixed blade model is no exception, sporting a 0.13-inch-thick 3.6" carbon steel blade, an ergonomic barrel-shaped polymer handle, and a Hard Plastic Combi-Sheath.
Piscifun Dry Bag
Sold with a separate included IPX8-rated waterproof phone case, the Piscifun Dry Bag is a rugged floating roll-top waterproof backpack that boasts a 500-denier PVC construction, a bungee-equipped front mesh storage pocket, and a set of adjustable double shoulder straps.
Gerber Gear Gator Machete 25"
Backed by a lifetime warranty, the Gerber Gator is a rugged and versatile 25" dual-purpose machete that sports a 15" plain edge blade on one side and an 18" saw on the other. Crafted from high-carbon stainless steel, this machete is also sold with an included riveted nylon sheath.
AYL LED Camping Lantern
A thoroughly modern take on a traditional camping lamp, the AYL LED Camping Lantern is an IP44-rated item that features an integrated 4,400-mAh power bank and 46 LED emitters that collectively afford a maximum output of 1,800 lumens.
BioLite HeadLamp 330
BioLite has long been producing some of our favorite headlamps, though with a 40% discount, there's legitimately never been a better time to buy the brand's HeadLamp 330 model — which features a 330-lumen output, a red night vision mode, a moisture-wicking headband, and a battery offering up to 40 hours of burn time.
Arcturus Military Wool Blanket
Currently being offered at a 36% discount, the Arcturus Military Wool Blanket — which measures 64" x 88" — makes a stellar addition to any camping or survival loadout. This field blanket is also sold in half a dozen different color options.
Coleman OneSource Rechargeable Battery Pack and Charger
Protected by a three-year warranty, the Coleman OneSource Rechargeable Battery Pack and Charger affords the ability to juice up your smartphone, tablet, camera, or other devices while off of the grid. This outdoor gadget comes equipped with an interchangeable rechargeable battery system that requires only two hours for a complete recharge, too.
Timex Expedition Scout 36mm Watch
Proving that hardwearing field watches don't need to cost an arm and a leg, the Timex Expedition Scout 36mm Watch is a dependable outdoor-focused timepiece that boasts a 36mm silver-tone brass case, a 50-meter water resistance rating, a blue fabric strap, an Indiglo-lit dial, luminous hands, and a trusty quartz movement.
MSR PocketRocket 2 Ultralight Camping and Backpacking Mini Stove Kit
Tipping the scales at only 9.9oz (or 0.61lbs), the MSR PocketRocket 2 Ultralight is an incredibly compact yet high-performance camping and backpacking mini stove kit that is capable of boiling a liter of water in only 3.5 minutes.
MINI Portable Night Vision and Day Binoculars
Sold with an included cleaning cloth, protective case, 32GB SD card, and a neck strap, the MINI Portable Night Vision and Day Binoculars affords solid night-vision capabilities at an affordable price, with the system boasting a 984' range, 7 infrared levels, 30FPS FHD capabilities, and a 2.4" LCD display.
Hydro Flask Day Escape 26L Cooler Backpack
Constructed around 600-denier polyester shell with welded seams and a watertight zipper, the Hydro Flask Day Escape 26L is a high-end backpack cooler that sports shoulder carry and crossbody straps, laser-cut welded gear attachment loops, and the ability to accommodate 42x 12oz cans.
Igloo 54 Qt Steel Belted Legacy Stainless Steel Cooler
Currently marked down from $250, the Igloo 54 Qt Steel Belted Legacy Stainless Steel Cooler is a heavy-duty icebox that benefits from Igloo's Cool Riser Technology, a durable, rust-resistant powder-coated lid and body, and ultra-efficient Ultratherm insulation.
IMALENT MS08 Flashlight
Offering up to 30 hours of burn time, the IMALENT MS08 is an incredibly potent flashlight that packs a built-in thermal control module, a fan-driven heat shield, and eight XLamp XHP LED emitters that allow for a 2,421' throw and an even more impressive maximum output of 34,000 lumens.
The 50+ Best Amazon Prime Day Deals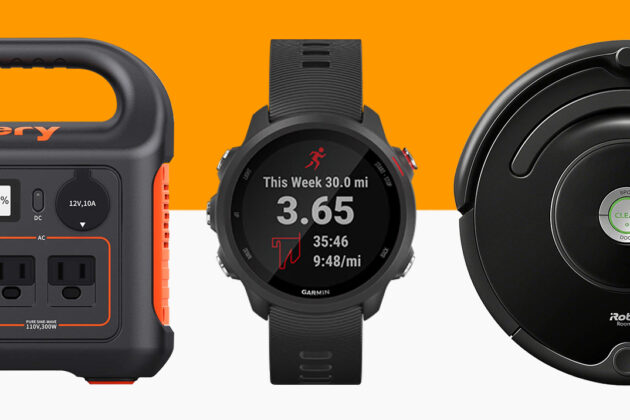 Want to check out an even wider selection of marked-down deals that aren't limited to pieces of outdoor gear? Then be sure to head over to our guide to the 50+ best Amazon Prime Day deals for an absolutely massive — yet curated — selection of steep discounts and steals across a huge selection of product spaces.